30 Settembre, 2014
Alessandro Panaro – What are, in your opinion, the most competitive elements that a port must have in order to attract major investors (quays availability, quality ground services, linking infrastructures)?
Marco Simonetti – Taking for granted the "hardware", that is its infrastructural features, a port that intends to attract investors has to assure; limited bureaucracy, clear and simple interface with customers and legal certainty in order to facilitate the investment's start up and the follow up procedures. A further contribution may be linked to a potential partnership with all the port system operators.
Alessandro Panaro – What are the problems in this sector that have to be solved as soon as possible? In particular, what does Italy lack compared to other competitor countries?
Marco Simonetti – We should align our logistic performances to those in northern Europe by streamlining all the bureaucratic procedures/mechanisms that hinder the speed of traffics and, above all, the reliability of the import and export services. Furthermore, Italy needs an institutional reference able to coordinate and control the Italian port and logistics development in a medium and long run relaunch perspective.
Alessandro Panaro – How did the company first react to the prolonged economic crisis which affected Europe and Italy; more investments, more professional training, cost rationalisation? In your opinion, is the situation going to improve?
Marco Simonetti – Investments and cost rationalisation. A new governance to streamline and speed up the decision-making processes.
Alessandro Panaro – Are the phenomena of "naval gigantism" and M&A, started by big carriers, expected to continue? And what is the company's reaction towards such phenomena?
Marco Simonetti – It is a mechanism which began at least ten years ago and which did not cause the effects on the market that many had expected. The massive losses of the last 5 years in the shipping sector have not led to a significant reduction of operators. The Group has achieved some partnerships with the major world operators and works to offer a competitive and reliable product with a premium price our customers can recognise. Concentration and rationalization of liner services and the increase of deployed tonnage may generate opportunities for those ports which are organised as industrial systems because the number of calls decreases while the average number of containers handled on a single ship increases originating important repercussion on the resource planning.
Alessandro Panaro – In which field is appropriate to invest in research and technological innovation?
Marco Simonetti – Especially in the field of safety, sustainability and IT that from the beginning of containerising has always played a key role in the functioning of the whole mechanism of a modern container terminal. The group is also a leader in Italy in the development of a new corporate welfare, a project on which we have decided to invest money and resources and whose results strongly impact on the motivation of human capital.
Alessandro Panaro – What are the competitive factors in which to invest in to gain advantage against the competitors?
Marco Simonetti – Innovation capacity and strong attention to the customers' needs by even anticipating their demands. Specialised know-how and product differentiation thanks to the control on the entire logistic chain and to our "Port to door" integrated services.
Alessandro Panaro – Can you briefly outline a profile of Contship indicating the main business areas and the principal terminal you currently operate?
Marco Simonetti – Contship Italia S.p.A., is the holding company of Contship Italia Group which was founded in 1969 and which is the leader in the management of port container terminals and in the intermodal transport field in Italy.
Controlled by the German Eurokai, parent company of the major European container terminal network, Contship Italia operates through its own subsidiaries in the ports of La Spezia (La Spezia Container Terminal and Speter), Gioia Tauro (Medcenter Container Terminal), Cagliari (Cagliari International Container Terminal), Ravenna (Terminal Container Ravenna), Salerno (Salerno Container Terminal) and Tanger (Eurogate Tanger).
The companies for intermodal transport and logistics are Sogemar Spa and Hannibal Spa which, in 2012 were joined by the railway company Oceanogate Italia Spa. These subsidiaries offer a wide network of intermodal and logistic connections among the principal Italian ports and the most crucial national and European economic areas.
The group, headed by Cecilia Eckelmann-Battistello, employs 2650 people which in 2013 consolidated a turnover of over 300 million euros.  
Container terminals operated an overall amount of 5,700 vessels and handled 6.2 million TEUs while the intermodal and logistics subsidiaries handled 247,000 TEUs in 2013 and operated 3,700 block trains which run more than 1,000,000 train-km.
Alessandro Panaro – Who is your target customer and what type of services does he/she require?
Marco Simonetti – Our major customers are shipping companies. While for the intermodal and logistics services the customer portfolio widens, because it includes freight forwarders and direct shippers. As regards the Melzo terminal activities, as customers we also have other railways companies using our group's infrastructures.
Alessandro Panaro – What are Contship's most ambitious projects and objectives in the short, medium and long term?
Marco Simonetti – The Group's shareholders have authorised an investment plan worth 200 million euros for the development of La Spezia Container Terminal. The first case in Italy where a private entity will implement part of civil works that are up to the State (fillings and quays). Today, the terminal handles about 1 million TEUs while our objective is to increase the operating capacity of the quays to simultaneously dock 3 ships with a capacity exceeding 16,000 TEUs. Furthermore, the project involves the enhancement of the rail infrastructures inside the terminal to raise the current share from 35% to 50%. This is a competitive factor which differentiates La Spezia from the other Italian ports that, with the exception of Trieste, own railway shares lower than 10% out of the total traffics of import and export. In Ravenna shareholders are involved in the development of the new terminal that includes an investment of over 100 million euros and whose implementation is subject to the realisation of the dredging plan by Ravenna's Port Authority. At last, in Gioia Tauro, Contship is promoting, at any national and international institutional level, a project for the implementation of the Special Economic Zone in the industrial areas of the dry port. This project represents the development of Gioia Tauro's port which, to date, is able to offer more than 120 weekly departures and is the only terminal in the Mediterranean able to operate 3 vessels up to 18,000 TEUs simultaneously. Also Cagliari, the other transhipment centre of Contship is defining a new investment plan in order to match and anticipate customers need in terms of equipment able to operate larger ships.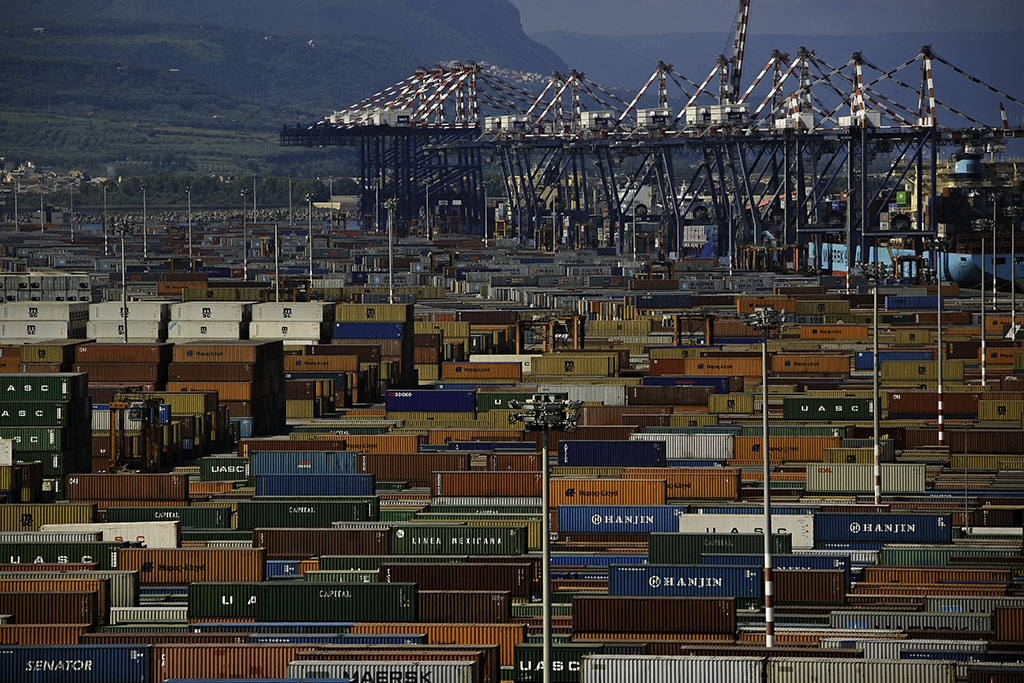 ---
Intervista con il Vicepresidente di Contship Italia Group
Alessandro Panaro – Quali sono i principali elementi di competitività che un porto deve avere per attrarre grandi investitori (disponibilità di banchine, servizi a terra di qualità, infrastrutture di collegamento)?
Marco Simonetti – Dando per scontati gli aspetti "hardware" ovvero infrastrutturali, un porto per attrarre investitori deve garantire processi burocratici snelli, semplicità di interfaccia con il pubblico e certezza del diritto al fine di facilitare lo start up dell'investimento ed il successivo accompagnamento negli anni a seguire. Un ulteriore contributo di attrattività è legato alle potenziali partnership con tutti gli operatori del sistema porto.
Alessandro Panaro– E in Italia cosa manca rispetto agli altri Paesi competitor? Quali sono i problemi del settore da risolvere con maggiore urgenza?
Marco Simonetti – Adeguamento alle performance logistiche dei paesi del Nord Europa attraverso lo snellimento burocratico di tutte le procedure/meccanismi che limitano la velocità dei flussi e soprattutto l'affidabilità del servizio dato alle merci in importazione ed esportazione. L'Italia necessiterebbe inoltre di un riferimento istituzionale in grado di coordinare e presidiare la politica logistica e portuale del paese con un prospettiva di progetto e rilancio a medio e lungo termine.
Alessandro Panaro – In relazione alla persistente crisi economica che sta coinvolgendo l'Europa e l'Italia qual è stata la "reazione" della sua azienda (più investimenti, più formazione, razionalizzazione dei costi, etc.)? A Vostro avviso la situazione economica è destinata a migliorare?
Marco Simonetti – Investimenti e razionalizzazione dei costi. Nuova governance per lo snellimento e velocizzazione dei processi decisionali.
Alessandro Panaro – Il fenomeno del "Gigantismo Navale" e delle M&A da parte dei grandi carrier a vostro avviso è destinato a proseguire? E in funzione di questi fenomeni come sta reagendo l'azienda?
Marco Simonetti – Si tratta di un meccanismo partito almeno una decina di anni fa e che non ha avuto ancora sul mercato gli effetti che molti avevano previsto. Le ingenti perdite accumulate negli ultimi 5 anni nel settore dello shipping non hanno generato una diminuzione significativa degli attori! Il Gruppo ha realizzato delle partnership con i principali operatori globali e lavora da sempre per offrire al mercato un prodotto competitivo ed affidabile a cui possa anche essere riconosciuto un premium price da parte dei clienti. La maggiore concentrazione e l'aumento dimensionale delle navi possono generare opportunità proprio per quei porti organizzati come sistemi industriali perché diminuisce il numero delle call ed aumentano i contenitori medi movimentati sulla singola nave con riflessi importanti sulla pianificazione delle risorse.
Alessandro Panaro – In che ambito è opportuno investire in ricerca e innovazione tecnologica?
Marco Simonetti – Soprattutto nel campo della sicurezza, della sostenibilità e dei sistemi informativi che sin dall'inizio della containerizzazione hanno sempre giocato un ruolo fondamentale per il meccanismo industriale di un terminal container moderno ed efficiente. Il gruppo è inoltre leader in Italia nello sviluppo di un nuovo welfare aziendale, un progetto sul quale abbiamo deciso di investire capitale e risorse e i cui risultati impattano fortemente sulla motivazione delle capitale umano.
Alessandro Panaro – Su quali fattori occorre puntare per conseguire un vantaggio nei confronti dei competitor?
Marco Simonetti – Capacità innovativa e forte attenzione alle esigenze dei propri clienti anticipandone la domanda. Know-how specializzato e differenziazione del prodotto grazie al presidio della catena logistica e all'offerta di servizi integrati "Port to door".
Alessandro Panaro – Quali sono le principali aree di business di Contship e quali i principali terminal gestiti?
Marco Simonetti – Contship Italia S.p.A., è la holding di un gruppo fondato nel 1969, oggi leader in Italia nella gestione dei Terminal Container Portuali e nel settore del Trasporto Intermodale.
Controllata dalla tedesca Eurokai, società a capo del principale network di terminal container d'Europa, Contship Italia opera attraverso proprie società partecipate nei porti di La Spezia (La Spezia Container Terminal e Speter), Gioia Tauro (Medcenter Container Terminal), Cagliari (Cagliari International Container Terminal), Ravenna (Terminal Container Ravenna), Salerno (Salerno Container Terminal) e Tangeri (Eurogate Tanger).
Le attività di trasporto intermodale e logistica sono realizzate attraverso gli operatori intermodali Sogemar Spa e Hannibal Spa a cui dal 2012 si è aggiunta la società ferroviaria Oceanogate Italia Spa. Queste società offrono un esteso network di collegamenti intermodali e logistici tra i principali porti italiani e le più importanti aree economiche nazionali ed Europee.
Il gruppo, presieduto da Cecilia Eckelmann-Battistello, conta oggi 2.650 dipendenti e ha chiuso il 2013 con un Fatturato Consolidato superiore a 300 milioni di Euro.
I Terminal container hanno operato complessivamente 5700 navi movimentando 6,2 milioni di Teus mentre le società che fanno capo all'offerta di servizi Intermodali e Logistici hanno chiuso il 2012 con 247.000 Teus trasportati, 3.700 treni blocco e 1.000.000 treni-km operati.
Alessandro Panaro – E chi è il cliente tipo di un'azienda come Contship e che tipo di servizio richiede?
Marco Simonetti – Il cliente principale è rappresentato dalle Shipping line. Nel caso di servizi intermodali e logistici il portafoglio clienti si amplia ed include spedizionieri e caricatori diretti. Per ciò che riguarda l'attività nel terminal di Melzo abbiamo ad esempio altri operatori ferroviari come clienti che attestano i loro servizi ferroviari nella struttura del Gruppo.
Alessandro Panaro – Infine, nel breve, medio e lungo termine quali sono i progetti e gli obiettivi più ambiziosi che Contship si propone di realizzare?
Marco Simonetti – Gli azionisti del Gruppo hanno autorizzato un piano di investimenti da 200 milioni di euro per lo sviluppo del La Spezia Container Terminal, primo caso in Italia in cui il privato realizzerà anche parte dei lavori civili in carico allo stato (riempimenti e banchine). Oggi il terminal movimenta circa 1 milione di TEU e l'obiettivo è di aumentare la capacità operativa delle banchine per ricevere simultaneamente 3 navi di capacità superiore ai 16.000 TEU. Inoltre il progetto prevede il potenziamento delle infrastrutture ferroviarie interne al terminal per aumentare la quota dall'attuale 35% al 50%. Questo è un fattore competitivo che differenzia La Spezia rispetto agli altri porti italiani che, ad eccezione di Trieste, hanno quote di ferrovia inferiori al 10% sul totale dei traffici in importazione ed esportazione. Anche a Ravenna gli azionisti sono impegnati per lo sviluppo del nuovo terminal che prevede un investimento di oltre 100 milioni di euro la cui realizzazione è soggetta all'attuazione del piano dei dragaggi da parte dell'Autorità Portuale Ravennate. A Gioia Tauro, l'azienda è impegnata per promuovere a tutti i livelli istituzionali italiani e internazionali, il progetto per la realizzazione della Zona Economica Speciale nelle aree industriali del retro porto. Questo progetto rappresenta lo sviluppo della fase matura del porto di Gioia Tauro che già oggi può offrire oltre 120 partenze settimanali ed è l'unico terminal in grado di operare sino a 3 navi da 18.000 TEU in contemporanea. Infine a Cagliari il gruppo sta definendo un nuovo piano di investimenti per anticipare le necessità dei clienti in termini di nuove gru di banchina.
---