1 Settembre, 2014
Cooking of capital cities, even the more modest, always own a je ne sais quoi of royalty.
Excellent and creative chefs have always flown around kings, vice-kings, landowners, uppe-class and aristocrats, thus enriching the court cooking tradition with international traffic of recipes, cooking techniques and novel instruments. The most adventurous assistants of the chefs (or bellboys, apprentices and scullions) have very often strived to reproduce for the common people a remake of those finest recipes using local and low cost ingredients.
As consequence, recipes from the finest chefs ended up contaminating popular cooking evolving into new and original recipes; it is surprising to find out how much of the royal cooking, extinct alongside regimes, has nowadays survived in the culinary traditions of the contemporary cities.
Naples, city of Kings for ages, has mingled her destiny – and exchanged her recipes – with Palermo. The two port cities, both born from the intelligence of expert sailors like Greeks and Phoenicians, have shared a history of regimens that began in the Late Middle Age with the Regno di Sicilia having as capital Palermo. This kingdom was later split into Sicilia al di quà del Faro (Naples) and Sicilia al di là del faro (Palermo), renamed therefore Regno delle Due Sicilie (Kingdom of two Sicilies) having Naples as capital. Eventually the kingdom disappeared with the Unification of Italy.
The strongest sign of royal cooking was imprinted to the Neapolitan gastronomic tradition by the Borbón, the last royal dynasty.
The founder of the Borbón dynasty of Naples, Carlos Sebastián de Borbón y Farnesio, son of the King of Spain and nephew of the Roi Soleil, inherited the culinary traditions of the royal courts and witnessed of the cultural shift from the Mediterranean regions, that gave birth to Renaissance, to the North-Continental regions, sites of developing Enlightenment.
During his kingdom, the renaissance and baroque cooking gives way to a brand new cooking, the "cucina dei Lumi".
Banquets, a never-ending and chaotic string of heavy meats and game enriched by pungent spices imported from the East and corroborated by Italian wines, are replaced by the French Cuisine, characterized by a touch of elegance, a sequence of tidy dishes made with light food and served in small portions and with a feast of varieties. French cooks, real Maîtres à penser, rule the royal cooking of all Europe, from aristocrats to middle class.
Royal French cooking was born at the time of the Treaty of Utrecht (1713-14), a summit of the main European Powers at the end of the Spanish Secession. For the Governors and their representatives it was necessary to prepare elegant and but light lunches, that could also represent the newly conquered geographical areas by making use of colonial products such as coffee, tea, cocoa, tobacco, vanilla, new spices, liquors and sorbets, all goods traded in Italy through the port of Naples.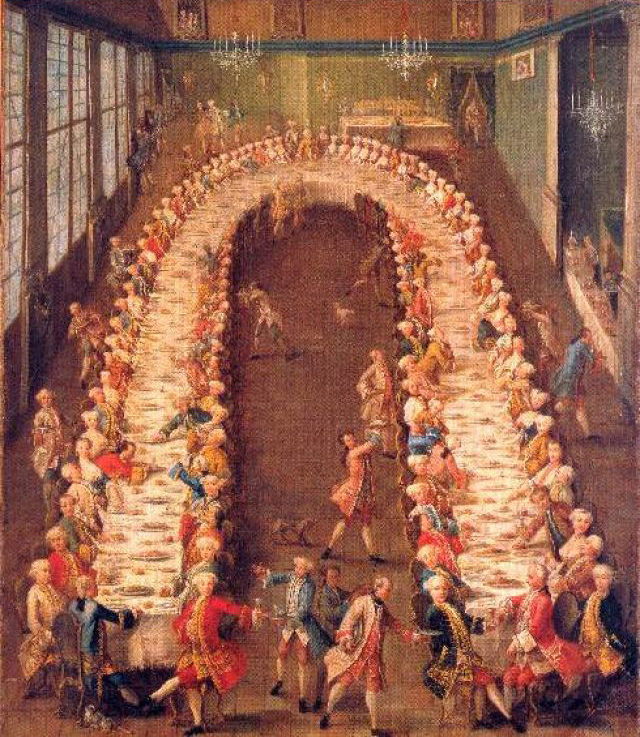 School of Longhi, "Banchetto in casa Nani", 1755 approx.
In 1738, to consolidate his reign, King Carlo marries the young German princess Maria Amalia of Sassonia; the new queen, together with her luggage, brings to Naples a German influence in the Neapolitan cooking, thus added to the already existing French one.
Carlo's successor, Ferdinando IV, marries the Austrian duchess Maria Carolina, sister of Maria Antonietta of France. In the second half of the Eighteenth Century, Austria was conquered by the French nouvelle cuisine and the Queen calls to the court of Naples the most famous chefs of Paris. Hence the so called Messieurs les chefs, quickly renamed Monsù in the neapolitan slang.
Everybody wants French cooks in their kitchen: with no exceptions, all families of the upper class of Naples want a real French cook, thus banishing Neapolitan and Sicilian cooks to the role of assistants. Nowadays the Cucina dei Monsù is still alive and indicates the cooking of the Campanian and Sicilian aristocratic tradition.
Queen Maria Carolina was using her Monsù to render more international her royal cooking, with a hammering French accent in dishes like gattò, ragù, crocché, sartù, entrate, ordure, fregandò (respectively of gâteau, ragoût, croquettes, entrée, hors d'oeuvres, fricandeau in Neapolitan). Meanwhile, King Ferdinando, who enjoyed stronger tastes, pretends to introduce maccheroni in the royal menu and strongly promotes popular cooking. During his reign many taverns were opened, restaurants where common people (but also the King, in the urge to slip away every now and again the excessively sophisticated French cooking) can eat as much as they liked maccheroni, pizzas, baccalà, pastiere, babà and the warm, greasy and comforting menestra maritata (popular soup of meat and vegetables).
Il Cuoco Galante (The Gallant Cook)
Although French cooking completely ruled out the European Upper class eating style, in Naples, despite of half a century of foreign domination, the Neapolitan culinary tradition emerged again facing the intruders by mean of the incredible productiveness of her ingredients and the richness of her traditions. Vincenzo Corrado, head of the kitchen and banquets organizer of the Prince Fontana, embodies this epic randevouz between the two great culinary traditions.
With the nickname of The Gallant Cook due to his elegant mannerism in activities related to food, in 1773 Corrado published a homonymous book that had an unexpected success.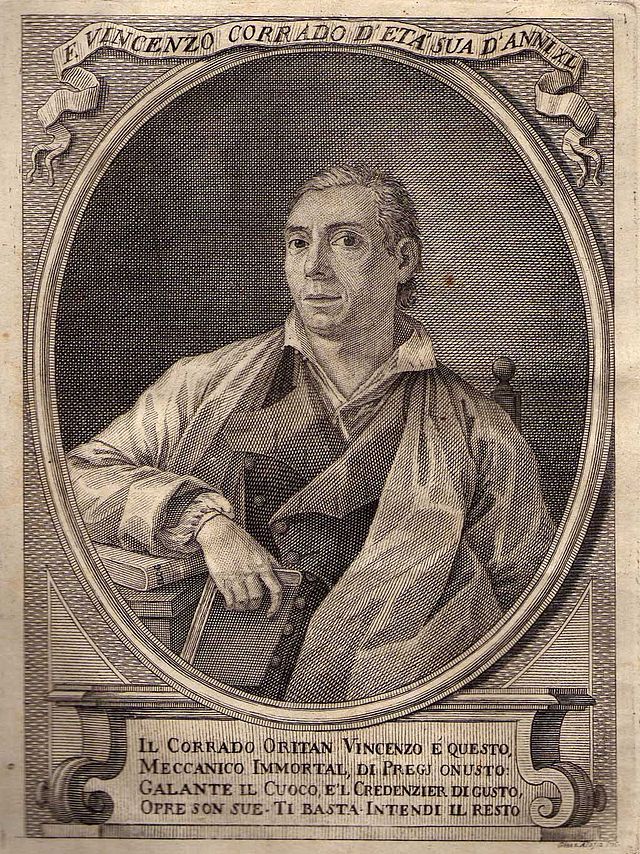 Portrait of Vincenzo Corrado in "Il Cuoco Galante, opera meccanica dell'oritano Vincenzo Corrado: di varie capricciose vivande nel fine de' loro stessi trattati accresciuta", second edition, Naples, 1778.
Corrado's starting point was French cooking, that was already established as the traditional cooking of court; to this, he complemented pretty well not only ingredients of the Neapolitan poor popular cooking, such as blue fish and fresh herbs, but also all new products imported from the Americas, like potatoes and tomatoes. The latter is destined to become the most important ingredient of the Neapolitan cuisine: "the introduction of tomato has represented, in the history of alimentation, a total French revolution" [1] Luciano De Crescenzo says when thinking of the Neapolitan cooking, a "«red light» cooking thanks to the presence of that wonderful product of nature, with the shape of a light bulb, known with the name of tomato sammarzano!" [2].
Il Cuoco Galante offers a gist of the magnitude, ostentation and sumptuousness of the banquets of the Eighteenth Century in the Court of Borbón. A dedicated expert, the Maestro Ripostiere, was committed with the preparation of the dining room and the table using spectacular details: "the ripostiere had to decorate the table with the finest elements like majolica vases filled with fresh fruits, vegetables or flowers, little angels made in porcelains or silver, crystal cups, little fish tanks" [3].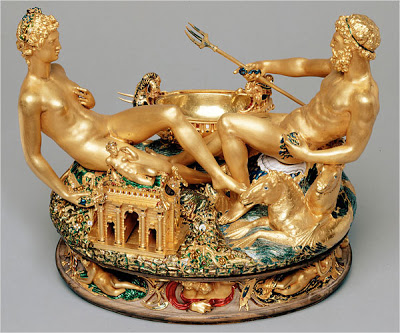 Benvenuto Cellini, Salt Cellar of Francis I, ebony, gold and enamel, 1540-1543.
The mise en place, like the mise en scene, means that food is placed on dishes to reproduce creative scenic design; banquets are conceived as a spectacular sequence of waiters, maîtres and servants. Tables are lavishly prepared to remind an ordered orchestra of porcelain, silverware, crockery and glassware enriched by compositions of fruits, vegetables and flowers, as Corrado describes in minute details in his drawings ("Idea di una Mensa per 32 persone").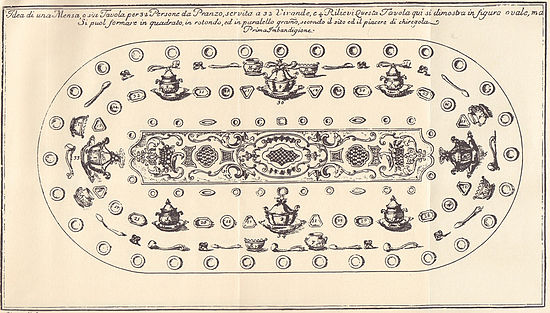 "Idea di una Mensa per 32 persone", insert in the book "Il Cuoco Galante" published by Vincenzo Corrado in 1773.
The enjoyment for food presentation filtered from the windows of royal kitchens to reach the most popular streets and markets of Naples. During his journey in Italy, Goethe says "The Neapolitan not only lives eating but also demands that food on sale is beautifully displayed" [4]. Matilde Serao observes: "These people love happy colours, they dress up horses that carry wagons with tufts and tassels, they wear plumes and feathers of many colours during feats days, they wear scarlet neckerchiefs, they place a tomato on top of bag of flour in order to achieve a picturesque effect. This population has invented monuments with sparkling brass, with painted wood, with fragrant lemons, with glasses and bottles. An example is the banco dell'acquaiolo, a joy for the eyes" [5].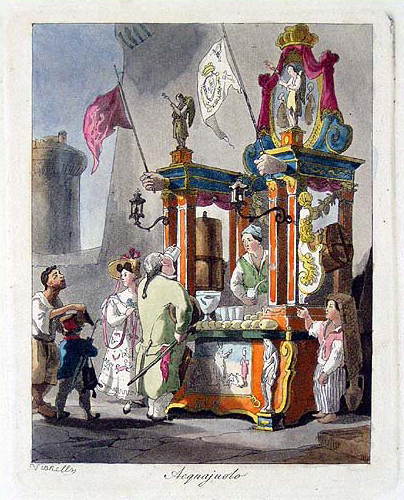 Dipper, aquatint Wash by Achilles Vianelli (1830 approx).
The essay X of Il Cuoco Galante, Delli Timpalli e delli Sortù, contains the recipes of those dishes representative of the apex of the culinary syncretism between French and Neapolitan cooking: these dishes belong even now to the tradition of Neapolitan and Sicilian cooking, they are a must that perpetuates and consecrates in the twinning between feasts and religious recurrences.
All recipes of pasta and rice timbals (timballi and sartù, respectively) share the same three components: a "container" (puff pastry, shortcrust pastry or rice), a filling (maccheroni, rice flour, breadcrumbs), a topping (meat, entrails, cheese, truffle, vegetables, mushrooms, cream). Among the Neapolitan recipes, we find the Timballo di Maccheroni, the Casatiello, the Pastiera, the Sartù with Rice, the Tortano. Likewise, within Sicilian tradition we have Pasta al Forno, Gattò di patate, Arancine and Timballo di Capellini.
Differences bewteen aristocratic and popular cooking are found in the ingredients, cheap easily available in the markets nearby for the latter, more sophisticated and polished for the former. Variations to noble and popular recipes basically represent a wonderful intergenerational fusion between lower class and different cultures.
Availability of precious, rare, exotic and aphrodisiac ingredients on the table of Borbón excites Curzio Malaparte's imagination for the invention of the menu in Il pranzo del Generale Cork [6].
It was not easy to plan a royal menu during the second world war, considering shortage of goods of any kind in a Naples devastated by the bombing and by the German occupation. However it was impossible to give up serving fish as main course to special guests, despite fishing was interdicted in the entire gulf of Naples due to military orders.
ENTRÉE DI SPIGHE DI GRANTURCO TOSTATE, CONSOMMÉ IN TAZZA E PESCE BOLLITO CON MAIONESE.
Captain Cork as an order decrees the menu; and orders are to be executed, no disputing. What about fish? Where can fresh fish be found in Naples during the war?
Here it comes the moment to serve the main dish, it enters the scene accompanied by lackeys wearing gloves and wigs: on the table, on a big silver tray, surrounded by a garland of pink coral and lettuce, a whole Mermaid lays down. An antropomorphous body horribly looking like the cadaver of an adolescent girl, blown up and torn by the long simmering in boiling water.
The Mermaid, caught in the fish tank of Naples (that Anton Dohrn had built in 1872 for scientific purposes in the Public Garden of Riviera Chiaia) "had her eyes open and lips half-closed: she was surprisingly staring at the Trionfo di Venere painted on the ceiling by Luca Giordano. She was naked: her dark and shiny skin, of the same colour as Mrs Flat's purple dress, shaped, like a tight dress, her silhouette still immature yet already well-proportioned, the sweet curve of her hips, the little protrusion of her womb, her tiny virgin breasts, her wide shoulders" [7].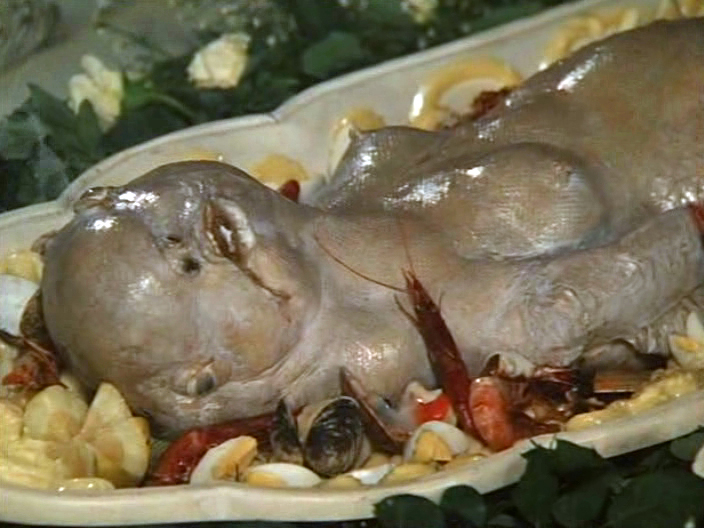 The Mermaid served boiled to lunch on General Cork, scene of the film "La pelle" of Liliana Cavani, 1981, based on the novel by Curzio Malaparte.
Along side the scent and dreams of opulence, rubbish flew out the windows of the royal palace. Monsù used to throw to working-class wastes of fruit, vegetables and meat, anything not good enough for the finest tables of the King. Throwing of entrails was accompanied by a scream "et voilà, les entrailles", that gave origin to the word zandraglia, epithet to indicate a vulgar woman that picks up food waste thrown in the street, one of the worst Neapolitan insults for a woman.
The theoretical and practical kitchen and finally an homemade kitchen in Neapolitan language
In 1787, during his journey in Italy, Goethe could not help but noting the heavy presence of Maccheronari in the streets, real masters of pasta, the new street food.
For the working-class of Naples, the most crowded city of Europe with a population of half a million in the Eighteenth Century, pasta was the best remedy to starvation. The poorest were left with a "blackish pasta, of any size and shape, made with the raccogliticcio, a confused mix of the remainders of all boxes of pasta known with the name of monnezzaglia: the poorest eats it garnished with tomato and cheese" [8].
Next to Maccheronari, new characters of the street food appear like sorbettaro, franfelliccaro, acquaiolo, mellonaro, ostricaro.
[one_third]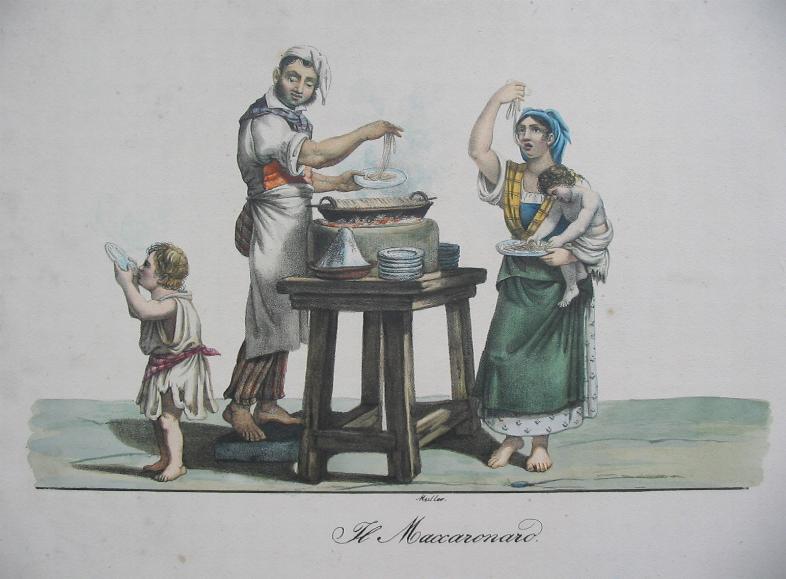 [/one_third][one_third]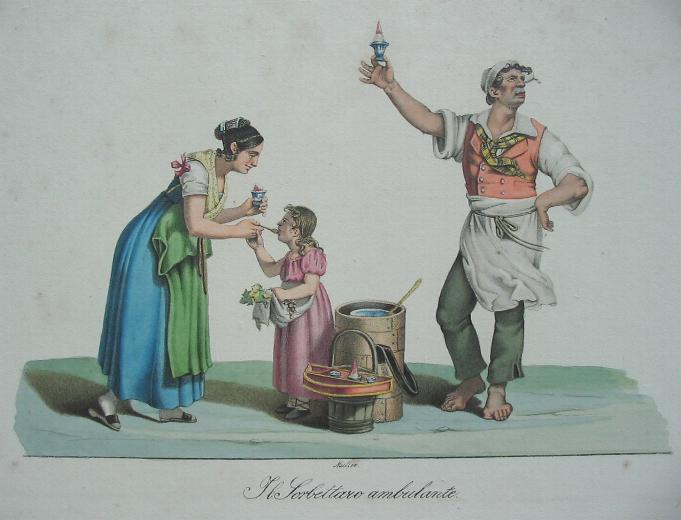 [/one_third][one_third_last]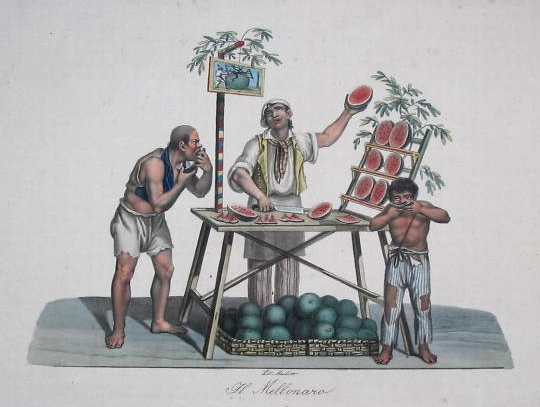 [/one_third_last]
The "Maccaronaro", the "Sorbettaro" and the "Mellonaro", watercolored lithograph by Théodor Carl Müller (1820 approx).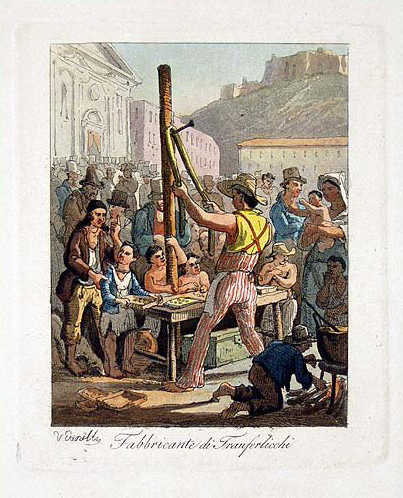 The "Fabbricante di Fanferlicchi", watercolored lithograph by Achille Vianelli (1830 approx).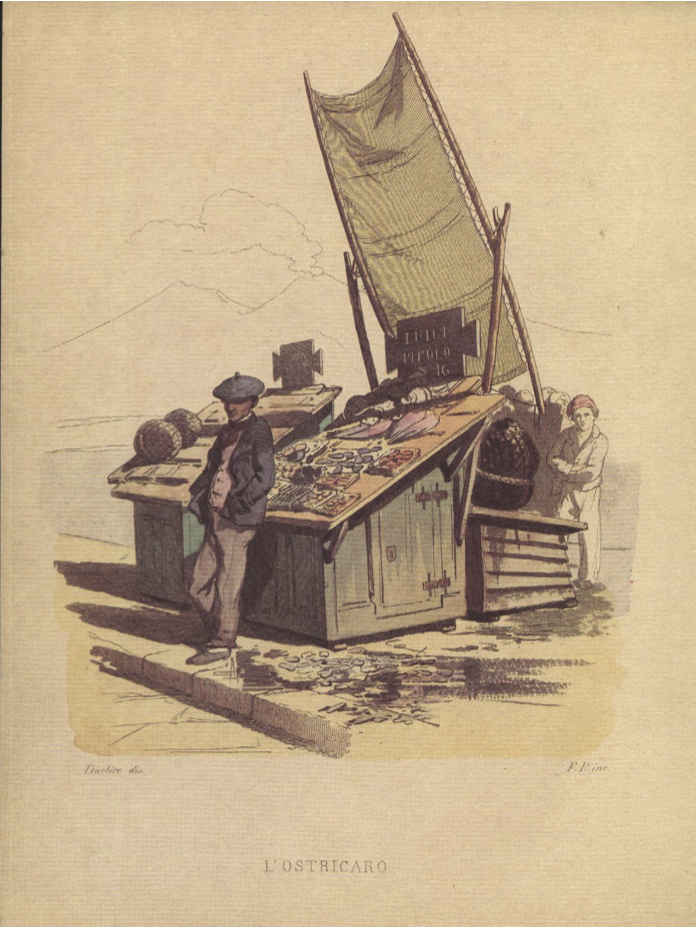 The "Ostricaro", S.Duclère.
Well aware of the danger that a hungry and numerous working-class might represent, King Ferdinando II launches at the beginning of the 800th the very first industrial pasta factories. These were built in Portici, Torre del Greco, Torre Annunziata and Gragnano, places in Campania where weather and wind are particularly good for the process of drying pasta.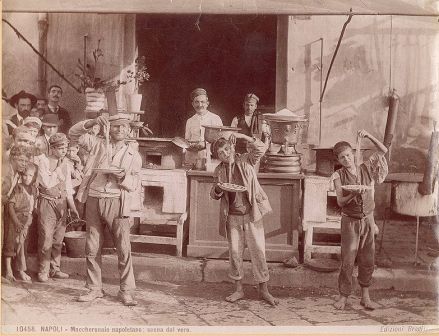 Naples, Neapolitan Maccheronaio, Ediition Brogi.
[one_half]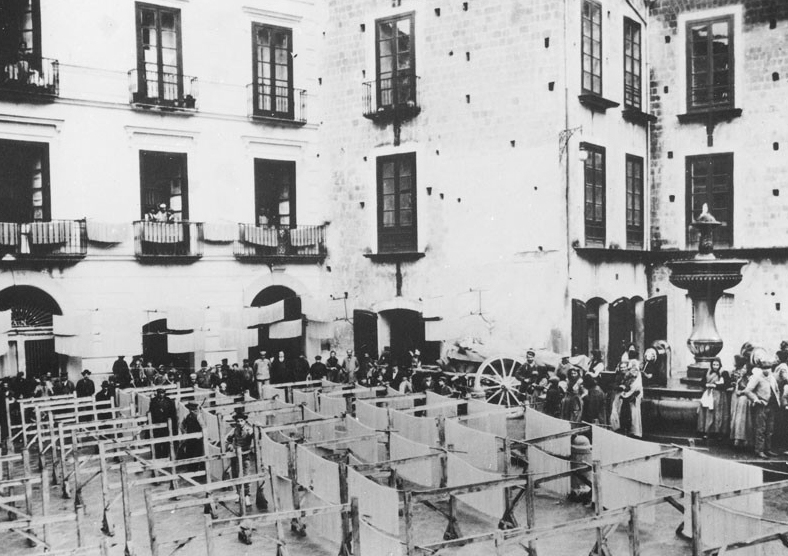 [/one_half][one_half_last]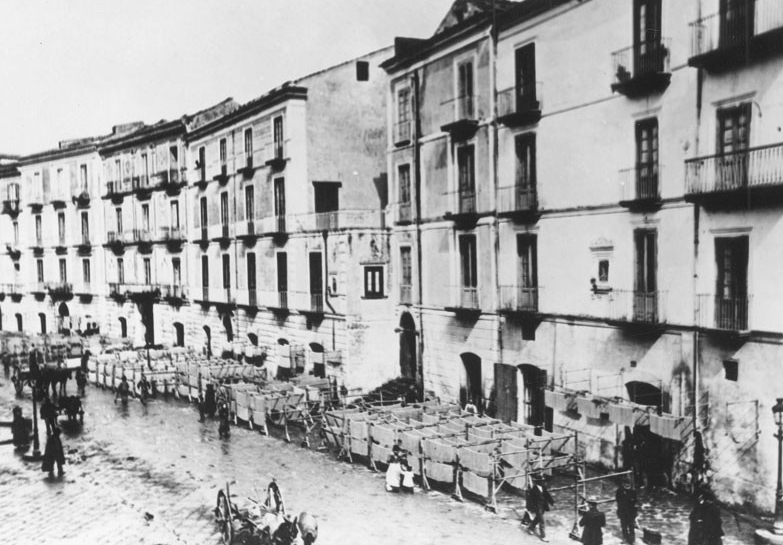 [/one_half_last]
Gragnano, noodle drying in rows in Trivione Square and in Rome Street.
Torre Annunziata, noodle drying.
Industrial production of several shapes of pasta, together with creativity of Neapolitan people gave birth to thousands of recipes having as common denominator availability and cheapness of ingredients. For those recipes where money was a limiting factor, imagination was used to bypass the obstacle, like in the recipe of spaghetti with fujute (escaped) clams, garnished just with tomatoes, garlic, oil and parsley (clams are to be conceived by the commensal).
The emerging upper-class also expresses her culinary identity by mixing the noble cuisine with the tradition of popular cooking.
The results of these re-elaborated versions are collected by Ippolito Cavalcanti, the duke of Buonvicino, who published in 1837 the first of the none editions of a book that had a remarkable success, comparable to that of Il Cuoco Galante: Cucina teorico-pratica col corrispondente riposto ed apparecchio di pranzi e cene con quattro analoghi disegni.
The book reports the best recipes from all social classes and the author carefully translates in Neapolitan slang all ingredients and recipes, saying that "smart men are capable of extracting light from the dark and create richness from poorness" [9].
Finally, who else but King Lasagna could have been the last King of the Kingdom of the two Sicilies after Ferdinando II? It was Francesco II, the King so glutton of pasta, to be remembered in the history with this epithet.
The court chamberlain, sir Gennaro Spadaccini, designed for him the fork with four prongs (initially the fork had only two prongs) to help the king eat his maccheroni more elegantly. At the same time, Ippolito Cavalcanti celebrates the moral value – and the culinary inclinations – of the King by inventing the recipes named "Gattò of lasagnas at Buonvicino".
In this – very complicated – recipe, new ingredients are used such as butter, white pasta, parmesan cheese, entrails, legumes and truffle; a triumphant mixture of French, North European, Neapolitan royal and popular gastronomy.
And for those that are still wondering….well….YES! This is an ancestral version of the recipe of our actually Italian lasagnas!
Translated by Ester Badami
Notes
[1] Citation extracted by:De Crescenzo L., Croce e delizia, Milano, Mondadori, 1994.
[2] Ibidem.
[3] Becciani U. G., Il credenziere, Pistoia, Il Papyrus, 2011.
[4] Goethe von J. W., Viaggio in Italia, 1816-1817. The episode mentioned was recorded in 1787.
[5] Serao M., Il ventre di Napoli, 1884.
[6] Episode of the book by Curzio Malaparte La Pelle, 1949.
[7] Curzio Malaparte, La Pelle, Roma-Milano, Aria d'Italia, 1949.
[8] Serao M., op. cit.
[9] Ippolito Cavalcanti Duca di Buonvicino, Cucina teorico-pratica, Napoli dalla Tipografia di G. Palma, second edition, 1829.
---
Head image: Brighton, Royal Pavillion, Banqueting Room, J. Nash, 1800 approx.
---
Napoli. Due racconti di una città. Il secondo racconto: la cucina di Corte
Nella cucina delle città capitali, anche nella più misera, affiora sempre un je ne sais quoi di nobiltà.
Attorno ai re, ai viceré, agli emiri, ai podestà, alla nobiltà e all'aristocrazia hanno sempre volteggiato eccellenti e creativi cuochi, alimentatori di traffici internazionali di ricette, ingredienti, tecniche e strumenti di cucina. Sovente, dal loro stuolo di aiuto cuochi, fattorini, garzoni, sguatteri e lavapiatti, i più intraprendenti si sono ingegnati a loro volta per riprodurre, per la cucina del popolo, le ricette dei grandi chef "tagliate" con ingredienti locali e low cost.
I ricettari dei grandi chef hanno così finito per contaminare, loro malgrado, la cucina popolare, evolvendo in nuove ricette originali: è sorprendente scoprire quanto della cucina di corte, estinta ormai insieme ai reami, sia tuttora rimasto vivo nelle tradizioni culinarie delle città che sono state sedi di governo.
Napoli, per lungo tempo città di re, ha intrecciato i suoi destini – e scambiato le sue ricette di cucina – con Palermo. Le due città portuali, nate entrambe dall'ingegno di esperti navigatori come Greci e Fenici, hanno condiviso una storia di reami iniziata nell'Alto Medioevo con il Regno di Sicilia con capitale Palermo, poi divenuto Sicilia al di qua del Faro (Napoli) e Sicilia al di là del Faro (Palermo), trasformato nel Regno delle Due Sicilie con capitale Napoli e infine dissolto con l'Unità d'Italia.
L'impronta più evidente della cucina di corte nella tradizione gastronomica partenopea è quella impressa dall'ultima dinastia reale, quella dei Borboni.
Il capostipite della dinastia borbonica di Napoli, Carlos Sebastián de Borbón y Farnesio, figlio del Re di Spagna e nipote del Roi Soleil, eredita le tradizioni culinarie delle corti reali e vive lo spostamento dell'asse culturale europeo dalle regioni mediterranee, che avevano dato origine al Rinascimento, alle regioni nord-continentali dove si sta sviluppando la cultura illuminista.
Nel corso del suo regno la cucina rinascimentale e barocca cederà il passo alla nuova cucina, la "cucina dei Lumi".
I banchetti dominati dal caotico susseguirsi di carni pesanti e di selvaggina, stonate dalle pungenti spezie importate dall'oriente e innaffiate dai tannici vini italiani, sono rimpiazzati dalla cucina francese improntata all'eleganza, all'ordinata sequenza delle portate, alla leggerezza degli alimenti, alla riduzione delle quantità e delle dimensioni e alla moltiplicazione delle varietà dei piatti. I cuochi francesi, veri e propri Maîtres à penser, dettano legge nelle cucine nobiliari di tutta l'Europa, e da lì alle tavole dell'aristocrazia e persino alla cucina del ceto medio borghese.
La nascita della stagione dell'alta cucina francese viene fatta risalire al periodo dei lavori di preparazione del Trattato di Utrecht (1713-14), summit delle principali potenze europee per la negoziazione della fine della guerra di successione spagnola. Per i capi di governo e i loro rappresentanti erano dunque necessari pranzi eleganti ma leggeri, raffinati e rappresentativi delle nuove geografie politiche con l'utilizzo di prodotti coloniali come il caffè, il the, il cacao, il tabacco, la vaniglia, l'utilizzo di nuove spezie, la produzione di liquori e sorbetti, merci che transitavano in Italia soprattutto attraverso il porto di Napoli.
Scuola del Longhi, "Banchetto in casa Nani", 1755 ca.
Re Carlo, per consolidare il suo regno, sposa nel 1738 la giovanissima principessa tedesca Maria Amalia di Sassonia; insieme al suo bagaglio, la regina porta con sé a Napoli un nuovo innesto germanico nella cucina partenopea che si aggiunge a quello francese.
Il successore di Carlo, Ferdinando IV, sposa a sua volta l'arciduchessa austriaca Maria Carolina [1], sorella di Maria Antonietta di Francia. L'Austria della seconda metà del Settecento era già stata conquistata dalla nuova cucina francese e la regina chiama alla corte di Napoli da Parigi gli chef più famosi. Così a Napoli arrivano i tanto rinomati Messieurs les chefs, rapidamente trasformati in Monsù nel gergo napoletano.
Tutti vogliono un cuoco francese nelle loro cucine: non c'è famiglia della nobiltà o dell'aristocrazia nel regno di Napoli che non abbia il suo chef d'oltralpe a capo dei fornelli, relegando i cuochi campani e siciliani al ruolo di secondi. Ancora oggi è viva la tradizione della Cucina dei Monsù con la quale si indica la cucina della tradizione aristocratica campana e siciliana.
Mentre la regina Maria Carolina è intenta a internazionalizzare con i suoi Monsù la cucina di corte, che risuona ormai di nuovi accenti francesi come gattò, ragù, crocché, sartù, entrate, ordure, fregandò (corrispettivi napoletani di gâteau, ragoût, croquettes, entrée, hors d'oeuvres, fricandeau),il re Ferdinando, di gusti più robusti, pretende di introdurre i maccheroni all'interno dei menù di corte e si dedica generosamente alla promozione della cucina popolare: durante il suo regno si moltiplicano le trattorie dove il popolo (ma anche lo stesso re, per sfuggire ogni tanto ai cerimoniali di corte e alla troppo sofisticata cucina francese) può mangiare a volontà maccheroni, pizze, baccalà, pastiere, babà e la calda, grassa, confortante menestra maritata.
Ricetta tipicamente invernale, nella minestra si sposano (si maritano) le carni di maiale (tracchiulella, cotica, recchia, salsiccia e salame), di gallina e di manzo (solo i tagli più economici e senza mai dimenticare un grosso osso di prosciutto), e le verdure invernali come le verze, le scarulelle, le biete, le torzelle, la borragine e la cicoria; dopo lo sposalizio a cottura lenta per oltre un'ora, bisogna lasciare riposare la minestra per almeno un'altra ora, altrimenti il matrimonio non riuscirà.
Il Cuoco Galante
Se la cucina francese gode di una totale egemonia sulle tavole nobiliari europee, a Napoli, dopo mezzo secolo di dominazione straniera, la tradizione culinaria partenopea riemerge fronteggiando l'invasore con la feracia dei suoi ingredienti e la ricchezza delle sue tradizioni.
A farsi interprete e razionalizzatore di questo incontro epico tra le due grandi tradizioni culinarie è Vincenzo Corrado, Capo dei servizi di bocca (ovvero sovrintendente alla cucina, alla preparazione dei cibi e all'organizzazione dei banchetti) del principe Fontana.
Soprannominato Cuoco Galante per i modi eleganti con i quali svolge le sue mansioni legate al cibo, Corrado pubblica nel 1773 un testo omonimo che avrà un successo letterario-culinario imprevisto; nel frontespizio è un suo ritratto con epigrafe: "Corrado Oritan Vincenzo è questo,/ Meccanico Immortal, di Pregi onusto./ Galante il Cuoco, e 'l Credenzier di gusto,/ Opre son sue. Ti basta. Intendi il resto".
Ritratto di Vincenzo Corrado pubblicato sul frontespizio del "Il Cuoco Galante, opera meccanica dell'oritano Vincenzo Corrado: di varie capricciose vivande nel fine de' loro stessi trattati accresciuta", seconda edizione, Napoli, 1778.
Il suo punto di partenza è la cucina francese, divenuta ormai la cucina tradizionale di corte; a questa, Corrado riesce ad integrare egregiamente sia gli ingredienti poveri della cucina popolare partenopea, come il pesce azzurro e le erbe di campo, sia i nuovi prodotti provenienti dalle Americhe, come la patata e il pomodoro. Quest'ultimo sarà destinato a diventare l'ingrediente principe della cucina napoletana: "la scoperta del pomodoro ha rappresentato, nella storia dell'alimentazione, quello che, per lo sviluppo della coscienza sociale, è stata la rivoluzione francese [2]", afferma Luciano De Crescenzo mentre sta pensando alla cucina partenopea, una "cucina a «luci rosse» per la presenza illuminante sulla nostra mensa di quel meraviglioso prodotto della natura, fatto a forma di lampadina, noto a tutti come il pomodoro sammarzano! [3]".
Il Cuoco Galante restituisce anche le dimensioni, lo sfarzo e la sontuosità dei banchetti settecenteschi alla corte dei Borbone. Un apposito professionista, il Maestro Ripostiere, era preposto alla spettacolarizzazione del momento dedicato al pasto con l'allestimento della sala del banchetto e della tavola da pranzo: "al ripostiere erano affidati gli elementi decorativi del desco e la loro disposizione: vasi di majolica pieni di frutta, ortaggi o fiori, porcellane o argenti raffiguranti putti, scene bucoliche, campestri, coppe di cristallo, piccoli acquari, e infine il vasellame, l'argenteria e la cristalleria da servizio [4]".
Benvenuto Cellini, Saliera di Francesco I, ebano, oro e smalto, 1540-1543.
La mise en place come mise en scene richiede che il cibo venga presentato allestito in fantasiose scenografie concepite al pari di architetture effimere; la conduzione del banchetto sia una spettacolare sequenza di camerieri, scalcatori, coppieri e servitori; l'imbandimento della tavola sia un'ordinata orchestra di porcellane, argenterie, vasellame e cristallerie dominate da ardite composizioni di frutti, ortaggi e fiori, così come Corrado minuziosamente disegna nei suoi schemi ("Idea di una Mensa per 32 persone").
"Idea di una Mensa per 32 persone", Inserto del libro "Il Cuoco Galante" pubblicato da Vincenzo Corrado nel 1773.
Anche il gusto per la presentazione del cibo filtra attraverso le finestre delle cucine del palazzo reale per scendere in strada e raggiungere i mercati più popolari di Napoli: "il napoletano non solo ama mangiare, ma esige pure che la merce in vendita sia bellamente presentata", annoterà Goethe nel suo Viaggio in Italia [5], mentre Matilde Serao osserva che "questo popolo ama i colori allegri, esso che adorna di nappe e nappine i cavalli dei carri, che si adorna di pennacchietti multicolori nei giorni di festa, che porta i fazzoletti scarlatti al collo, che mette un pomodoro sopra un sacco di farina, per ottenere un effetto pittorico e che ha creato un monumento di ottoni scintillanti, di legni dipinti, di limoni fragranti, di bicchieri e di bottiglie, un monumentino che è una festa degli occhi: il banco dell'acquaiuolo [6]".
Acquaiolo, acquatinta acquerellata di Achille Vianelli (1830 c.)
Il Trattato X de Il Cuoco Galante, Delli Timpalli e delli Sortù, contiene le ricette di quei piatti che rappresentano il vertice del sincretismo culinario tra la cucina francese e quella partenopea: queste pietanze fanno parte ancora oggi delle tradizioni della cucina campana e siciliana, dei must che si perpetuano e si consacrano nel gemellaggio con le festività e le ricorrenze religiose.
La premessa al capito è una promessa: "la mensa dev'esser sempre coverta, non solo da vivande semplici, ma da composte ancora. E s'è vero, che quel che piace giova, sono sicuro della riuscita, e dell'esito felice".
Tutte le ricette dei timballi e dei sartù sono composte da tre componenti: un contenitore (di pasta sfoglia o frolla o di riso), un ripieno (maccheroni, farina di riso, pane grattugiato), un condimento (carne, frattaglie, formaggio, salumi, tartufi, ortaggi, funghi, béchamel). Le loro derivazioni nella cucina partenopea sono rappresentate dal Timballo di maccheroni, dal Casatiello, dalla Pastiera, dal Sartù di riso, dal Tortàno; in quella siciliana dalla Pasta al forno, dal Gattò di patate, dalle Arancine, dal Timballo di capellini.
Le varianti delle ricette delle cucine nobiliari e aristocratiche e della cucina popolare si ravvisano negli ingredienti, facilmente reperibili in loco e a buon mercato per quest'ultima, più ricercati e sofisticati per le prime. Rappresentano in definitiva una mirabile fusion intergenerazionale e di successo tra ceti sociali e culture diverse.
La presenza di ingredienti preziosi, rari, esotici, afrodisiaci sulla tavola dei re di Borbone ecciterà la fantasia di Curzio Malaparte nell'architettare il menu de Il pranzo del Generale Cork [7].
Progettare un menù regale a Napoli nell'atmosfera della seconda guerra mondiale, per di più con la penuria di alimenti di ogni genere in una città devastata dai bombardamenti e dall'occupazione tedesca, non era facile. E di contro non era possibile rinunciare a servire il pesce come portata principale ad ospiti di particolare riguardo, benché la pesca fosse stata interdetta in tutto il golfo per motivi militari.
ENTRÉE DI SPIGHE DI GRANTURCO TOSTATE, CONSOMMÉ IN TAZZA E PESCE BOLLITO CON MAIONESE.
Il menù è stabilito dal Generale Cork come un ordine, si esegue e non si discute. E il pesce? Come si può reperire del pesce fresco a Napoli in tempi di guerra?
Al momento del servizio della portata principale, lo spettacolo entra in scena accompagnato da valletti in livrea con guanti e parrucche: sulla tavola, sopra un grande vassoio d'argento, circondata da una ghirlanda di rami di corallo rosa e di foglie di lattuga, giace intera una Sirena, un corpo antropomorfo orrendamente simile al cadavere di una ragazza adolescente, rigonfio e lacero per la lunga cottura in acqua bollente.
La Sirena era stata pescata nell'acquario di Napoli che Anton Dohrn aveva fatto costruire nel 1872 nella stazione zoologica all'interno della Villa Comunale, sulla Riviera di Chiaia; "aveva gli occhi aperti, le labbra socchiuse: e mirava con uno sguardo di meraviglia il Trionfo di Venere dipinto nel soffitto da Luca Giordano. Era nuda: ma la pelle scura, lucida, dello stesso color viola del vestito di Mrs. Flat, modellava, proprio come un vestito attillato, le sue forme ancora acerbe e già armoniose, la dolce curva dei fianchi, la lieve sporgenza del ventre, i piccoli seni virginei, le spalle larghe e piene [8]".
La Sirena servita bollita al pranzo del Generale Cork, scena del film "La pelle" di Liliana Cavani, 1981, tratto dal romanzo omonimo di Curzio Malaparte.
Dalle finestre del palazzo reale, oltre agli effluvi e ai sogni d'opulenza, usciva anche la monnezza: i Monsù usavano gettare al popolo gli scarti di frutta e ortaggi e i resti della macellazione degli animali, i componenti del quinto quarto che non trovavano posto sulle raffinate tavole del re.
Il lancio delle frattaglie veniva accompagnato dal verso "et voilà, les entrailles" che ha dato origine al termine zandraglia, epiteto che indica una donna dai modi sguaiati che raccatta i resti di cibo buttati per strada, uno dei dispregiativi napoletani peggiori per una donna.
La cucina teorico-pratica e finalmente una Cusina casarinola co la lengua napolitana
Nel suo soggiorno a Napoli nel 1787 Goethe non poté fare a meno di notare la massiccia presenza nelle strade della città dei maccheronari, artisti della pasta proposta come cibo da strada: "vendono così bene il loro prodotto che molta gente trasporta il loro pasto via in fogli di carta [9]".
La pasta è stata per il popolo di Napoli, la città più popolosa d'Europa che ha raggiunto quasi mezzo milione di abitanti nel XVII secolo, l'antidoto più efficace contro la fame; soprattutto per i più poveri, che si nutrivano di "una pasta nerastra, e di tutte le misure e di tutte le grossezze, che è il raccogliticcio, il fondiccio confuso di tutti i cartoni di pasta, e che si chiama efficacemente monnezzaglia: e la condisce con pomidoro e formaggio [10]".
Insieme al maccaronaro, entrano sulla scena urbana nuovi protagonisti del cibo da strada come il sorbettaro, il franfelliccaro, l'acquaiolo, il mellonaro e l'ostricaro.
Il "Maccaronaro", il "Sorbettaro" e il "Mellonaro", Litografie acquerellate di Carl Théodor Müller (1820 c.).
Il "Fabbricante di Fanferlicchi", Acquatinta acquerellata di Achille Vianelli (1830 c.).
L'"Ostricaro", S.Duclère.
Ben consapevole della pericolosità di una cittadinanza popolosa e affamata, Re Ferdinando II inaugura agli inizi dell'800 i primi pastifici industriali sfruttando le favorevoli condizioni ambientali di Portici, Torre del Greco, Torre Annunziata e Gragnano, località della Campania in cui clima e vento sono particolarmente adatti all'essicazione della pasta.
Napoli, Maccheronaio napoletano: scena da vero, Edizioni Brogi.
Napoli, Fabbrica di Maccheroni, Sommer.
Gragnano, Essicazione della pasta in filari, Piazza Trivione e Via Roma.
Torre Annunziata, Essicazione della pasta.
La produzione industriale di svariati formati di pasta coniugata alla creatività del popolo napoletano darà vita a infinite ricette il cui denominatore comune è la disponibilità e l'economicità dei condimenti. Laddove non si arriva con i mezzi finanziari, subentra la fantasia, come nella ricetta degli spaghetti con le vongole fujute, conditi solo con un sugo di pomodorini, aglio, olio e prezzemolo (le vongole, il commensale, se le deve immaginare).
Anche la classe borghese emergente esprime la sua identità culinaria coniugando la cucina nobiliare con le tradizioni della cucina popolare.
Gli esiti di queste rielaborazioni vengono raccolti da Ippolito Cavalcanti, duca di Buonvicino, che pubblica nel 1837 la prima delle nove edizioni di un libro destinato ad un successo paragonabile a quello de Il Cuoco Galante: Cucina teorico-pratica col corrispondente riposto ed apparecchio di pranzi e cene con quattro analoghi disegni. Metodo pratico per scalcare, e far servire in tavola. Lista di quattro piatti al giorno per un anno intero e finalmente una cucina casereccia in dialetto napoletano con altra lista analoga. Nel 1839 uscirà una seconda edizione con l'appendice Cusina casarinola co la lengua napolitana.
A differenza del precedente settecentesco, il testo riporta le migliori ricette provenienti da tutte le classi sociali e l'autore ha cura di tradurre in dialetto napoletano gli ingredienti e le ricette, commentando che "gli uomini di genio sanno trarre la luce dalle tenebre, e fare d'una povertà, una ricchezza [11]".
Ma infine, come si sarebbe potuta chiudere la grande dinastia del regno borbonico di Napoli se non con un colpo ad effetto?
Chi sarebbe mai potuto essere l'ultimo re, successore di Ferdinando II, a sedere sul trono del Regno delle Due Sicilie, se non Re Lasagna?
È Francesco II, il re così goloso di pasta che passa alla storia con questo epiteto.
Il ciambellano di corte, don Gennaro Spadaccini, inventa per lui la forchetta a quattro rebbi (originariamente la forchetta era fornita di soli due rebbi) perché il re possa più decorosamente mangiare i suoi maccheroni, mentre Ippolito Cavalcanti celebra la statura morale – e le inclinazioni culinarie – del re dedicandogli la ricetta "Gattò di lasagnette alla Buonvicino":
"Farai la pasta de' tagliolini (…), con la sola diversità che porrai nella pasta un pezzo di butiro quanto una noce, e non la levigherai tanto sottile; taglierai le lasagne della larghezza di sei dita riquadrate, le farai cuocere con acqua bollente e sale, mettendole nell'acqua una per volta nel più forte del bollo, acciò non si ammassino; quando saranno cotte le sgocciolerai, e le porrai nell'acqua fresca e sale, poscia le distenderai sopra di un pulito panno-lino. Prendi una casseruola bene imbutirrata ed ingranita di pan-gratto, stenderai le lasagne nel fondo, ed al'intorno della casseruola, che sopravanzino la sua altezza; condirai suol per suolo con parmigiano grattugiato, pezzetto di butiro fresco, e un poco di triturato raguncino che farai di polpettine di carne, fegatini di pollo, piccoli ovi non nati, e de' grandi divisi, pochi funghi, e piselli ma questo raguncino sia tutto mischiato e ben triturato, e se ti piacesse ci stanno bene ancora dei pezzettini di tartufo. Quando la casseruola sarà quasi piena, ripiegherai dentro le lasagne che sono fuori del bordo, terminando con una fiorata di parmigiano e butiro; porrai la casseruola nel forno alquanto caldo, perché il gattò si fermi, e poscia rassettato un pochino lo rivolterai diligentemente nel piatto proprio, e lo servirai subito [12]".
In questa ricetta, di complessa preparazione, compaiono come ingredienti il burro, la pasta sbianchita, il parmigiano, le frattaglie, i legumi e il tartufo; un trionfo della mixité gastronomica francese, nord europea, padana, partenopea, regale e popolare.
E per chi se lo stesse ancora chiedendo… ebbene sì, sono proprio loro: un antesignano delle nostre (ormai) italianissime Lasagne!
Notes
[1] In onore delle nozze tra Maria Carolina e Ferdinando IV venne inventato il Gattò di patate, pasticcio di patate schiacciate, mescolate con burro, uova, salumi e formaggi e cotto al forno.
[2] De Crescenzo L., Croce e delizia, Milano, Mondadori, 1994.
[3] Ibidem.
[4] Becciani U. G., Il credenziere, Pistoia, Il Papyrus, 2011.
[5] Goethe von J. W., Viaggio in Italia, 1816-1817. L'episodio citato è stato annotato nel 1787.
[6] Serao M., Il ventre di Napoli, 1884.
[7] Episodio del libro di Curzio Malaparte La Pelle, 1949.
[8] Malaparte C., La Pelle, Roma-Milano, Aria d'Italia, 1949.
[9] Goethe J. W., op. cit.
[10] Serao M., op. cit.
[11] Ippolito Cavalcanti Duca di Buonvicino, Cucina teorico-pratica, Napoli dalla Tipografia di G. Palma, seconda edizione, 1829.
[12] Cavalcanti I., op. cit.
---
Head image: Brighton, Royal Pavillion, Banqueting Room, J. Nash, 1800 ca.
---