5 Agosto, 2018
They lay there, stored on the highest memory shelves, those reachable only with a ladder. Hidden behind thousands of boxes filled in with objects piled up throughout generations and fast fleeting like a trend. Today we are perhaps a little embarrassed to remember us when we were kids pretending, just for a day, to be them, dress up like them, put the right make up to resemble them and play their rhymes with a slang.
All at once, straight from the States, the more modern fleet of Zorro, Disney Princesses, Superman, Marvel Heroes (Spiderman and Captain America, top of the list), completely blasted us. And this was not the end! These oldies were more recently followed by the trendier Ninja Turtles and the Japanese Manga, whilst the latest blow of paw has been shot by Catboy and friends, the Pj Masks!
The Italian masks of Comedy Art, born in the Sixteenth Century from the fantasy of the working-class of an Italy still subdivided in States, Dukedoms and Shires, lay unfairly forgotten in our memory shelves passed the last carnival season.
These masks, however, represent an extraordinary historical-cultural portrait of Italy. Each one becomes the synonymous of a character and helps understanding who hides beneath the mask. Each character, therefore, becomes synecdoche of autochthonous inhabitants of a place, of a city, of a region.
Venice was the first city to bring the comedy from the streets to theatre, sharply anticipating the possible economic size of what a mere begging could have potentially become by selling real tickets for a show in a box office.
Only to mention some of the most popular Venetian masks, Pantalone, stingy and grumpy expert merchant, apparently interested just in money, but also sensible to the charm of beautiful young ladies; Rosaura, his beautiful and vain daughter, dowried with an elegant apartment on the Grand Canal; Colombina, mischievous, cunning and liar servant, rigorously speaking authentic venetian slang. A necessary and sufficient mixture of ingredients to play a multitude of spicy comedies.
Venice owns a lot to her masks: the Venetian carnival is indeed one of the most popular festival worldwide. Of all the masks of the city that tradition has passed on to us, one almost has got lost. One named "Scossa"!
Relax because there is no way you can possibly find Scossa anywhere. It's Scossa that finds you!
He appears as a shadow in the fog, all of a sudden, out of the tables of a tavern. Wearing a friendly smile, he offers you another "ombra de vin" (a glass of wine), as symbol of his friendship and solidarity.
He loves to say about himself he is "baccatoso" (a tavern lover), because Scossa is a constant client of the old bacari (taverns) of the genuine Venice. He is gutted apprehending that, one by one, all bacari are slowly disappearing under the pressure of more touristic and more commercial bars.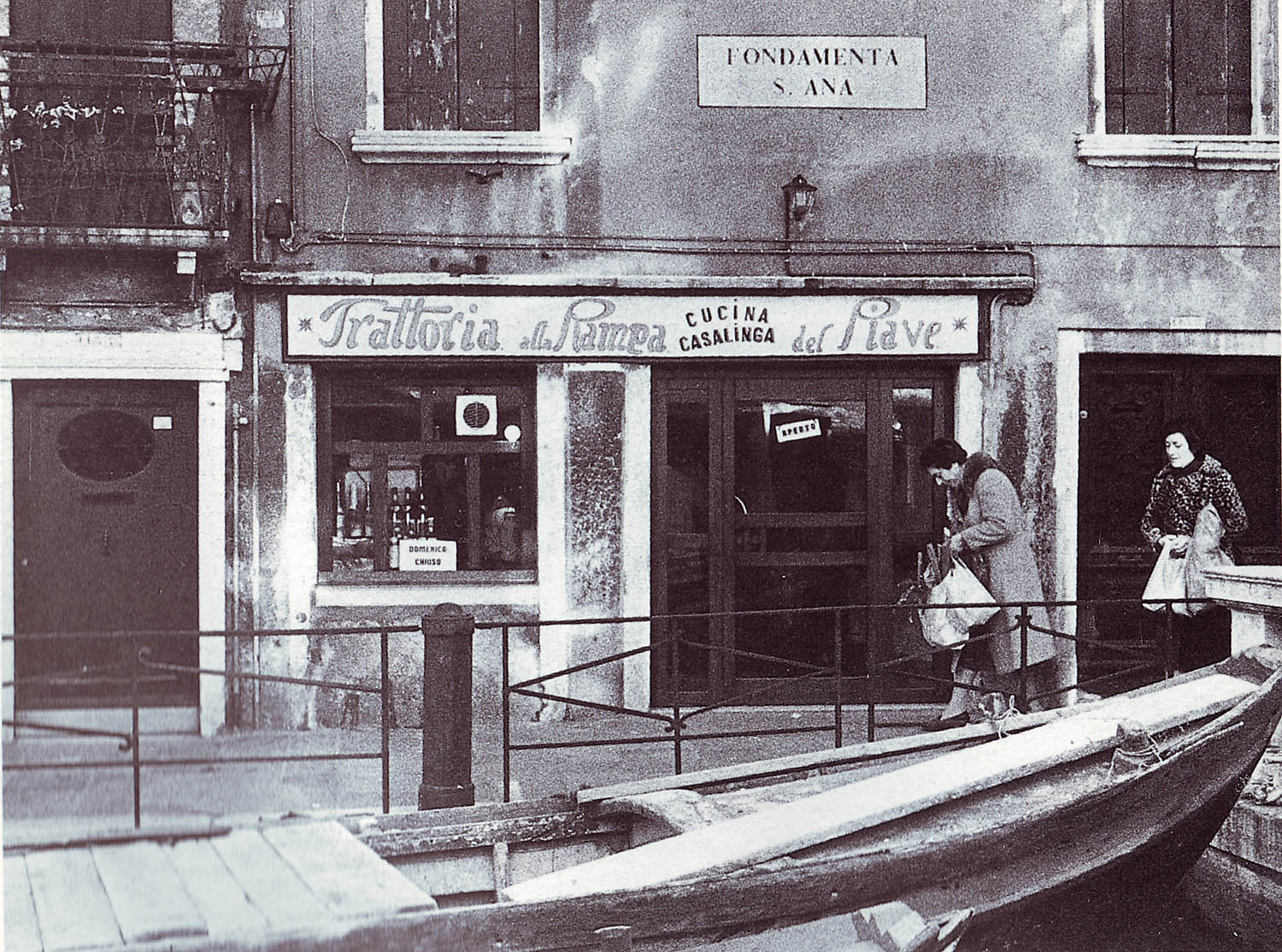 Osteria Alla Rampa del Piave, Castello, fondamenta di Sant'Anna, 1135. (Agostinetti N., Catullo R., Lagomarsino E., 1992, "Osterie a Venezia", Padova, Edizioni del Lombardo Veneto)
He represents exactly what tourists can not see. In a nutshell, he is the mournful and jolly, drunk and broken, resigned and happy spirit of Venice. His movements run along invisible paths, through the folds of monumental itineraries of La Serenissima; a parallel reality, accessible only to those who can appreciate the most genuine side of Venice.
Why does Scossa love spending so much time in bacari? Because bacari are those places where you can listen real stories of real men and women.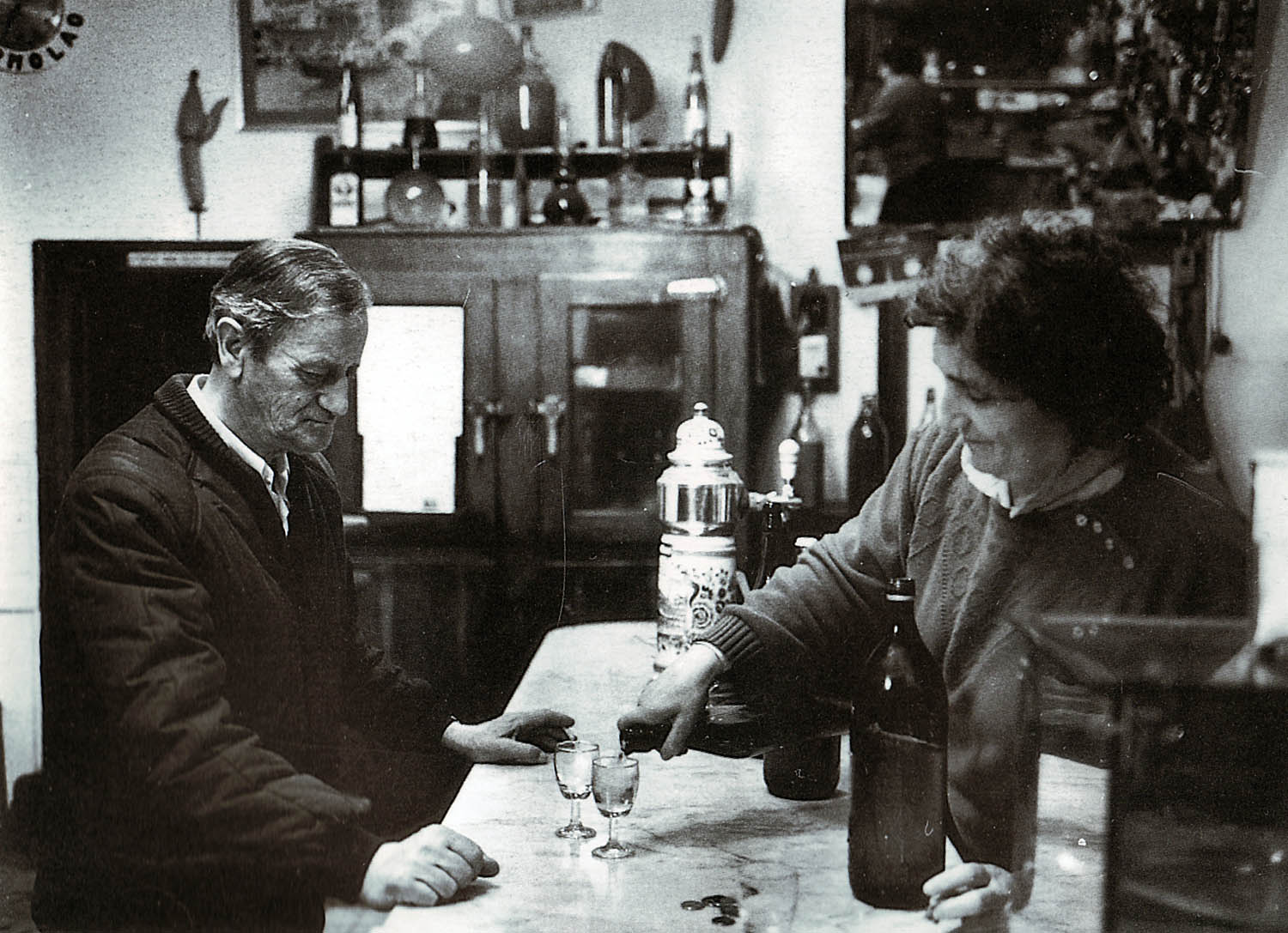 Bar alla Rivetta, Santa Croce, fondamenta Secchiere, 643. (Agostinetti N., Catullo R., Lagomarsino E., 1992, "Osterie a Venezia", Padova, Edizioni del Lombardo Veneto)
Bacari are the tavern-asylum for workers working the hardest and most humble jobs of the lagoon: "L'Antico 54" ("The Old 54"), for instance, open night and day, used to offer hospitality to scavengers of rivers and sewages (the number 54 in play cards, stands for "shit"). "Alla ferrata" ("The Railway Inn"), used to open from dawn to late at night, to give comfort to travelling rail personnel. There are taverns with boule courts, playgrounds and areas to play cards.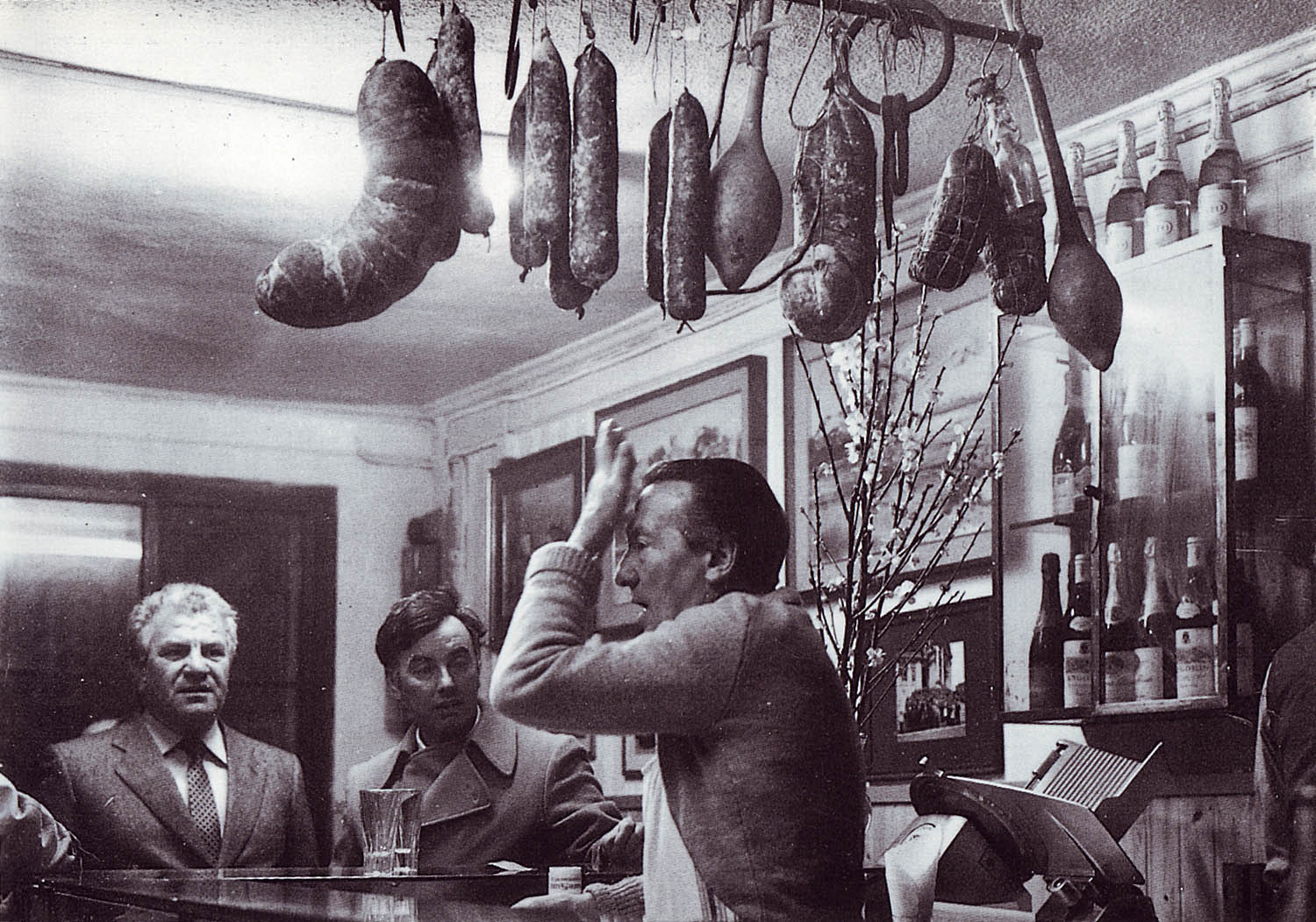 Antiche Cantine Ardenghi, Cannareggio, calle della Testa, 1963. (Agostinetti N., Catullo R., Lagomarsino E., 1992, "Osterie a Venezia", Padova, Edizioni del Lombardo Veneto)
Here some hints to recognize these real taverns: the inner space, super tiny, take advantage of every available inch (like inside a boat) to display and serve wines. Beneath glass cases well exposed are "Cicchetti", small bites eaten between a glass of red and a glass of white wine served already from the early hours. Cicchetti represent the most creative revamped version of local products available in the rich Venetian markets. The classics of tradition are: sweet 'n sour sardines ("sarde in saòr"), squids, "mantecato" codfish dip (either "pure" or served with fresh herbs), whitebait and fried baby calamari, stewed baby octopus, white polenta with shrimps, artichoke hearts, tuna fish balls, half hard boiled eggs with anchovies …
The traditionals 'cicchetti' that accompany 'l'ombra de vin' (a glass of wine).
Scossa complaints about disappearance of bacari, as well as disappearance of a generation of Venetians and their traditions.
It's true that traditional bacari are slowly disappearing: it's true because their clients are also disappearing. Fortunately, this phenomenon is steadily reconverting: nowadays in Venice, one after the other, a number of new bacari are opening at speed of light, tailored on the new generation of clients. Young and curious guys, interested in discovering the most ancient traditions bound to the anthropologic and economic context of Venice are craving to experience the atmosphere and taste recipies of the old tradition of an authentic Venice, far away from mystifications of vulgar commercialization that is steadily disfiguring one of the most beautiful cities in the world.
Beware of the trends though! Scossa is putting you to the test with a super important duty: joyfully take your time to enjoy in one of the few authentic bacari that has still survived with maximum integrity to the commercialization of Venice. However, do not get enchanted and mislead by those bars that serve easy Spritz with (fake) crab claws!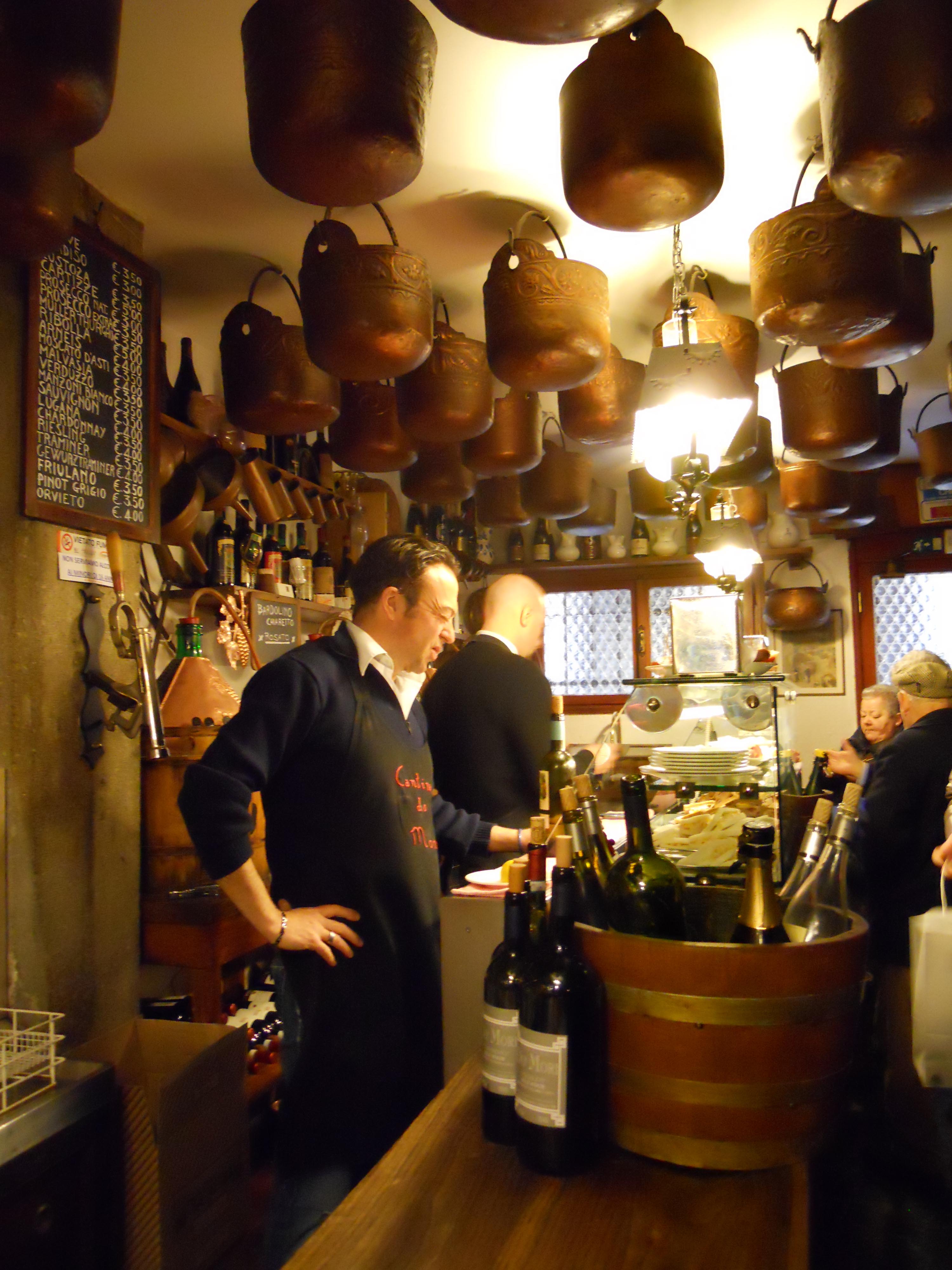 Cantina Do Mori, San Polo, Rialto, 429. The inn was known since 1460. Several times transformed, the last inauguration is mentioned by Gozzi in the Gazzetta Veneta and dates back to 1760. Today it is still in operation. The most loyal customers are the operators of the Rialto fruit and vegetable market.
Pay attention. Choose being aware of picking the right tavern, use your knowledge in Venice tradition, train you palate to recognize the real taste of authentic local tradition. Be gentle also on bacari of new generation, but only with those that will be able to continue the old, long and glorious Venetian tradition.
And if Scossa will finds you in a bacaro generation 2.0 …. well… you'll know you made the right choice!
Notes
[1] With Scossa approval, in 1992 his friends Nino Agostinetti, Roberto Catullo and Ettore Lagomarsino have produced an extraordinary editorial published by Lombardo Veneto Editions entitled "Osterie a Venezia", where they review taverns still open and those that had disappeared in Venice, Giudecca, Lido, Pellestrina, Murano, Mazzorbo, Burano, St. Erasmo and Vignole.
Scossa, aka Dario, is a real person.
---
Head Image: Antiche Cantine Ardenghi, Cannareggio, calle della Testa, 1963. (Agostinetti N., Catullo R., Lagomarsino E., 1992, "Osterie a Venezia", Padova, Edizioni del Lombardo Veneto)
---
Venezia delle osterie
Le abbiamo riposte negli scaffali della memoria più alti da raggiungere, quelli che ci vuole la scala altrimenti non ci arrivi.
Davanti si sono accumulati altri scatoloni pieni di varianti generazionali, fugaci come le mode.
Forse ci vergogniamo un po', oggi, ricordando che da bambini fingevamo, per un giorno, di essere loro, travestendoci, incipriandoci e recitando le loro filastrocche in dialetto.
Poi dalle Americhe sono arrivati Zorro e le Principesse della Disney, e poi ancora Superman e i supereroi della Marvel, con l'Uomo Ragno e Capitan America in testa, che ci hanno conquistato con la loro modernità. Poi ancora è stato il tempo delle Tartarughe Ninja e dei Manga Giapponesi e l'ultima zampata l'hanno sferrata Gattoboy e i suoi amici, i Super Pigiamini!
Le Maschere italiane della Commedia dell'Arte, nate nel Cinquecento dalla fantasia popolare di un'Italia ancora suddivisa in Stati, Ducati e Regni, dopo un'ultima stagione di spettacolo sotto forma di costume carnevalesco, giacciono ingiustamente dimenticate nella soffitta della nostra memoria.
Eppure, rappresentano uno straordinario ritratto storico-culturale dell'Italia. Ogni maschera diviene sinonimo di personaggio, serve a identificare immediatamente con chi abbiamo a che fare; e il personaggio, a sua volta, diviene sineddoche degli abitanti di un luogo, di una città, di una regione.
Venezia è la città che, per prima, ha portato la commedia dalla piazza al teatro, intuendo abilmente i riscontri economici del passaggio dall'elemosina di uno spettacolo di strada allo sbigliettamento del botteghino. E non a caso le sue maschere sono il vecchio Pantalone, navigato mercante avaro e brontolone, apparentemente affezionato solo al denaro, ma alquanto sensibile anche al fascino delle giovani fanciulle; Rosaura, deliziosa e vanitosa figlia – di elegante appartamento sul Canal Grande dotata -, e Colombina, maliziosa, furba e bugiarda servetta, rigorosamente 'venezianofona'. Ingredienti necessari e sufficienti per infinite piccanti varianti di messinscene.
Alle Maschere Venezia è ancora molto devota: non è un caso che il suo sia uno dei Carnevali più celebri del mondo. Ma tra le maschere della città che la tradizione ci ha consegnato ne è sfuggita una. Una che si chiama "Scossa"!
Non si incontra Scossa. È lui che ti trova.
Appare come una sagoma dalla nebbia, all'improvviso, tra i banchi di un'osteria. Con il suo amichevole sorriso ti invita ad un'altra 'ombra de vin' come dichiarazione di amicizia e solidarietà. Ama definirsi 'baccatoso' (tipo da osteria) ed è assiduo frequentatore degli antichi bacari della Venezia verace e nascosta. Si lamenta spesso che, ad uno ad uno, i bacari stanno scomparendo per lasciare spazio ad esercizi commerciali più turisticamente remunerativi.
Osteria Alla Rampa del Piave, Castello, fondamenta di Sant'Anna, 1135. (Agostinetti N., Catullo R., Lagomarsino E., 1992, "Osterie a Venezia", Padova, Edizioni del Lombardo Veneto)
Lui è tutto quello che i turisti non vedono. È lo spirito malinconico e conviviale, ebbro e sfranto, rassegnato e giocondo di Venezia. I suoi spostamenti viaggiano su percorsi invisibili tra le pieghe degli itinerari monumentali della Serenissima; sono una realtà parallela, accessibile solo a chi sa apprezzare il volto più verace di Venezia.
Perché Scossa ama tanto frequentare i bacari? Perché lì si possono ancora ascoltare tante storie vere, di uomini e di donne.
Bar alla Rivetta, Santa Croce, fondamenta Secchiere, 643. (Agostinetti N., Catullo R., Lagomarsino E., 1992, "Osterie a Venezia", Padova, Edizioni del Lombardo Veneto)
Ci sono le osterie-rifugio degli operai dei mestieri più umili e più duri della laguna: l'Antico 54, aperta giorno e notte, accoglieva gli scavatori dei rii e delle fognature (54, nelle carte, sta per 'merda'); Alla Ferrata era aperta dalle prime ore dell'alba a notte inoltrata per confortare il personale viaggiante delle ferrovie. Ci sono le osterie con i campi da gioco per le bocce, quelle dove si può giocare a carte e quelle con il giardino.
Antiche Cantine Ardenghi, Cannareggio, calle della Testa, 1963. (Agostinetti N., Catullo R., Lagomarsino E., 1992, "Osterie a Venezia", Padova, Edizioni del Lombardo Veneto)
Gli indizi per riconoscerli sono sempre gli stessi: i locali, di dimensioni ridottissime, sfruttano ogni spazio disponibile, come all'interno di una imbarcazione, per l'esposizione e la mescita del vino. Dalle bacheche di vetro ammiccano i 'cicchetti', piccoli intermezzi tra un bianco e un rosso serviti fin dalle prime ore del mattino, che rappresentano la più fantasiosa rielaborazione dei prodotti alimentari locali o disponibili nel ricco mercato alimentato dai commerci marittimi. Tra i classici: le sarde in saòr, le seppie al nero, il baccalà mantecato (in purezza o con le erbette), pesciolini e calamari fritti, folpeti in umido, la polenta bianca con le schie, i cuori di carciofo, la copa de toro, i nervetti con cipolla, le polpettine di tonno, i mesi vovi co' l'aciugheta …
I tradizionali 'cicchetti' veneziani che accompagnano 'l'ombra de vin'.
Scossa lamenta la progressiva scomparsa dei bacari, come lamenta la scomparsa di una generazione di Veneziani e delle loro tradizioni.
È vero che i bacari tradizionali stanno via via scomparendo: è vero perché si esaurisce la loro clientela. Ma il fenomeno è già in via di riconversione: a Venezia oggi aprono un giorno dopo l'altro nuovi bacari, per una diversa generazione di fruitori. Giovani avventori curiosi di riscoprire le tradizioni più antiche e legate al contesto antropologico, economico e mercantile della città richiedono di assaporare ancora le atmosfere e le ricette della tradizione di una Venezia autentica, lontano dalle mistificazioni della volgare mercificazione che sta sfigurando una delle città più belle del mondo.
Attenzione però alle mode! Scossa vi mette alla prova un compito di importanza epocale: affidatevi con gioia ai bacari che sono sopravvissuti con integrità alla mercificazione di Venezia [1], ma non fidatevi dei locali dallo spritz facile, magari accompagnato da (finte) chele di granchio!
Cantina Do Mori, San Polo, Rialto, 429. L'osteria era nota sin dal 1460. Più volte trasformata, l'ultima inaugurazione viene citata da Gozzi nella Gazzetta Veneta e risale al 1760. Oggi è ancora in attività. I clienti più affezionati sono gli operatori del mercato ortofrutticolo e del pesce di Rialto.
Scegliete sempre con occhio colto, nutrito dalla conoscenza della tradizione, e con palato critico, allenato ai gusti della gastronomia locale. Premiate anche i bacari di nuova generazione, ma soltanto quelli che saranno capaci di portare avanti questa lunga e gloriosa tradizione veneziana.
E se Scossa vi incontrerà in bacaro di generazione 2.0, sarete certi di aver fatto la scelta giusta!
Note
[1] Con gran plauso di Scossa, nel 1992 i suoi amici, Nino Agostinetti, Roberto Catullo ed Ettore Lagomarsino, hanno consegnato alle stampe delle Edizioni del Lombardo Veneto, Padova, un gioiello editoriale intitolato Osterie a Venezia, censendo le osterie in attività e le osterie scomparse di Venezia, Giudecca, Lido, Pellestrina, Murano, Mazzorbo, Burano, Sant'Erasmo e Vignole.
Scossa, al secolo Dario, è un personaggio reale.
---
Head Image: Antiche Cantine Ardenghi, Cannareggio, calle della Testa, 1963. (Agostinetti N., Catullo R., Lagomarsino E., 1992, "Osterie a Venezia", Padova, Edizioni del Lombardo Veneto)
Article reference for citation:
ENGLISH BADAMI Alessandra,"
Venice taverns
" PORTUS: the online magazine of RETE, n.35, June 2018, Year XVIII, Venice, RETE Publisher, ISSN 2282-5789, URL:
https://portusonline.org/venice-taverns/
ITALIAN BADAMI Alessandra,"
Venezia delle osterie
" PORTUS: the online magazine of RETE, n.35, June 2018, Year XVIII, Venice, RETE Publisher, ISSN 2282-5789, URL:
https://portusonline.org/it/venice-taverns/
---