21 Dicembre, 2016
Asian Civilisations Museum, Singapore
4 November 2016 – 19 February 2017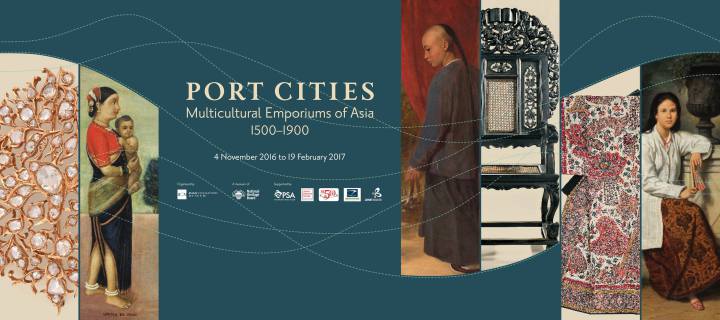 The Asian Civilisations Museum presents "Port Cities: Multicultural Emporiums of Asia, 1500-1900", an exhibition curated by Peter Lee that explores the unique heritage of Asian port cities and tells the story of how the global flow of people, goods, and ideas contributed to the evolution of multi-cultural societies in Singapore and other port cities in Asia today.
The first in the world to explore the topic, Port Cities charts a lesser known era of globalisation, identifying linkages between cities across the Asian continent, from Goa and Bombay in India, to Batavia (Jakarta) and Manila in Southeast Asia, to Canton (Guangzhou) and Nagasaki in East Asia. It tell the stories of how specific people and objects adapted as they traveled across the seas from one port city to another and how communities in many of these port cities were thoroughly modern, blending the latest global trends with their own local traditions of craft and design to create entirely new forms of fashion, decorative arts, and ways of living.
The globalisation and cosmopolitanism are not a modern phenomenon. There have been global trade networks since ancient times and certainly during the period from 1500 to 1900. These networks facilitated the development and evolution of multicultural societies in historic port cities leading up to Singapore.
"Port Cities: Multicultural Emporiums of Asia, 1500-1900" has been made possible through the strong relationships between ACM and many international partners. Over 180 objects from eight countries -Singapore, Portugal, Netherlands, Switzerland, Japan, Indonesia, Belgium, the Philippines – and 22 acclaimed institutions and private collections around the world are on display to tell this lesser known history. Many of these objects are being showcased for the first time in Singapore, including a collection of rare Chinese objects from 17th-century Batavia on loan from Stiftsbibliothek St Gallen in Switzerland.
The exhibition presents three aspects related to the movement of people, goods and ideas in Asia – Divergence (Moving, Selling, Copying), Convergence (Owning, Collecting, Commissioning), and Integration (Contriving, Combining, Creating) – along with how these aspects shaped the development of port cities.
---
More information