21 Giugno, 2023
╔
Introduction
Ocean Infinity is a young and fast-moving marine technology company specialising in the development and deployment of robotics for large-scale, subsea data acquisition. Purpose driven from day one, Ocean Infinity is developing a range of innovative technologies to transform operations at sea, enabling people and the planet to thrive.
Since its establishment in 2017, Ocean Infinity has pioneered the use of AUVs (autonomous underwater vehicles), using fleets of robotic vehicles to play a vital part in some of the most ambitious offshore projects the industry has ever seen including the search for missing airliner MH370, and the discovery of the missing Argentinian submarine, ARA San Juan.
Today, Ocean Infinity serves governments, energy organisations and scientific institutions, which have included Total, Orsted, bp, Energinet, Shell, Norwegian Petroleum Directorate, Exxon Mobil, NOAA and BOEM.
The company's ethos is that there are almost no offshore activities, whether they take place above or below the waves, that cannot be made significantly more efficient, greener and safer thanks to robotics, and is taking its ambitions a big step further by creating a fleet of robotic ships. Ocean Infinity's Armada fleet, currently in build, is set to be the largest fleet of remotely operable ships in the world, representing one of the most ambitious maritime innovations ever seen.
By the end of 2022 Ocean Infinity began to take delivery of its first 78m Armada ships and ran equipment test operations from the first of several planned Remote-Control Centres – key milestones on the company's journey towards tech-enabled lean-crewed operations for a safer and greener maritime future.
Armada Fleet
The innovative, low-emission robotic fleet will enable Ocean Infinity to perform tech-enabled lean-crewed operations for a safer and greener maritime future. They represent a giant leap forward for the maritime industry. The ships were designed from the keel up to be completely tech enabled. They were designed from the start to leverage all the benefits of the latest technologies in fuel cell propulsion, low earth orbit satellite communications, AUV deployment systems, electric work class ROVs, seabed drills and back deck equipment.
The vessels use hybrid solutions that are designed to evolve through various stages of future fuels implementation.
Remote Operation
All Armada vessels have been built with Ocean Infinity's Remote-Control centres (RCCs) in mind. The first one of these state-of-the-art centres will officially commence live operations in Southampton, UK in summer 2023, although it has been performing test operations for the last year.
The RCC enables, for the first time, anywhere in the world, multiple ships operating in a range of maritime jurisdictions to undertake complex tasks lean crewed or un-crewed, and over the horizon from a shore-based location, via the latest communication technologies.
It is the first Ocean Infinity RCC in an ambitious roll out of similar Centres built in the same mould to manage remote vessel operations all over the world.
In due course, the technology provided by the RCC, and the others like it, along with the corresponding vessel and communications technologies, will enable, in jurisdictions that will allow it, completely uncrewed operations.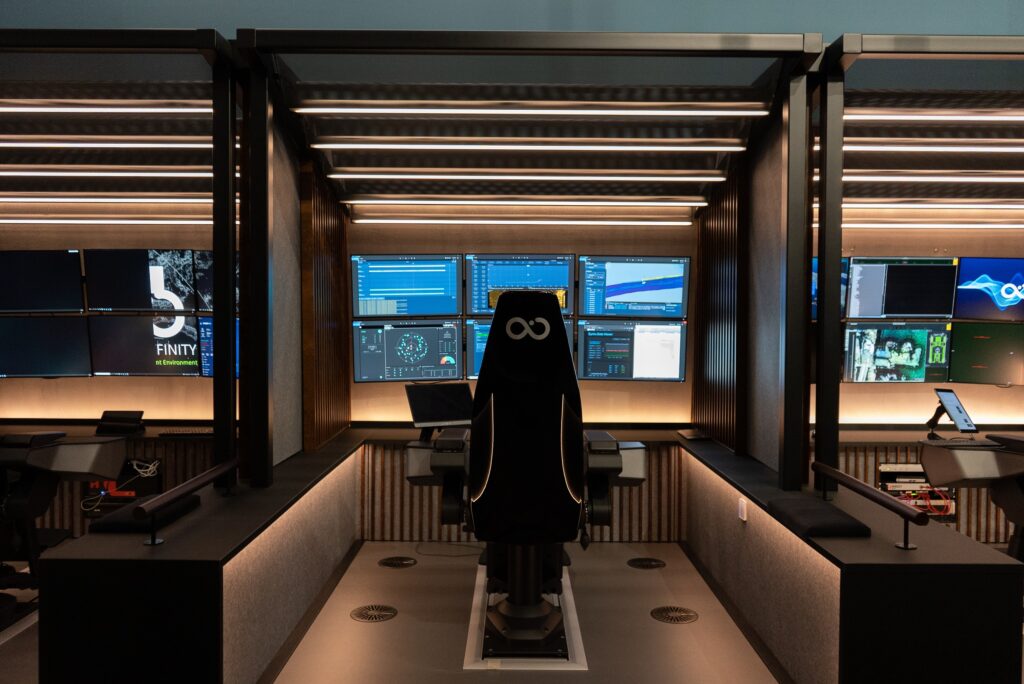 Our first Remote Control Centre located in Woolston, Southampton, UK. (© Ocean Infinity).
Technology
With a clear commitment to innovation and creative thinking, Ocean Infinity's team is developing innovative technology and data-handling capabilities to improve various projects in the industry. For instance, using AI to replace manual input needed to match adjacent lines to align multibeam sonar data from AUV (autonomous underwater vehicle) surveys and create systems capable of solving navigation issues to enable remote vertical visual inspection operations.
Through the utilization of AI and robotics, the company can accomplish operations that ultimately lead to a safer and more sustainable industry.
Overall, Ocean Infinity's innovative use of AI and robotics drives the industry's transformation towards safer and more sustainable operations while enabling the company to achieve what was once impossible.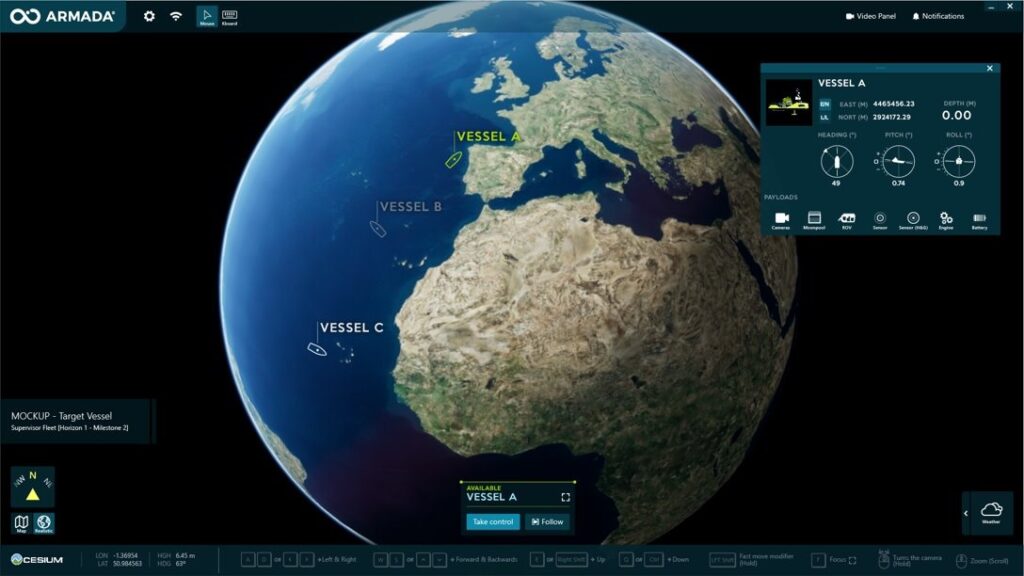 Ocean Infinity mapping of the different vessels and operations. (© Ocean Infinity).
---
HEAD IMAGE | The first of our Armada vessels with 78m. (© Ocean Infinity).
╝
---
---