26 Luglio, 2018
L'Istituto di Ricerca su Innovazione e Servizi per lo Sviluppo (IRISS) del CNR è giovane ma nasce dalla fusione di gruppi di ricerca consolidati con competenze complementari. In particolare, ha unito studiosi dell'economia del mare e dello shipping con urbanisti dediti alle città di mare e portuali. Il focus delle attività è sull'innovazione come strumento per la competitività dei territori e, negli studi di urbanistica, è declinato anche in termini di qualità urbana e di valorizzazione del patrimonio culturale.
Il gruppo di ricerca sulle città di mare è attivo dal 2009, è coordinato da chi scrive ed opera attraverso una rete, internazionale e locale, che unisce centri di ricerca, università, associazioni, istituzioni governative, enti locali, imprese del cluster marittimo e di quello delle costruzioni.
La proposta metodologica è guardare le città dal mare, attraverso una prospettiva marittima che aiuti a valorizzare il mare come risorsa ambientale, sociale ed economica per lo sviluppo urbano nelle regioni costiere. In tal modo, si va oltre il semplice recupero dei waterfront portuali dismessi e l'obiettivo diventa la rigenerazione delle aree urbane costiere, avendo nel mare la principale risorsa a cui attingere, sul piano ambientale, sociale ed economico.
Dopo alcuni anni di approfondimento di casi studio e buone pratiche internazionali come Valencia, Barcellona, New York, ecc. [1] l'attenzione del gruppo si è concentrata su Napoli, importante città portuale del Mediterraneo, con due millenni di storia marittima, afflitta da tanti problemi ma caratterizzata da una grande vitalità e con notevoli potenzialità di sviluppo.
Per ragioni storiche e geografiche, lo sviluppo di Napoli città portuale può essere un volano per lo sviluppo della Campania e del Mezzogiorno d'Italia, proprio partendo dal mare, dal sistema dei porti, dalla cultura marittima che unisce Napoli con le principali città portuali del Mar Mediterraneo [2].
Questa fase della ricerca ha posto in evidenza le criticità della realtà napoletana che hanno impedito al porto di crescere e di collegarsi alla città: debolezza politica sia della vecchia Autorità Portuale sia del Comune di Napoli, individualismo diffuso nella società napoletana, frammentazione del sistema economico produttivo, debolezza dell'associazionismo di scopo. Per questi motivi, abbiamo scelto Napoli come laboratorio di sperimentazione di nuovi modelli di governance della rigenerazione urbana – e, in particolare, della fascia costiera – attraverso processi collaborativi, con il coinvolgimento ampio di tutti soggetti, pubblici e privati, interessati direttamente o indirettamente.
Le attività di ricerca hanno generato una start up del terzo settore, l'associazione di scopo "Friends of Molo San Vincenzo" che, nel corso di poco più di due anni, ha raccolto intorno a se CNR – IRISS, Università Federico II Community Psychology Lab e Dipartimento di Architettura, Propeller Club Port of Naples, Aniai Campania (Associazione Nazionale Ingegneri Architetti Italiani), ACEN (Associazione Costruttori Edili Napoli), Cooperativa Barcaioli e Ormeggiatori del Porto di Napoli, Lega Navale Italiana e altri si stanno via via aggiungendo [3].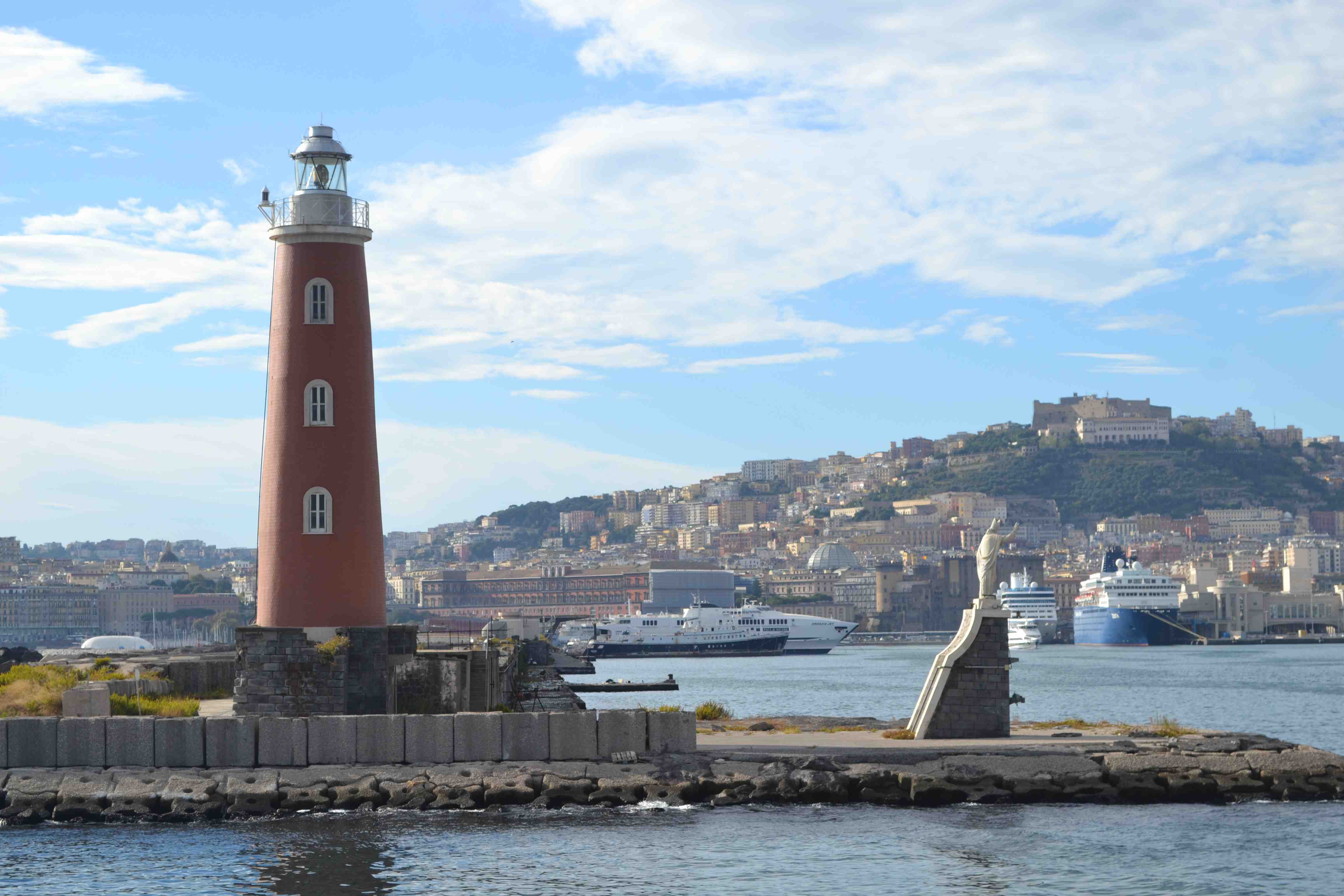 Il Molo San Vincenzo con il faro, la statua di San Gennaro e sullo sfondo la città storica: Maschio Angioino, Quartieri Spagnoli, Certosa di San Martino e Castel Sant'Elmo.
I Friends svolgono un ruolo di promotori e di facilitatori di iniziative per la rigenerazione del waterfront nel porto di Napoli con l'ambizione di ampliare il raggio d'azione alla costa urbana e metropolitana. Per raggiungere i propri obiettivi statutari, i Friends favoriscono il dialogo con e tra le istituzioni: la Città Metropolitana, il Comune di Napoli e le sue Municipalità, l'Autorità di Sistema Portuale, la Marina Militare, la Capitaneria di Porto e la Guardia Costiera.
In sintesi, le ricerche mirano alla definizione e sperimentazione di processi collaborativi [4] di rigenerazione urbana nelle città di mare, svolgendo attività che abbiano un impatto sul territorio [5], con obiettivi condivisi e risultati misurabili, in ultima analisi, per migliorare la qualità della vita urbana nelle città di mare.
La rete dei Friends è diventata un osservatorio privilegiato di quanto accade nel porto di Napoli, lungo il waterfront urbano e metropolitano, nelle relazioni tra porto e città, nell'interazione tra comunità urbana e comunità del mare.
La collaborazione e il contatto diretto con gli attori delle relazioni porto-città consente di avere elementi di conoscenza generale che poi vengono approfonditi secondo la prospettiva dell'urbanistica e delle altre discipline che hanno aderito alla rete di ricerca: architettura, psicologia di comunità, economia, trasporti, ecc.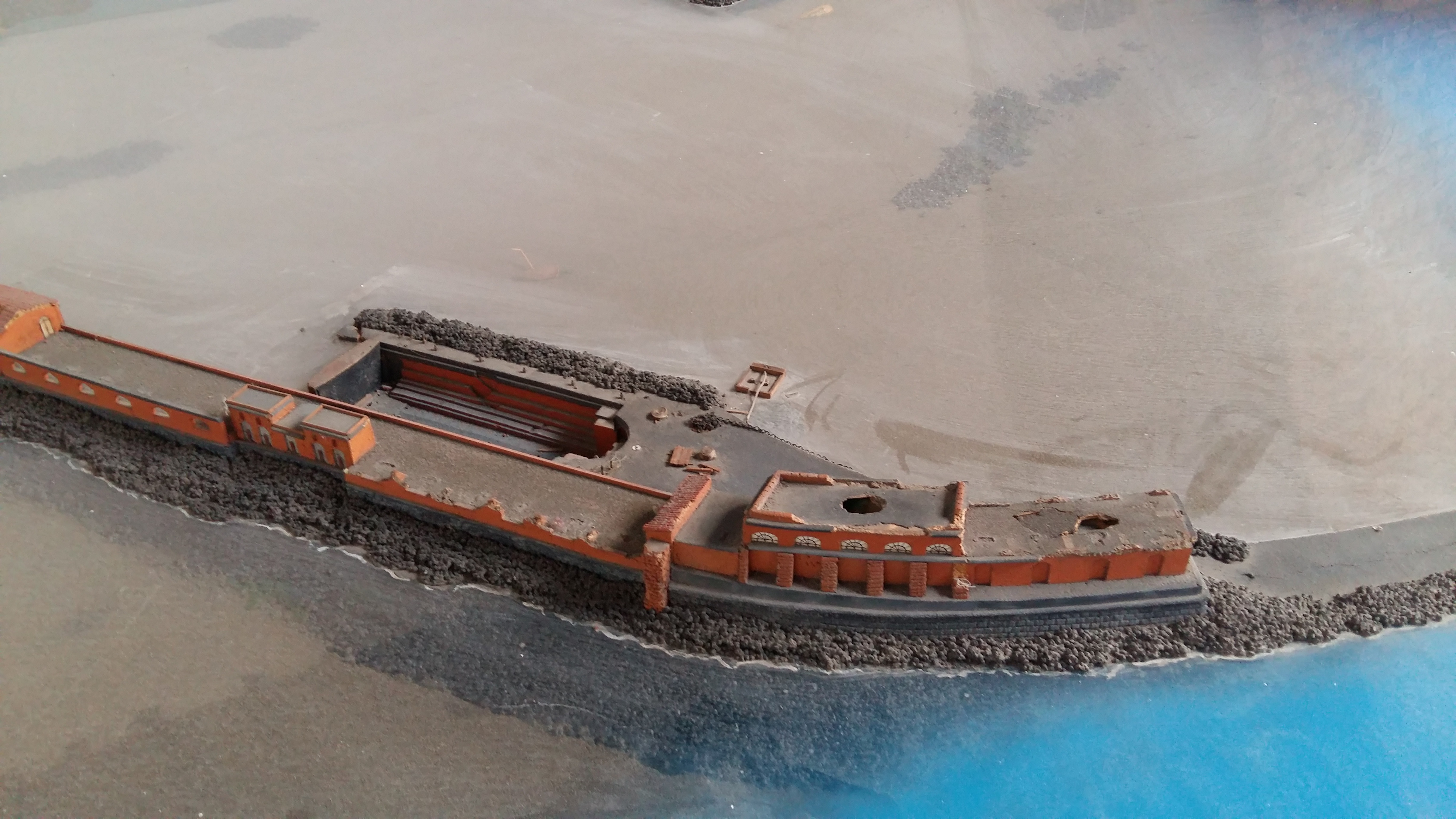 Plastico del Molo San Vincenzo com'era: è ben visibile il bacino di raddobbo (di carenaggio), tra i primi costruiti in Europa.
Il porto ritrovato
Il porto di Napoli è ripartito, dopo quasi un decennio di governance deboli e commissariamenti che avevano portato allo stallo quasi totale dello scalo napoletano, nonostante la grande tradizione e la presenza a Napoli di armatori tra i più importanti al mondo.
La riforma Delrio [6] ha introdotto le Autorità di Sistema Portuale prevedendone la guida da parte di un presidente di nomina governativa, un segretario generale e un comitato di gestione snello ed efficiente. Le amministrazioni dei porti sono state unificate e Napoli è stata accorpata a Salerno e Castellammare di Stabia, mettendo la parola fine ad una concorrenza locale insensata e dannosa se proiettata alla scala globale.
A Napoli, la nuova governance portuale ha sostanzialmente confermato l'attuale articolazione del porto, da ovest verso est: porto storico per crociere e passeggeri, cantieristica nell'area centrale, porto commerciale a levante. Ha però varato un programma operativo triennale e si è dotata di un master plan flessibile, realizzato dall'AdSP ma con il contributo di università e centri di ricerca, cercando il dialogo con le altre istituzioni pubbliche e con gli operatori economici, combattendo rendite di posizione e favorendo nuove iniziative utili alla città.
AdSP ha da subito lavorato su due partite sospese da anni: il dragaggio del porto necessario per accogliere navi con pescaggio fino a 14 metri e la riqualificazione del waterfront del Beverello, non avviata nonostante il concorso internazionale di progettazione del 2004 vinto dall'architetto francese Michel Euvé.
A seguire, sono stati affrontate altre complesse situazioni come le concessioni di aree e banchine bloccate da anni in regime di quasi monopolio, l'espansione del porto a levante, il collegamento con la linea ferroviaria e con gli interporti campani.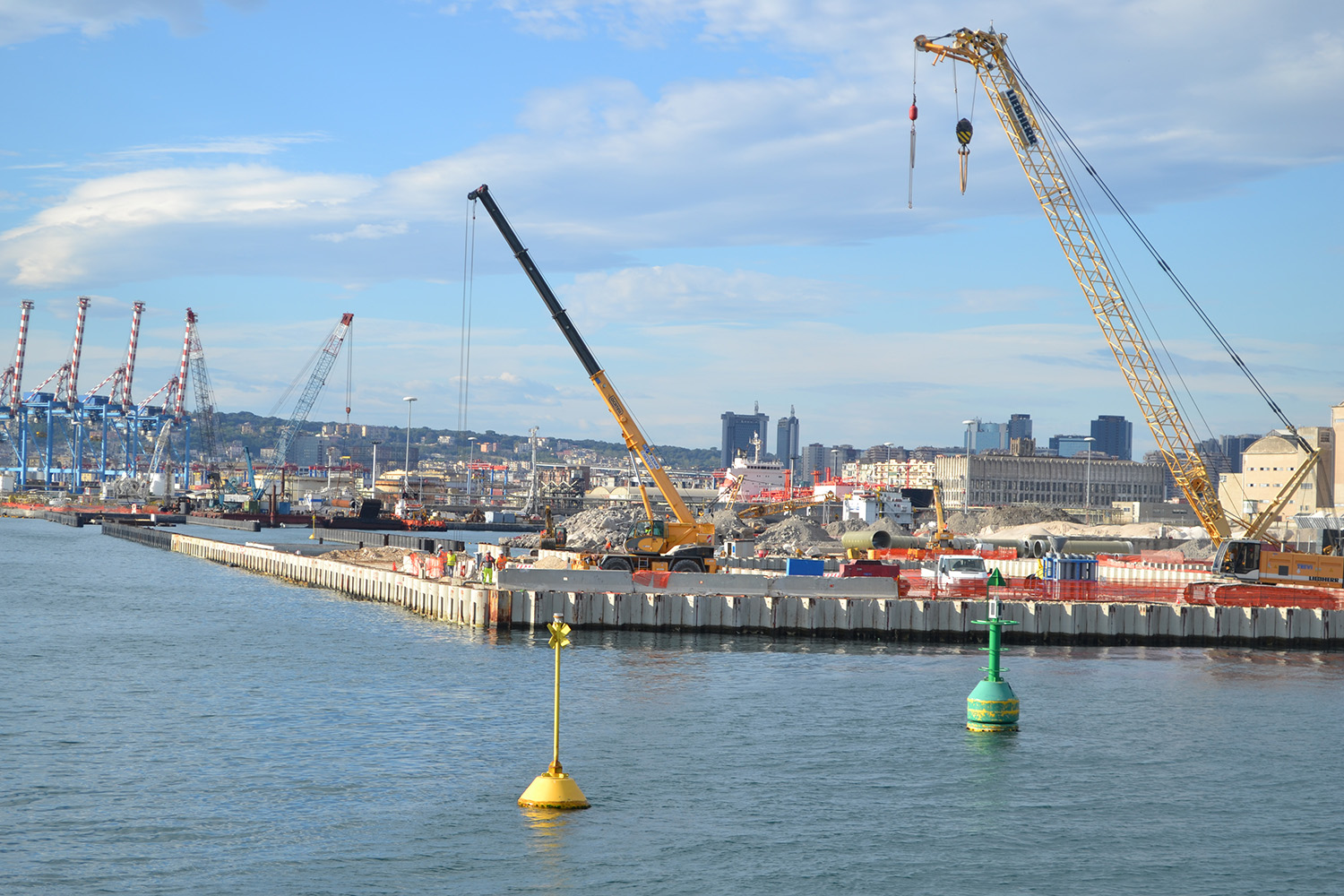 Lavori in corso per l'espansione della darsena di Levante.
I punti su cui si vuole richiamare l'attenzione, fare il punto della situazione e indicare possibili scenari futuri sono:
le criticità del porto storico, traffico passeggeri e crociere
l'espansione del porto a Est e le Zone Economiche Speciali
il porto di Napoli nella condizione post metropolitana
la nostra proposta di action research e capacity building
Il Molo San Vincenzo è conteso tra la Marina Militare che ha la prima parte con le palazzine sede del Comando Logistico e l'Autorità Portuale che ha la lunga banchina della diga foranea compreso un eliporto. Molte sono state le proposte per il Molo San Vincenzo, da parte di soggetti pubblici e privati, tutte bloccate da veti incrociati, facendo maturare la consapevolezza che c'è bisogno di nuovi approcci al problema: processi collaborativi e governance condivisa.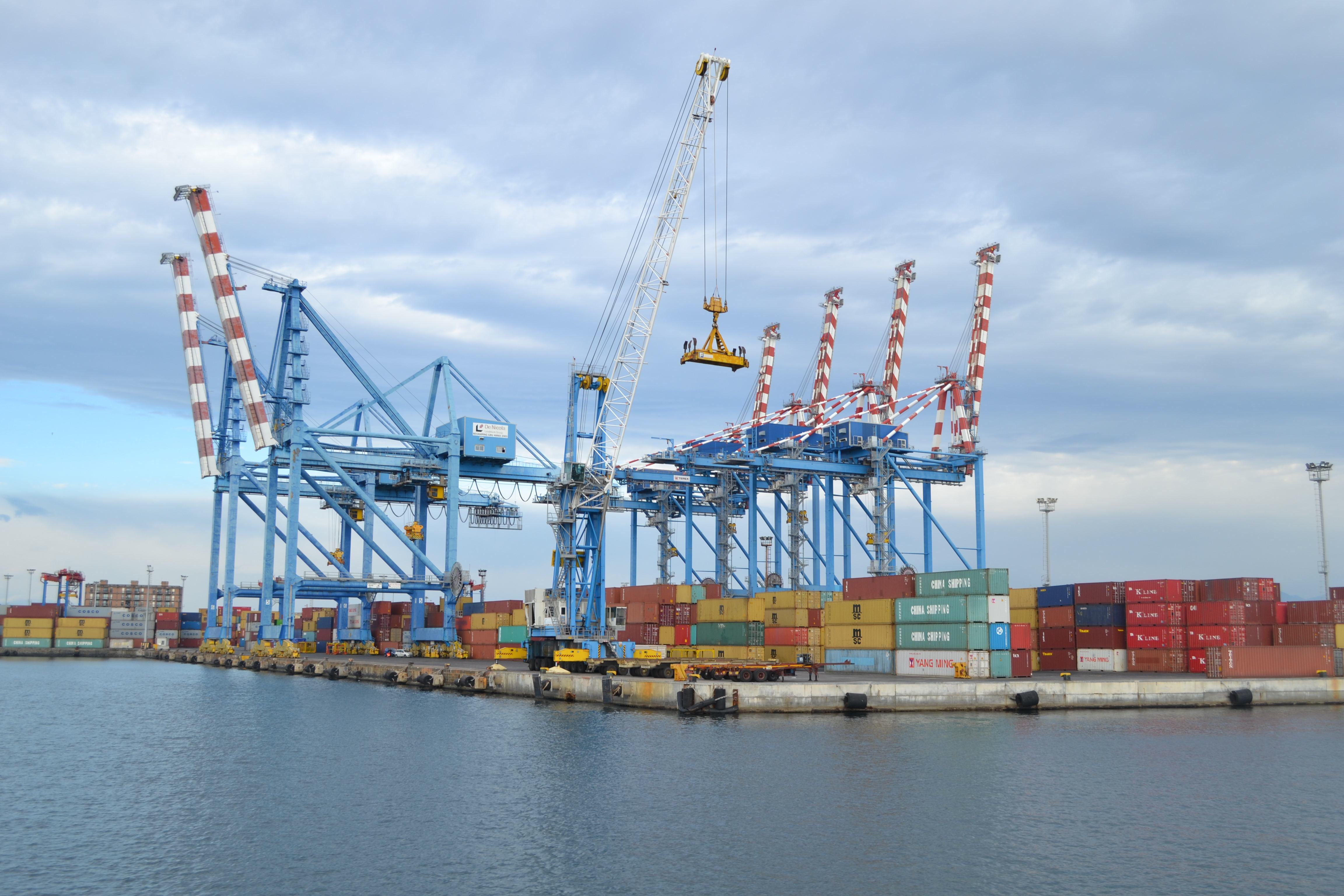 Area con le gru per la movimentazione e lo stoccaggio dei container.
La riqualificazione del waterfront al Molo Beverello sembrerebbe avviata, perlomeno è ripreso l'iter che prevede le varie fasi di progettazione esecutive, gare d'appalto e inizio lavori per realizzare il progetto Euvé che prevede una filtering line e una passeggiata sopraelevata.
La Stazione Marittima, progetto di Cesare Bazzani, non è connessa alla città e appare come in un quadro di lontananza: grandi parcheggi a raso e l'eterno cantiere della metropolitana si frappongono tra l'area portuale crocieristica e Piazza del Municipio, cuore simbolico e amministrativo di Napoli. Il bel progetto di Alvaro Siza e Eduardo Souto de Moura prevede la risalita "dolce" dalla stazione della metropolitana verso il piazzale antistante la Stazione Marittima. Siamo sicuri che basterà a colmare l'angosciante vuoto urbano che potrebbe determinarsi a conclusione dei lavori?
Gli ex Magazzini Generali, opera di Marcello Canino, dovrebbero essere restaurati e affiancati da un nuovo edificio di pari volume ma di linguaggio contemporaneo, per ospitare i corsi di economia del mare dell'Università Parthenope e il Museo del mare e delle migrazioni. Infine, il porto storico si chiude con l'Immacolatella Vecchia, pregevole architettura barocca che dovrebbe essere restaurata dalla competente Soprintendenza anche se non è chiara la destinazione funzionale.
Ad Est, si prevede l'espansione del porto commerciale che dovrebbe trovare la sua ragion d'essere nell'attuazione delle Zone Economiche Speciali e nella valorizzazione integrata degli scali portuali minori, retroporti, interporti e insediamenti produttivi.
I lavori alla darsena di Levante prevedono la colmata che realizza nuove banchine e nuovi spazi di deposito e movimentazione delle merci (sfuse e container), inglobando il mai nato "Porto Fiorito", realizzando il collegamento con la linea ferroviaria in superficie e, in ultima analisi, rafforzando la polarizzazione territoriale a Est.
Napoli Est è una parte di città fortemente degradata, caratterizzata da quartieri di edilizia sociale, centri urbani storici inglobati nella conurbazione e ampie aree dismesse dove sono stati realizzati alcuni interessanti episodi di rigenerazione urbana attraverso il recupero edilizio e l'architettura di qualità. Si ricordano la nuova sede dell'Università Federico II (Ingegneria e Apple Academy) e il complesso Brin 69. Si sottolinea che le Zone Economiche Speciali possono accelerare e rafforzare le dinamiche di sviluppo urbano di Napoli Est ma solo se inserite in una visione strategica di scala perlomeno regionale.
L'agenda di ricerca-azione
Sono molti, probabilmente troppi, i progetti che sono stati elaborati per il porto di Napoli nell'arco degli ultimi trent'anni laddove il problema è realizzare piuttosto che immaginare. Per valorizzare il porto e migliorare le relazioni porto città è necessario un cambio di paradigma basato sui processi piuttosto che sui progetti.
La logica sistemica della nuova Autorità Portuale, in Campania, ha costretto istituzioni e operatori economici a superare la dimensione locale e i campanilismi tra i porti di Napoli e di Salerno che sono stati accorpati insieme a Castellammare di Stabia. Purtroppo, non c'è stata una parallela riorganizzazione che risulta ancora bloccata nella dimensione comunale e nell'incapacità di visioni e azioni metropolitane e sovra-metropolitane, né sembra adeguata la scala regionale.
La ricerca-azione, accompagnata dall'alta formazione, deve essere interdisciplinare, per guardare le città dal mare e aprire nuove prospettive di conoscenza e sperimentazione progettuale per la città e il porto.
Dobbiamo reinterpretare il tema del waterfront nella duplice valenza terra-mare a livello ambientale, sociale e economico. L'identità marittima può essere il punto di partenza, strumento per la rigenerazione urbana sostenibile (ambientale, sociale, economica) per incidere positivamente sui processi di trasformazione delle città portuali.
L'obiettivo deve essere la definizione di nuovi modelli di governance collaborativa alla scala urbana e portuale, per risolvere i conflitti le aree di sovrapposizione degli interessi apparentemente in contrasto.
In questo modo, anche a Napoli, si potrà passare dai progetti ai processi rinnovando la figura dell'urbanista, non più solo progettista ma promotore, mediatore, facilitatore, negoziatore, acceleratore dei processi.
Note
[1] Clemente, M. (2011), Città dal mare. L'arte di navigare e l'arte di costruire le città, Editoriale Scientifica, Napoli.
[2] Clemente, M. (2014), "Napoli 2020: la visione dal mare per lo sviluppo locale sostenibile della costa metropolitana" in TRIA Territori della Ricerca su Insediamenti e Ambiente n. 13, special issue "Il mare e la città metropolitana" di Napoli a cura di Massimo Clemente. Disponibile on-line: https://www.tria.unina.it/index.php/tria/issue/view/182
[3] Clemente, M., Giovene di Girasole, E. (2017), "Friends of Molo San Vincenzo: Action Research and Collaborative Planning", in PORTUS: the online magazine of RETE, 34, Dec 2017, Year XVII, Venice, RETE Publisher. https://portusonline.org/friends-of-molo-san-vincenzo-action-research-and-collaborative-planning/
[4] Forester, J.F. (1999), The Deliberative Practitioner. Encouraging Participatory Planning Processes, MIT Press, Boston. Healey, P. (2003), "Collaborative Planning in Perspective", in Planning Theory, n. 2, pp. 101-123. Ostrom, E. (2006), Governare i beni collettivi, Marsilio, Venezia.
[5] Saja, L. (2017), La ricerca-azione in pianificazione territoriale e urbanistica, Franco Angeli, Milano.
[6] Legge 56/2014.
Riferimenti bibliografici
Clemente, M., Giovene di Girasole, E. (2017), "Friends of Molo San Vincenzo: Action Research and Collaborative Planning", in PORTUS: the online magazine of RETE, 34, Dec 2017, Year XVII, Venice, RETE Publisher. https://portusonline.org/friends-of-molo-san-vincenzo-action-research-and-collaborative-planning/
Forester, J.F. (1999), The Deliberative Practitioner. Encouraging Participatory Planning Processes, MIT Press, Boston.
Healey, P. (2003), "Collaborative Planning in Perspective", in Planning Theory, n. 2, pp. 101-123.
Ostrom, E. (2006), Governare i beni collettivi, Marsilio, Venezia.
Saja, L. (2017), La ricerca-azione in pianificazione territoriale e urtbanistica, Franco Angeli, Milano.
---
Head Image:Cruise Terminal e Queen Elizabeth, sullo sfondo Certosa di San Martino e Castel Sant'Elmo.
---