21 Dicembre, 2016
30th IAPH World Port Conference & Exhibition 2017
Bali Nusa Dua Convention Center, Bali, Indonesia
7th – 12th May 2017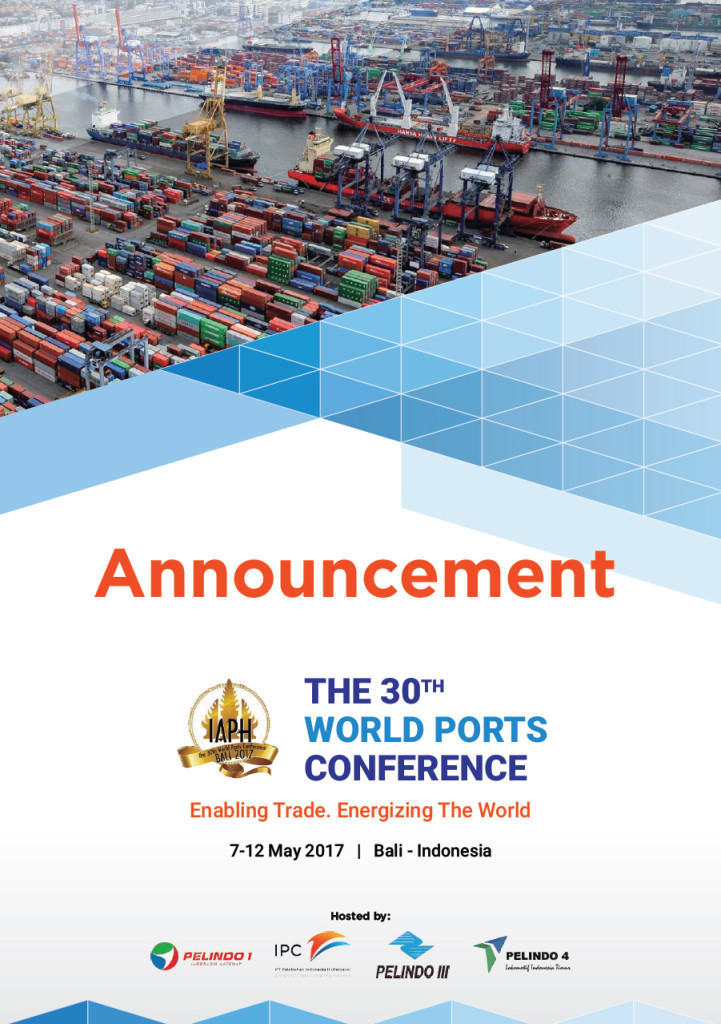 The Indonesia Port Corporations will host the "30th IAPH World Ports Conference" , the most important global conference and exhibition of ports and maritime industry. The event will take place in Bali (Indonesia) on 7- 12 May 2017 at Bali Nusa Dua Convention Center (BNDCC).
Indonesia is the largest archipelago in the world with more than seventeen thousand islands. Which flanked by two continents, Asia and the Australian Continent and two oceans namely the Pacific Ocean and the Indian Ocean made the position of Indonesia very strategic to be passed by the intersection of international traffic either the sea or air. This condition makes the role of ports in Indonesia is very important as the gate of the country's economy, as well as the linkage of the international trade.
The selection of Bali as the venue of the conference is not just because of its reputation as a tourist destination, but more than that, it has proven record of hosting various kinds of international events. It is also an opportunity to see its boundless variety of unique sceneries as well as countless traditional and cultural heritages.
Under the main conference theme of "Enabling Trade. Energizing The World", five open sessions will be organized to address such interesting topics such as: Greenfield Port Project: Challenges and Opportunities; Port Hinterland Connectivity and Multimodal Logistics; The Evolution of Global Shipping Industry & Shipping routes; The Effect of Special Economic Zone on the Port Growths; and 5. Indonesia Maritime Transformation.
Will be attend approximately 1,000 participants from all over the world – including government officials, operators and association who are experts in the field of port, logistics, and maritime – to share experiences and discuss on certain issues faced by port officials globally such as green port and port technology as well as development of ports in each country.
This event includes a three-day exhibition to be concurrently running during the conference, with the opportunity to visit the largest port project in Indonesia, New Priok Terminal project-port of Tanjung Priok.
---
The conference program:
https://www.iaphbali2017.com/conference/programme
More information: