19 Maggio, 2019
The port of Naples – now merged into the Port Authority with ports of Salerno and Castellamare di Stabia – represents such a significant reality for the Metropolitan City of Naples to connote the identity of the whole territory. Besides the port's corporate scope, in terms of size, therefore in terms of turnover and employment, it represents a huge resource for the city and has a very high identity for those who live there.
Moreover, the presence of the sea is a very conditioning factor for the organization and life of cities, always configuring a resource to be exploited and managed.
The added value produced by the port's presence in the city is shown below.
Resources and Opportunities
From a nautical boating point of view the Port of Naples – with the three landings Molosiglio, Nisida, Mergellina and the Molo Luise – contributes to make Campania the second region after Liguria and before Tuscany for the number of berths, thanks also to the strengthening implemented in the 2000s. In particular, between 2001 and 2008 there was a regional program for the integration of ports and landings which, with around 70 interventions, using European structural funds and public and private partnership method, created a network system, increasing of over 5,000 berths in the whole region.
We believe that boating still represents a great potential; this opportunity should be seized with an essential development to enhance the coastal cities. Suffice it to say that, in 2017, the direct expenditure related to the movement of large yachts in the Gulf of Naples and the Amalfi Coast was estimated at over 30 million euros. Therefore the presence of such larger boats must be ridden and enhanced.
From the point of view of shipbuilding, the Port of Naples, together with that of Castellamare di Stabia, with over 1,500 employees (2,000 in related sectors), has a great representation of ship-building companies, with a long tradition of professionalism.
And last but not least, from an infrastructural point of view, the Port of Naples is part of a wider system, which embracing also the Capodichino Airport and the Nola Interport and makes Campania a strategic hub for goods and services.
With regard to the infrastructural enhancement of the port, it is necessary, first of all, to make it more competitive with the other italian ports, given that, according to the Assoporti ranking, the Port of Naples is not on the podium about cargo – handling, in terms of TEUS, despite its unique and privileged position in the Mediterranean sea. A sign therefore that we need to implement structures and services.
This also applies to the cruise industry, in which Naples has become an increasingly rising call with regard to the number of passengers, the third after Civitavecchia and Venice.
About the passenger traffic, despite the more or less constant increases in recent years, reception, security and tourist support services remain the bad news, still lacking and not competitive. The tourist flows increase is still too spontaneous, not sufficiently governed and oriented towards the full enjoyment of the beauties of the City of Naples, which boasts a UNESCO World Heritage Center which constitutes a rich heritage of artistic, architectural, civil and spiritual history, formed over seventeen centuries. Leaving aside the rest of the monumental and landscape heritage.
Against this backdrop, I'd like to highlight the interest of the builders whom, beyond the social and economic general interest, also look to the Port as a client for important works and interventions.
In the last decade, the Port Authority has suffered an uncertain and inefficient governance. The Authority, reformed administratively by the law of optimization of the port calls of the whole country, has been experiencing for a couple of years a new season of positivity, which is sprinkling the activity of old (extremely) and new initiatives, aimed both at the strengthening of the infrastructure and the enhancement of the city-port integration, which is physically an unquestionable unicum.
Main works and projects
The Port of Naples is interested, by the way, in a European funding program – the so-called "Grande Progetto Logistica e Porti – Sistema integrato portuale di Napoli" – originally funded by FESR Regione Campania 2007-2013 and FESR 2014-2020. These European structural funds respond precisely, in their highest ambition, to the goal of recovery of cohesion and competitiveness in regional territories which, due to many factors, are out of the national economic development and compared to others european countries.
"Grande Progetto Logistica e Porti – Sistema integrato portuale di Napoli" includes works apt to eliminate the constraints that reduce the potential of the neapolitan port and to improve connections with internal areas; it is producing tenders and works with the satisfaction of companies and citizens.
It is aimed at the arrangement and structural safety of some existing infrastructures in the port area of Naples.
For example, the intervention on Darsena di Levante is already financed with other funds and the resulting materials from the excavation of the seabed of the Port of Naples will be use for that project. Furthermore, the same Darsena will be connected to the western part of the port with a road link, which provides for the reorganization of existing roads; in addition it will be connected with a railway line, which will allow a significant reduction in traffic.
All the planned measures will have a huge impact on the livability and economic competitiveness of the port.
The renovation of the Molo San Vincenzo and the Darsena Acton, which have enormous potential, especially for tourism, will be two of the biggest challenges.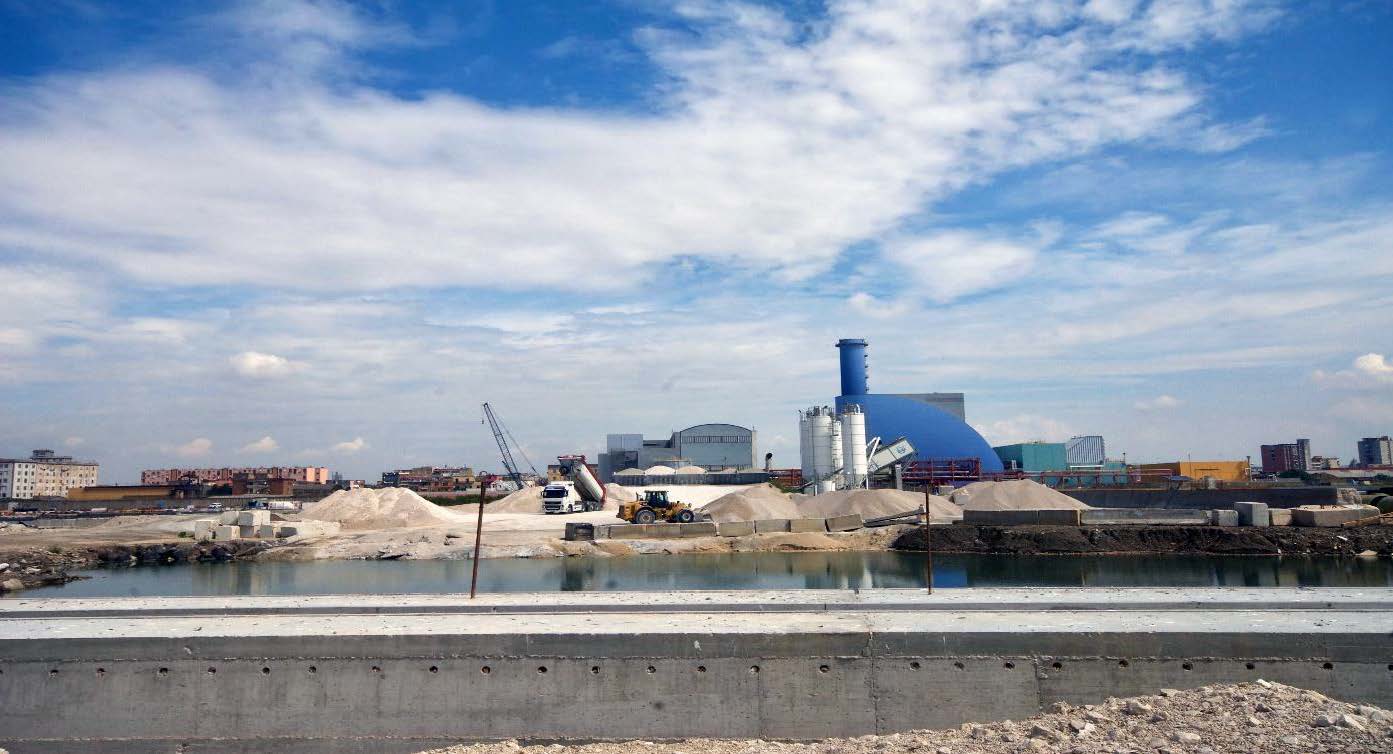 Works at the Darsena di Levante. (Source: Conzorzio Integra)
As neapolitan citizens, as well as entrepreneurs, we have great expectations regarding the implementation of the renovation project for the monumental area of the port of Naples, started in 2004 with an international design competition to face the complexity of the redevelopment of the area, given the coexistence of urban and port activities in a central area of the city, daily affected by intense car traffic. The final project, by the group of architects headed by the french M. Euvé, solved the problem by concentrating the allowed volumes, following the demolition of the existing buildings on the docks, along the border line between city and port, transforming this line, today of separation in a filter area.
The architectural solution by Michel Euvé introduced the concept of Filtering Line, a zone used for the reorganization of the mobility flows by separating urban and port flows, setting up the pedestrian paths and the grafts between the city and the port, rationalizing the port gates, providing service equipment, multi-purpose buildings, basement car parks; in short, transforming the port boundary into a great resource for the city and the port.
The project was then remodeled, rethought and above all integrated with the renovation of Ex Magazzini Generali designed by the architect Marcello Canino through the placing of the Soprintendenza ai Beni Architettonici, where the original project envisaged its demolition and the transfer of its volume to a multi-storey structure located on the Filtering Line.
The building will be used for museum functions (museum of the sea and emigration) with a doubling of volumes to be used for university activities linked to the sea (Parthenope University).
The planned interventions are economically significant and also very significant for the upgrading and decorum of an area which we can't forget is the entrance door to the third city in Italy in relation to the number of inhabitants.
Special Economic Zone
Another great opportunity for the port of Naples, very important for economic operators, consists of the creation of a large Special Economic Zone, in terms of size (over 5,000 hectares of land), of affected population (37 municipalities in which live 35% of total population), which includes the agglomerations of Aversa, Marcianise, Fisciano, Salerno, Pomigliano and other industrial and logistic areas such as Bagnoli, East Naples, in addition to ports and interports. This Special Economic Zone will has its pivot in the Port of Naples, becoming again, as previously in the history of Europe, a strategic zone, if wisely implemented.
It could probably be the instrument of the nonexistent economic policy of the territory, the answer to the deindustrialization of the south, never replaced by equally productive and economically relevant functions.
I think that, apart from the tax benefits which have always been the core business of the Special Economic Zones instrument, being no doubt a strong stimulus for new starts and growth in other parts of Europe and in the world, it's important to focus on the red tape for this special zones. The more effective the action of simplification will be, the greater the instrument effectiveness.
The considerations made here, related to interventions and existing projects, give hope that the location of our city on the sea could represent an advantage and a leverage for growth and development.
---
Head Image: The Naples port. (Source: ADSP Napoli Salerno Castellamare di Stabia)
---
Il porto infrastruttura strategica per la città metropolitana di Napoli
Il porto di Napoli – ora accorpato in Autorità Portuale con quello di Salerno e Castellamare di Stabia – rappresenta una realtà talmente significativa per la città metropolitana di Napoli da connotare l'identità dell'intero territorio. A parte la portata aziendale del porto, in termini dimensionali, dunque di fatturato e occupazione, esso rappresenta infatti una risorsa enorme per la città e ha una portata identitaria elevatissima per chi vi risiede.
La presenza del mare del resto è un fattore molto condizionante per l'organizzazione e la vita delle città configurando sempre una risorsa, da sfruttare e da gestire.
Di seguito si rappresenta il valore aggiunto dato dalla presenza del porto alla città.
Risorse e Opportunità
Da un punto di vista del diportismo nautico il Porto di Napoli – con i tre approdi Molosiglio, Nisida, Mergellina e il Molo Luise di Mergellina – concorre a rendere la Campania la seconda regione dopo la Liguria e prima della Toscana per numero di posti barca grazie anche al potenziamento attuato negli anni duemila. In particolare tra il 2001 e il 2008 è stato avviato un programma regionale di integrazione di porti e approdi che con circa 70 interventi, utilizzando i fondi strutturali europei e il "metodo" del partenariato pubblico e privato, ha creato un sistema di rete, incrementando di oltre 5.000 i posti barca di tutta la regione.
Riteniamo che il diportismo abbia ancora delle grandi potenzialità e ne vada colta l'opportunità con un potenziamento essenziale per valorizzare le città di mare. Basti pensare che nel 2017 nell'area del Golfo di Napoli e della Costiera Amalfitana la spesa diretta collegata al movimento dei grandi yacht è stata stimata in oltre 30 milioni di euro. Dunque la presenza di tali imbarcazioni di dimensioni superiori va cavalcata e potenziata.
Dal punto di vista della cantieristica poi il Porto di Napoli insieme a quello di Castellamare di Stabia con oltre 1.500 addetti (2.000 nell'indotto) vanta la presenza di numerose aziende di riparazione e trasformazione navale, con una lunga tradizione di professionalità.
E last but not least da un punto di vista infrastrutturale il Porto di Napoli è parte di un sistema più ampio, che abbracciando anche l'Aeroporto di Capodichino e l'interporto di Nola, rende la Campania hub strategico di merci e servizi.
Per quanto riguarda il potenziamento infrastrutturale del porto esso si rende necessario per renderlo più competitivo innanzitutto con gli altri porti italiani, considerato che stando alla classifica di Assoporti quello di Napoli non è sul podio quanto a movimentazione merci, in termine di TEUS, nonostante la sua posizione unica e privilegiata sul Mediterraneo. Segno dunque che occorre implementazione di strutture e servizi.
Ciò vale anche per il settore della crocieristica dove Napoli è divenuto uno scalo sempre più in ascesa per quanto riguarda il numero di passeggeri, il terzo dopo Civitavecchia e dopo Venezia.
Sul traffico dei passeggeri la nota dolente, nonostante gli incrementi più o meno costanti di passeggeri degli ultimi anni, resta quello dell'accoglienza a terra e dei servizi di sicurezza e di supporto ai turisti, ancora non soddisfacente e competitivo. I flussi turistici aumentano in maniera ancora troppo spontanea, non sufficientemente governati e orientati verso la piena fruizione delle bellezze innanzitutto della Città di Napoli, che vanta un Centro storico patrimonio Unesco che costituisce un patrimonio ricco di storia artistica, architettonica, civile e spirituale, formatosi nell'arco di diciassette secoli. Tralasciando tutto il resto del patrimonio monumentale e paesaggistico.
Con queste premesse a tal punto voglio evidenziare l'interesse dei costruttori, che al di là di quello sociale ed economico generale, guardano al Porto anche come committente di opere e interventi importanti.
L'Autorità Portuale nell'ultimo decennio ha scontato una governance incerta e inefficiente, l'Ente, riformato anche amministrativamente dalla legge di ottimizzazione degli scali portuali dell'intero paese, sta vivendo da un paio di anni una nuova stagione di positività.
Ad essa si deve sicuramente la nuova linfa, che sta irrorando la fattività di iniziative vecchie (oltremodo) e nuove, volte sia al potenziamento della infrastruttura sia alla valorizzazione dell'integrazione città-porto, che fisicamente è un unicum indiscutibile.
Opere e progetti principali
Il Porto di Napoli è interessato tra l'altro da un programma di finanziamento europeo – cosiddetto Grande Progetto Logistica e Porti – Sistema integrato portuale di Napoli – finanziato originariamente dal FESR della Regione Campania 2007-2013 e poi dal FESR 2014-2020. Dunque dai fondi strutturali europei, che nella loro ambizione più alta, rispondono proprio alla finalità di recupero di coesione e competitività di territori, che in ragione di tanti fattori, non sono al passo con l'evoluzione economica del resto del Paese e rispetto agli altri Paesi Europei.
E così il Grande Progetto "Logistica e porti: sistema integrato portuale di Napoli", che comprende opere idonee ad eliminare i vincoli che riducono le potenzialità dello scalo marittimo partenopeo e migliorano i collegamenti con le aree interne alle zone portuali, sta producendo gare e lavori con la soddisfazione di imprese e cittadini.
Esso è finalizzato alla sistemazione e messa in sicurezza strutturale di alcune infrastrutture già esistenti dell'area portuale di Napoli.
Vi rientra anche la Darsena di Levante, intervento già finanziato con altri fondi, nella cui cassa di colmata verranno riversati i materiali derivanti dall'escavo dei fondali del Porto di Napoli. Inoltre, la stessa Darsena sarà collegata alla parte di ponente del porto con un collegamento stradale, che prevede il riassetto di strade già esistenti, inoltre, sarà collegata con una linea ferroviaria, che consentirà di ridurre in modo sensibile il traffico.
Tutti interventi di grande impatto per la vivibilità e la competitività economica del Porto dunque, che sono in corso di attuazione.
La sfida tutta ancora da cavalcare è la ristrutturazione del Molo San Vincenzo e della Darsena Acton, che ha enormi potenzialità soprattutto turistiche.
Lavori alla Darsena di Levante. (Fonte: Conzorzio Integra)
Come cittadini partenopei, oltre che come imprenditori, abbiamo a tal punto grandi attese riguardo la attuazione del Progetto del Waterfront area monumentale di Napoli, iniziato nel lontano 2004 con un concorso internazionale di progettazione per affrontare la complessità della riqualificazione dell'area, data dalla compresenza di attività urbane ed attività portuali in un'area centrale della città, interessata quotidianamente da un intenso traffico automobilistico. Il progetto definitivo vinto ed elaborato dal gruppo di architetti vincitori facenti capo al francese M. Euvé risolse il problema concentrando le volumetrie consentite, in seguito alla demolizione degli edifici esistenti sulle banchine, lungo la linea di confine tra città e porto, trasformando tale linea, oggi di separazione in una zona filtro.
La soluzione architettonica di Michel Euvé infatti introdusse il concetto di Filtering Line, una zona cioè che riorganizzasse i flussi della mobilità separando quelli urbani da quelli portuali; predisponesse i percorsi pedonali e gli innesti tra città e porto; razionalizzasse i varchi portuali, realizzasse attrezzature di servizio, volumetrie polivalenti, parcheggi interrati. Trasformasse in estrema sintesi il confine portuale in una grande risorsa per la città e per il porto.
Il progetto è stato poi rimodulato, ripensato e soprattutto integrato della valorizzazione dell'edificio ex Magazzini generali dell'Arch. Marcello Canino, in seguito al vincolo posto dalla Soprintendenza ai Beni Architettonici, laddove il progetto iniziale prevedeva il suo abbattimento e il trasferimento della sua cubatura in una struttura multipiano collocata sulla Filtering Line.
L'edificio sarà dunque destinato a funzioni museali (museo del mare e dell'emigrazione) con un raddoppio di volumetrie da destinare ad attività universitarie legate al mare (Università Parthenope).
Gli interventi previsti sono economicamente ingenti e anche molto significativi per il recupero e il decoro di un'area, che non dimentichiamo è la porta di ingresso della terza città di Italia.
La Filtering Line, ideata dal progetto Euvé. (Fonte: progetto Euvé per Nausicaa)
Zona Economica Speciale
Altra grande opportunità per il porto, sulla quale tutti gli operatori economici confidano molto, è rappresentata dall'insediamento di una Zona Economica Speciale peraltro di così ampia portata, in termini dimensionali (oltre 5.000 ettari di territorio), di popolazione interessata (37 comuni in cui risiede il 35% di quella totale) e diversificata (ricomprendente gli agglomerati di Aversa, Marcianise, Fisciano, Salerno, Pomigliano nonché altre aree industriali e logistiche quali Bagnoli, Napoli Est, oltre a porti e interporti) che ha il suo perno proprio nel Porto di Napoli. Tale Zona Economica Speciale, che ha precedenti importanti nel resto dell'Europa e del mondo, se attuata sapientemente potrà generare grandi impatti economici per tutta la Campania.
Potrà probabilmente essere lo strumento della inesistente politica economica del territorio, la risposta alla deindustrializzazione del Mezzogiorno, mai sostituita da funzioni altrettanto produttive ed economicamente rilevanti.
Pertanto ritengo che, al di là delle agevolazioni fiscali, che da sempre rappresentano il core business dello strumento delle Zone Economiche Speciali, essendo senza dubbio un forte stimolo, come dimostrato in altre parti d'Europa e nel mondo, che da queste sono ripartite e attraverso queste sono cresciute, occorre far leva sulla sburocratizzazione nella Zona Economica Speciale. Quanto più sarà spinta l'azione di semplificazione tanto più sarà efficace e godibile lo strumento.
Le considerazioni fatte in tale sede, cui sono sottesi interventi e progetti in essere, fanno ben sperare che l'ubicazione della nostra città sul mare rappresenti un vantaggio e una leva di crescita e di sviluppo!
---
Head Image: Il Porto di Napoli. (Fonte: ADSP Napoli Salerno Castellamare di Stabia)
Article reference for citation:
IT Brancaccio Federica,"
Il porto infrastruttura strategica per la città metropolitana di Napoli
" PORTUS: the online magazine of RETE, n.37, May 2019, Year XIX, Venice, RETE Publisher, ISSN 2282-5789, URL:
http://portusonline.org/it/the-port-as-strategic-infrastructure-for-the-metropolitan-area-of-napoli/
EN Brancaccio Federica,"
The port as strategic infrastructure for the metropolitan area of Napoli
" PORTUS: the online magazine of RETE, n.37, May 2019, Year XIX, Venice, RETE Publisher, ISSN 2282-5789, URL:
http://portusonline.org/en/the-port-as-strategic-infrastructure-for-the-metropolitan-area-of-napoli/
---