19 Maggio, 2019
Il gruppo di ricerca sulle "Città di mare" del CNR IRISS – che porta avanti, da alcuni anni, studi teorici e metodologici sulle aree urbane costiere partendo dall'identità marittima – e il gruppo di ricerca Communitypsychologylab dell'Università Federico II – che lavora per lo sviluppo di comunità e il cambiamento sociale – stanno conducendo, attraverso il "Laboratorio di pianificazione e progettazione collaborativa", studi per definire e sperimentare strategie innovative per la rigenerazione urbana sostenibile, basata sulla valorizzazione dell'identità marittima [1] e sulla cooperazione [2], in grado di attivare la relazione tra i diversi attori del processo, promuovere la risoluzione dei conflitti e sviluppare progettualità condivise per le aree di sovrapposizione di differenti target.
Shipping cities: il mare come bene comune
Le shipping cities rappresentano città costiere, città-porto e habitat di comunità urbane indissolubilmente legate al mare. Sono città che, storicamente, hanno svolto un ruolo di avanguardia nel progresso delle civiltà, in quanto dal mare e nel mare stesso hanno trovato un vettore di vitalità e crescita economica, sociale e culturale. Nelle città di mare l'identità cittadina deriva proprio dal rapporto storicizzato della comunità urbana con il mare.
I porti, che spesso definiscono i confini tra terra e mare, rappresentano una realtà economica determinante per lo sviluppo economico del territorio e della nazione [3], ma anche un sistema che genera attività con impatti ambientali, sociali ed economici significativi sulla città [4]. Aspetti che inducono a chiedersi come realizzare un approccio integrato ed ecosistemico teso a promuovere lo sviluppo e la crescita sostenibili delle economie marittime e costiere non in contrasto con quello delle comunità e dei territori.
Pertanto affrontiamo il tema del come costruire questa integrazione (materiale e psicologica) tra porto-città-comunità e come gli attori (comunità urbana e comunità del mare) in questo processo possono collaborare per trovare vision di sviluppo condivise. La prima domanda emergente è come si costruisce il rapporto porto e comunità, a valle della quale costruire il rapporto tra porto e città.
In questa prospettiva, se guardiamo il mare e la cultura marittima nella prospettiva dei beni comuni [5] urbani [6], questo ci permette di vederli come elementi fondamentali per lo sviluppo della città e della sua comunità, strettamente connessi alla loro identità e cultura. In questo modo possiamo affrontare trasversalmente tutte le categorie della cultura marittima, con un approccio interdisciplinare capace di legare insieme temi e aspetti generalmente trattati in modo distinto e di mettere in evidenza la governance. Il mare come bene comune implica, infatti, la necessità di garantirne la fruizione a tutti e di coinvolgere i membri della comunità nella sua interezza, insieme a quella degli enti preposti sia nella sua cura e tutela sia nelle decisioni e nelle azioni che lo riguardano.
Processi collaborativi
In questo scenario i processi collaborativi [7] possono essere un valido strumento per realizzare le trasformazioni del territorio, attraverso il coinvolgimento e il dialogo tra i diversi attori con il fine di sviluppare conoscenze comuni, costruire reti e capitale sociale.
Ostrom [8] nei suoi studi, propone l''IAD Framework' per analizzare le componenti principali che formano un sistema collettivo, dove al centro è collocata l'arena di azione, che comprende gli attori che agiscono in uno spazio sociale. La struttura e il funzionamento dell'arena di azione sono influenzati da tre tipologie di fattori esterni: i fattori fisici, la struttura della comunità e l'insieme delle regole per l'uso collettivo di una risorsa. I passaggi fondamentali sono, quindi, come: costruire il bene comune, utilizzarlo, organizzarsi, quali sono le regole da seguire, e il contributo che ognuno deve dare ai fini del mantenimento del sistema. Saliente diviene individuare strumenti capaci di far emergere e sviluppare i valori e gli obiettivi condivisi nonché l'insieme delle regole per gli usi ed il rispetto del bene, da parte di tutti gli attori della comunità urbana e di quella del porto. Il nodo da sciogliere è, proprio, nello scontro che spesso avviene tra gli stakeholder dei tre ambiti della sostenibilità – economica, ambientale o sociale – in quanto gli interessi variano a secondo della prospettiva assunta.
In questo contesto il contributo interdisciplinare di architetti e psicologi diviene essenziale per definire processi innovativi per realizzare strategie più efficaci e riattivare le potenzialità degli spazi urbani e portuali attraverso nuove funzioni rispondenti ai fabbisogni della comunità.
Il ruolo della psicologia è di individuare e comprendere la domanda espressa dal territorio in relazione ai bisogni e ai processi di identificazione con la città, le proposte progettuali dei diversi interlocutori e facilitare i processi di collaborazione nella gestione dei gruppi di lavoro e nella loro sostenibilità. L'urbanistica a sua volta, dopo aver analizzato le componenti del territorio, è di supporto nell'elaborare visioni spaziali tra oggetti e attori e, nel contempo, proporre, mediante il progetto, scenari auspicabili dell'esito di tali relazioni nel concreto del territorio [9].
La collaborazione interdisciplinare tra psicologi di comunità e architetti ha importanza per valorizzare il potenziale che un luogo ha, per generare cambiamenti e riconoscersi in una pianificazione comune. L'obiettivo è trovare, insieme agli interlocutori, una sovrapposizione di aree di interesse al fine di costruire un processo di rigenerazione urbana partecipata, condivisa e sostenibile, in un territorio risultante dell'interfaccia tra ambiente fisico, rapporti culturali, psicosociali e politici di comunità [10].
Lo strumento dei workshop per la progettazione collaborativa
I workshop internazionali di progettazione collaborativa "Cities from the Sea", rappresentano uno degli strumenti sperimentati utili nei processi collaborativi alla costruzione di una visione sistemica e condivisa di città, superando i singoli interessi e valorizzando l'identità marittima, per costruire con la comunità urbana soluzioni che rispondano alle esigenze della città e allo sviluppo locale. La metodologia di lavoro è basata sull'apprendimento collaborativo in interazione con la comunità territoriale e le organizzazioni incluse nel processo conoscitivo e progettuale. I processi interattivi, mediati dall'ambiente cooperativo, sono caratterizzati da pratiche che dispongono i membri ad imparare a co-costruire progetti di lavoro e conoscenza, sviluppando e modificandoli in base alle esigenze della comunità. Questo tipo di apprendimento incoraggia i partecipanti al workshop a lavorare insieme rispetto ai compiti di apprendimento.
Il dispositivo del workshop prevede una formazione interdisciplinare, pertanto gli stessi partecipanti sono architetti, pianificatori, psicologi ed economisti che si occupano dello studio del mare e delle città. I partecipanti sono invitati a collaborare con la società civile, le associazioni, i ricercatori, i politici, gli imprenditori, con l'obiettivo di proporre nuovi scenari condivisi per la riqualificazione integrata e sostenibile di aree della costa metropolitana di Napoli [11].
Attraverso il lavoro di lettura degli psicologi di comunità emergono gli obietti e i valori condivisi nei contesti comunitari, nonché esplicitati gli elementi di conflitto. Il fine è quello di individuare le aree di sovrapposizione dei diversi interessi da tramutare in possibili usi e funzioni che trovano una loro visione nel masterplan di progetto elaborato con gli architetti.
Nella prima giornata di apertura dei lavori i referenti scientifici illustrano i processi collaborativi, gli obiettivi e le tematiche da affrontare nel workshop alla presenza delle istituzioni interessate e degli stakeholder. Il workshop si svolge tra lavoro in aula e comunicazioni programmate, tenute da esperti (nazionali ed internazionali) che, secondo un approccio multidisciplinare, espongono una loro interpretazione delle tematiche oggetto di studio.
I partecipanti suddivisi in gruppi multidisciplinari sono coordinati e guidati dai tutor (architetti e psicologi di comunità). I tutor, dopo aver preordinato il materiale di base (introduzione storico urbanistica; processi di identificazione e relazionali, definizione del problema; questioni principali sulle dimensioni psicosociale, urbana e amministrativa), individuato e attivato contatti con gli stakeholder, guidano i partecipanti alla definizione della fase di analisi e successivamente di quella di progetto.
I risultati del workshop consistono in "meta progetti" (disegni, schizzi, modelli, video, foto) e sono costruiti attraverso tecniche specifiche di partecipazione e confronto con gli stakeholder così da far emergere bisogni espressi ed inespressi. La conoscenza è ricavata dallo scambio e dall'interazione [12]: in questo scenario, ogni giorno è attivato un confronto sull'avanzamento dei lavori nelle "Feedback Session", con gli stakeholder invitati. Questo permette ai partecipanti di orientarsi autonomamente e di condurre i loro processi di apprendimento in modo attivo attraverso la formulazione e ridiscussione degli obiettivi, la scelta dei materiali, la condivisione di conoscenze, la partecipazione ai momenti di incontro e apprendimento per la pianificazione collaborativa.
Lo strumento del workshop, nell'ambito dei processi collaborativi, da un lato rappresenta un metodo di insegnamento che promuove l'apprendimento e la partecipazione interattiva [13], dall'altro rappresenta uno spazio di dialogo aperto tra partecipanti, docenti, esperti e referenti cittadini; uno strumento, quindi, utile per costruire vision di sviluppo e in cui dare forma a valori, obiettivi e regole condivise.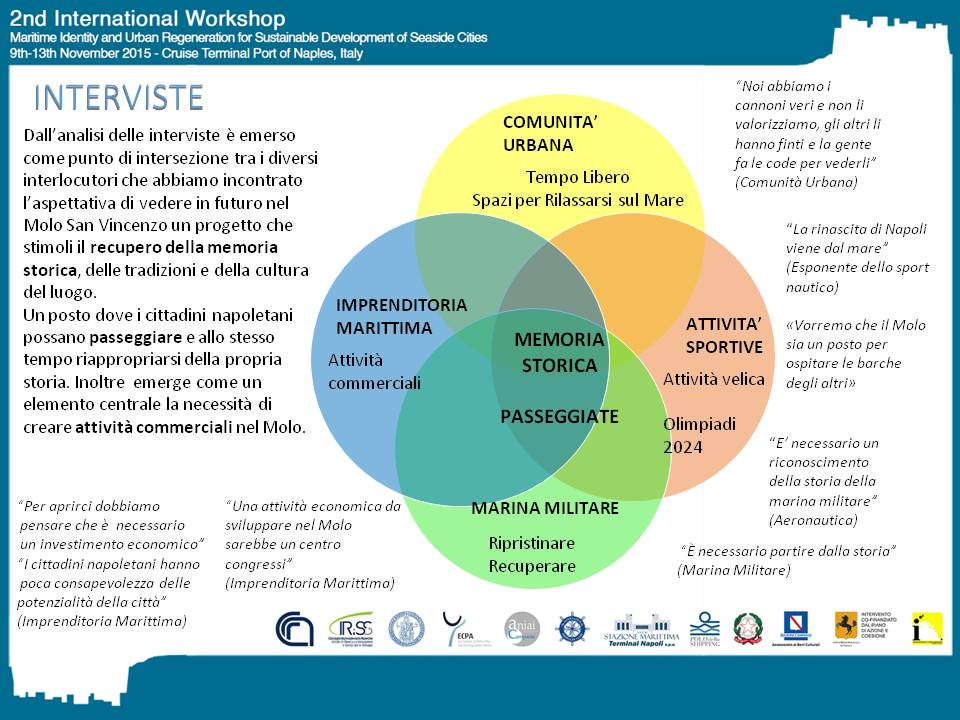 II "Workshop Cities from the Sea", Valorizzazione del Molo San Vincenzo, rilevazione degli interessi. (© Rolando Di Gregorio, Raffaella Napolano, Gianluca Vosa, M. Florencia Gonzalez Leone, Antonia Angelone, Vincenzo Liguori, Viviana Perla, Francesca Pisano, 2016)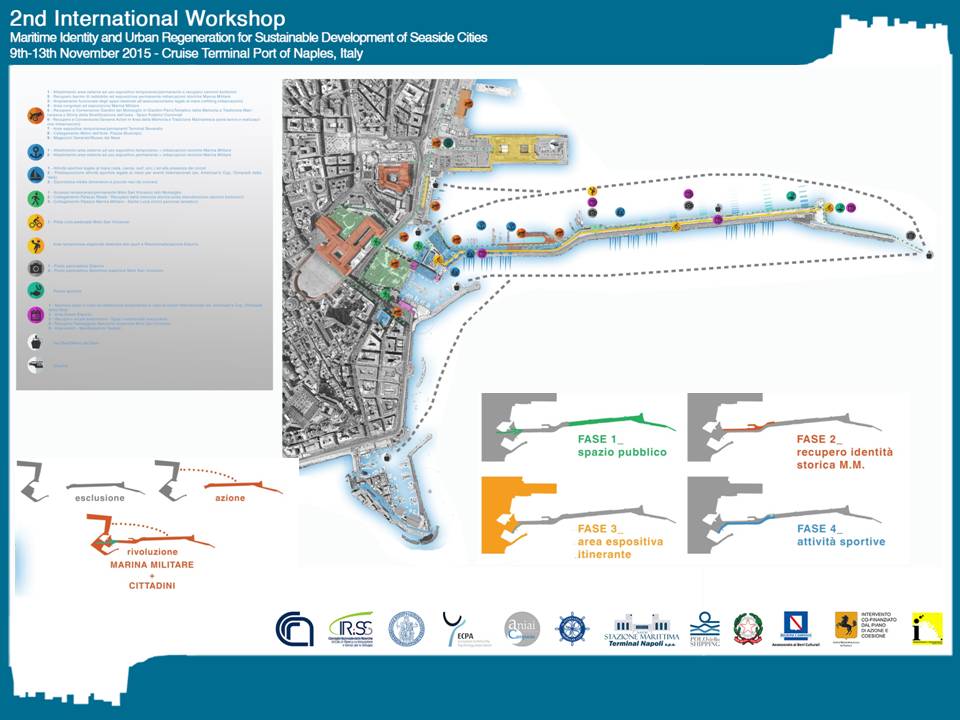 II "Workshop Cities from the Sea", Valorizzazione del Molo San Vincenzo, Masterplan. (© Rolando Di Gregorio, Raffaella Napolano, Gianluca Vosa, M. Florencia Gonzalez Leone, Antonia Angelone, Vincenzo Liguori, Viviana Perla, Francesca Pisano, 2016)
Note
[1] Clemente, M. (2011), Città dal mare. L'arte di navigare e l'arte di costruire le città, Editoriale Scientifica, Napoli.
[2] Clemente, M., Arcidiacono, C., Giovene di Girasole, E., Procentese, F. (2015), "Trans-disciplinary approach to maritime-urban regeneration in the case study Friends of Molo San Vincenzo, port of Naples, Italy", in Santos Cruz, S., Brandão Alves, F., Pinho, P. (eds.), BOOK OF PROCEEDINGS Joint conference Citta 8th annual conference on planning research Aesop tg / public spaces & urban cultures meeting Generative places, Smart approaches, Happy people, vol. 2, pp. 701-718.
[3] Ministero delle Infrastrutture e dei Trasporti (2013), Conto Nazionale delle Infrastrutture e dei Trasporti. Anni 2011- 2012, Istituto Poligrafico e Zecca dello Stato S.p.A., Roma, www.mit.gov.it.
[4] Cfr.: Bonciani B. (2019), "L'integrazione sociale come strategia di governance allargata delle autorità portuali", in Dossier Unione Europa – Studi e ricerche rassegna di economia e finanza territoriale, n.1; Russo M. (2014), Harbour waterfront: landscapes and potentialities of a contended space, in «TRIA Special Issue Il Mare e la Città Metropolitana di Napoli», 13 (2), disponibile on line http://www.tria.unina.it/index.php/tria/issue/view/182/showToc; Cerreta M. – De Toro P. (2012), Strategic Environmental Assessment of Port Plans in Italy: Experiences, Approaches, Tools, in «Sustainability», 4, 2888-2921; Clemente, M. (2011) Ibidem; Hein C. (2011), Port Cities: Dynamic Landscapes and Global Networks, Routledge, London; Carta M. (2010) (a cura di), Governare l'evoluzione. Principi, metodi e progetti per una urbanistica in azione, Franco Angeli, Milano; Bruttomesso R. (1993), Waterfront. Una nuova frontiera per le città sull'acqua, Centro Internazionale Città d'Acqua, Venezia.
[5] Cfr.: Hardin, G. (1968),"The Tragedy of the Commons", in Science, n.162, pp. 1243-1248; Ostrom, E., Gardner, R., Walker, J. (1994), Rules, Games, and Common Pool Resources, The University of Michigan Press, USA; Rifkin, J. (2014), La società a costo marginale zero, Mondadori, Milano.
[6] Cfr.: Salzano, E. (2009), La città bene comune, Baiesi, Bologna; Donolo, C. (2010), Identificare i beni comuni, http://www.labsus.org/2010/08/fenomenologia-dei-beni-comuni; Mattei, U. (2011), Beni comuni, un manifesto, Laterza, Bari.
[7] Cfr.: Forester, J.F. (1999), The Deliberative Practitioner. Encouraging Participatory Planning Processes, MIT Press, Boston; Healey, P. (2003), "Collaborative Planning in Perspective", in Planning Theory, n. 2, pp. 101-123; Healey, P. (2003), Collaborative Planning: Shaping Places in Fragmented Societies, Paperback, vol. 1; Ostrom, E. Ibidem; Rifkin, J. Ibidem; Forester, J.F.(2013), Planning in the Face of Conflict: The Surprising Possibilities of Facilitative Leadership, American Planning Association Planners Press, Chicago; Clemente, M., Arcidiacono, C., Giovene di Girasole E., Procentese, F. (2015), Ibidem.
[8] Ostrom, E. (2006), Ibidem.
[9] Menoni, S. (2017), "Valutare la qualità della ricerca in urbanistica e non solo", in (Ibidem) Planum Readings, n.8.
[10] Pinson, D. (2004), "Urban planning: An "undisciplined" discipline?", in Futures, no. 36, pp. 503–513. doi:10.1016/j.futures.2003.10.008.
[11] https://www.facebook.com/waterfrontacademycitiesfromthesea/.
[12] Arcidiacono, C., Grimaldi, D., Di Martino, S., & Procentese, F. (2016), "Participatory visual methods in the 'Psychology loves Porta Capuana' project", in Action Research, 14 (4), https://doi.org/10.1177/1476750315626502.
[13] Arcidiacono, C., Procentese, F. & Baldi, S., (2009), "Participatory Planning and Community Development: An E-Learning Training Program", in Journal of Prevention & Intervention in the Community, no. 38:1, pp. 70-83, DOI: 10.1080/10852350903393475.
---
Head Image: I "Workshop Cities from the Sea", nell'ambito del Forum della Culture di Napoli, Mostra d'Oltremare. (© Eleonora Giovene di Girasole, 2014)
---