26 Marzo, 2013
New York is probably the city with the most extensive waterfront in the entire world. Its five big boroughs have very long facades on the rivers and internal canals. Manhattan and Staten Island are islands, Brooklyn and Queens are located in the south-western area of another island (Long Island), and finally the Bronx has very long coasts in its western, southern and eastern sides. In total, there are about 800 km of contact between the city and the water.
Historically, the majority of the city's maritime front was dedicated to port activities (in Manhattan and Brooklyn), industrial areas (especially in Brooklyn and Queens), large housing developments and buildings with office space (in Manhattan), and housing (in all the neighborhoods). From the second half of the 1950s on, the port activities began to dwindle in Manhattan and some time later began the progressive deindustrialization of the coast. In the 1980s and 1990s, the majority of the coast of New York had an abandoned appearance, if not desolate, including areas that were relatively close to high standing neighborhoods.
The rehabilitation and improvements in the urban area of South Street Seaport and Pier 17 (today under construction again) in the 1980s and the construction of a new maritime promenade in Tribeca in the following decade signaled the beginning of a period of coast recuperation. In recent years, this transformation has been particularly dynamic, which has been described in articles published in the 22nd edition and the present edition of PORTUS thanks to Cliff McMillan and Pierre Gras, respectively.
After the large undertakings from Tribeca in the South to the Upper East Side, including the creation of the diverse and interesting Hudson River Park, as well as the operations on the East River, from Battery Park in the South to the area near the Queensboro Bridge, it can be seen that a good portion of the island of Manhattan is surrounded by littoral parks and maritime boardwalks. Among the operations in the East River in Manhattan, we must include the simple but interesting recovery of the space below the large urban highway of South Street and the promotion of collective water transport that has converted Pier 11 into a great center of urban ferries.
There are still some spaces that need improvement in the Hudson. Others – close to the water but without direct contact – are very attractive for city people and visitors, such is the case of the High Line park. Also on the East River, there are several culminating projects that allow people to access and enjoy areas near the water, such as the new boardwalk between Pier 11 dedicated to the urban ferries and Pier 17, which has been a traditional commercial, cultural and recreational space. But without a doubt, Brooklyn has had a concentration of new projects and new alternatives to the organization of the coast. Also, maybe for the first time in its history, the city has developed a long-term plan for its waterfront, called Vision 2020, that encompasses the different public and private projects and aims to provide some coherence to all the operations. The projects and planned actions for the upcoming years are very diverse since they range from the creation of many public spaces, the promotion of large housing complexes, and the recuperation of some industrial and architectural patrimony to the introduction of new economic activities. Having 800 km of coast allows for these diverse endeavors and uses of the urban coast, something that most port cities – which have spaces that are much smaller, fragile and with conflicting uses – cannot even consider doing.
The 14 images that are published next aim to show some of the elements of such diversity of uses and projects on the extensive coast of New York, as well as portray old, lesser known maritime spaces, such as Greenpoint or Red Hook, but that have great potential to contribute to the future development of its surrounding neighborhoods and the larger city.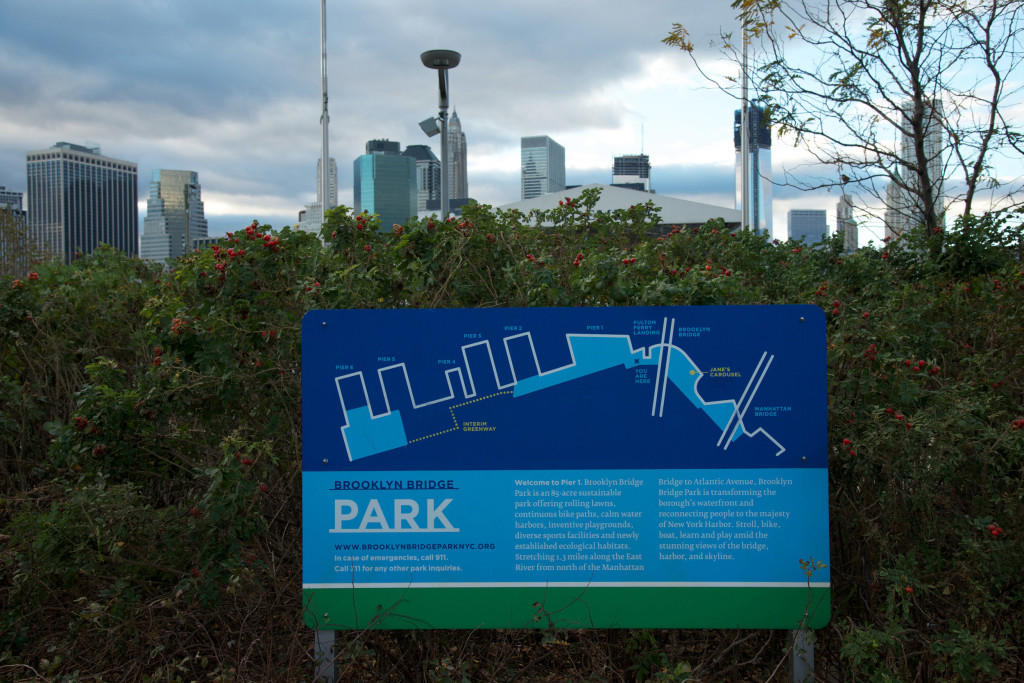 Informational post on the new Brooklyn Bridge Park. Photo Copyright © Joan Alemany Llovera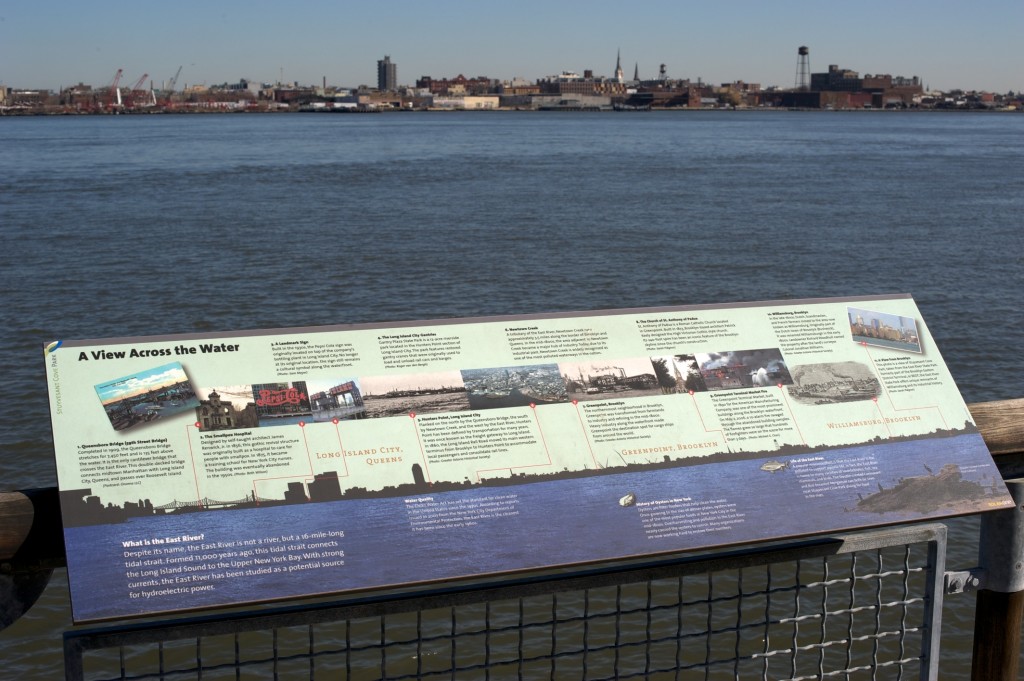 Informational posts on the boardwalk. Photo Copyright © Joan Alemany Llovera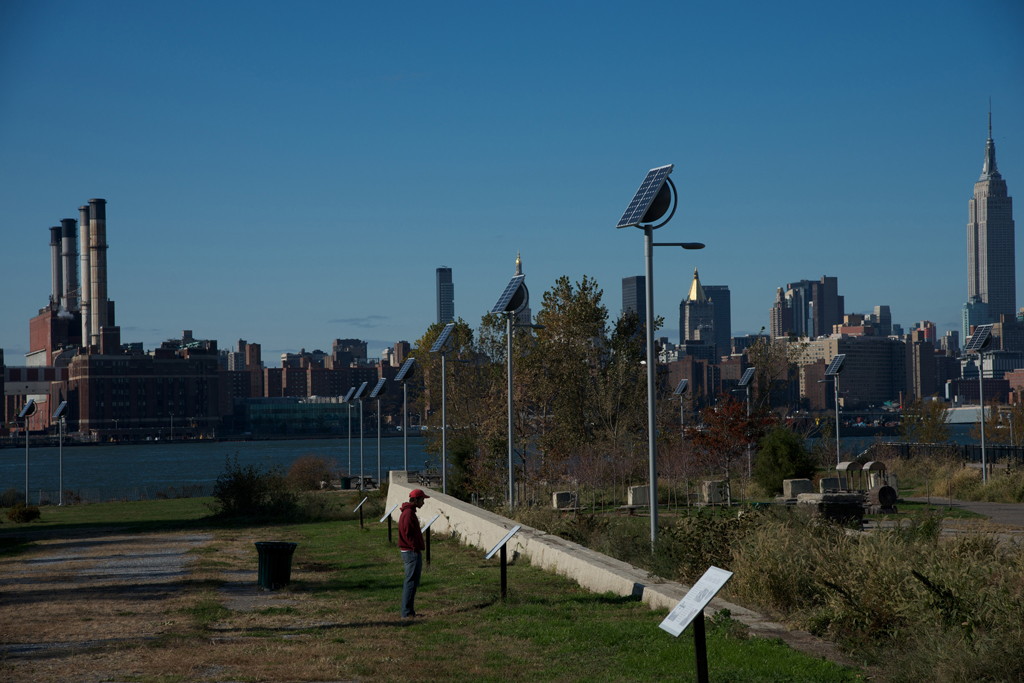 Informational posts in the old industrial space in Williamsburg. Photo Copyright © Joan Alemany Llovera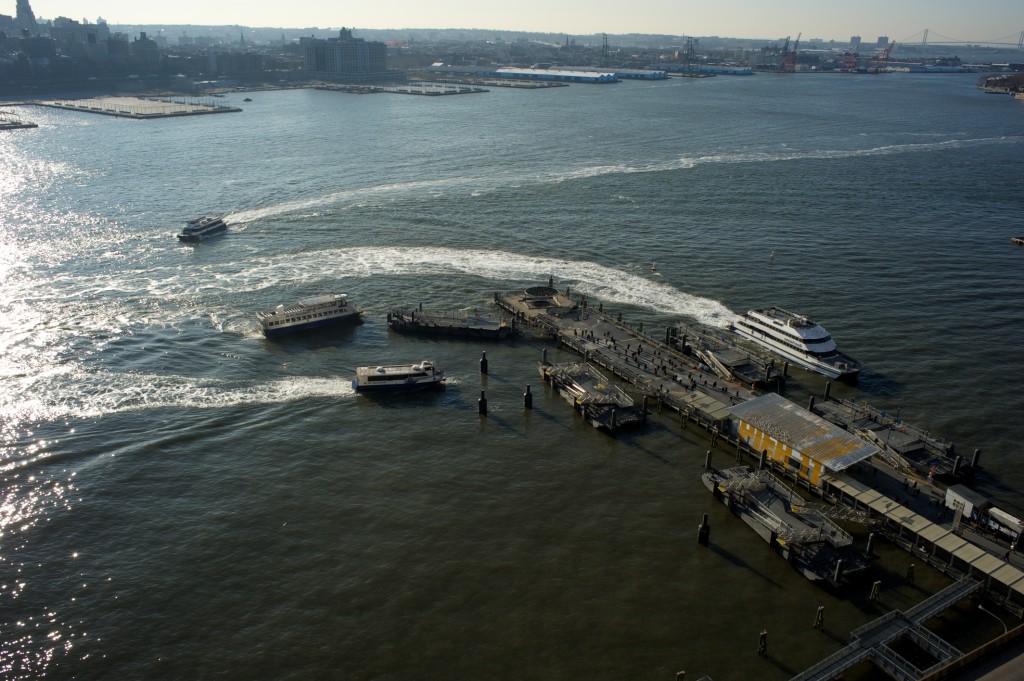 Concentration of urban ferries in Pier 11. Photo Copyright © Joan Alemany Llovera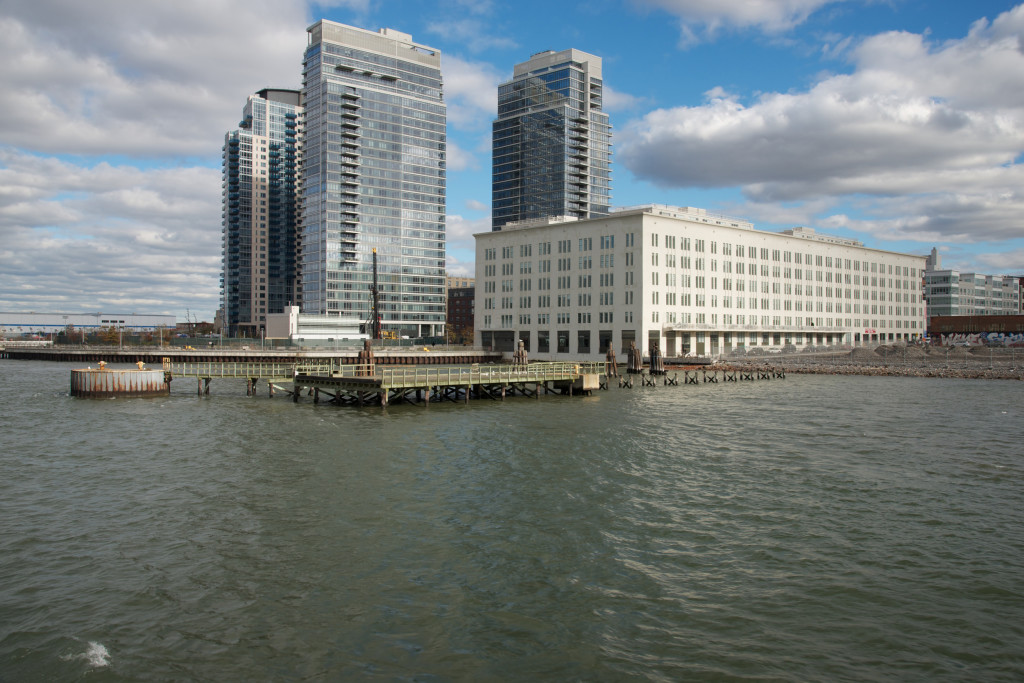 Large housing developments in Williamsburg. Photo Copyright © Joan Alemany Llovera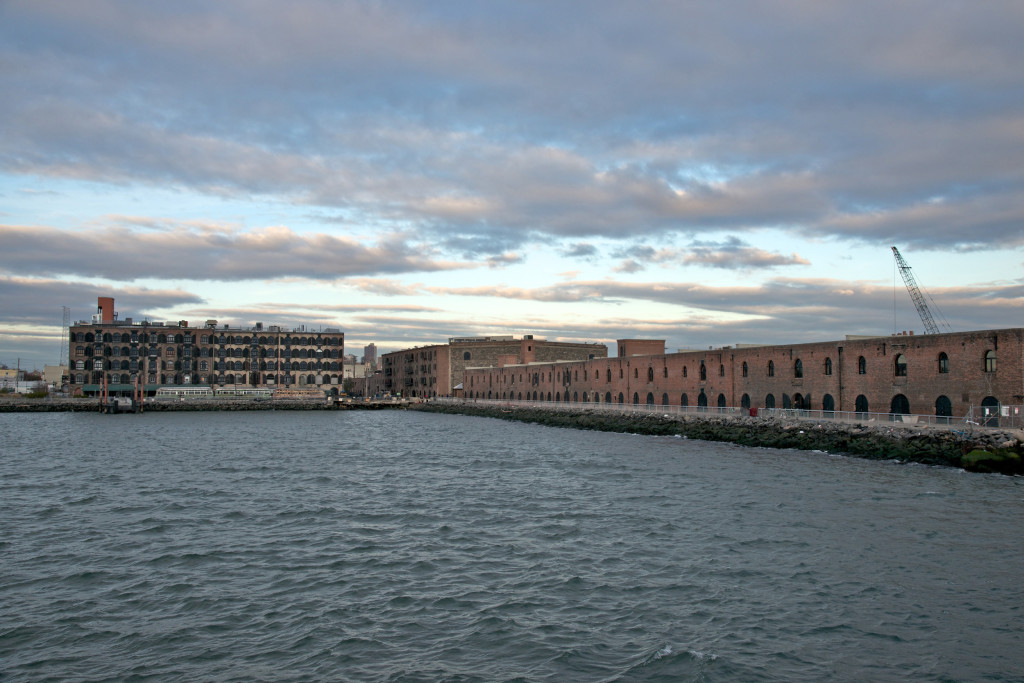 Large semi-abandoned port warehouses in Red Hook. Photo Copyright © Joan Alemany Llovera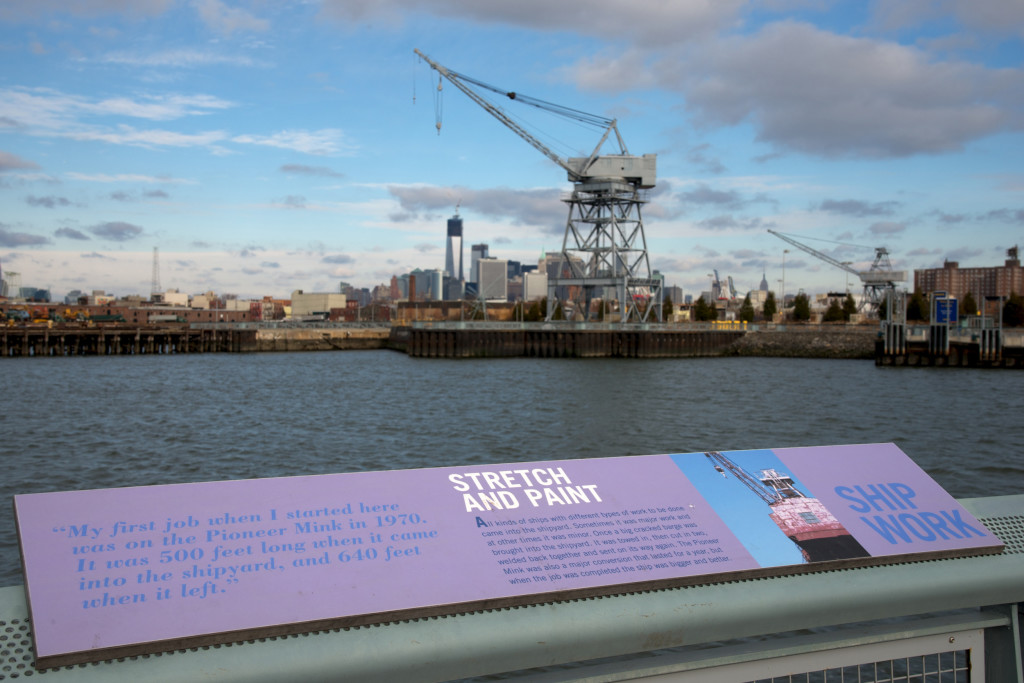 Recovered cranes and informational posts in Red Hook. Photo Copyright © Joan Alemany Llovera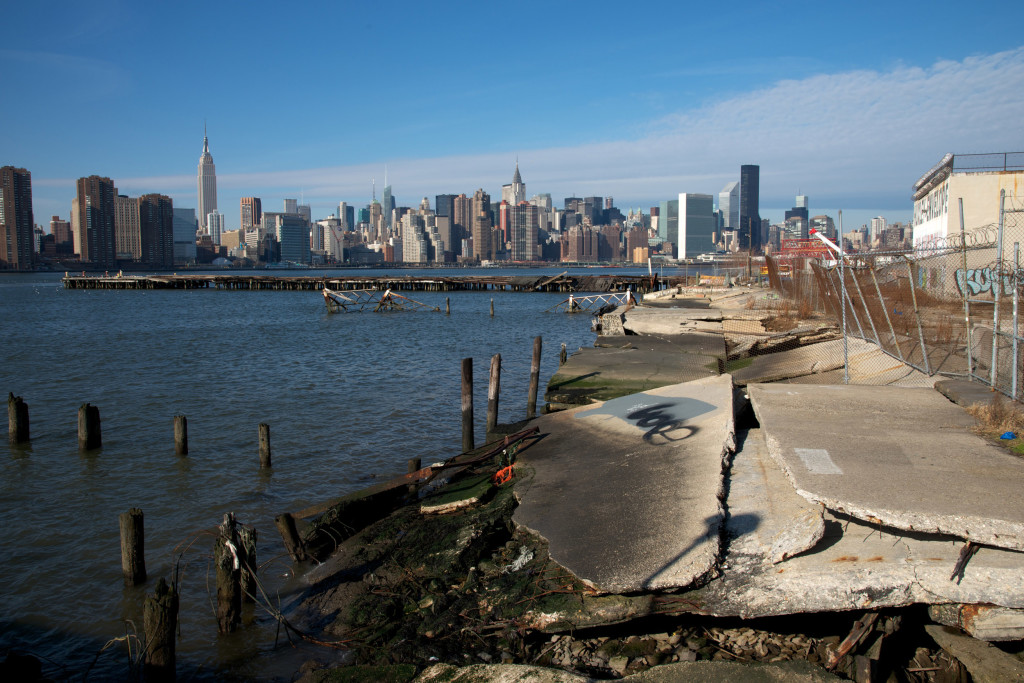 Abandoned piers in Greenpoint. Photo Copyright © Joan Alemany Llovera
Small new park recently built in Greenpoint. Photo Copyright © Joan Alemany Llovera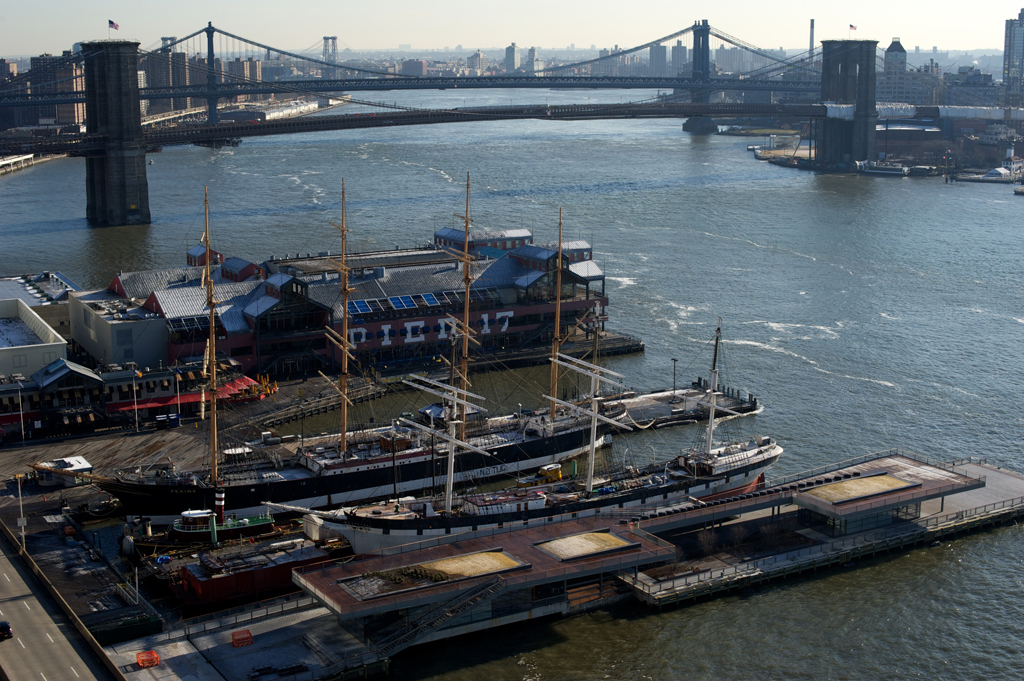 New equipment and public spaces between Pier 15 and 17. Photo Copyright © Joan Alemany Llovera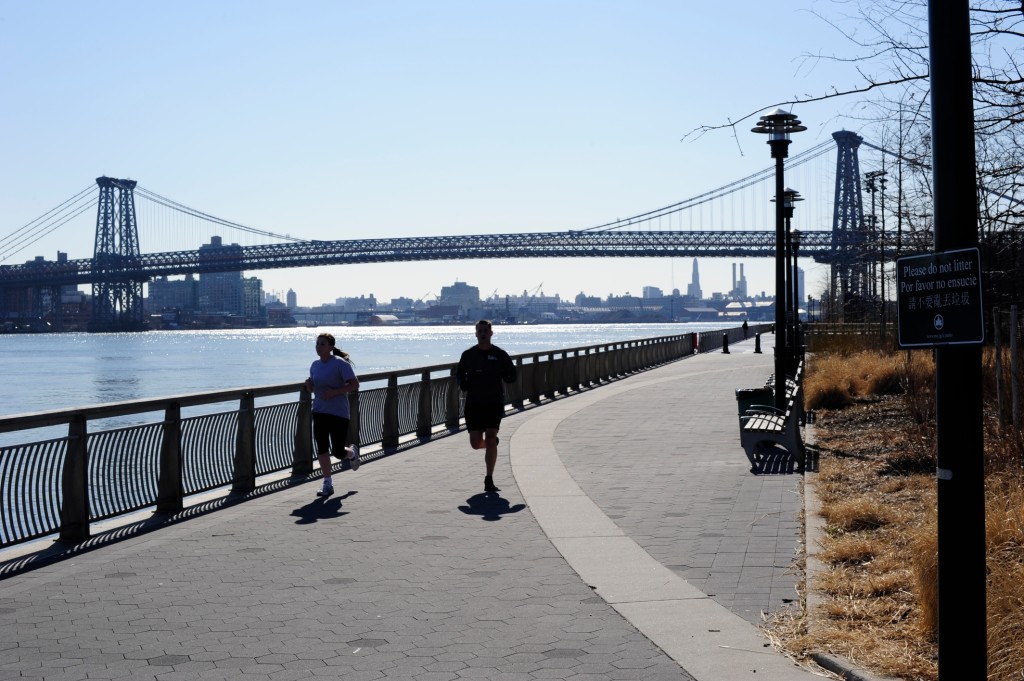 Boardwalk in the north side of the Williamsburg Bridge. Photo Copyright © Joan Alemany Llovera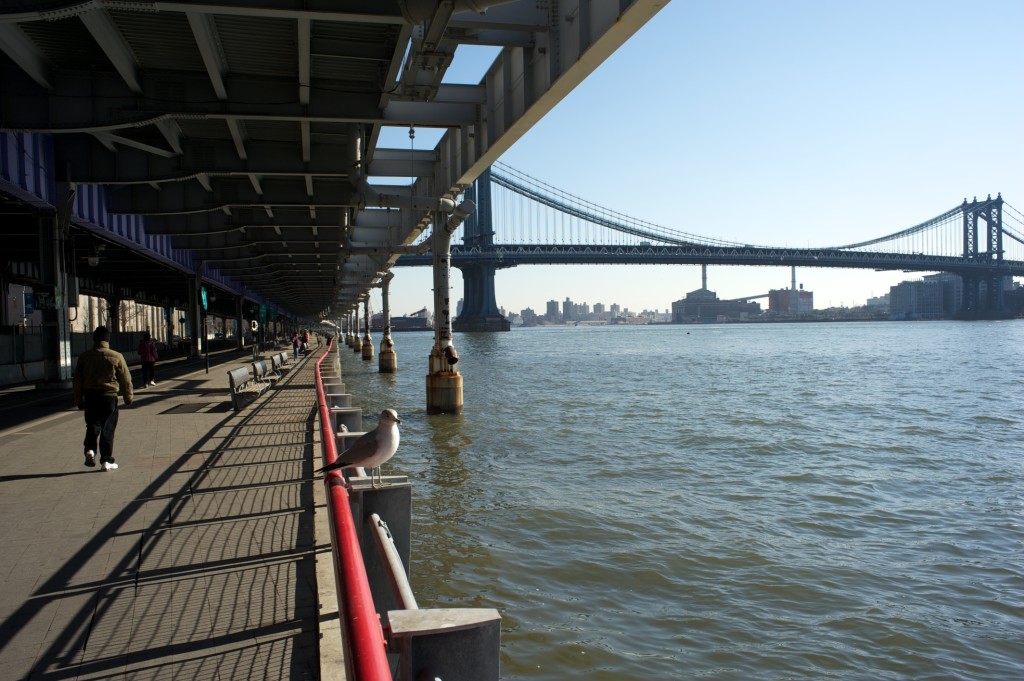 Boardwalk under the highway between the Brooklyn Bridge and the Manhattan Bridge. Photo Copyright © Joan Alemany Llovera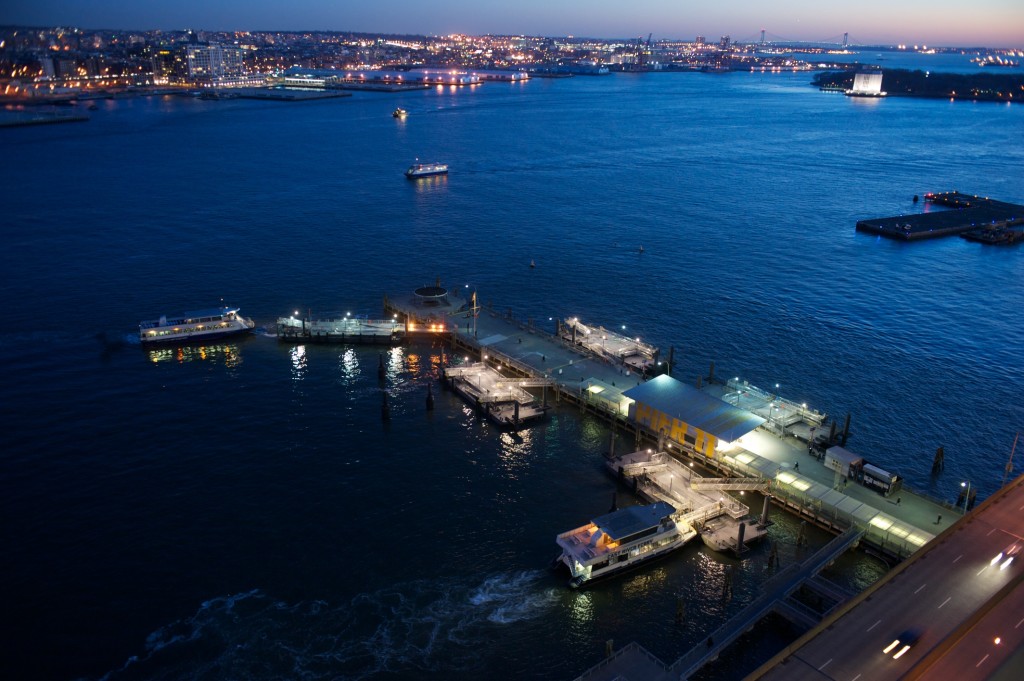 Pier 11 at night without passenger transport activity. Photo Copyright © Joan Alemany Llovera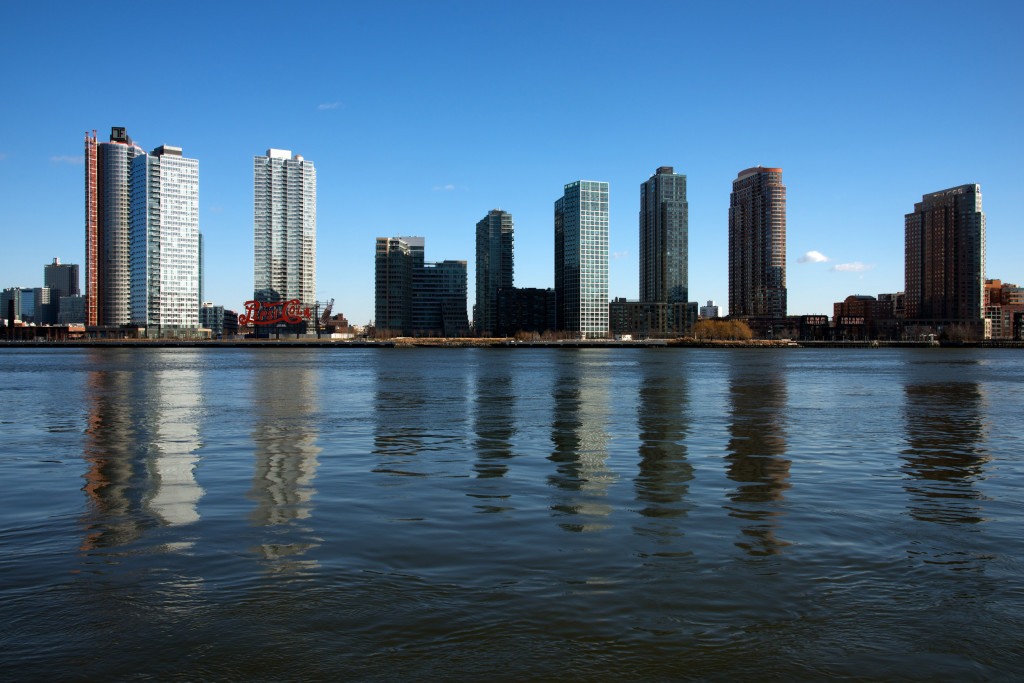 Promotion of new housing in Long Island City (Queens). Photo Copyright © Joan Alemany Llovera
---
Imágenes de las nuevas transformaciones del waterfront de Nueva York
Nueva York es probablemente la ciudad con el frente de agua más extenso de todo el mundo. Sus cinco grandes boroughs tienen larguísimas fachadas sobre los ríos y canales interiores. Manhattan y Staten Island son islas, Brooklyn y Queens se encuentran en el extremo sudoeste de otra isla (Long Island) y, por último, el Bronx tiene largos límites litorales en sus costados Este, Sur y Oeste. En total son cerca de 800 km de contacto de la ciudad con el agua.
Históricamente la mayor parte del frente marítimo de la ciudad se dedicó a actividades portuarias (en Manhattan y Brooklyn), a áreas industriales (especialmente en Brooklyn y Queens) y a grandes polígonos y construcciones dedicadas a oficinas (en Manhattan) y vivienda (en todos los barrios). Desde la segunda mitad de la década de 1950 se fueron abandonando las actividades portuarias en Manhattan y poco después empezó la desindustrialización progresiva de casi todo el litoral urbano. En las décadas de 1980 y 1990 la mayor parte de la costa de Nueva York ofrecía un aspecto de abandono cuando no de desolación, incluidas zonas relativamente próximas a barrios residenciales de alto standing.
La rehabilitación y mejora del área urbana de South Street Seaport y del Pier 17 (hoy de nuevo en renovación) en los años ochenta del siglo pasado y la construcción de un nuevo paseo marítimo en Tribeca en la década siguiente iniciaron un período de recuperación de la costa. Esta transformación presenta en los últimos años un dinamismo extraordinario, como describen los artículos publicados en el número 22 y en la presente edición de PORTUS debidos a Cliff McMillan y Pierre Gras respectivamente.
Después de las grandes operaciones desde Tribeca al Sur hasta el Upper West Side, incluyendo la creación del diverso, pero siempre interesante Hudson River Park y de las operaciones sobre el East River, desde Battery Park en el extremo Sur hasta cerca del Queensboro Bridge se puede considerar que buena parte de la isla de Manhattan está rodeada, en su contacto con el agua por parques litorales y paseos marítimos peatonales. En las operaciones del East River en Manhattan hay que incluir la sencilla pero interesante recuperación del espacio debajo de la gran autopista urbana de South Street y la promoción del transporte colectivo por agua que ha convertido el Pier 11 en un gran centro de ferrys urbanos.
Quedan algunos pocos espacios a mejorar en el Hudson. Otros próximos al agua pero sin contacto directo con ella tienen hoy una gran fuerza de atracción para la gente de la ciudad y sus visitantes, como es el caso del parque y paseo de la High Line. También sobre el East River están culminando los proyectos que permiten el acceso y el disfrute de los ciudadanos de los espacios de agua, como el nuevo paseo entre el Pier 11 dedicado a los ferrys urbanos y el Pier 17, este último ha sido untradicional espacio comercial, cultural y de ocio. Pero sin duda donde se concentran los nuevos proyectos y las nuevas alternativas de ordenación del litoral es en Brooklyn. Además, quizás por primera vez en su historia, la ciudad dispone de un plan a largo plazo sobre su espacio litoral, denominado Vision 2020, para enmarcar los distintos proyectos públicos y privados de inversión y tratar de dar coherencia al conjunto de operaciones. Los proyectos y las actuaciones previstas en los próximos años son muy diversas ya que abarcan desde la creación de muchos y nuevos espacios públicos, grandes promociones de vivienda y la recuperación de algún patrimonio industrial y arquitectónico hasta la introducción de nuevas actividades económicas. Disponer de 800 km de costa permite esta gran diversidad de actuaciones y de usos sobre el litoral urbano, cuestión que la mayor parte de las ciudades portuarias, con espacios mucho más reducidos, frágiles y conflictivos entre usos alternativos no pueden plantearse.
Las 14 imágenes que se publican a continuación tratan de mostrar algunos elementos de la gran diversidad de usos y actuaciones sobre la extensa costa de Nueva York y tambiénviejos espacios portuarios poco conocidos, como los de Greenpoint o Red Hook, pero con una gran potencialidad de contribuir al desarrollo futuro de sus barrios próximos y del conjunto de la ciudad.Cartel informativo sobre el nuevo Brooklyn Bridge ParkPhoto Copyright © Joan Alemany Llovera Carteles informativos en el paseo peatonalPhoto Copyright © Joan Alemany Llovera Carteles informativos en viejo espacio industrial de WilliamsburgPhoto Copyright © Joan Alemany Llovera Concentración de lineas de ferrys urbanos en el Pier 11Photo Copyright © Joan Alemany Llovera Gran polígono de viviendas en WilliamsburgPhoto Copyright © Joan Alemany Llovera Grandes almacenes portuarios semiabandonados en Red HookPhoto Copyright © Joan Alemany Llovera Gruas recuperadas y carteles informativos en Red HookPhoto Copyright © Joan Alemany Llovera Muelles abandonados en GreenpointPhoto Copyright © Joan Alemany Llovera Nuevo pequeño parque recientemente construido en GreenpointPhoto Copyright © Joan Alemany Llovera Nuevos equipamientos y espacios públicos entre los Piers 15 y 17Photo Copyright © Joan Alemany Llovera Paseo peatonal al norte del puente de WilliamsburgPhoto Copyright © Joan Alemany Llovera Paseo peatonal debajo de autopista urbana entre los puentes de Brooklyn y de ManhattanPhoto Copyright © Joan Alemany Llovera Pier 11 de noche sin actividad de transporte de pasajerosPhoto Copyright © Joan Alemany Llovera Promoción de nuevas viviendas en Long Island City (Queens)Photo Copyright © Joan Alemany Llovera
---