8 Novembre, 2020
An innovative project for the temporary use of the Venice Arsenal was born in the dark months of the lockdown, showing that difficulties are often an opportunity and stimulus for creativity and ingenuity. In the flourishing of different hypotheses aimed at guaranteeing moments of entertainment and aggregation respecting however the safety and protection requirements against Covid-19, the project idea proposed by a group of young architects, headed by Nicola Scopelliti, immediately met the favor of local Venetian institutions: a lagoon-style drive-in that modulates in an aquatic version the proven formula of a cinema projection in open spaces, very popular in the United States in the 1950s.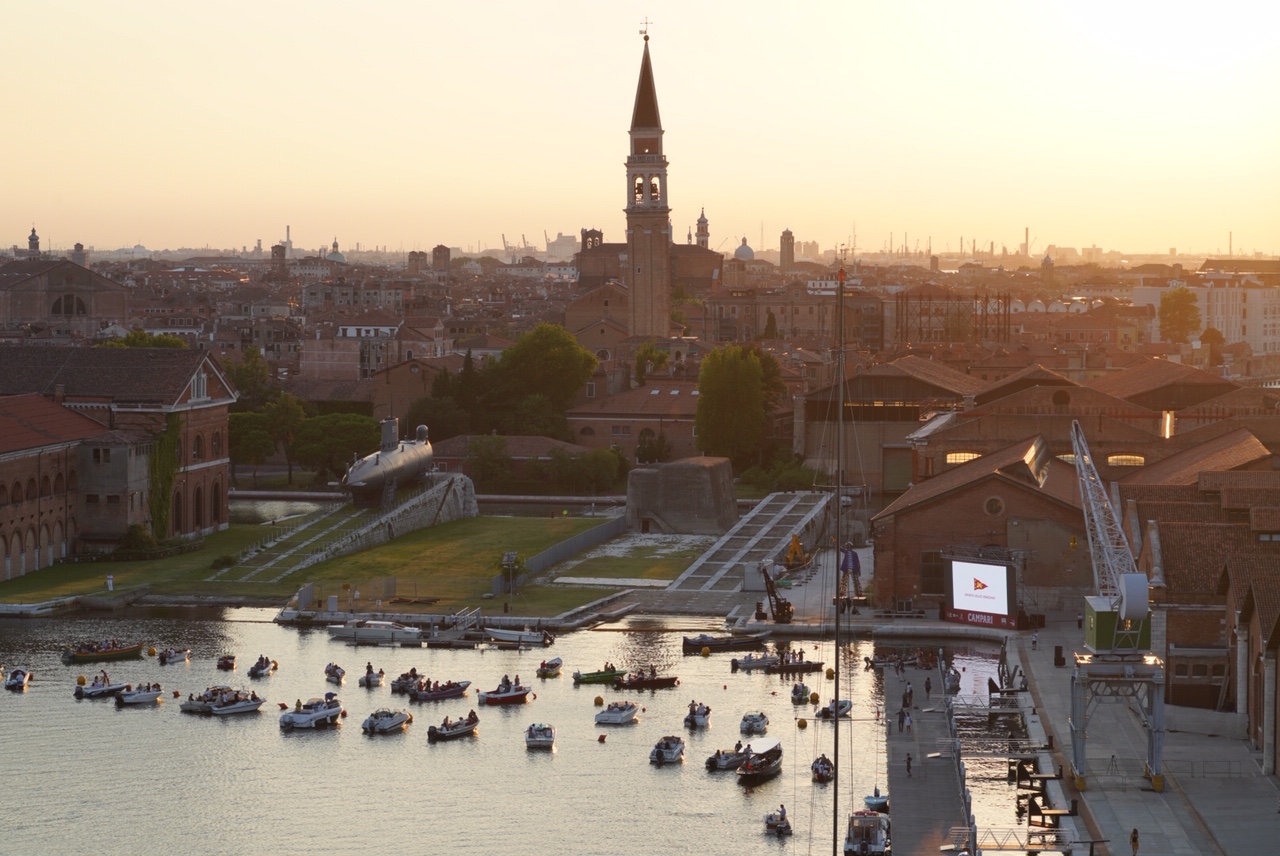 Barch-in at the Venice Arsenal.
In Venice, everything runs on water and the lagoon is the great environment where all human activities should take place in harmony with its natural rhythms. Which always happens too rarely. What better opportunity, then, than experimenting in the calm waters of the Venice Arsenal basin, at the Darsena Grande, with a contingent entry of private boats an outdoor film program? The idea was immediately supported by the Italian Navy, which owns the mirror of water, and by the local administration which, through its company Vela, acted as a facilitator for the authorization and logistics part. Cinema Barch-in was therefore born, whose name also plays on the assonance with the colloquial term used in Venice by youngsters to call small pleasure boats whizzing in the lagoon: a program of five themed evenings with the projection of films not only of pure entertainment, but also bringing awareness on the relationship between man and nature. In the extraordinary setting of the Venice Arsenal, for five consecutive evenings at dusk, 50 private boats – mostly made of wood, and typical of the Venetian lagoon – were arranged in regular order for a total of about 200 people at a time.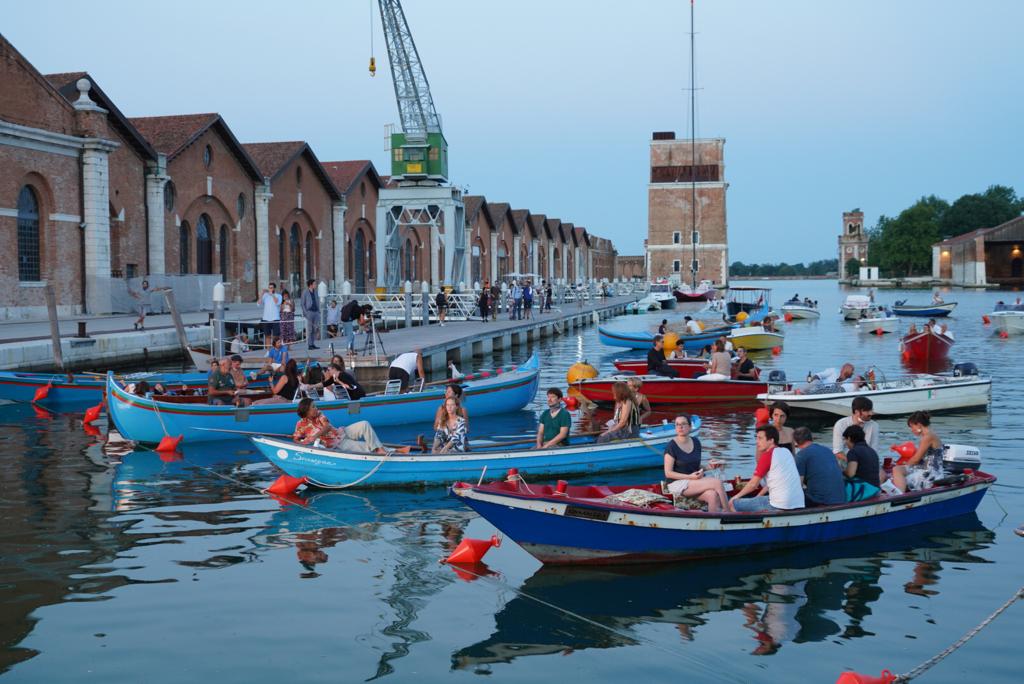 Barch-in at the Venice Arsenal.
From 28 July to 1 August, Barch-in offered the lagoon city, in collaboration with Campari, the Italian aperitif which, over the years, has forged stronger bond with the world of cinema, a free event and a place to "safe" meeting place to share cinema, art and entertainment.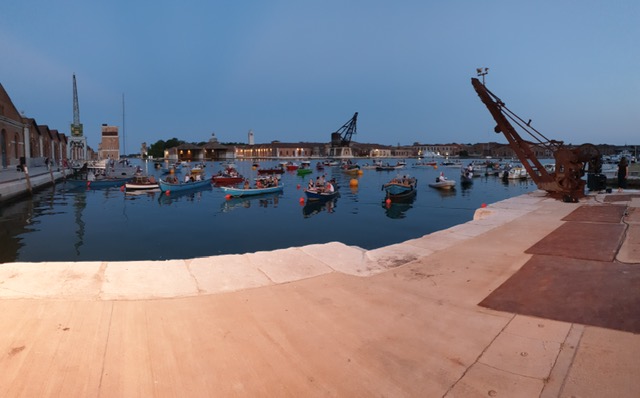 Barch-in at the Venice Arsenal.
Each evening the spectators, in full compliance with the health regulations on anti-Coronavirus social distancing, waited from their own boat for the screening to begin with a drink, signed by Campari, accompanied by a musical selection. The booking of the berth as well as the aperitif and fast food, in a Venetian key, were booked via a web app and served directly from the boats of Cocai Express, a young delivery startup born in Venice during the quarantine.
An unexpected success for the first Italian drive-in by boat, with a full house from the first day, and above all the experimentation of a formula that has certainly enhanced a specific way of living, with the utmost respect of a space of the highest historical-architectural quality. A positive message that offers a vision for more sustainable scenarios of city fruition, compatible with the history of Venice and its traditions.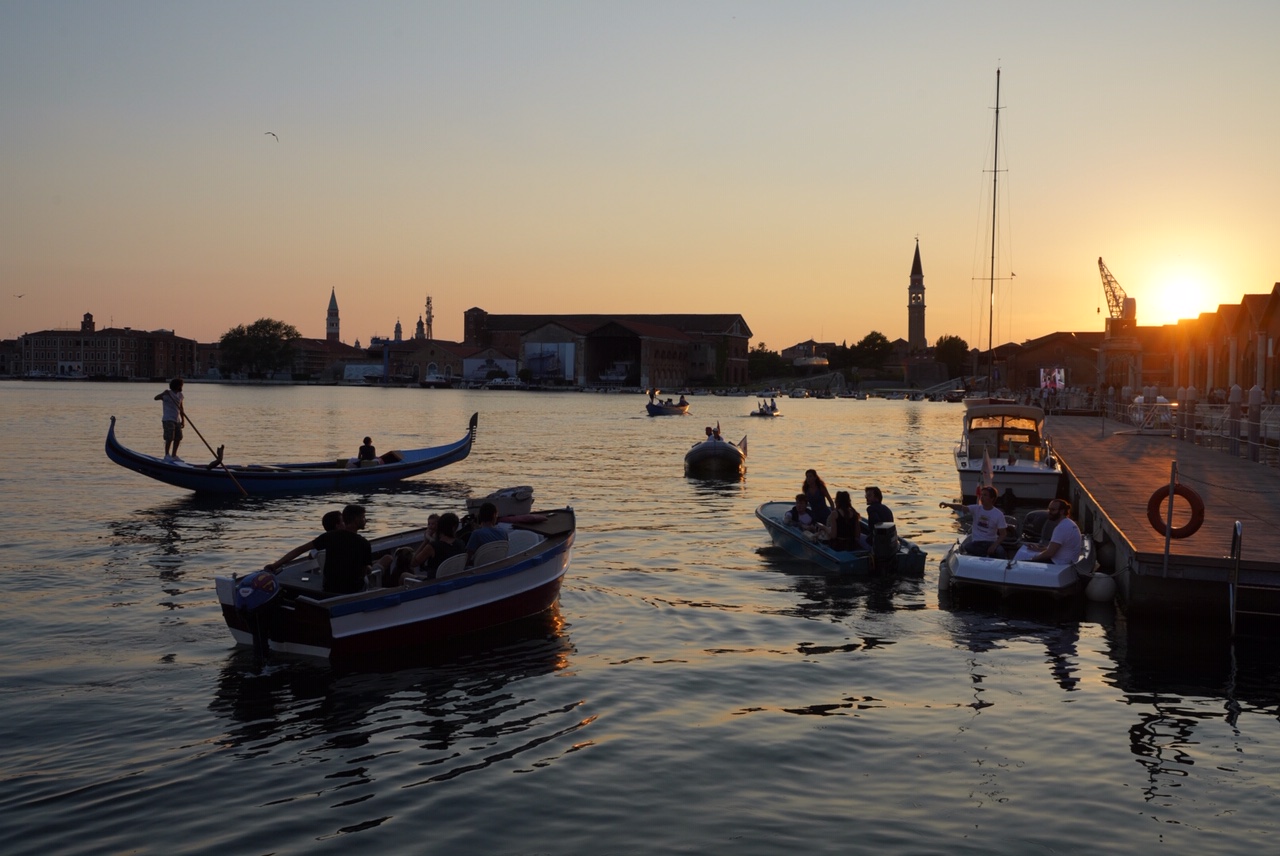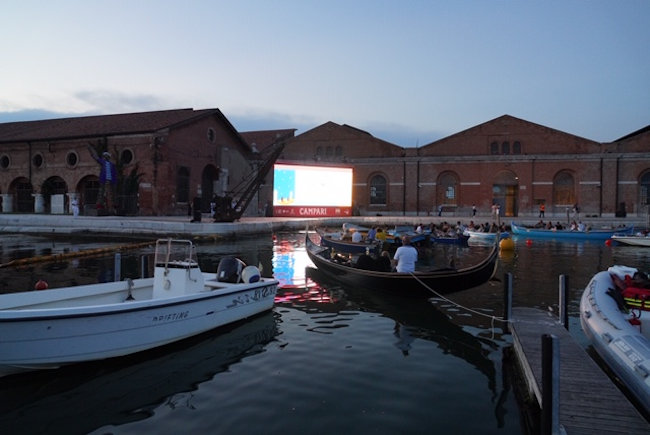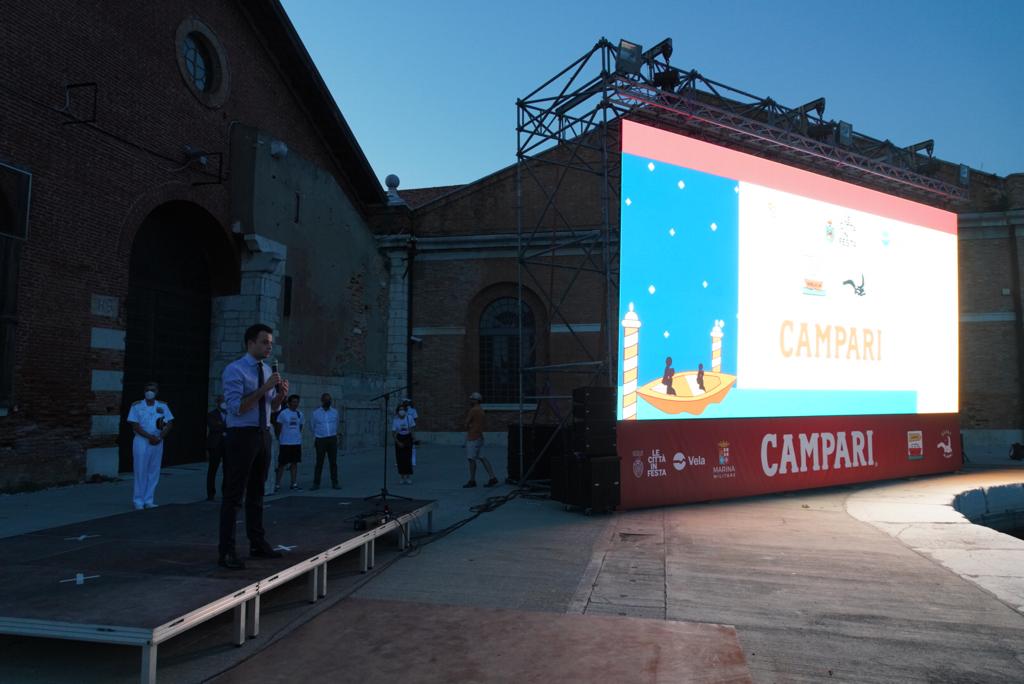 Barch-in at the Venice Arsenal.
Cinema Barch-In is the event, within the Le Città in Festa project of the City of Venice, conceived by Nicola Scopelliti and developed together with the collective Cinema barch-In, which he founded; produced by FEMS du Cinéma, and Vela, with the contribution of Navy, the patronage of the Veneto Region and by Le Città in Festa, with the support of Campari, in collaboration with Ca' Foscari University, Unione degli Universitari, Quarta Parete, Science Gallery Venice, Venetian Research and Innovation District, Ca 'Foscari Short Film Festival, Cineclub Venezia, Cinit – Cineforum italiano, We are here Venice, Frullatorio, Wannaboo Video Productions, together with many young volunteers.
---
Head image: Barch-in at the Venice Arsenal.
---
Cinema Barch-In, a Venezia il cinema drive-in va in barca
A dimostrazione del fatto che le difficoltà spesso sono occasione e stimolo di creatività e ingegno, un progetto innovativo per l'uso temporaneo dell'Arsenale di Venezia è scaturito nei mesi bui del lockdown. Nel fiorire di ipotesi diverse atte a garantire momenti di intrattenimento e di aggregazione che potessero però rispettare le esigenze di sicurezza e di tutela imposte dal Covid-19, per iniziativa di un gruppo di giovani architetti, capeggiato e ideato da Nicola Scopelliti, ha preso forma un'idea progettuale che ha subito incontrato il favore delle istituzioni locali veneziane. Un drive-in in stile lagunare che modulasse la collaudata formula di una proiezione cinematografica in spazi aperti, molto in voga negli Stati Uniti negli anni 50, in versione acquatica.
Barch-in all'Arsenale di Venezia.
A Venezia tutto corre sull'acqua e la laguna è il grande ambiente dove tutte le attività dell'uomo dovrebbero svolgersi in sintonia con i suoi ritmi naturali. Cosa che accade sempre troppo poco. Quale migliore occasione quindi che sperimentare nelle acque tranquille del bacino dell'Arsenale di Venezia, presso la Darsena Grande, un ingresso contingentato di barche private per proporre un programma di film all'aperto? L'idea ha subito trovato appoggio dalla Marina Militare, che detiene la proprietà dello specchio d'acqua, e dall'amministrazione comunale che, attraverso la sua società Vela, ha agito da facilitatore per la parte autorizzativa e logistica. È nato quindi Cinema Barch-in, il cui nome gioca anche sull'assonanza con il termine colloquiale con cui a Venezia i ragazzi chiamano le piccole imbarcazioni da diporto con cui sfrecciano in laguna: una rassegna cinematografica di cinque serate a tema con la proiezione di film che portassero, oltre all'intrattenimento puro, anche il valore aggiunto di una sensibilizzazione su temi legati alla relazione tra l'uomo e la natura. Nello straordinario scenario dell'Arsenale di Venezia, all'imbrunire per cinque sere consecutive, si sono disposte in ordine regolare 50 imbarcazioni private – per lo più in legno, con modelli tipici della laguna veneziana – per un totale di 200 persone circa per volta.
Barch-in all'Arsenale di Venezia.
Dal 28 luglio al primo agosto, Barch-in ha offerto alla città lagunare, in collaborazione con Campari, l'aperitivo italiano che, negli anni, ha stretto un legame sempre più forte con il mondo del cinema, un evento gratuito e un luogo di ritrovo "sicuro" dove condividere cinema, arte e spettacolo.
Barch-in all'Arsenale di Venezia.
Ogni sera gli spettatori, ognuno dalla propria imbarcazione, nel pieno rispetto delle normative sanitarie sul distanziamento sociale anti-Coronavirus, hanno atteso l'inizio della proiezione partecipando ad un "Aperiporto", firmato Campari, accompagnato da una selezione musicale. La prenotazione del posto barca così come l'aperitivo e il fast food reinterpretato in chiave veneziana, venivano prenotati tramite web-app e serviti direttamente dai gommoni di Cocai Express, una giovane startup di delivery nata a Venezia durante la quarantena.
Un successo inaspettato per il primo drive-in italiano in barca, con un tutto esaurito fin dal primo giorno, e soprattutto la sperimentazione di una formula che ha certamente valorizzato, nel massimo rispetto uno spazio di altissima qualità storico-architettonica, una modalità di vita specifica del luogo. Un messaggio positivo che offre una visione per scenari di fruizione della città più sostenibili e compatibili con la storia di Venezia e le sue tradizioni.
Barch-in all'Arsenale di Venezia.
Cinema Barch-In è l'evento, all'interno del progetto Le Città in Festa del Comune di Venezia, ideato da Nicola Scopelliti e sviluppato assieme al collettivo Cinema barch-In, da lui fondato; prodotto da FEMS du Cinéma, e Vela, con il contributo di Marina Militare, il patrocinio della Regione Veneto e da Le Città in Festa, con il supporto di Campari, in collaborazione con Università Ca' Foscari, Unione degli Universitari, Quarta Parete, Science Gallery Venice, Distretto Veneziano della Ricerca e Innovazione, Ca' Foscari Short Film Festival, Cineclub Venezia, Cinit – Cineforum italiano, We are here Venice, Frullatorio, Wannaboo Video Productions, insieme a moltissimi giovani volontari.
---
Head image: Barch-in all'Arsenale di Venezia.
---
Article reference for citation:
EN MORETTI Marta,
Cinema Barch-In, in Venice the drive-in cinema goes by boat
PORTUS: the online magazine of RETE, n.40, October 2020, Year XX, Venice, RETE Publisher, ISSN 2282-5789, URL:
https://portusonline.org/en/cinema-barch-in-in-venice-the-drive-in-cinema-goes-by-boat/
IT MORETTI Marta,
Cinema Barch-In, a Venezia il cinema drive-in va in barca
PORTUS: the online magazine of RETE, n.40, October 2020, Year XX, Venice, RETE Publisher, ISSN 2282-5789, URL:
https://portusonline.org/it/cinema-barch-in-in-venice-the-drive-in-cinema-goes-by-boat/
---