10 Novembre, 2019
Taranto seaside city. "Taranto city on the sea (on the seas)" is the closest consideration to the historical reality of the relationship between this morphological marker and the evolution and development of the urban texture that the ancient Pearl of Magna Grecia had in the last 150 years of its history.
Founded in 706 BC from Spartan settlers [1], Taranto is named the City of the two Seas, because of the particular geographical conformation that is located on an extended peninsula stretched between the bay of Mar Grande to the south and the lagoon of Mar Piccolo and north, narrow overlooking the homonymous Gulf, the largest one of Italy.
The City is situated on large tufaceous blocks with particular mineralogical characteristics (the yellow Carparo). It's located on the slopes of a submerged "canyon" lying towards the south, revealing its conformation with the cliffs of Mar Grande: the Taranto Valley, hundreds of kilometers long and reaching depths close to 1,500 m [2].
Taranto is divided in three great "blocks": the Città Nuova peninsula, the Città Vecchia island with its Ponte Girevole and the urban borders of Porta Napoli, Tamburi and Croce districts.
The city was the natural arriving port for most of the eastern routes that landed in Europe, due to its position at the apex of the Gulf, which has its ideal extremes in Capo Santa Maria di Leuca (East) and Punta Alice of Cirò Marina (West).
A national and strategic port city, Taranto has been affected by many civil and military settlements that needed logistic access to the sea: steady and load-bearing winds, a wide and deep bay with formidable natural protections culminating off the coast of Mar Grande with the belt of the Cheradi Islands [3].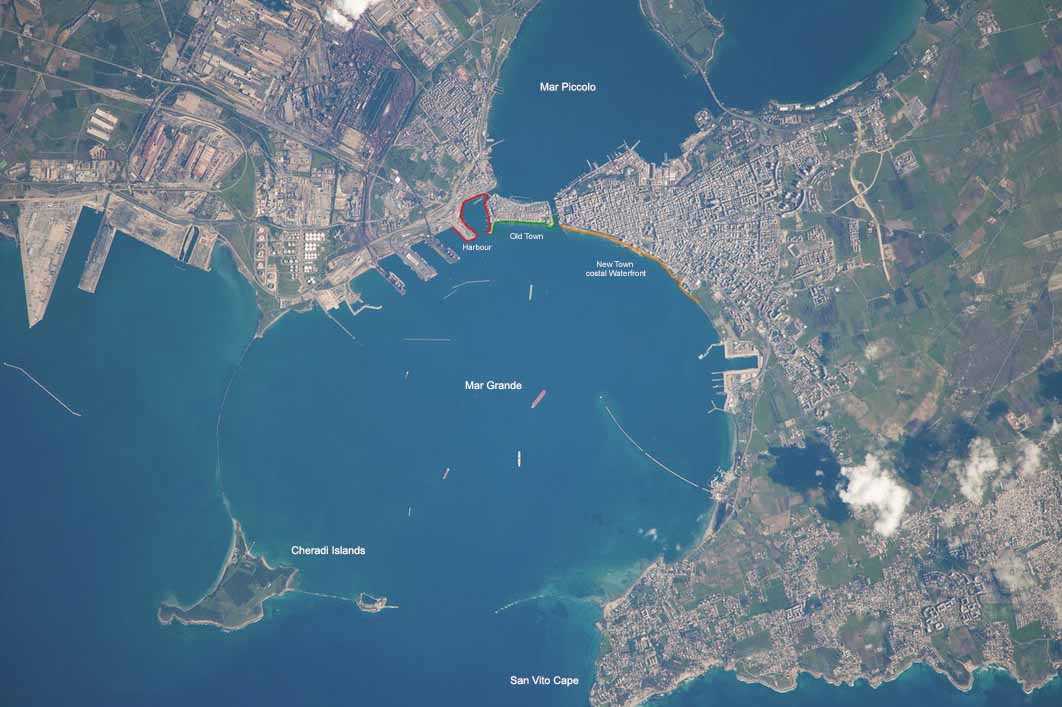 City of Taranto, satellite view of International Space Station (2016).
It is therefore logical that in the last decades the analysis of the Waterfront has assumed a decisive role for reasoning involving the entire city system.
Leaving aside the lagoon of Mar Piccolo, almost entirely monopolized by the military administrations that have implanted there the Military Dockyards, Idroscalo, Logistic Center and many deposits and installations, evolutionary reasoning has always interested the Lungomare of the city, those cliffs to the south than by the protruding of the Mercantile Port up to the quays of the new Naval Base of the "Chiapparo" [4], configure the solution of continuity between Taranto and the seas.
Specifically, we will consider the aspects of the three urban areas, Affaccio a Mare (In Front of Sea) of the New City, the Ringhiera (Railing) of the Old City and Darsena (Boathouse) of Porta Napoli, and then we will conclude with activated examples in recent years that constitute the correct spin off for all the amount of progressing operations.
L'Affaccio a Mare (In Front of Sea)
It was with the Tian Town Planning (1922), after the Unification of Italy, that the concept of integration between the recently formed urban fabric and the city coast began to take shape, inserting this among the objectives of the Project as "Passeggiata a Mare" [5].
From Thian's report: "The Passeggiata a Mare is made up of three parts which, however, constitute a single and harmonious whole. The first from the Palazzo dell'Ammiragliato to the Phytopathological Institute (about 650 m long), the second between the said institute, the future Grande Hotel and the terrace overlooking the sea (about 300 m), the last one is between the terrace overlooking the sea and the Torre d'Ayala, (about 1,450 m); in this way we will have a total of 2400 m of walk always along the sea, embellished with gardens, small and large terraces, meeting places, clubs, bathing establishments and rowing clubs".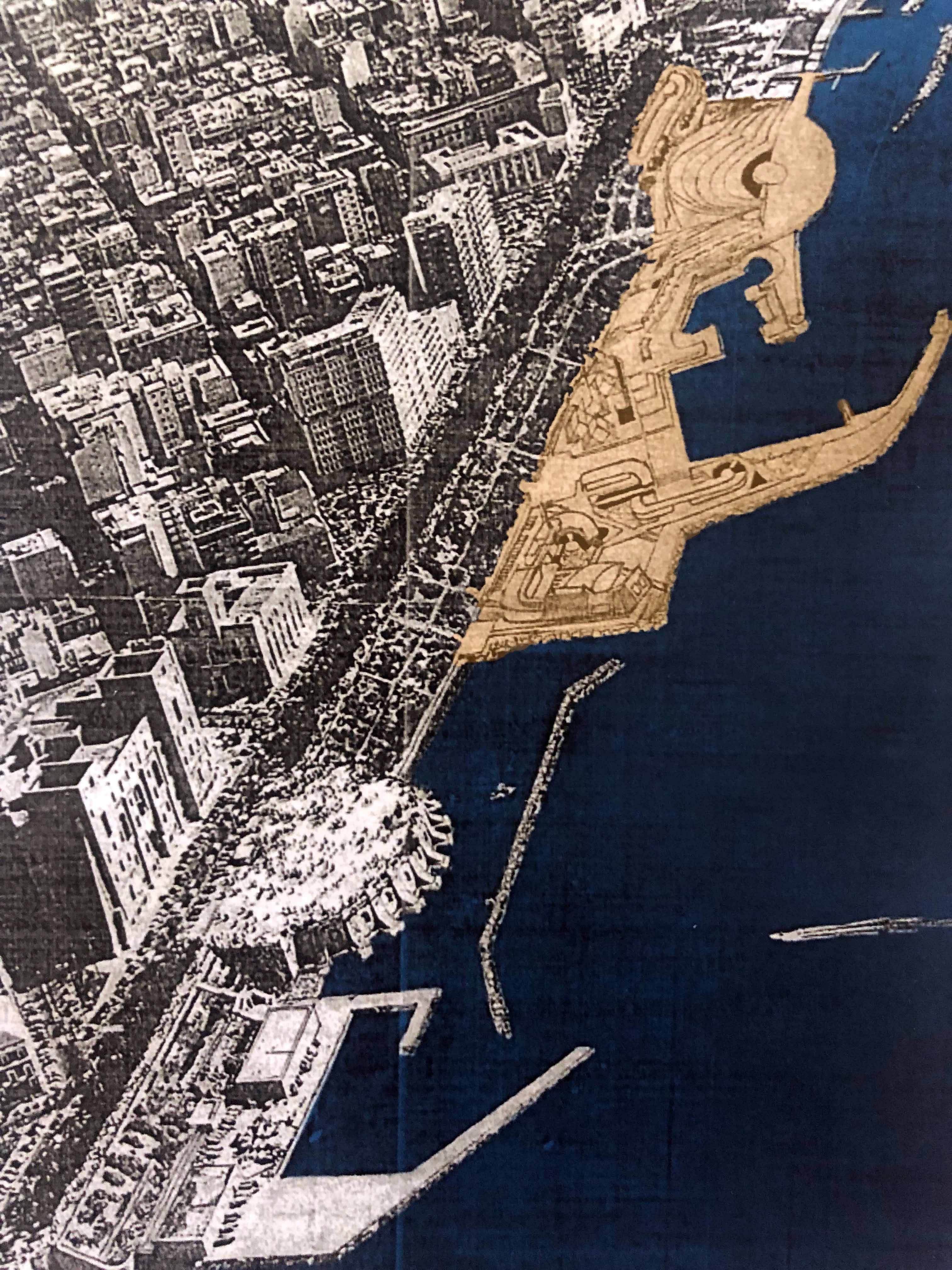 Prospective view sketch, Detailed Plan of Mar Grande Waterfront (1989).
In this context, we can talk about the "Piano Particolareggiato dell'affaccio costiero sul Mar Grande" in the late 1980s, without taking consideration of all the Plans [6] and epochal events that have since developed. It was drew up by a designers group coordinated by the architect Claudio Adamo for the Administration of Taranto and included within the "2nd National Town Planning Exhibition" [7].
The PP was approved by the Municipal Administration with resolution no. 1899 of 8/9/88, and it was partly realized with the restoration of the Lungomare and of the terraced slopes (from the Ponte Girevole to the Cavalloti street handed over to the citizens in the mid-90s). The Design is still included among the projects being implemented on the institutional table framework of the CIS.
This proposal is a configuration with a strong tourist/commercial vocation for the entire coast of the New Town, from Piazza della Rotonda to Capo San Vito.
In the current Lungomare section, the designers provided large and invasive castings to the sea and the creation of paths, widens and piers, so as to integrate commercial and tourist functions (landings, offices and shipyards). There are also those for citizenship (shops, clubs, services and panoramic terraces) which, with the aim of diversified economic recovery, already identified the main asset for the transformation of the city, stimulated by the recent drainage of the Mar Grande harbor.
From the technical report: "The proposal that is considered the most qualifying of the Plan project is represented by the "Passeggiata Costiera"[omissis]. It will partly rest on the different ridges made by the recomposition of the coastline and partly on the suspended roads, to overlap some existing structures.
[omissis]
The most significant specific proposals concern:
the Rotonda del Lungomare where a three-storey underground car park is planned [omissis];
a large area (obtained through reclamation operations) arranged and organized at the Maritime Landing and Station for the Gulf public transport lines [omissis];
Piazza Ebalia, extended to project itself on a tiers amphitheater of stairs descending harmoniously towards sea level (Affaccio a Mare) [omissis].
The type of intervention adopts a standard to shape the material according to obsolete canons that often conceived of nature as a "basic structural element" for a strong human activity designed to gather needs that were believed to be projected into the future. The probable revision of the intervention can (and must) necessarily capture the strengths and the fundamental nodes of the project proposal, adapting it to the modern vision of dialogue with the morphology of the natural stretch on which it is located.
The Harbor
The large harbor area to the west of the city, has recently been the subject of a Feasibility Study promoted by the Ionian Sea Port Authority. Rosario Pavia and Matteo Di Venosa, acts on the coastal areas under the jurisdiction of the Authority and on some of those in mandate with the municipal administration (C1 "Porta Napoli" and C2 "Città Antica" areas, with a reference to C3 "Borgo") [8].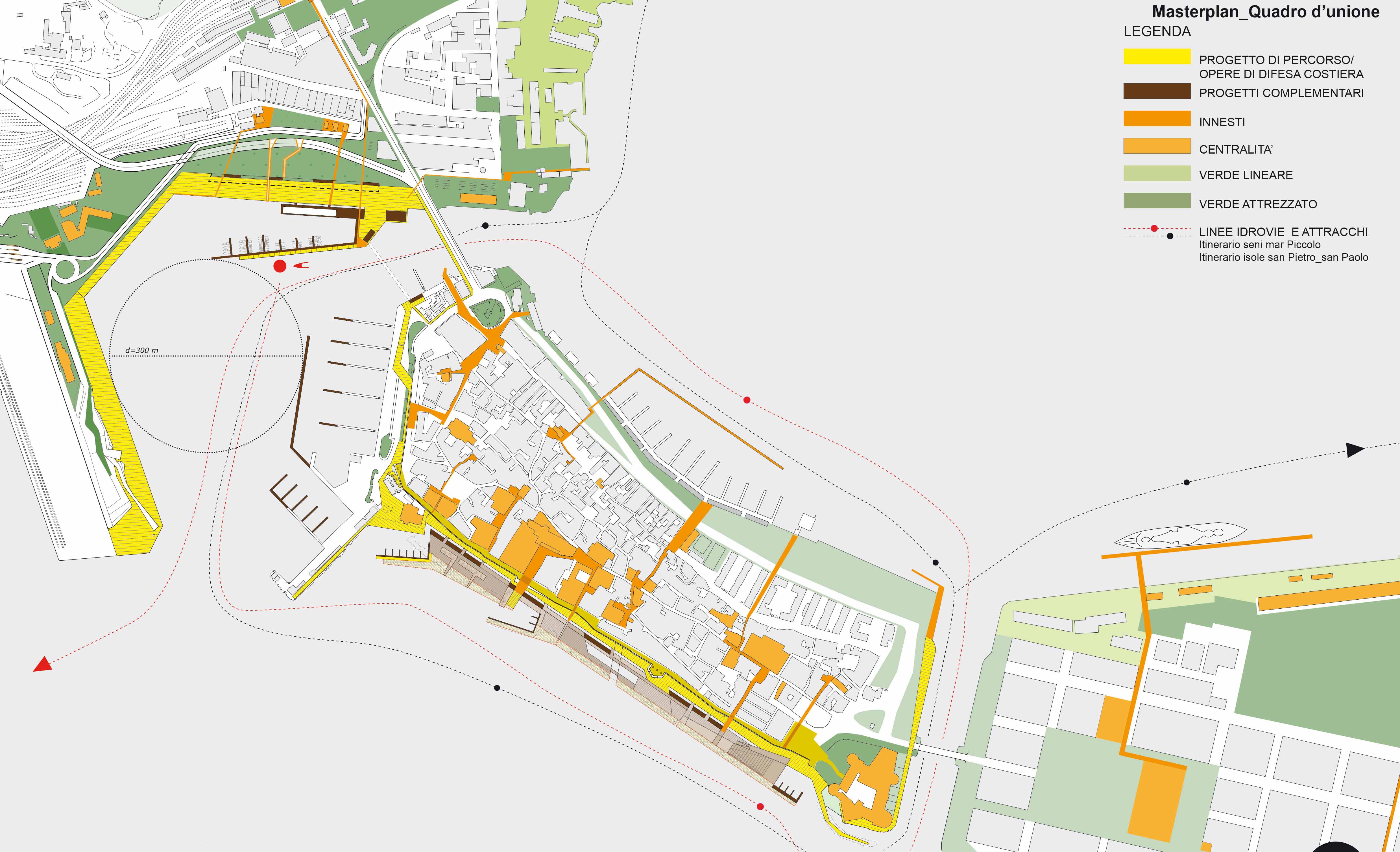 Coastal protection operations, redevelopment and regeneration of the old town of Taranto in Mar Grande, Project Scenarios, Masterplan and Union Framework (2015).
The Study proposes actions designed for a "short decision chain" (Port Authority-Municipality interaction) with a vision of "city from the sea", which starts from the redefinition and return to full coastal usability of the Porta Napoli and Città Vecchia areas.
The method is the proposal of paths and observation points integrated with the morphology coasts morphology, placing the Lungomare in continuity with the new Falanto Terminal, at the peak of the first protruding part of the Port, and activating among them a dialectical ideal.
The functional area A1 ("Molo and Darsena") was then identified, directly managed by the Port Authority. In 2017 it was the subject of a preliminary project to redesign the Primo Sporgente and starting from the water-city interface, proposes a new reading of the entire urban stretch of the Port.
The three cornerstones offered are: retraction of the East Gate access which will complete the full usability of the Dock; construction of a tower whose foot will have commercial and road reorganization destinations; recovery of existing buildings and residual spaces, integrated together through a continuous wall shielding.
The upside consists of the new Falanto Terminal (currently on site) which will dominate the access to the dock and will enjoy direct use by the citizens.
It is the opinion of the writer that the most interesting ideas come from the "wall" intervention with a dual connective role: vertical between the two vertices and horizontal for buildings and functions of which it will constitute a shield.
As a Promenade, the Wall takes on value because it is integrated into a museum itinerary equipped for permanent or occasional installations and an interactive External Wall towards the city. As a large Urban Screen with a pixelated digital surface, it will allow variable configurations for a new large-scale perception of the entire big dock.
The energy efficiency of the buildings behind is integrated by the capture of renewable energy through the surface of the continuous shielding. For this reason, the configuration of the intervention is completely multilayer.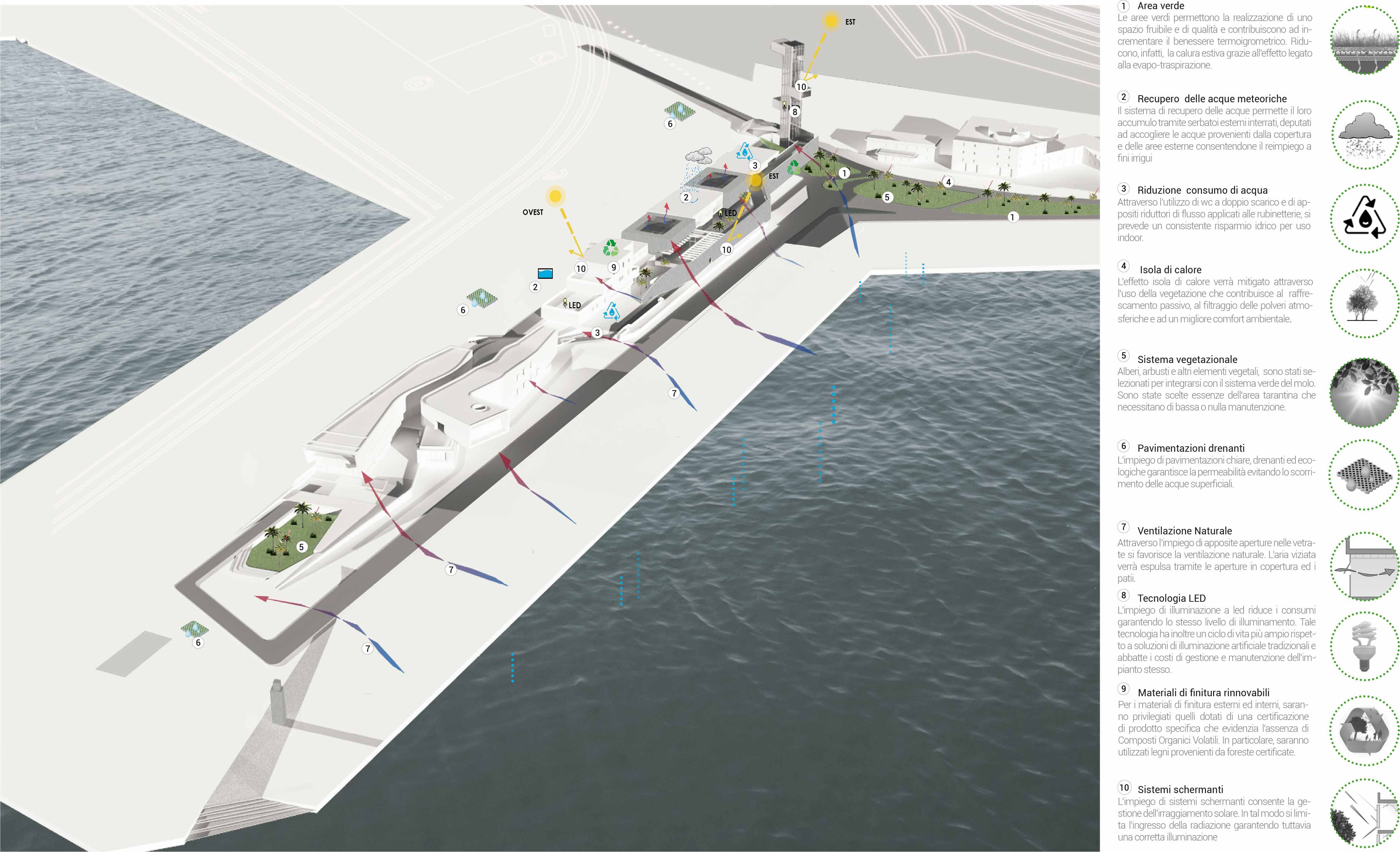 Axonometric view, A1 Area – "San Cataldo" dock (Primo Sporgente), Feasibility Project, Port Authority (2017).
The challenge of Social Docks
For this reason it is stimulating to imagine that Taranto can obtain the means to be a port planning study case that covers the entire area of Porta Napoli, which for some time thanks to the courage of private initiatives, is being reconfigured for proposals that aim to socio-cultural conversion of the entire city.
The Port Authority, the promoter of the Feasibility Study, has started a very thorough governance strategy, aimed at making "city in the port and port in the city", and showing particular attention to new social development initiatives that make the sea their primary resource.
Among these Officina Maremosso [9] makes the culture of the sea work for integration and social recovery.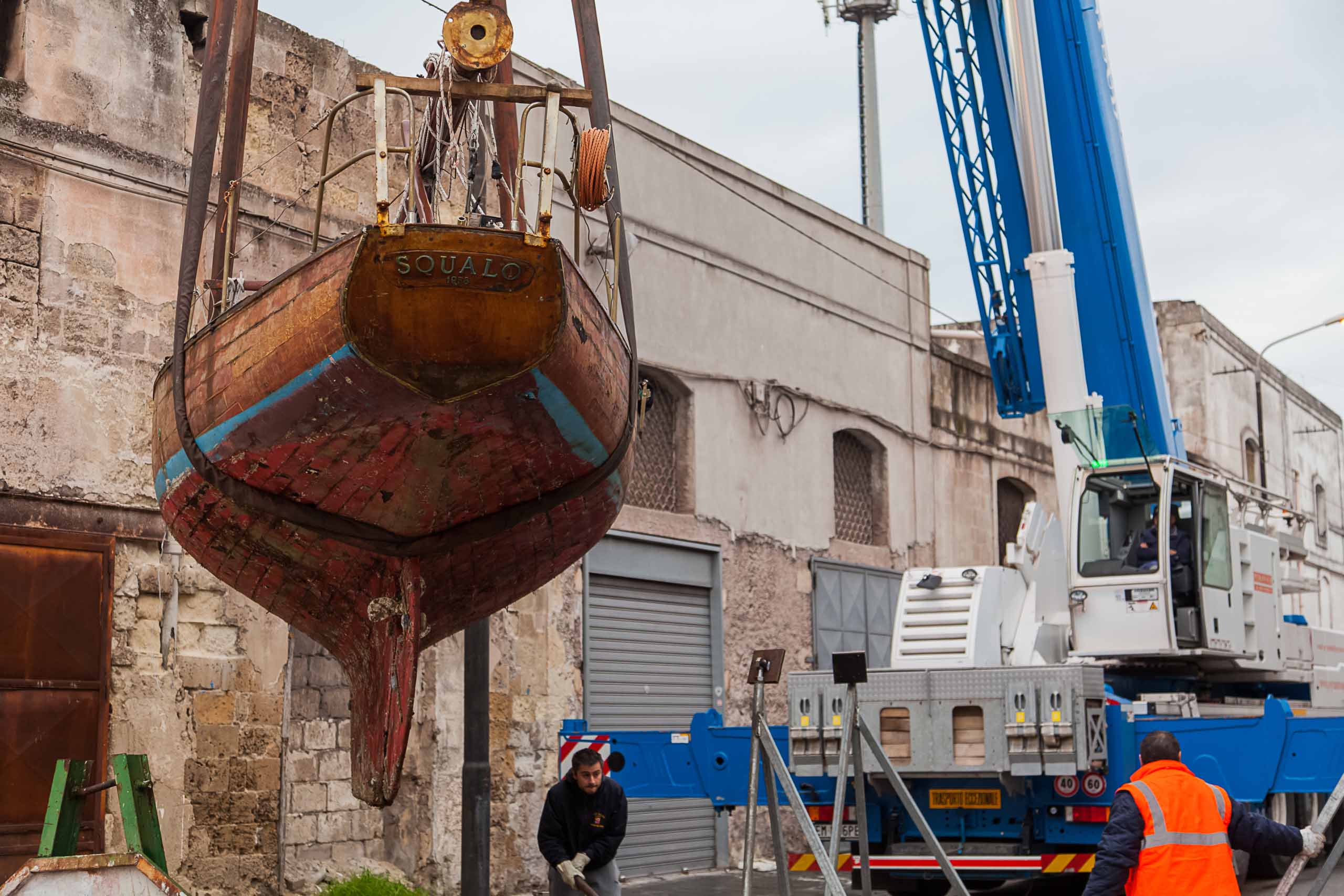 Work repertoire image, Maremosso Crew (2017).
The Project [10] has transformed a docks' ancient shed, between the piers and the central station, into a social workshop where to experiment the restoration of old wooden boats as a tool for the social reintegration of young and minors at risk of deviance.
The recovery of the ancient seamanship crafts, the transmission of skills almost disappeared and their application in the restoration of boats, are a resource of absolute value for the city. The consequent professionalization of the participating children, as well as a wealth in terms of job offer, with the actions undertaken, aims at a profound conversion of the city economic factors.
In addition to cultural initiatives such as vintage maritime workshops, theater performances, literary readings and musical evenings, Maremosso is currently working on a 1958 wooden sail cutter. All these activities are giving a new shape to those places considered marginal until a few years ago.
Restoration work, coordinated by the knowledge of the last remaining sea artisans, was followed by an important agreement with the Juvenile Justice Department, which allows a group of minors in the penal area to compete with healthy, paid work activities. and with great potential for group development and educational socialization.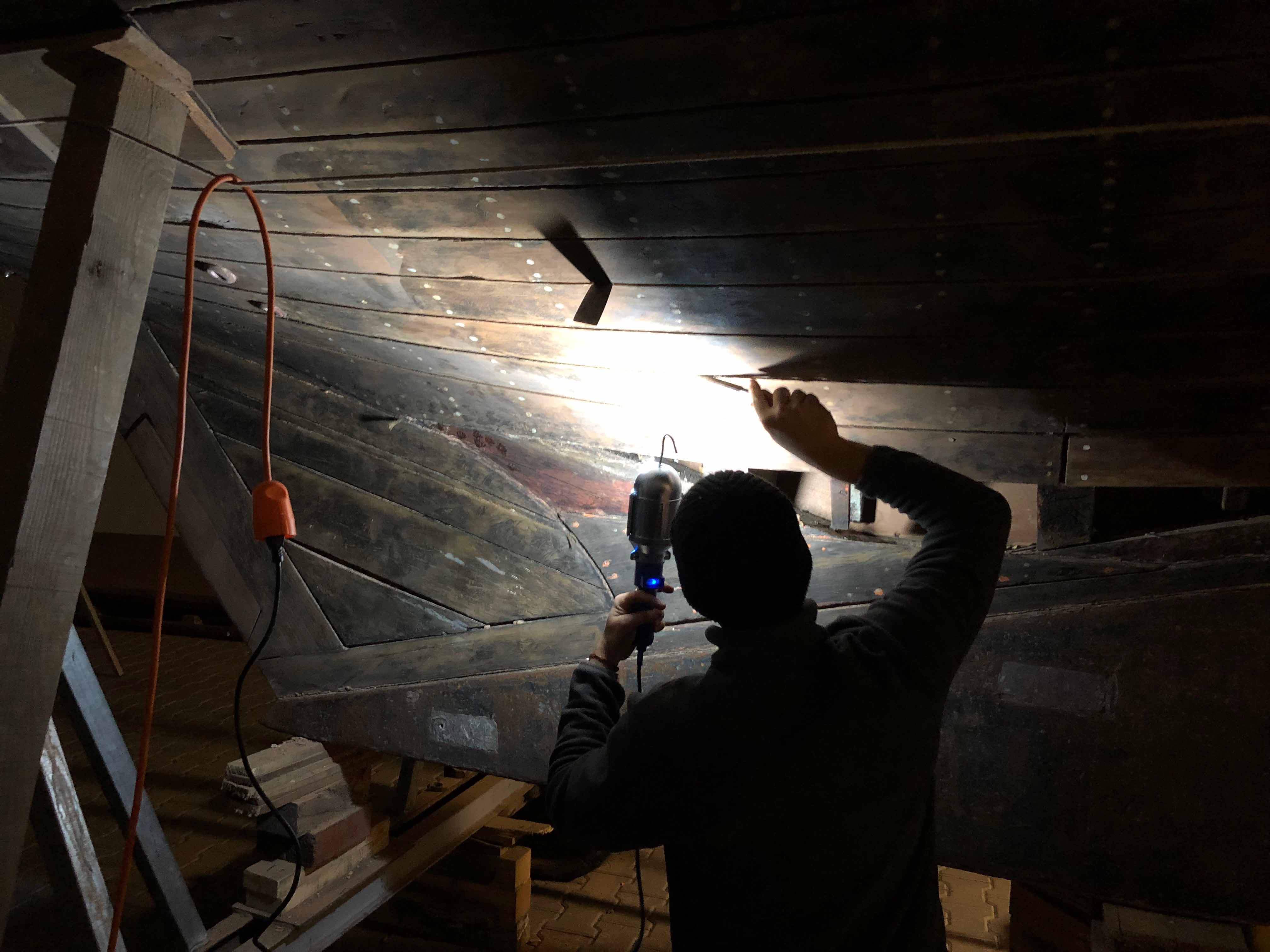 Work repertoire image, Maremosso Crew (2018).
Architectural actions on an urban scale have to measure against this comparison term. Follow the path of social activities and move away from it; the pro active terminal of transformations always aimed at the ultimate user: citizenship.
From the general to the particular, or as Rogers said "from the spoon to the city" [11], acting as a tool and not as a consequence, the Waterfront can become exactly that, the voice with which Taranto speaks to its citizens, to the world and the filter with which , from the sea, the world looks at Taranto.
Notes
[1] Falanto, exilied Spartan and founder of the first nucleus of the city, landed in the current area of Saturo in Leporano (TA).
[2] http://www.marineregions.org/gazetteer.php?p=details&id=4055
[3] San Pietro, San Paolo islands and the disappeared islet of San Nicolicchio.
[4] Main base of the Italian navy.
[5] Expansion plan for the city of Taranto, ing. G. Tian (1922).
[6] Rehabilitation Project for the old city of Taranto, ing. Ferdinando Bonavolta (1933); General Masterplan, city of Taranto archh. A. Calza Bini, G. Calza Bini (1954); General Masterplan Variant, city of Taranto (1978); Detailed Plan of Mar Grande Waterfront, arch. C. Adamo, arch. L. D'Ammacco, arch. T. Lomartire, arch. B. Mori, ing. F. Cuocci, ing. M. Petrosillo (1989).
[7] 2nd Italian National Town Planning Exhibition, Ferrara (1989).
[8] Feasibility study for coastal protection, redevelopment and regeneration of the old town of Taranto in Mar Grande, arch. R. Pavia, arch. M. Di Venosa (2015).
[9] https://www.facebook.com/officinamaremosso/?ref=bookmarks
[10] Europena Regional Development Found – ERDF, Pugliesi Innovativi Project (2017).
[11] Congrès Internationaux d'Architecture Moderne – CIAM, Athens Files, arch. E.N. Rogers (1953).
References
Detailed Plan of Mar Grande Waterfront (1989), arch. C. Adamo, arch. L. D'Ammacco, arch. T. Lomartire, arch. B. Mori, ing. F. Cuocci, ing. M. Petrosillo, City of Taranto.
Feasibility study for coastal protection, redevelopment and regeneration of the old town of Taranto in Mar Grande (2015), arch. R. Pavia, arch. M. Di Venosa, Taranto Port Authority, Taranto.
Technical and economic feasibility project (2017), New East Gate and redevelopment of the waterfront of the Taranto dockyard, arch. R. Pavia, arch. M. Di Venosa, Taranto Port Authority, Taranto.
---
Head image: Image of the Taranto waterfront at sunset.
---
I due mari di Taranto, azioni per una nuova visione urbana del waterfront
Taranto città di mare. Taranto città sul mare (sui mari) è la considerazione più vicina alla realtà storica, nel rapporto tra questo marcatore morfologico così ingombrante e l'evoluzione e lo sviluppo del tessuto urbano che l'antica Perla della Magna Grecia ha avuto negli ultimi 150 anni della sua storia.
Fondata nel 706 a.C. da coloni spartani [1], è nominata la Città dei due Mari per la particolare conformazione geografica che insiste su un'estesa penisola protesa tra la baia di Mar Grande a sud e la laguna di Mar Piccolo a nord, affacciata sull'omonimo Golfo, il più grande ed esteso d'Italia.
La città è arrampicata su grandi blocchi tufacei dalle caratteristiche mineralogiche particolari (Il Carparo giallo), sulle pendici di un "canyon" sommerso disteso verso sud, palesando la sua conformazione con le scogliere di Mar Grande: la Taranto Valley, stretta e lunga centinaia di chilometri e che raggiunge profondità vicine ai 1.500 m [2].
Si conforma in tre grandi "blocchi": la penisola della Città Nuova, l'isola della Città Vecchia con il suo Ponte Girevole e i margini urbani di Porta Napoli e dei quartieri Tamburi e Croce.
Posta all'apice del Golfo che ha i suoi estremi ideali in Capo Santa Maria di Leuca (a Levante) e Punta Alice di Cirò Marina (a Ponente), ha costituito il naturale porto di arrivo per la maggior parte delle rotte orientali che approdavano in Europa.
Città portuale di importanza strategica nazionale, Taranto è stata interessata da qualsiasi installazione civile e militare che necessitasse di un logistico accesso al mare: venti dominanti costanti, baia estesa, profonda e con protezioni naturali formidabili che culminano al largo di Mar Grande con la cintura delle Isole Cheradi [3].
Città di Taranto, vista satellitare della Stazione Spaziale Internazionale (2016).
È naturale quindi immaginare quanto l'analisi del Waterfront abbia assunto negli ultimi decenni un ruolo determinante per ragionamenti che interessino l'intero impianto cittadino.
Tralasciando la laguna di Mar Piccolo, quasi interamente monopolizzato dalle amministrazioni militari che vi hanno impiantato Arsenale Militare Marittimo, Idroscalo, Centro Logistico e numerosi depositi e installazioni, il ragionamento evolutivo ha da sempre interessato il Lungomare della città, quelle scogliere a sud che dagli sporgenti del Porto Mercantile fino alle banchine della Nuova Base Navale del "Chiapparo" [4] configurano la soluzione di continuità tra Taranto e i sui mari.
Nello specifico considereremo gli aspetti delle tre aree prettamente urbane, Affaccio a Mare della Città Nuova, Ringhiera della Città Vecchia e Darsena di Porta Napoli, per poi concludere con esempi attivati negli ultimi anni che costituiscono il corretto spin off per tutta la mole di ragionamenti e operazioni in corso.
L'Affaccio a Mare
Dopo l'Unità d'Italia fu con il Piano Regolatore Tian del 1922 che comincia a delinearsi il concetto di integrazione tra il tessuto urbano di recente formazione e la costa cittadina, inserendo questa tra i cardini di Progetto come "Passeggiata a Mare" [5].
Dalla relazione di Thian: "La passeggiata a mare risulta di tre parti che costituiscono però un tutto unico ed armonico. La prima dal Palazzo dell'Ammiragliato all'istituto Fitopatologico (lunga circa 650 m), la seconda compresa fra il detto istituto, il futuro Grande Hotel e la terrazza sul mare (circa 300 m), l'ultimo tra la terrazza sul mare e la torre D'Ayala, (circa 1450 m); si avranno così in totale 2.400 m di passeggiata sempre lungo il mare, abbellita da giardini, da piccole e grandi terrazze, da luoghi di ritrovo, club, stabilimenti balneari e stazioni di canottaggio".
Schizzo prospettico, Piano di dettaglio del lungomare di Mar Grande (1989).
È questo il quadro di rifermento in cui, tralasciando volutamente Piani [6] ed eventi epocali che nel frattempo si sono susseguiti, si inserisce alla fine degli anni '80 il "Piano Particolareggiato dell'affaccio costiero sul Mar Grande", redatto da un gruppo di progettisti coordinati dall'architetto Claudio Adamo su incarico del Comune di Taranto, e inserito all'interno della "2° Rassegna Urbanistica Nazionale" [7].
Il PP, approvato dall'Amministrazione Comunale con delibera n. 1899 del 8/9/88, è stato in parte realizzato con il restauro del Lungomare e delle scarpate terrazzate (dal Ponte Girevole a via Cavalloti consegnata alla cittadinanza alla metà degli anni '90), ed è tuttora inserito tra i progetti in attuazione sul tavolo istituzionale del CIS.
Questo propone una configurazione a spiccata vocazione turistico/commerciale per l'intero arco costiero della Città Nuova, dalla Piazza della Rotonda sino a Capo San Vito. Nel tratto corrispondente all'incirca all'attuale Lungomare, i progettisti prevedevano ampie e invasive colate a mare e la realizzazione di percorsi, slarghi e pontili, così da integrare funzioni commerciali e turistiche (approdi, uffici e cantieri nautici) con quelle rivolte alla cittadinanza (negozi, locali, servizi e terrazze panoramiche), che nell'ottica del rilancio economico diversificato, favorito dalla recente bonifica della rada di Mar Grande, già all'epoca identificava nella risorsa Mare l'asset principale per la trasformazione della città.
Dalla relazione tecnica: "La proposta che è ritenuta la più qualificante del progetto di Piano è rappresentata dalla "Passeggiata Costiera" [omissis] Risulterà in parte poggiata sulle diverse colmate ricavate per la ricomposizione del profilo di costa ed in parte su viadotto, per sovrappassare alcune strutture esistenti.
[omissis]
Le proposte puntuali maggiormente significative riguardano:
la Rotonda del Lungomare dove viene previsto un parcheggio auto a tre piani interrati [omissis];
un'ampia zona (da ricavare attraverso operazioni di colmata) sistemata ed organizzata ad Approdo Marittimo e Stazione per le linee di trasporto pubblico del Golfo attrezzata [omissis];
Piazza Ebalia, prolungata idealmente per proiettarsi su un anfiteatro gradonato discendente armonicamente verso il livello del mare (affaccio al mare) [omissis]".
È chiaro come la tipologia d'intervento segua un criterio orientato a plasmare la materia secondo canoni standardizzati ormai obsoleti, che spesso concepivano la natura come "elemento strutturale di base" per una forte antropizzazione atta a raccogliere esigenze e bisogni che si credeva proiettati al futuro. L'eventuale revisione dell'intervento potrà (e dovrà) necessariamente cogliere i punti di forza ed i nodi fondamentali della proposta progettuale, adattandola alla moderna visione di dialogo con la morfologia del tratto naturale su cui insiste.
Il Porto
La zona del grande Porto ad ovest della città è stata recentemente oggetto di uno Studio di Fattibilità promosso dall'Autorità di Sistema Portuale del Mar Ionio. Sviluppato nel 2015 dagli arch. Rosario Pavia e Matteo Di Venosa, ragiona sugli ambiti costieri di stretta competenza dell'Autorità e su alcuni di quelli istituzionalmente cogenti con l'Amministrazione Comunale (ambiti C1 "Porta Napoli" e C2 "Città Antica" con un riferimento al C3 "Borgo") [8].
Interventi di protezione costiera, riqualificazione e rigenerazione dell'affaccio a Mar Grande della Città Vecchia di Taranto, Scenari di Progetto, Masterplan e Quadro d'unione (2015).
Lo Studio configura azioni pensate per una "filiera decisionale corta" (interazione Autorità Portuale – Comune) con una visione di "città dal mare", che muove dalla ridefinizione e dal ritorno alla piena fruibilità costiera delle zone di Porta Napoli e Città Vecchia.
Il metodo è la proposta di percorsi e punti di osservazione integrati con la morfologia delle coste, ponendo il Lungomare in continuità con il nuovo Terminal Falanto, al culmine del primo sporgente del Porto, e attivando tra questi un ideale dialettica.
È stato poi individuato il lotto funzionale A1 ("Molo e Darsena") a diretta gestione dell'Autorità Portuale, che nel 2017 è stato oggetto della redazione di un Progetto Preliminare al ridisegno del Primo Sporgente e che partendo dall'interfaccia acqua-città, propone una nuova lettura d'insieme dell'unico tratto urbano del Porto.
Tre i cardini proposti: arretramento del Varco Est di accesso che completerà la piena fruibilità della Darsena; realizzazione di una Torre il cui piede avrà destinazioni commerciali e di riorganizzazione della viabilità; recupero di edifici e spazi residuali già esistenti, integrati tra loro attraverso una schermatura a parete continua.
Il vertice è costituito dal nuovo Terminal Falanto (attualmente cantierizzato), che dominerà l'accesso alla darsena e godrà di fruizione diretta da parte della cittadinanza.
È parere di chi scrive che gli spunti più interessanti arrivino dall'intervento "a parete" dal duplice ruolo connettivo: verticale tra i due vertici e orizzontale per edifici e funzioni di cui costituirà schermatura.
Come Promenade assume valore di quinta urbana integrata ad un percorso museale attrezzato per allestimenti permanenti o occasionali e di Parete Esterna interattiva verso la città. Come un grande Schermo Urbano dalla superficie digitale pixelata, permetterà configurazioni variabili per una nuova percezione su grande scala dell'intero molo.
L'efficientamento energetico degli edifici retrostanti, integrato dalla captazione di energie rinnovabili attraverso la superficie della schermatura in continuo, completa la configurazione multilayer dell'intervento.
Vista assonometrica, Ambito A1 – Molo "San Cataldo" (Primo-Sporgente), Progetto di fattibilità, Autorità Portuale (2017).
La sfida dei Docks sociali
Da questa prospettiva è stimolante immaginare che Taranto possa dotarsi degli strumenti per fungere da caso studio con una progettualità di porto che interessi l'intera zona di Porta Napoli, che da qualche tempo e grazie al coraggio di iniziative private, si sta riconfigurando per proposte che mirino alla riconversione socio-culturale dell'intera città.
Come ente promotore dello Studio di Fattibilità, l'Autorità Portuale ha intrapreso una strategia di governance di assoluto spessore, tesa a far "entrare la città nel porto e il porto nella città", e dimostrando un'attenzione particolare alle nuove iniziative di sviluppo sociale che fanno del mare la loro risorsa primaria.
Tra queste Officina Maremosso [9]fa della cultura del mare il lavoro per l'integrazione e il recupero sociale.
Immagine di repertorio delle attività, Maremosso Crew (2017).  
Il Progetto [10] ha trasformato un antico capannone dei docks tra i moli e la stazione centrale in un'officina sociale dove sperimentare il restauro di vecchie barche in legno come strumento per il reinserimento sociale di giovani e minori a rischio devianza.
Il recupero degli antichi mestieri della marineria, la trasmissione di competenze quasi scomparse e la loro applicazione nel restauro delle imbarcazioni con la conseguente professionalizzazione dei ragazzi partecipanti, costituiscono una risorsa di valore assoluto per la città e i suoi strati sociali, oltre che una ricchezza in termini di offerta lavorativa per un contesto che, con le azioni intraprese, mira ad una profonda riconversione dei propri fattori economici.
Oltre ad iniziative culturali come workshop sulla marineria d'epoca, spettacoli teatrali, reading letterari e serate musicali, che stanno riconfigurando quei luoghi considerati marginali fino a pochi anni fa, Maremosso ha attualmente in cantiere un cutter a vela in legno del 1958.
Ai lavori di restauro, coordinati dal sapere degli ultimi artigiani del mare rimasti, ha fatto seguito un'importante Convenzione con il Dipartimento per la Giustizia Minorile, che permette ad un gruppo di minori dell'area penale di misurarsi con attività lavorative sane, retribuite e dal grande potenziale per lo sviluppo e la socializzazione formativa di gruppo.
Immagine di repertorio delle attività, Maremosso Crew (2018).
Questo è il termine di confronto con cui le azioni architettoniche su scala urbana devono misurarsi. Percorrere il terreno delle attività sociali e muovere da esso, costituisce il terminale pro attivo di trasformazioni sempre volte al fruitore ultimo: la cittadinanza.
Dal generale al particolare, o come diceva Rogers "dal cucchiaio alla città" [11], l'agire come strumento e non come conseguenza, il Waterfront può diventare esattamente questo, la voce con cui Taranto parla ai suoi abitanti, al mondo e il filtro con cui, dal mare, il mondo guarda Taranto.
Note
[1] Falanto, esiliato spartano e fondatore del primo nucleo della città, sbarcò nell'attuale area di Saturo a Leporano (TA).
[2] http://www.marineregions.org/gazetteer.php?p=details&id=4055
[3] Isole di San Pietro, San Paolo e lo scomparso isolotto di San Nicolicchio.
[4] Principale base navale della Marina Militare Italiana.
[5] Piano di Espasione Ubana per la città di Taranto, ing. G. Tian (1922).
[6] Piano di riqualificazione della Città Vecchia di Taranto, ing. Ferdinando Bonavolta (1933); Piano Regolatore Generale, città di Taranto archh. A. Calza Bini, G. Calza Bini (1954); Variante Generale al PRGt, città di Taranto (1978); Piano Particolareggiato dell'affaccio costiero su mar Grande arch. C. Adamo, arch. L. D'Ammacco, arch. T. Lomartire, arch. B. Mori, ing. F. Cuocci, ing. M. Petrosillo (1989).
[7] 2° Rassegna Nazionale di Urbanistica, Ferrara (1989).
[8] Studio di fattibilità per la protezione e riqualificazione costiera del centro storico di Taranto nel Mar Grande, arch. R. Pavia, arch. M. Di Venosa (2015).
[9] https://www.facebook.com/officinamaremosso/?ref=bookmarks
[10] Fondo Europeo di Sviluppo Regionale – FESR, Progetto PIN – Pugliesi Innovativi (2017).
[11] Congrès Internationaux d'Architecture Moderne – CIAM, introduzione italiana alla Carta di Atene, arch. E.N. Rogers (1953).
Riferimenti
Piano Particolareggiato dell'affaccio costiero su Mar Grande (1989), arch. C. Adamo, arch. L. D'Ammacco, arch. T. Lomartire, arch. B. Mori, ing. F. Cuocci, ing. M. Petrosillo, Città di Taranto.
Studio di fattibilità per la protezione e riqualificazione costiera del centro storico di Taranto nel Mar Grande(2015), arch. R. Pavia, arch. M. Di Venosa, Autorità di Sistema portuale del mar Ionio, Taranto.
Progetto di Fattibilità Tecnica ed Economica (2017), Nuovo Varco Est e riqualificazione del Waterfront costiero del Porto di Taranto, arch. R. Pavia, arch. M. Di Venosa, Autorità di sistema portuale del mar Ionio, Taranto.
---
Head image: Immagine del waterfront di Taranto al tramonto.
Article reference for citation:
EN SISTO Francesco,
Two seas of Taranto, actions for new urban concept of waterfront
PORTUS: the online magazine of RETE, n.38, November 2019, Year XIX, Venice, RETE Publisher, ISSN 2282-5789, URL:
https://portusonline.org/en/two-seas-of-taranto-actions-for-new-urban-concept-of-waterfront/
IT SISTO Francesco,
I due mari di Taranto, azioni per una nuova visione urbana del waterfront
PORTUS: the online magazine of RETE, n.38, November 2019, Year XIX, Venice, RETE Publisher, ISSN 2282-5789, URL:
https://portusonline.org/it/two-seas-of-taranto-actions-for-new-urban-concept-of-waterfront/
---