5 Maggio, 2014
Naples was the capital of the Kingdom since 1266 to the unification of Italy; the city has always been one of the most populous cities of the West. These aspects have influenced the Neapolitan cuisine that has evolved along two lines, the royal cuisine and the popular one, which over time have become intertwined and fused together [1].
The markets of Naples
We have to rub Naples up the right way, like every Great Lady.
In Naples, you must arrive from the great harbour. It's the most natural entrance, the most elegant.
The other accesses, by land, are nothing more than experimenta in corpore vili: the highway bypass on its road network, the demolition of Corso Umberto I for the plant of the Central Station and all the other necessary demolitions for the "Redevelopment" and the modernization of the road network.
«Must gut Naples. An incisive sentence, you don't know the belly of Naples, Mr Depretis. You were wrong, because you are the Government and the Government must know everything» [2]. The 'belly' of Naples is maternal, labyrinthine, slimy, dark, oily, slippery, smelly, sour, multi-faceted, chaotic, noisy and very rich. An internal organ, difficult to control, especially through political authority.
The belly of Naples avoids the control, as well as the population related to trade is escaped from the Market Square (piazza Mercato). The old Campo Moricino, an irregular space outside the perimeter of the Greek city walls, was an area -since the end of the XIII century- suited to the market activities for its strategic location as a crossroads between the urban center, the waterfront and the connection ways with the territory; theatre of capital executions, stage of Masaniello and revolutionaries harangue to the people, place of performance and commerce, the Market Square was the object of ambitious urban renewal projects by means of the Borboni kings who have redesigned the plan with a refined exedra profile and the Kings also embellished the equipments of the square with magnificent fountains [3]. But today there's almost nothing, neither as about the street furniture and neither as about the frantic activity attributable to a market.
[one_half]
The Market Square.
[/one_half]
[one_half_last]
Domenico Gargiulo, named Micco Spadaro, "Il Largo del Mercato", second half of XVII century.
[/one_half_last]
The guilty hand of building speculation, that led the post-war reconstruction, has placed on the waterfront curtain facing the square the obscene wing of the Ottieri Palace. As always, urban decay accelerates the social one: from the Eighties, the activities that animate the market have moved elsewhere, preferring the aseptic air conditioning of the great peri-urban shopping centres such as the wholesale centre of Nola, at the outskirts of Naples.
Ottieri Palace, near the Market. On the bottom, the Carmine Church.
Ottieri Palace.
Some traders, however, have never crossed the Porta Nolana and they have remained not in the Market Square but in the tortuous Sopramuro Street to animate the teeming fish market having counters with white ice, on which fresh and various Mediterranean fish species are aligned according to the Flemish feeling, from the first light of the morning; this fish market has also large, round and multicoloured trays in which bivalve molluscs -from clams to tellinas, from mussels to fasolari– are sorted for species and dimension; you can still see basins-aquariums in which live crabs and sea snails flounder. The fishing is the best sold product, alternating with spectacular installations of vegetables and fruits, with some meat shops –in which meat is rigorously exposed to the outside by glass and aluminium "showcases"- and with counters of baking products (among these the cafone bread, a rustic bread made with re-grinded semolina and lievito madre [4], having a rounded and elliptical shape, typical of the popular dining-table).
[one_half]
'Ncopp 'e 'mmura' market of Porta Nolana.
[/one_half]
[one_half_last]
[/one_half_last]
The 'ncopp 'e 'mmura market of Porta Nolana emerges in a karstic way on the other side of the axis of Corso Umberto I, it's canalized into the Santa Candida street and goes on to the Mancini widening, finally becoming reunited through Maddalena street with the Porta Capuana market. Even here the goods are exposed outside of the shops and the street vendors set up their stalls on the street, 'kidnapping' (really making it closed to traffic) the first half of Sant'Antonio Abate street, called o' Buvero. The tradition of exposing fruits, vegetables, meats, sausages and cheeses on the street, according to refined chromatic compositions, typical of the Arab markets, has landed in Naples from Palermo.
[one_half]
[/one_half]
[one_half_last]
[/one_half_last]
Porta Capuana market, inside the Sant'Antonio Abate hamlet, ''o Buvero'.
There are cities that 'never sleeps' and cities, such as Palermo and Naples, that on the other hand never stop to eat.
The food is always at your fingertips: an hostelry lures a passer-by around a corner, a rotisserie seduces him by exposing the merchandise outdoors, a fried-food shop attracts him flipping in the air warm, sensual and spices fragrances.
The street food is a constant of the markets and the best little restaurants are located inside and near the markets. In Naples there is a very interesting variety of places where you can eat, not just Trattorie, but also Osterie, Salumerie with an annexed kitchen, "Wines and Kitchen".
Mario and Fabiana have a "Wines and kitchen" in the Vicoletto Rosario at Portamedina, near Spaccanapoli, one of the foundation axes of the Neapolis, into the Pignasecca market; the menu -strictly of the day- serves good and simple dishes, heirs of an ancient tradition that blends ingredients and recipes of all cultures that have crossed Naples; there is not a sign outside the restaurant, there is no publicity need. A laurel tree next to the entrance-door just permits to understand. The market of Chiaia district, in the Piedigrotta area near the waterfront Caracciolo is the Torretta market, one of the few covered market in Naples; inside, in the left corner at bottom, you can find Cibi cotti, simple and effective description of the cuisine-restaurant managed by the ultra-octogenarian Donna Anna, a Kitchen where no one has never been without food.
[one_half]
[/one_half]
[one_half_last]
[/one_half_last]
"
Wine and Kitchen" of Mario e Fabiana inside the Pignasecca market.
[one_third]
[/one_third]
[one_third]
[/one_third]
[one_third_last]
[/one_third_last]
"Cibi Cotti" of Donna Anna at Torretta covered market.
The street food
'O broro 'e purpo is one of the oldest Neapolitan street food (now at risk of extinction), still available in some tavern near Porta Capuana or in any kiosk along the Foria street «with few money you can buy a piece of octopus boiled into sea water, seasoned with strong pepper: this type of trade is done by women in the street, with a little furnace (focolaretto) and a small pot (pignatta)» [5]. It's a very poor dish that was sold on the street in the winter months, especially early in the morning near the harbour and the fish market, with the intent to warm up than to feed: the boiling water has been sold (made savoury through the long ebullition of octopus who released all the sea flavour, having a spicy taste for the presence of abundant small pepper and with some octopus paw, called ranfetella in the local dialect), inside hot cups that you have to take in your hands.
The octopus also gives life to a very special dish, the 'luciana octopus', which takes its name not from a woman but from a part of the city, the seaside village of Saint Lucia «all picturesque, (the seaside village) remains outside the laws of building and hygiene: it's a fortified village (…) with the exclusive property of fishermen and sailors, weavers of pots and sellers of oysters; and also of their wives, sellers of sulphurous water and donuts, octopus cooks and pepper fryers; as well as of their sons, in an indefinite number, nudes and browns like bronze» [6]. Unfortunately the filling of the harbour area in the late XIX century with the construction of new buildings has separated the sailor village from the sea, changing forever the relationship between the 'luciani' and their waterfront.
[one_half]
[/one_half]
[one_half_last]
[/one_half_last]
Santa Lucia hamlet first and during the filling of the waterfront. Pallonetto alley.
The street food must be poor because you have to sell it in an economic way, and it must be able to be consumed quickly, standing and using your hands and especially it must be tempting and attractive, a virtuosity that in Naples becomes the invention of pizza, the alchemy of risen dough (pasta cresciuta), the endless combinations of the 'fifth quarter' (quinto quarto), the universe of fried foods (fritti).
About pizza
Pizza is born in Naples for necessity and virtue: the yeast flour is a great 'belly-fill', it costs not so much as a little cost have the other original ingredients, only tomato, olive oil, garlic, oregano and salt, the so-called pizza marinara. A variant even poorer was the sole basic risen dough, flattened and disc-shaped, fried on the street in large pans filled with oil heated on a wood stove, immortalized by Vittorio De Sica in the "Pizza a credito" episode of the film L'oro di Napoli (Italy, 1954). The pizzas that are sold today in the street have a diameter of about 20cm, usually bended as booklet and eaten while you're walking. There is no time: you can easily take a pizza from breakfast to tardy night.
Sofia Loren and Giacomo Furia in the "Pizze a credito" episode of the film "L'oro di Napoli", directed by Vittorio de Sica. At close-up on the left we can see the aluminium hole dish able to drip the fried pizza (''a vacante'); at the bottom on the right the frying pan (''a tiella') having inside the oil beate on a wood stove. This scene was shot in front of the entrance door of a basso, a typical small house that have only one room. The location was the ancient Starita Tavern at Materdei, in the Stella district, open still today.
About risen dough
The history of risen dough is linked to pizza: the poor ingredients are the same, water, flour, yeast, but here poverty is swindled by imagination. The risen dough is a tablespoonful of soft dough thrown into boiling oil, where it turns into a golden and bulging morsel, very beautiful to see, instantly salted using kitchen salt to mislead the palate; there are also several variants with a precious alchemy that include seaweed, anchovies, courgette flowers, the cicenielli (spring blue fish), until the "Her Majesty" salted codfish (baccalà).
[one_half]
[/one_half]
[one_half_last]
[/one_half_last]
Risen dough into the 'cuoppi', street food always available in each Naples disrtict.
In Naples you can not quickly say 'salty codfish'; you have to use at least four words: mussillo, cureniello, stocco and baccalà, each tied to a specific corpus of recipes. O' mussillo 'e baccalà is the most valuable part of salty codfish that is dried through salting; the salty codfish has a white, compact and very thick flesh, which is suitable for frying. O curieniello 'e stocco instead is the codfish filet, air-dried codfish, which has a more yellow flesh, less fleshy and more suitable for boiled or prepared like the 'vicentina type'.
The terms stocco and codfish indicate the remaining parts respectively of the stockfish and codfish, less fine but extremely versatile for cooking. The Neapolitans dedicate to the cult of salty codfish some specially little temple, the so-called baccalerie, where the peculiar ingredients of different recipes are next to the various fish chunks, from olives (green, black, Gaeta type, baked, etc..) to papaccelle (some peppers having small, large, sweet or spicy varieties).
[one_half]
[/one_half]
[one_half_last]
[/one_half_last]
Ancient "Baccaleria" at Porta Capuana.
[one_half]
[/one_half]
[one_half_last]
[/one_half_last]
Different chunks of baccalà and stockfish and related ingredients.
About 'fifth quarter' (quinto quarto)
Naples knows what she virtuously have to do about the 'quinto quarto [7]: at Pignasecca the shops of carnacuttari sell 'o père e 'o musso, a delicate salad of unhair boiled, cooled and cut into small pieces cartilages, cold served with lemon and salt (really irresistible!). Using centopelle, pariata and cularino you can prepare the tripe with tomato sauce, the historic soup 'e carnacotta or the marescialla soup, a watery soup with tomatoes, onion, celery, carrot, salt and pepper to eat hot poured on freselle, toasty bagels of stale bread.
Ancient "Tripperia Fiorenzano" inside Pignasecca market.
About fried foods (fritti)
The Neapolitan constellation of street fried foods is populated by graffe, zeppole (risen pastries), crocchè, panzarotti, arancini di riso, supplì, courgette flowers, eggplant, codfish, frittata of pasta, scagliuozzi (triangles of fried polenta), calzoni, pizze, timpàni. At Vomero is located the Acunzo fried-food shop, in front of the Central funicular station exit. Near Spaccanapoli there is the experimental "gourmet shop" called Timpàni and Tempura, that prepares pasta-pies (in ancient times called timpàni) and fried-food (tempùre), combining tradition with innovative recipes and formats.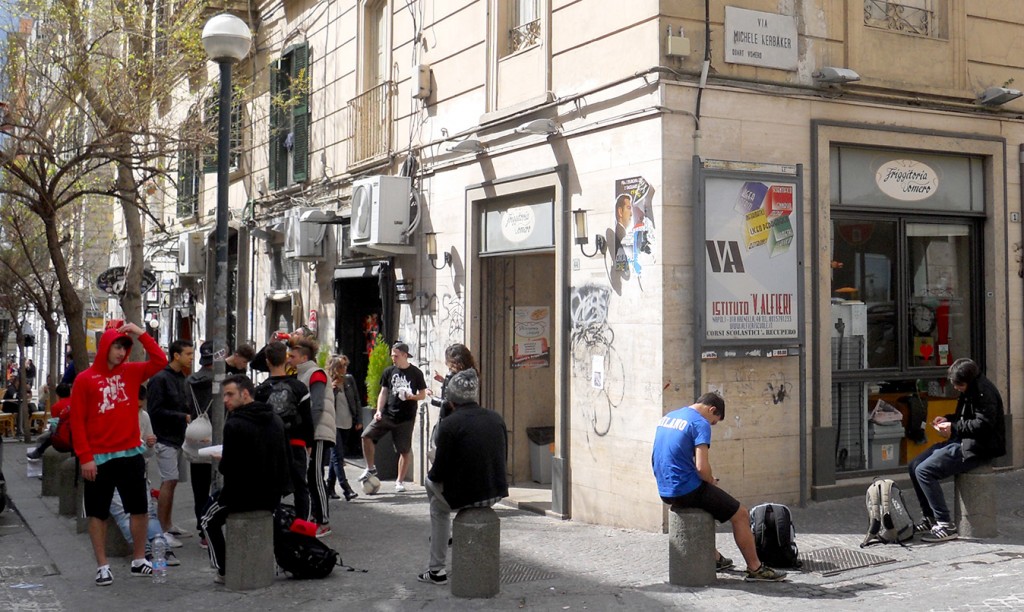 "Acunzo" fried-food shop at Vomero always full of students.
Conclusions
The kaleidoscopic food variety of Neapolitan cuisine really permit to forget that simply water, flour, salt are the only and basic ingredients; the farming areas produce tomatoes, eggplants and potatoes and the sea offers seaweed, fishes and shellfishes. For the elimination of preservation food costs everything is fresh cooked and immediately consumed and what can't be quickly eat is conserved trough dehydration, such as codfish or freselle, or trough vinegar preservation, like scapece or 'a spiritosa processes[8].
The popular Neapolitan cuisine is not a distant memory of traditional recipes written on cookbooks: it's live, incredibly lively and present everywhere in the city [9]. Cuisine is a good company when you are walking along the street, she represents a comfort when you are cold, hungry or tired, she leaves a good taste in your mouth and a pleasant memory, that becomes a desire to return again.
[one_half]
[/one_half]
[one_half_last]
[/one_half_last]
'
Caponata Napoletana' made with: tuna fish, olives, buffalo milk mozzarella, salad, corn and fried eggplants on a fresella at "Al Barcadero" restaurant, under the Castel dell'Ovo bridge.
[one_half]
[/one_half]
[one_half_last]
[/one_half_last]
"
Eccellenze Campane", food district dedicated to territory food culture in the ex factory-area of East Naples.
Quite different, however, are the ingredients of the royal kitchen: refined, valuable, rare and coming from afar, born to surprise and appropriate to prepare sumptuous compositions that before palate, must be able to satiate eyes.
But this is another tale …
Notes
The first part of the article "The markets of Naples" is written by Alessandra Badami. The second part, called "The street food" is written by Eleonora Giovene di Girasole. The conclusions are been written by the two authors.
English translation by Tiziana Campisi.
[1]

The number 3 of the survey Waterfood is dedicated to popular cuisine. The next number will be dedicated to royal cuisine.
[2]

With this incipit Matilde Serao opens her volume Il ventre di Napoli. The first part, written in 1884, is one of the most moving and truthful picture of the city and its citizens.
[3]

Look at T. Colletta, Napoli città portuale e mercantile, 2006.
[4]

A particular homemade yeast.
[5]

Look at Matilde Serao, ibidem
[6]

Look at Matilde Serao, ibidem.
[7]

The slaughter of animals finalized to cuisine is made trough quartering, the carcass is divided into four parts, which produce the different meat chunks. The remaining part (bowels or offals, heads, tails and paws) is the so-called 'fifth quarter' (quinto quarto), slaughter discards destined for – in ancient time – to the poor people.
[8]

The scapece is an Arab process perfected by the Spanish (escabeche), useful to keep under marinade fried food; 'a spritosa is a preparation based on boiled carrots seasoned with garlic, salt, oregano, pepper, oil and vinegar. Both are stored at room temperature for several days.
[9]

Much of the street food is proudly present in the new district dedicated to the food culture of local products and Neapolitan cuisine, called Eccellenze campane, accomodate in an ex metal production factory of the early XX century, now converted into a factory for the production of creative ideas by the Vulcanica studio (Aldo di Chio, Marina and Eduardo Borrelli).
---
Head image: Porta Capuana market, inside the Sant'Antonio Abate hamlet, ''o Buvero'.
---
Napoli. Due racconti di una città. Il primo racconto: la cucina popolare
Napoli è stata capitale del Regno dal 1266 all'unità d'Italia; da sempre è una delle città più popolose d'Occidente. Questi aspetti hanno condizionato la cucina partenopea che si è evoluta secondo due filoni, la cucina reale e la cucina popolare, che nel tempo si sono intrecciate e fuse tra loro [1].
I mercati di Napoli
Napoli, come ogni Grande Signora, desidera essere presa dal suo verso.
A Napoli ci si deve presentare dal porto grande. È l'ingresso più naturale, il più elegante.
Gli altri accessi, via terra, non sono altro che experimenta in corpore vili: i bypass autostradali sulla sua rete viaria, lo sventramento di Corso Umberto I per l'impianto della Stazione Centrale e le altre demolizioni necessarie al "Risanamento" e all'ammodernamento del tessuto viario.
«Bisogna sventrare Napoli. Efficace la frase, Voi non lo conoscevate, onorevole Depretis, il ventre di Napoli. Avevate torto, perché voi siete il Governo e il Governo deve saper tutto» [2]. Il 'ventre' di Napoli è materno, labirintico, viscido, oscuro, untuoso, scivoloso, fetido, acido, multiforme, caotico, rumoroso, ricchissimo. Un organo interno, difficile da controllare, in particolar modo attraverso l'autorità politica.
Sfugge al controllo, così come è fuggita da Piazza Mercato la popolazione legata al commercio. L'antico Campo Moricino, uno spiazzo irregolare al di fuori del perimetro della cinta delle mura greche, era un'area dalla fine del '200 vocata alle attività di mercato per la posizione strategica di crocevia tra il centro urbano, la marina e le vie di collegamento con il territorio; teatro di esecuzioni capitali, palco d'arringa al popolo per Masaniello e i rivoluzionari, luogo di spettacolo oltre che sede di commercio, Piazza Mercato è stata oggetto di ambiziosi progetti di rinnovamento urbano curati dai re Borboni che ne hanno ridisegnato la planimetria con un raffinato profilo ad esedra e impreziosito l'arredo con magnifiche fontane [3]. Ma oggi non è rimasto quasi nulla, né dell'arredo urbano, né delle frenetiche attività ascrivibili ad un mercato.
La colpevole mano della speculazione edilizia che ha guidato la ricostruzione del dopoguerra ha piazzato sulla cortina del lungomare che fronteggia la Piazza l'oscena quinta di 'Palazzo Ottieri'. Come sempre, il degrado urbano accelera quello sociale: da lì, dagli anni '80, le attività che animavano il mercato si sono trasferite altrove, preferendo l'aria condizionata e asettica dei grandi centri commerciali periurbani, come il centro all'ingrosso di Nola, alle porte di Napoli.
Palazzo Ottieri prospiciente la Piazza Mercato. In fondo, la chiesa del Carmine.
Palazzo Ottieri.
Alcuni commercianti tuttavia non hanno mai varcato Porta Nolana e sono rimasti, non nella Piazza Mercato, ma nella tortuosa Via Sopramuro ad animare il mercato del pesce che pullula, fin dalle prime luci del mattino, di banchi bianchi di ghiaccio sui quali sono allineati con fiamminga sensibilità freschissimi esemplari delle diverse specie ittiche del Mediterraneo; di grandi vassoi tondi multicolori nei quali vengono smistati, per specie e caratura, molluschi bivalvi dalle vongole alle telline, dalle cozze ai fasolari; di bacinelle-acquari nelle quali si agitano vivi granchi e lumache di mare. Il pescato è il prodotto più venduto, alternato da scenografiche istallazioni di ortaggi, verdura e frutta, da botteghe di vendita di carni – rigorosamente esposte all'esterno entro 'vetrine' di vetro e alluminio –, da banchi di vendita dei prodotti da forno (e tra questi il pane cafone, pane rustico realizzato con semola rimacinata di grano duro e lievito madre di forma panciuta ed ellittica, tipico delle mense del popolo).
Il mercato 'ncopp 'e 'mmura di Porta Nolana riemerge carsicamente dall'altra parte dell'asse di Corso Umberto e si incanala per via Santa Candida, prosegue per lo slargo Mancini e attraverso Via della Maddalena si ricongiunge al mercato di Porta Capuana. Anche qui la merce viene esposta all'esterno dei locali e gli ambulanti allestiscono le loro bancarelle sulla strada, 'sequestrando' (rendendo di fatto interdetta al traffico) la prima metà di Via Sant'Antonio Abate, 'o Buvero. La tradizione di esporre frutti, verdure, ortaggi, carni, salumi e formaggi sulla strada, allestiti secondo raffinate composizioni cromatiche caratteristiche dei mercati arabi, è approdata a Napoli da Palermo.
Mercato di Porta Capuana, nel Borgo di Sant'Antonio Abate, 'o Buvero'.
Ci sono città che 'non dormono mai' e città, come Palermo e Napoli, che invece non smettono mai di mangiare. Il cibo è sempre a portata di mano: un'osteria adesca il passante dietro un angolo, una rosticceria lo seduce esponendo la mercanzia all'aperto, una friggitoria lo attrae lanciando nell'aria caldi profumi sensuali e speziati.
Il cibo da strada è una costante dei mercati e le migliori trattorie si trovano dentro e vicino i mercati. A Napoli vi è una varietà molto interessante di posti dove mangiare: non solo Trattorie, ma anche Osterie, Cucine, Salumerie con uso di cucina, Vini e cucina. Mario e Fabiana gestiscono un Vini e cucina nel Vicoletto Rosario a Portamedina, nei pressi di Spaccanapoli, uno degli assi di fondazione della Neapolis, dentro il mercato della Pignasecca; il menù – rigorosamente del giorno – propone piatti semplicemente buoni, eredi di una millenaria tradizione che fonde ingredienti e ricette di tutte le culture che hanno attraversato Napoli; fuori dal locale non c'è insegna, non c'è bisogno di pubblicità. Un alberello di alloro accanto alla porta basta a chi sa intendere per capire. Il mercato rionale del quartiere Chiaia, in zona Piedigrotta vicino al lungomare Caracciolo, è il mercato della Torretta, uno dei pochi coperti di Napoli; dentro, nell'angolo in fondo a sinistra, è Cibi Cotti, semplice ed efficace descrizione del locale gestito dall'ultraottuagenaria Donna Anna, una Cucina dove nessuno rimarrà mai a digiuno.
"Vini e Cucina" da Mario e Fabiana nel mercato della Pignasecca.
"Cibi Cotti" di Donna Anna nel Mercato coperto della Torretta a Piedigrotta.
Il cibo da strada
Tra i più antichi dei cibi da strada napoletani (oggi a rischio di estinzione) è 'o broro 'e purpo, ancora reperibile in qualche osteria vicino Porta Capuana o in qualche chiosco in Via Foria: «con due soldi si compera un pezzo di polipo bollito nell'acqua di mare, condito con peperone fortissimo: questo commercio lo fanno le donne, nella strada, con un focolaretto e una piccola pignatta» [4]. È un piatto poverissimo che si vendeva per strada nei mesi invernali, in particolare presso il porto e il mercato ittico la mattina presto, per scaldarsi più che per nutrirsi: si vendeva l'acqua bollente (resa sapida dal prolungato sobbollire del polpo che vi rilasciava tutto il suo sapore di mare, piccante per la presenza di abbondante peperoncino e impreziosita da qualche ranfetella di polpo) dentro delle tazze da tenere in mano.
Il polpo dà anche vita ad un piatto particolarissimo, il 'polpo alla luciana', che non prende il nome da una donna ma da una parte della città, la borgata marinara di Santa Lucia «tutta pittoresca, resta sempre fuori delle leggi dell'edilizia e d'igiene: è un borgo fortificato (…) di esclusiva proprietà dei signori pescatori e marinai, intrecciatori di nasse e venditori di ostriche; nonché delle loro signore mogli, venditrici di acqua sulfurea e di ciambellette, cucinatrici di polipi e friggitrici di peperoni; nonché dei loro signori figliuoli, in numero indefinito, nudi e bruni come il bronzo» [5]. Purtroppo la colmata dell'area del porto alla fine dell'800 con la realizzazione dei nuovi edifici ha separato la borgata dal mare, stravolgendo per sempre i rapporti tra i 'luciani' e il loro waterfront.
Il Borgo di Santa Lucia prima e durante la colmata. Vicolo del Pallonetto.
Il cibo da strada deve essere povero perché si deve vendere a poco, deve poter essere consumato velocemente in piedi e con le mani e deve essere soprattutto stuzzicante e attraente, un virtuosismo che a Napoli si traduce nell'invenzione della pizza, nell'alchimia delle paste cresciute, nelle infinite combinazioni del quinto quarto, nell'universo dei fritti.
Della pizza
La pizza nasce a Napoli per necessità e virtù: la farina lievitata è un ottimo 'riempi pancia', costa poco come poco costano gli altri ingredienti originali, solo pomodoro, olio, aglio, origano e sale, la pizza marinara. Una variante ancora più povera era la sola base di pasta lievitata, schiacciata a forma di disco e fritta per strada in ampie padelle piene d'olio riscaldate su fornelli a legna, immortalate da Vittorio De Sica nell'episodio "Pizze a credito" del filmL'Oro di Napoli (Italia, 1954). Le pizze che si vendono oggi in strada hanno un diametro di una ventina di centimetri, solitamente si piegano a libretto e si mangiano camminando. Non c'è orario: vanno bene dalla prima colazione a notte.
Sofia Loren e Giacomo Furia nell'episodio "Pizze a credito" del film "L'oro di Napoli" di Vittorio de Sica. In primo piano a sinistra l'alzata in alluminio cava al centro per far perdere alla pizza fritta l'unto in eccesso ('a vacante'); in fondo in basso a destra la padella ('a tiella') con l'olio per friggere le pizze posata sopra un fornello a legna. La scena si svolge davanti la porta d'ingresso del basso, abitazione a piano terra con accesso dalla strada composta da un solo vano. Il locale era l'antica cantina con cucina e pizzeria Starita a Materdei, nel quartiere Stella, ancora oggi aperta e in piena attività.
Delle paste cresciute
La storia della pasta cresciuta è legata a quella della pizza: gli ingredienti poveri dell'impasto sono gli stessi, acqua farina lievito, ma qui la povertà viene buggerata dalla fantasia. La pasta cresciuta è una cucchiaiata di impasto morbido gettata nell'olio bollente dove si trasforma in un rigonfio e dorato boccone, bellissimo all'occhio, salato all'istante con sale grosso per ingannare il palato; ne vengono proposte anche diverse varianti con una preziosa alchimia che vede entrare in gioco le alghe marine, le acciughe, i fiori di zucca, le alici, i cicenielli (novellame del pesce azzurro), fino a sua maestà il baccalà.
I 'cuoppi' da passeggio con le paste cresciute sono sempre disponibili caldi in ogni quartiere di Napoli. La Friggitoria "Passione di Sofì" su Via Toledo prepara piccole, eleganti porzioni nelle diverse varianti.
A Napoli non si può far presto a dire 'baccalà'; occorrono almeno quattro parole: mussillo, cureniello, stocco e baccalà, ciascuna legata ad un preciso corpus di ricette. O mussillo 'e baccalà è la parte più pregiata del merluzzo che viene conservato attraverso disidratazione per salatura; ha una carne bianca, compatta e molto alta che si presta per le fritture. O curieniello 'e stocco è invece il filetto dello stoccafisso, merluzzo essiccato all'aria, che presenta una carne più gialla, meno carnosa e più adatta per il lesso o per essere preparato 'alla vicentina'. Con stocco e baccalà si indicano le restanti parti rispettivamente dello stoccafisso e del baccalà, meno pregiate ma comunque estremamente versatili in cucina. I Napoletani dedicano al culto del baccalà appositi tempietti, le baccalerie, dove trovano posto accanto ai vari tocchi di pesce gli ingredienti peculiari delle diverse ricette, dalle olive (verdi, nere, di Gaeta, al forno, etc.) alle papaccelle (particolari peperoni nelle varietà piccole, grandi, dolci o piccanti).
Antica "Baccaleria" a Porta Capuana.
I diversi tagli del baccalà e dello stoccafisso, e gli ingredienti correlati, esposti all'esterno in una "Baccaleria" a Piedigrotta.
Del quinto quarto
Del quinto quarto [6] Napoli sa far virtù: alla Pignasecca botteghe di carnacuttari vendono 'o père e 'o musso,una delicata insalata di cartilagini depilate, bollite, raffreddate, tagliate in piccoli pezzi e servite fredde con sale e limone (irresistibile!). Con centopelle, pariata e cularino si prepara la trippa al sugo, la storica zuppa 'e carnacotta o la zuppa alla marescialla, una zuppa brodosa con pomodori, cipolla, sedano, carota, sale e pepe da mangiare calda versata sulle freselle, ciambelle biscottate di pane duro.
Antica "Tripperia Fiorenzano" al Mercato della Pignasecca.
Dei fritti
La costellazione napoletana dei fritti da strada è popolata da graffe, zeppole (paste cresciute), crocchè, panzarotti, arancini di riso, supplì, fiori di zucca, melanzane, baccalà, frittatine di pasta, scagliuozzi (triangolini di polenta fritti), calzoni, pizze, timpàni. Una delle mete storiche è la friggitoria Acunzo al Vomero, di fronte all'uscita della funicolare Centrale. Sperimentale è, nei pressi di Spaccanapoli, Timpàni e Tempura, "bottega gastronomica" che prepara i timballi (anticamente timpàni) e fritture (tempùre) coniugando la tradizione con formati e ricette innovativi.
La "Friggitoria Acunzo al Vomero" è sempre assediata dagli studenti del quartiere.
Conclusioni
La caleidoscopica varietà dei cibi della cucina popolare napoletana fa realmente dimenticare che alla base di tutto ci sono solo ingredienti poveri come l'acqua, la farina, il sale; disponibili nel territorio come pomodoro, melanzane e patate oppure offerti dal mare come alghe, pesci e molluschi. Per eliminare i costi di conservazione tutto viene cucinato fresco e consumato subito e ciò che non può esserlo viene conservato per disidratazione, come il baccalà o le freselle, o sott'aceto, come lo scapece o 'a spiritosa[7].
La cucina popolare napoletana non è un lontano ricordo di ricette della tradizione scritte sui libri di cucina: è viva, vivissima, presente ovunque nella città [8]. Tiene compagnia per strada quando si cammina, conforta quando si ha freddo, fame o si è stanchi, lascia un buon sapore in bocca e un piacevole ricordo che diventa desiderio di ritornare.
'Caponata Napoletana' con tonno, olive, mozzarella di bufala, insalata, mais e melanzane fritte su fresella "Al Barcadero", sotto il ponte di Castel dell'Ovo.
"Eccellenze Campane", distretto alimentare dedicato alla cultura dei prodotti del territorio e della cucina napoletana nell'ex area industriale di Napoli est.
Di tutt'altra natura, invece, sono gli ingredienti della cucina reale, ricercati, preziosi, rari, fatti venire da lontano per stupire e per allestire sontuose composizioni che, prima del palato, devono saper saziare gli occhi. Ma questa è un'altra storia …
Notes
La prima parte dell'articolo "I mercati di Napoli" è di Alessandra Badami. La seconda "Il cibo da strada" è di Eleonora Giovene di Girasole. Le conclusioni sono comuni.
La traduzione in inglese è di Tiziana Campisi.
[1] Il numero 3 della rubrica Waterfood è dedicato alla cucina popolare. Il successivo sarà dedicato alla cucina reale.
[2] Con questo incipit Matilde Serao dà inizio al Il Ventre di Napoli. La prima parte, scritta nel 1884, è uno dei più commoventi e veritieri ritratti di città e dei suoi cittadini.
[3] T. Colletta, Napoli città portuale e mercantile, 2006
[4] Matilde Serao, ibidem.
[5] Matilde Serao, ibidem.
[6] La macellazione degli animali destinati all'alimentazione avviene per squartamento, ovvero la carcassa viene divisa in 4 parti da cui si ricavano i diversi tagli di carne. La parte rimanente (interiora o frattaglie, teste, code e zampe) costituisce il cosiddetto 'quinto quarto', scarti di macellazione destinati – un tempo – ai poveri.
[7] Lo scapece è un procedimento di origine araba messo a punto dagli spagnoli (escabeche) per conservare sotto marinatura i fritti; 'a spritosa è una preparazione a base di carote lesse condite con aglio, sale, origano, peperoncino, olio e aceto. Entrambi si conservano a temperatura ambiente per diversi giorni.
[8] Gran parte del cibo di strada è orgogliosamente presente in Eccellenze Campane, il nuovissimo distretto alimentare dedicato alla cultura dei prodotti del territorio e della cucina napoletana, ospitato in una ex fabbrica della produzione metallica degli inizi del '900, oggi riconvertita in fabbrica per la produzione creativa di idee dallo studio Vulcanica (Aldo di Chio, Marina ed Eduardo Borrelli).
---
Immagine di apertura: Mercato di Porta Capuana, nel Borgo di Sant'Antonio Abate, 'o Buvero'.
---