29 Novembre, 2021
The project Motril Open Port will realize an old desire of the Motril community: an open, interacting port that is integrated into the city, to be enjoyed by the residents of districts near the port, the residents of downtown Motril, and any visitors and tourists.
Several university teams and the interuniversity research group on efficient housing and urban recycling (RNM909) –including Professor Juana Sanchez, (University of Málaga) and Professor Alejandro Grindlay, Ph.D (University of Granada)– have worked on the features and layout of the port, and have analysed the different options –bearing in mind the social and cultural realities of the area– to figure out a proposal that best meets the existing needs and, above all, any future developments. The idea is to connect the Port to the city of Motril, starting from an initial layout that greatly differs from the existing one.
The Motril Port has gone through different stages in its evolution, conditioned sometimes by its activity, and sometimes by external agents. In its beginnings there was only one dock, basically used for solid bulk cargoes, plus a fishing dock located on the Costa y Poniente quay. This port saw hardly any goods or passengers. It was enclosed but there were no access controls of any kind. Visitors could walk freely in and out.
In 2001, because of the 9/11 attacks, international security measures enforced resulted in the closure of borders and security controls being routinely made on passengers and passers-by, as Motril is an international port.
During the previous years, the port had grown and evolved to some extent, until reaching its current configuration. First, a fishing port was built in 1976. This was the first dock extension. Later, in 2007, the Azucenas dock was built, which required in 2015 a second extension, to its current status. In the end, the Motril Port was laid out as two commercial and passenger areas, separated by a fishing port.
This caused a functional gap. Spaces and staff were duplicated, and this resulted in unnecessary displacements and shifts of cranes, trucks, etc. Therefore, in 2011 the first Master Plan of Motril Port was drafted, to rearrange zones and uses and improve functionality and operations. We have used this document as a general guideline to manage and develop the Motril Open Port project.
One of my goals as head of the Motril Port Authority was precisely to bring to life the desired opening of the port and its merging with the city. It has been three years of hard work planning, funding, following administrative procedures, defining general guidelines, and preparing specifications for the authorities. These procedures, among others, have allowed us to advance the project to become an imminent reality. Here, I must highlight the high level of commitment and hard work of the whole Motril Port Authority team, coordinated by director Francisco J. González-Méndez.
This project anticipates actions on a 41.2 ha area and foresees a public-private partnership investment of EUR 38 million, detailing the zoning and uses of spaces provided.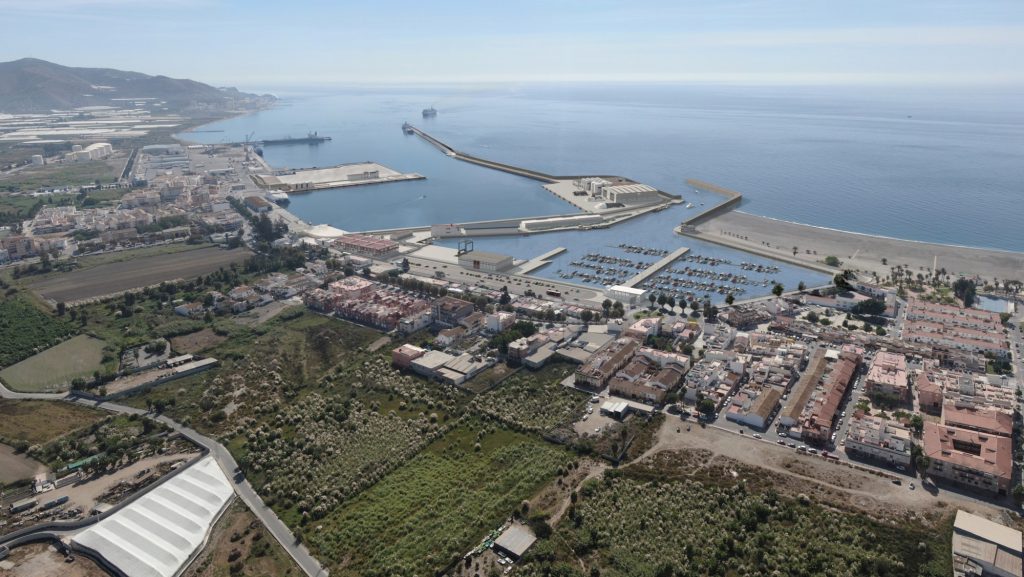 Zoning and Uses
The goal is to act on the seafront in order to open a new dock that will house the nautical sports and fishing uses. The current fishing dock will be filled up, and a logistics platform for clean goods will be created on top. The result will be the regrouping and centralisation of spaces according to their uses.
Three Docks
Three docks will exist. The Azucenas dock, at the longest distance from populated districts, will exclusively manage freight traffic. It will be located next to the Logistic Activity Area and the future PUE-1 industrial and business park and will be a service and growth area to optimise the implementation of logistics and industrial spaces devoted to commercial activities.
A second, central dock will be used for passenger traffic, both regular ferry services lines in the Costa and Levante, as well as tourist cruises in the new Poniente dock.
The third dock will be newly built as part of the maritime façade of the Port that will be in contact with the urban areas, up to Cable beach. This area will be open to the city and intertwined into the urban fabric, being accessible to pedestrians and visitors, as this area will be off customs.
This new dock will house sporting facilities, including 700 berths plus service areas, a dry dock, etc. The fishing dock will have moorings, newly built facilities and net storage areas, a fish market, restaurants, an interpretation centre, etc.
All of this will be open and integrated into the city. Facilities and service areas will be developed to provide Motril with a first class commercial and tourist offer:
A shopping centre will be built with a supermarket, clothing stores, shops, and restaurants. Other facilities will be a parking lot, green spaces, sports facilities, and a promenade to walk along the yacht and fishing docks.
A yacht club will be founded and equipped with a swimming pool, restaurant, nautical area, and sailboat berths.
Leisure and cultural facilities will be created, such as multiplex, bowling alley, gym, restaurants and bar, a museum, and a hall for cultural events.
Improving Communications
These spaces will receive large crowds, not only from Motril and vicinity, but also from the whole province of Granada, including Granada city, and the neighbouring provinces of Málaga and Almería. An improvement of communication routes between Motril downtown, Motril road accesses and this new space will be required.
On this matter, during the participative stage of the Master Plan, we informed the City Council and agreed on this project and the improvement of accessibility to bring the Motril Port closer to the city. This will involve a close cooperation, which is essential in any integration project of this kind.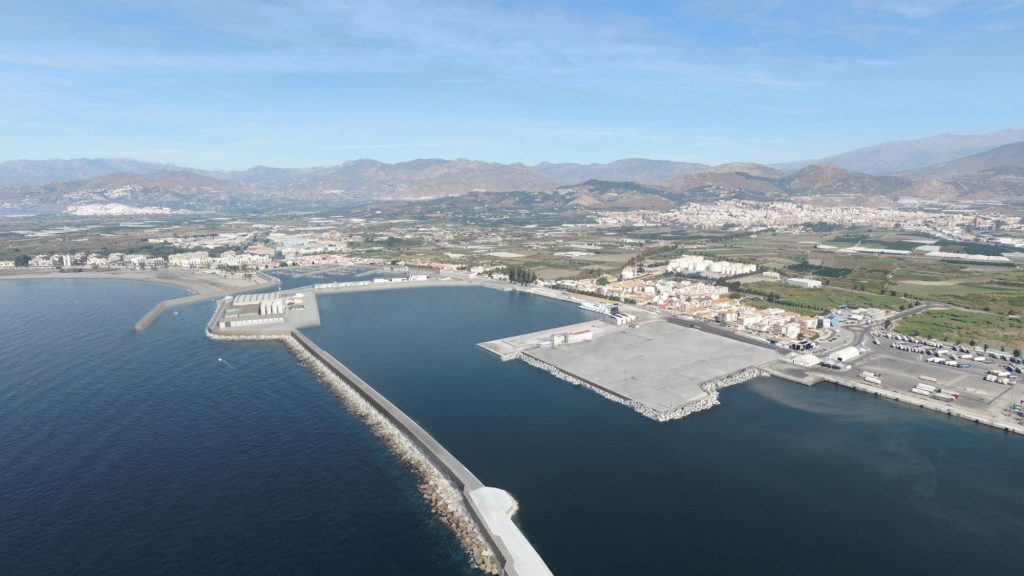 Stages
Several stages have been devised in the studies regarding planning and building. This staging will allow us to execute the plans and keep the port functioning, without any interference.
Stage 1: The Paseo del Varadero will be moved towards the sea, leaving behind a free area of 1,2 ha along the seafront. Which. A promenade will be built on this area, extending from the National Police station to the Port Authority building, including centenary araucaria trees. This space will be completely developed and incorporated into the neighbourhood and equipped with street furniture and shaded areas. It may also house shops or a flea market, hold general activities, and even act as a fairground.
Stage 1 (bis): Construction of a pier on the breakwater of the fishing dock, that will be used to transfer the fishing fleet to their new dock.
Stage 2: Opening and clearing away a part of the new dock (dry excavation). The resulting debris will be used to fill up the fishing dock. The current berths will be provisionally transferred to this new space.
Stage 3: Starting the net storage and tourist cruise piers and opening of the second part of the new dock. This stage will be completed in 2026 and will see the commercial area fully open and operational.
Stage 4: Creation of a new entrance to separate the area that will be open to the city and the operational areas, so there are no traffic clashes with the leisure and fishing area and the commercial area. The Cable beach will be fully conserved.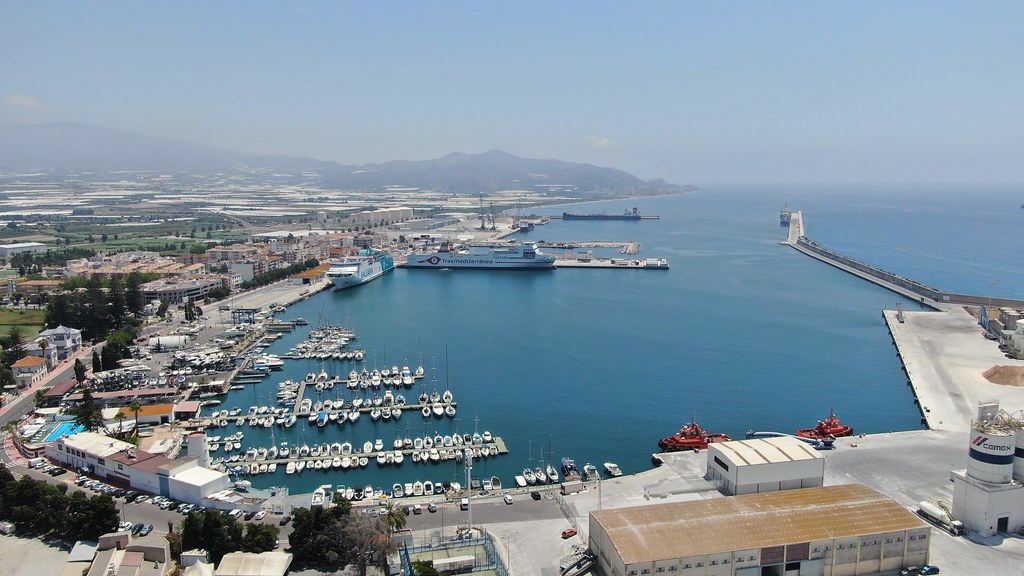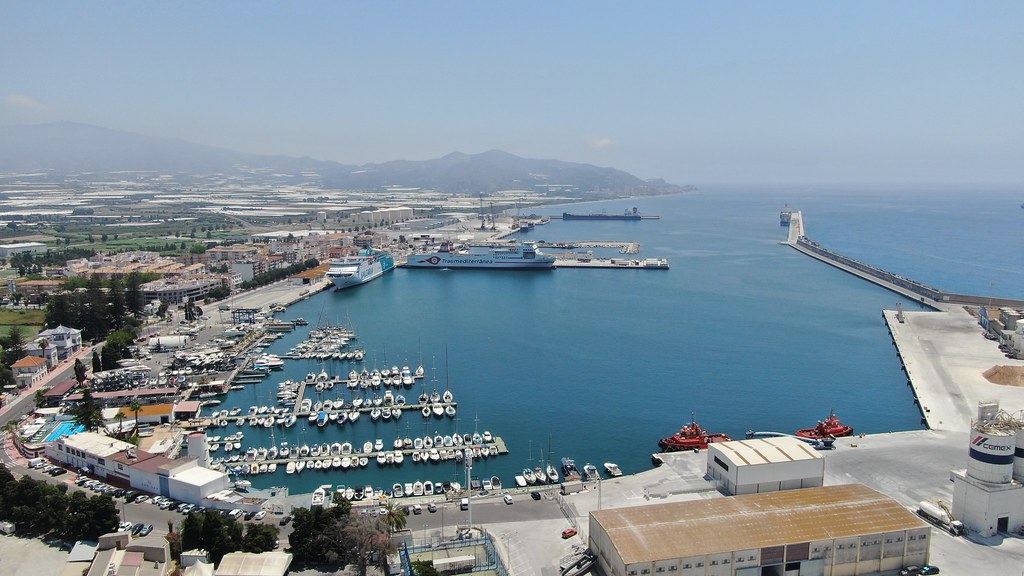 The Motril Open Port project is not a build-up of isolated actions, but a global project affecting the whole port area. The Port-City integration will result in an improvement of operations, while the neighbourhoods of Varadero and Santa Adela will be re-evaluated. Motril will have an attractive seafront to the south of the city, endowed with all kinds of sea-related services. In short, a new space that will be a reference for travel and leisure in Andalusia.
---
Head Image | Panoramic view of the port of Motril. (© Port Authority of Motril).
---
Videos
Jornada "Motril, Open Port"
Salón de Actos del Edificio Azul | Port of Motril
Motril | October 15, 2021
Authority of the Bay of Cádiz, and José García Fuentes, President of the Port Authority of Motril, together with Francisco José González-Mendez, Director of the Port Authority of Motril, discuss in the course of the first session on the integration of port activity in the urban environment "Motril Open Port".
In the second conference session, Prof. Juana Sanchez, University of Malaga, and Prof. Dr. Alejandro Grindlay, University of Granada, will deal with port-city connection strategies. The third and last session is devoted to the presentation of successful experiences in the port-city relationship, in a dialogue moderated by Mercedes Navarrete Avilés, IDEAL journalist, with the participation of Marta Villalonga, Head of Cabinet of the Port Authority of Valencia and Martín Fernández, President of the Port Authority of A Coruña.
---
Motril, Puerto abierto
El proyecto "Motril, Puerto abierto" supondrá la consecución de un viejo anhelo de todos los motrileños: contar con un Puerto abierto a la ciudad, que interactúe y que pueda ser disfrutado por vecinos de los barrios portuarios, los motrileños y los turistas que nos visiten.
Los diferentes cambios sufridos en su fisonomía han tenido su encaje en el trabajo desarrollado por los diferentes equipos docentes de la universidad y el grupo de investigación interuniversitario vivienda eficiente y reciclaje urbano RNM909, al que pertenecen la profesora Juana Sanchez, de la Universidad de Málaga y profesor Doctor Alejandro Grindlay Moreno, de la Universidad de Granada, quienes han analizado de forma pormenorizada y en contacto con la realidad social y cultural de la zona las diferentes opciones hasta concluir en la propuesta que mejor responde a las necesidades presentes y, sobre todo, futuras de desarrollo. La idea ha sido conectar el Puerto a la ciudad de Motril, partiendo de una configuración inicial bien distinta a la actual.
La evolución de nuestro puerto ha pasado por diferentes fases, todas ellas condicionadas unas veces por su propia actividad y otras por agentes externos. En sus inicios contaba con una sola dársena, dedicada básicamente a graneles sólidos, y el pesquero ubicado en el muelle de Costa y Poniente. Un puerto sin apenas mercancías ni pasajeros, ya perimetrado, pero totalmente abierto, sin controles de acceso, y por el que se podía pasear libremente en toda su superficie.
Fue en 2001, como consecuencia de los atentados del 11S, cuando las medidas internacionales de seguridad obligan al cierre de fronteras y a ejercer controles de seguridad a pasajeros y transeúntes en los puertos, como frontera natural del Estado.
Durante los años previos, el puerto fue evolucionando y creciendo, hasta llegar a la actual configuración. Primero con la construcción del pesquero en 1976 y la primera prolongación del muelle dique y posteriormente, en 2007, la dársena de las azucenas, que requirió en 2015 la segunda prolongación del dique hasta su estado actual. Quedó finalmente con dos zonas comerciales y de pasajeros, separadas por el puerto pesquero.
Este hecho provocaba una fractura funcional. La duplicidad de espacios y de efectivos, usos repartidos y desplazamientos innecesarios de grúas y camiones, provocó que en 2011 se redactara el primer Plan Director del Puerto de Motril, donde se decide reordenar los usos para mejorar la funcionalidad y las operativas. Esa herramienta es la que hemos tomado como base general de ordenación para desarrollar el Máster Plan; el proyecto "Motril, Puerto abierto".
Uno de los objetivos que me marqué al frente de la Autoridad Portuaria de Motril, fue precisamente, materializar esa deseada apertura e integración del puerto con la ciudad. Han sido tres años de intenso trabajo de planificación, búsqueda de vías de financiación, salvar trámites administrativos, definición de las bases generales del proyecto y preparación de pliegos administrativos, entre otras gestiones, que han propiciado el avanzado estado de lo que va a ser una realidad inminente. Aquí, tengo que poner de relieve el alto grado de compromiso y el trabajo desarrollado por todo el equipo de la Autoridad Portuaria de Motril, con el director Francisco José González-Méndez Herrera en su coordinación.
El Plan Director del puerto de Motril, con el cual se reordenan los usos para mejorar la funcionalidad y las operativas. (© Autoridad Portuaria de Motril).
El proyecto contempla una actuación sobre una superficie aproximada de 412.000 metros cuadrados, con una inversión público-privada de 38 millones de euros que definirá la zonificación pormenorizada de los usos en los espacios habilitados.
Zonificación usos
El objetivo es actuar sobre toda la fachada marítima de contacto, abrir una nueva dársena para albergar los usos náutico-deportivo y pesquero, así como rellenar la actual dársena pesquera, ganando una plataforma logística para mercancía limpia. El resultado será el agrupamiento y concentración de los espacios según sus usos.
Tres dársenas
Quedarán tres dársenas, una exclusiva de tráfico de mercancías, alejada de los núcleos poblacionales, situada en las Azucenas, junto a la ZAL y el futuro parque industrial y empresarial PUE-1, como zonas de servicios y crecimiento para implantación de espacios logísticos e industriales dedicados a la actividad comercial.
Otra central, destinada exclusivamente para tráfico de pasajeros, tanto de líneas regulares de Ferry en Costa y Levante, como de turismo de cruceros en el nuevo muelle de Poniente.
Y la nueva dársena, que se incorpora, junto a toda la fachada marítima perimetral del Puerto en su contacto con los núcleos urbanos hasta la Playa del Cable, que quedará abierta a la ciudad y, por tanto, transitable, fuera del recinto aduanero e integrada en la trama urbana de la ciudad.
Esta última, albergará los usos deportivos, con 700 amarres y zonas de servicios, varadero…, y el uso pesquero, con suficientes atraques, nuevas instalaciones, lonja, zona de rederos, restauración y centro de interpretación, entre otros.
Es precisamente esta zona que se abre e integra en la ciudad donde se van a desarrollar las zonas de equipamientos y servicios para tener una oferta comercial y turística de primer nivel:
Se habilitan zonas comerciales, con supermercado, tiendas de ropa, comercio en general, restaurantes, aparcamientos, zonas verdes y deportivas equipadas y espacios de paseo por los muelles náutico y pesquero.
Un Club Náutico con todo tipo de equipamientos: piscina, restaurante, zona náutica y amarres deportivos.
Zonas de ocio y culturales: multicines, bolera, gimnasio, hostelería, musealización, auditorios para eventos culturales, etc.
Mejora de las comunicaciones
Espacios que tendrán gran afluencia de público, no sólo de Motril y de toda la comarca, sino de toda la provincia de Granada y provincias limítrofes y que, por tanto, requerirá de una mejora de las vías de comunicación entre la ciudad, sus accesos y este nuevo espacio.
En ese sentido, en la fase participativa de este Máster Plan hemos puesto en común y consensuado con el Ayuntamiento el proyecto y las alternativas de mejora de la accesibilidad que acerquen el Puerto a la ciudad y que pasa por esa estrecha colaboración, imprescindible en cualquier proyecto de integración.
El Máster Plan del proyecto "Motril, Puerto abierto" consensuado con el Ayuntamiento a efectos de integración entre puerto y ciudad. (© Autoridad Portuaria de Motril).
Fases
Para el estudio de planificación y materialización de las obras, se han establecido varias fases que nos permiten compatibilizar su ejecución y la actividad portuaria, sin ningún tipo de interferencias entre sí.
Fase 1: Paseo de Varadero. La actual carretera interior del puerto se desplaza hacia el mar y deja libre una superficie de 12.000 metros cuadrados en todo el frente de fachada, que se incorpora al barrio, y en la que se va a construir el Paseo Marítimo, desde la comisaría de la Policía Nacional hasta el edificio de la Autoridad Portuaria, incluyendo un jardín centenario de Araucarias. Todo ese espacio se urbanizará completamente y quedará incorporado al barrio. Un espacio amplio, equipado, con mobiliario urbano y zonas de sombra, que podrá albergar algún comercio, mercadillos, actividades, e incluso servirá como recinto ferial.
Fase 1 (bis): Construcción de un muelle sobre la escollera del pesquero, que permitirá el traslado provisional de la flota pesquera.
Fase 2: Apertura de parte de la nueva dársena (excavación en seco) con cuyo desmonte se irá rellenando el pesquero y a cuyo nuevo espacio se dará traslado a los amarres deportivos actuales.
Fase 3: Inicio del muelle de rederos y cruceros y apertura de la segunda parte de la nueva dársena. En esta fase, que estará concluida en 2026, ya se implantará la zona comercial y estará totalmente abierto y operativo.
Fase 4: Apertura de la nueva bocana para independizar la zona abierta a la ciudad y las operativas, de forma que no haya conflicto de tráficos entre la parte lúdica y pesquera con la comercial, respetando en su integridad la playa del Cable.
Vista panorámica de Motril y las zonas de integración puerto-ciudad. (© Autoridad Portuaria de Motril).
Este proyecto "Motril, Puerto abierto" no es un cúmulo de actuaciones aisladas, sino que se trata de un proyecto global, que afecta a toda la superficie portuaria, una actuación integral Puerto-Ciudad y que va a suponer por una parte la mejora de las operativas, a la vez que una revalorización de los barrios de Varadero y Santa Adela, dando a Motril una fachada litoral al sur de la ciudad, atractiva, con actividad y servicios vinculados al mar. En definitiva, un espacio que será referente turístico en Andalucía.
---
Head Image | Vista panorámica del puerto de Motril. (© Autoridad Portuaria de Motril).
---
Videos
Jornada "Motril, Puerto Abierto"
Salón de Actos del Edificio Azul | Puerto de Motril
Motril | 15 de octubre 2021
Después de la inauguración oficial de la conferencia con los saludos institucionales de Luisa María García Chamorro, Alcaldesa de Motril, Teófila Martínez Saiz, Presidente de RETE y Presidente de la Autoridad Portuaria de la Bahía de Cádiz, y José García Fuentes, Presidente de la Autoridad Portuaria de Motril, junto con Francisco José González-Mendez, Director de la Autoridad Portuaria de Motril, debaten en el curso de la primera sesión sobre la integración de la actividad portuaria en el entorno urbano "Motril Puerto Abierto".
En la segunda sesión de la conferencia la Prof.ra Juana Sanchez de la Universidad de Málaga, y el Prof. Doctor Alejandro Grindlay, Universidad de Granada, abordarán las estrategias de conexión puerto-ciudad. La tercera y última sesión es dedicada a la presentación de experiencias de éxito en la relación puerto-ciudad, en un coloquio moderado por Mercedes Navarrete Avilés, periodista IDEAL, en el que intervienen Marta Villalonga, Jefe de Gabinete de la Autoridad Portuaria de Valencia y Martín Fernández, Presidente de la Autoridad Portuaria de A Coruña.
https://www.youtube.com/watch?v=6b-wiRBNa7A/
---
Article reference for citation:
GARCÍA FUENTES, José. "Motril Open Port".
PORTUS | Port City Relationship and Urban Waterfront Redevelopment
, n. 42 (December 2021), Venice: RETE Publisher, ISSN 2282-5789. URL:
https://portusonline.org/motril-open-port/
GARCÍA FUENTES, José. "Motril, Puerto abierto".
PORTUS | Port City Relationship and Urban Waterfront Redevelopment
, n. 42 (December 2021), Venice: RETE Publisher, ISSN 2282-5789. URL:
https://portusonline.org/motril-open-port/
---