1 Novembre, 2020
Let's start with a number of comparisons that are plausible, but ultimately not too fitting, considering the nature of the subject. In the Éphémérides Économiques of 1775, for example, we read that Livorno «represents for Italy what Cadiz is for Spain; it is the warehouse, the entrepôt of nations, with the difference that Cadiz has no rivals, whereas Livorno has powerful ones: Naples, Civitavecchia and Ancona». For the Prussian traveller, von Archenholz, Livorno was «the living example of the wonders that a wise policy can work in a very short time … the only city in Italy whose splendour increases day by day». In his view, the only possible comparison was with Amsterdam, heir to the commercial grandeur of Antwerp. A slightly exaggerated opinion, perhaps. What is certain is that the rapid development of the free port was miraculous in the eyes of contemporaries. To Father Labat, who arrived there in 1709, Livorno appeared in the splendour of youth: «It is a completely new city, so new that old age has not yet left the slightest wrinkle on the facades of its buildings». The free port, in terms of traffic volume, had, by that time, already left Venice, the glorious republic of San Marco, behind it. And to think that just over a century had passed since the Grand Duke Francesco laid the first stone in 1577. At that time Livorno, says Labat, «was very small; or rather, it was nothing, at most a bad village in the middle of an infected and smelly swamp, which, without the help of Medici and their remedies, would have killed all the people insane enough to agree to live there».
The "Borgo Malsano"
In the 12th Century, on this unhealthy site, the Republic of Pisa built a small castle to guard the extreme southern offshoot of its port network, a series of landing places that stretched between the mouth of the River Arno and the low inlet of the Portus Pisanus. On the shallows, known as the Secche della Meloria and where the famous naval battle took place in 1284 that saw the decline of Pisa, a tower had already been erected in 1156 to warn sailors of the danger, and shortly thereafter three other defensive towers near the castle. But for those arriving from the sea, all those buildings did not have a distinct identity; they were merely the signal that they were about to enter the port of Pisa. None of the oldest portolans assigns a place name to that settlement on the rocky spur, surrounded by the swamp. The famous «Carta Pisana», datable to the beginning of the fourteenth century, makes no mention of it and reports the existence of only three landings along the southern coast between Pisa and Piombino: the «Porto Pisano», of course, the wide bay of «Vada» and lastly the «porto baratulu» (Baratti), once used by the Etruscans to import ferrous material from the Island of Elba (image below). Livorno simply did not exist. The more detailed maps indicate, if anything, the high ground of «Monte Negro», an important reference point for all sailors crossing the Tyrrhenian Sea, and on the top of which would rise, in the 15th century, a sanctuary dedicated to the Madonna, to protect all those who found themselves sailing in that stretch of sea.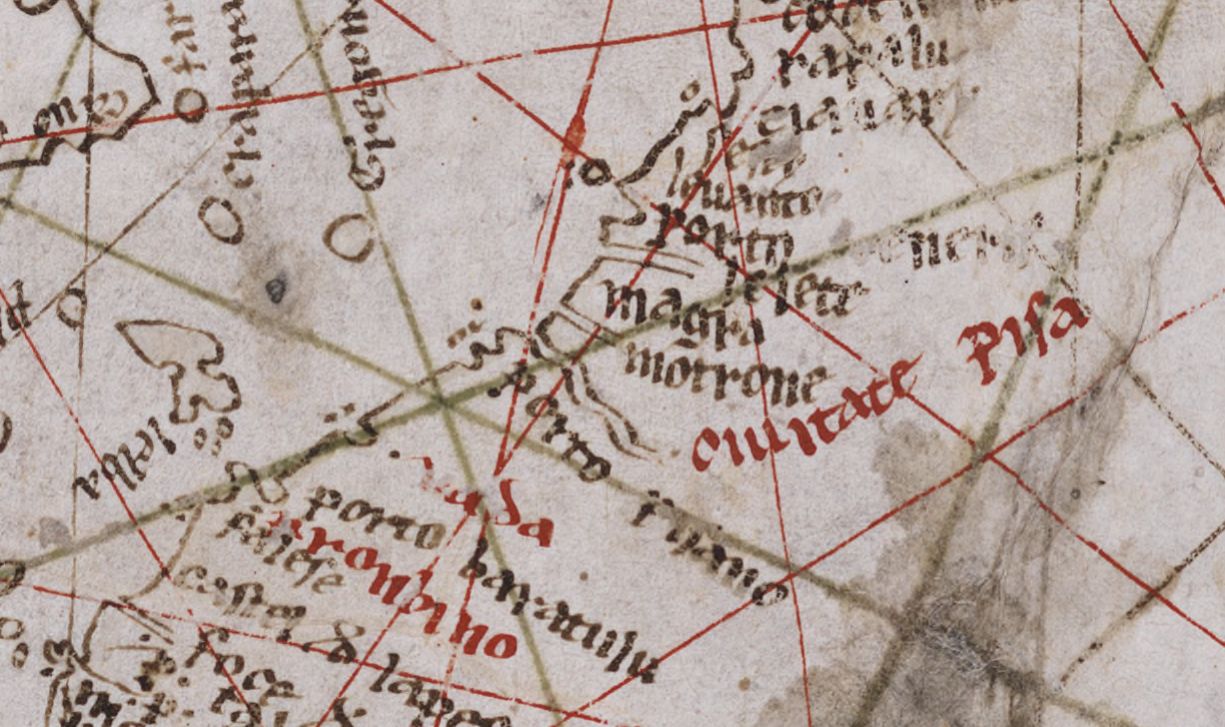 Carta Pisana, circa 1300. (Bibliothèque Nationale de France).
It would seem that the first cartographer to draw the "unhealthy village" was Grazioso Benincasa, from Ancona. In his Atlas completed in Venice in 1466, the landing place of «Ligorna», belonging to Florence for more than forty years, appears for the first time between «porto pisae» and «monte nigro» (image below). The castle, which had fallen into the hands of the Genoese, had been bought in 1421 for 100,000 Florins and immediately thereafter became the focus of a plan for it to become the cornerstone of the maritime expansion of the Republic of Florence. The settlement, devastated several times during conflicts, was rebuilt with new infrastructure, including the imposing «Torre nuova», later known as Torre del Marzocco. The white bulk of the tower, designed by Leon Battista Alberti with its characteristic octagonal section, still stands out today on the profile of the coast, and from its very first appearance it made it clear to everyone that the heart of maritime life was moving from the ancient port of Pisa, which had become largely inoperable due to the river silting up. With its tower, Livorno had gained its own identity, but time would pass, and it would take all the planning will and all the great resources of the House of Medici before a real port city could arise around that landing place.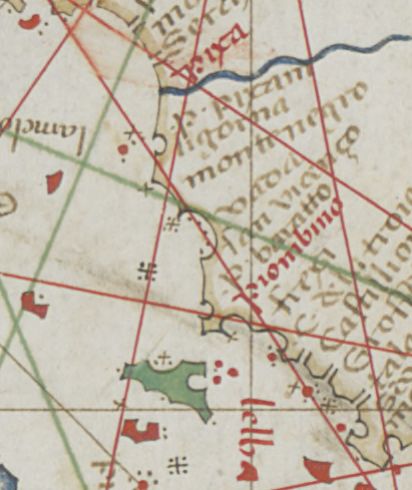 Grazioso Benincasa, Atlante Nautico, Venice 1466. (Bibliothèque Nationale de France).
The Port of the Duchy
On sixteenth-century nautical charts, «Ligorna» or «Liorna» was now a reference drawn with red ink to underline its importance. Cosimo, Francesco, and above all Ferdinando de' Medici did their utmost to enlarge the port, equip it with the necessary defences and trade infrastructure and to encourage the expansion of the population. Troops of convicts, Turkish slaves and waged workers were put to work to lay the foundations for the wharves and buildings. It did not take long before trade quickened, especially after the completion in 1573 of the Canale dei Navicelli waterway linking the port of Livorno with the city of Pisa. But it was towards the end of the following decade that the works gained the most momentum. The construction of the wharves continued and building work began for the Lazzaretto di S Rocco, which was completed in 1598. And in 1591, 5,000 workers, working day and night, excavated, in record time, the inner dock (image below), where the Arsenal for the galleys of the Order of Saint Stephen and the Bagno degli Schiavi for the galley slaves would later be built. In 1594, work began on the cathedral, and then on the Governor's Palace, the aqueduct, the houses and the warehouses. Port traffic grew slowly but surely, making a decisive leap forward in the nineties. An unusually serious famine afflicting the whole Mediterranean area made massive imports of wheat from the Baltic area necessary. Thus it was that a relationship, destined endure the test of time, was established between the Tuscan port and seafarers northern Europe, from Holland, Hamburg and from England.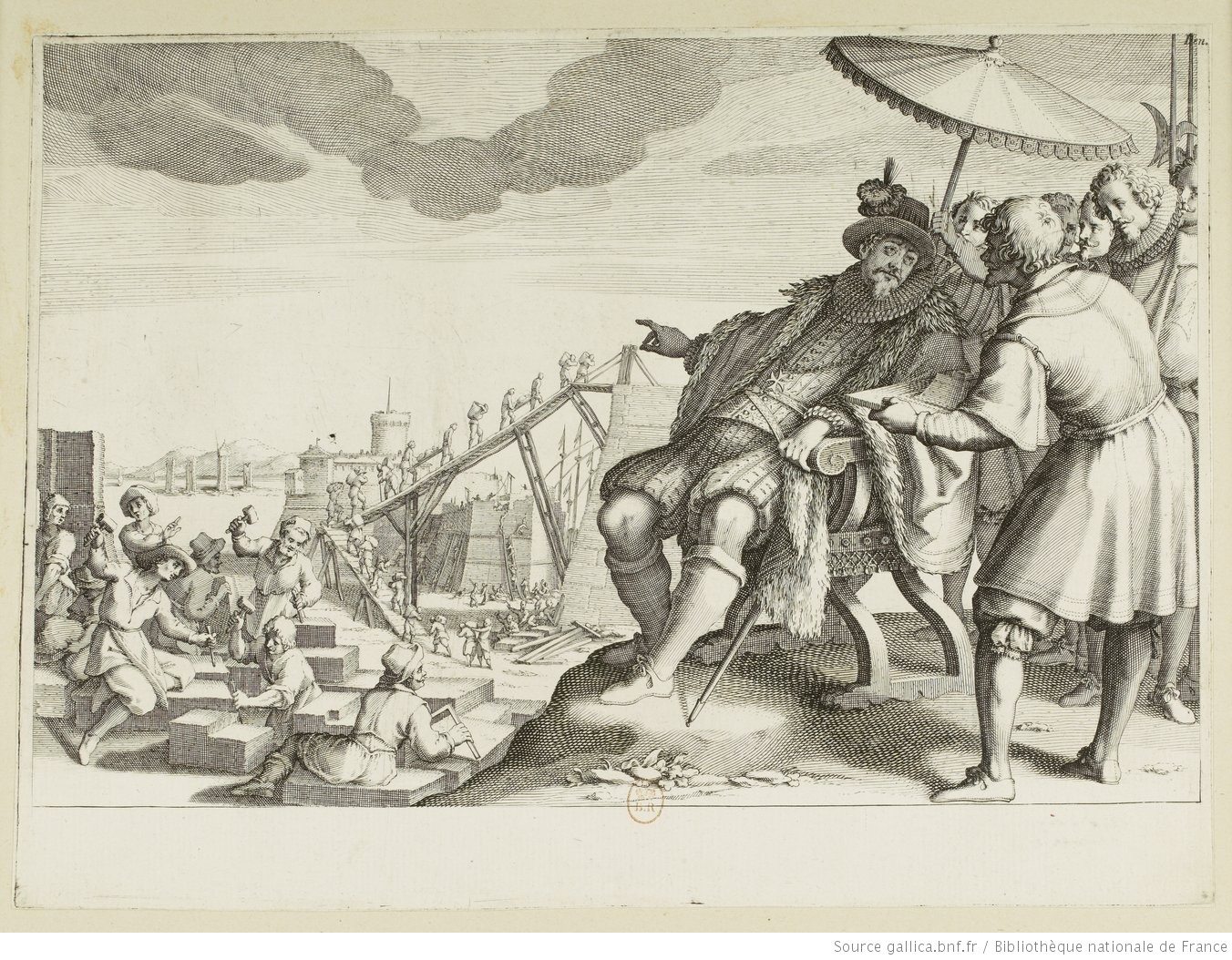 Jacques Callot. Ferdinando I fortifies the Port of Livorno (1616-1620).
Links to the rest of the World
Of the many nautical charts showing the presence of the port and its inclusion in the global traffic network, at least two are worth mentioning. The first is the chart by Vinzio di Demetrio Volzio, from Ragusa: «fecit in Terra Li Burni Mensis Februari 1598». In the years of the rapid expansion of the free port, the contribution of seafarers from Ragusa and Greece was fundamental and it is one of these sailors who drew the first "Livorno" portolan. Despite the Latinised form shown in the colophon, the place name indicated on paper is finally the current one: Livorno. Oriented on the East-West axis, in recognition of the centrality of the Holy Sepulchre of Jerusalem, the Volzio chart is surmounted by a Christ Pantocrator, as proof of its Greek-Byzantine heritage (image below).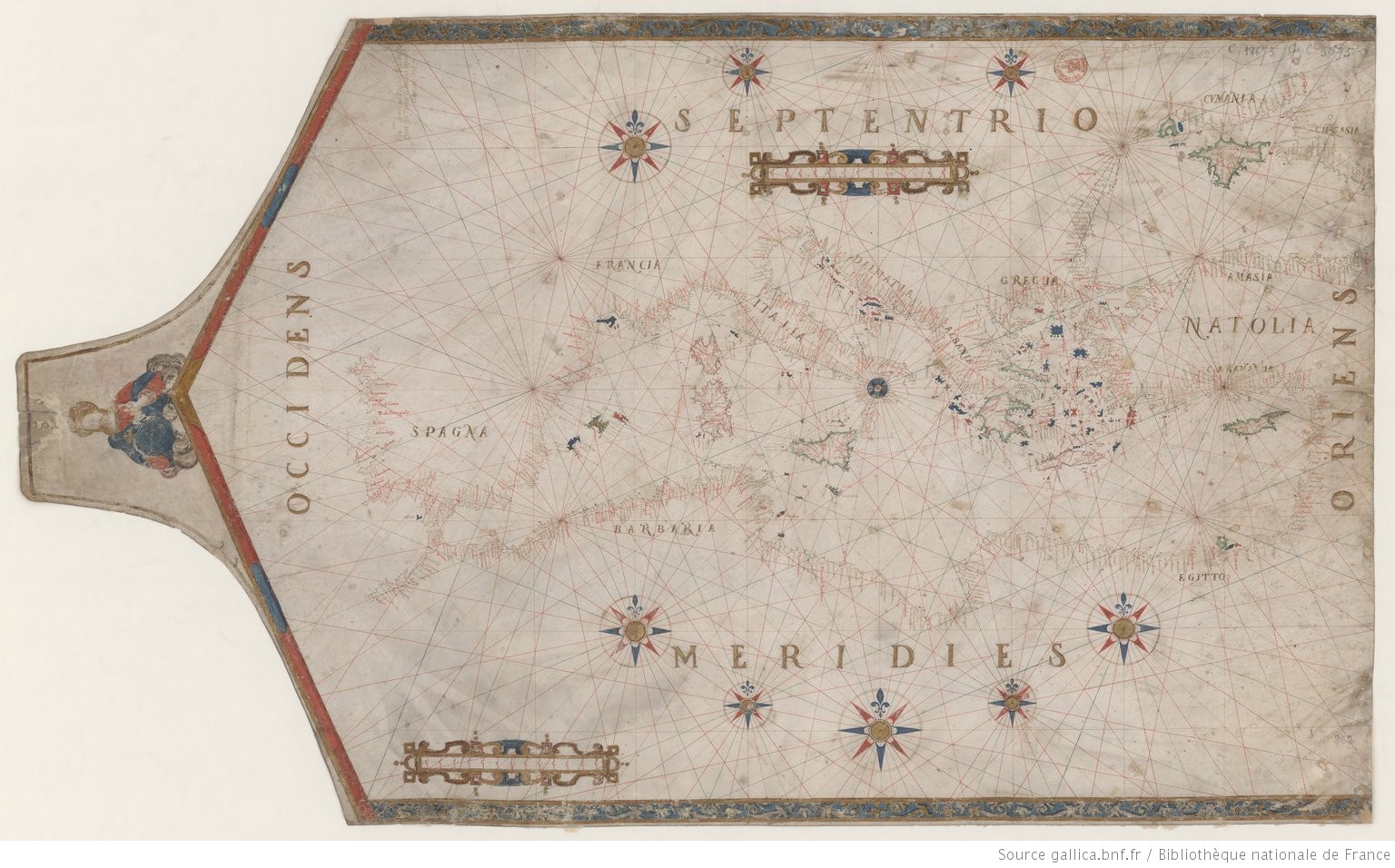 Vinzio di Demetrio Volzio, Nautical chart, Livorno 1598. (Bibliothèque Nationale de France).
The other chart, on the other hand, is the Kitab-ï Bahriyye, a magnificent portolan drawn by Piri Reis, admiral of the Ottoman fleet, and offered as a gift in 1523 to Suleiman the Magnificent (image below). A later version from the late 1600s, preserved in Baltimore, even includes a drawing of the port and the city of Livorno, showing the fortifications, including a kind of minaret, the work of fantasy, the harbour and dock area with the Ferdinando wharf (completed by Cosimo II in 1621), and the Marzocco and Fanale Towers. Piri indicates the Meloria Shallows and those at San Piero, and even the channel enabling boats of lesser draft to sail along the coast without going out beyond the Meloria (next image).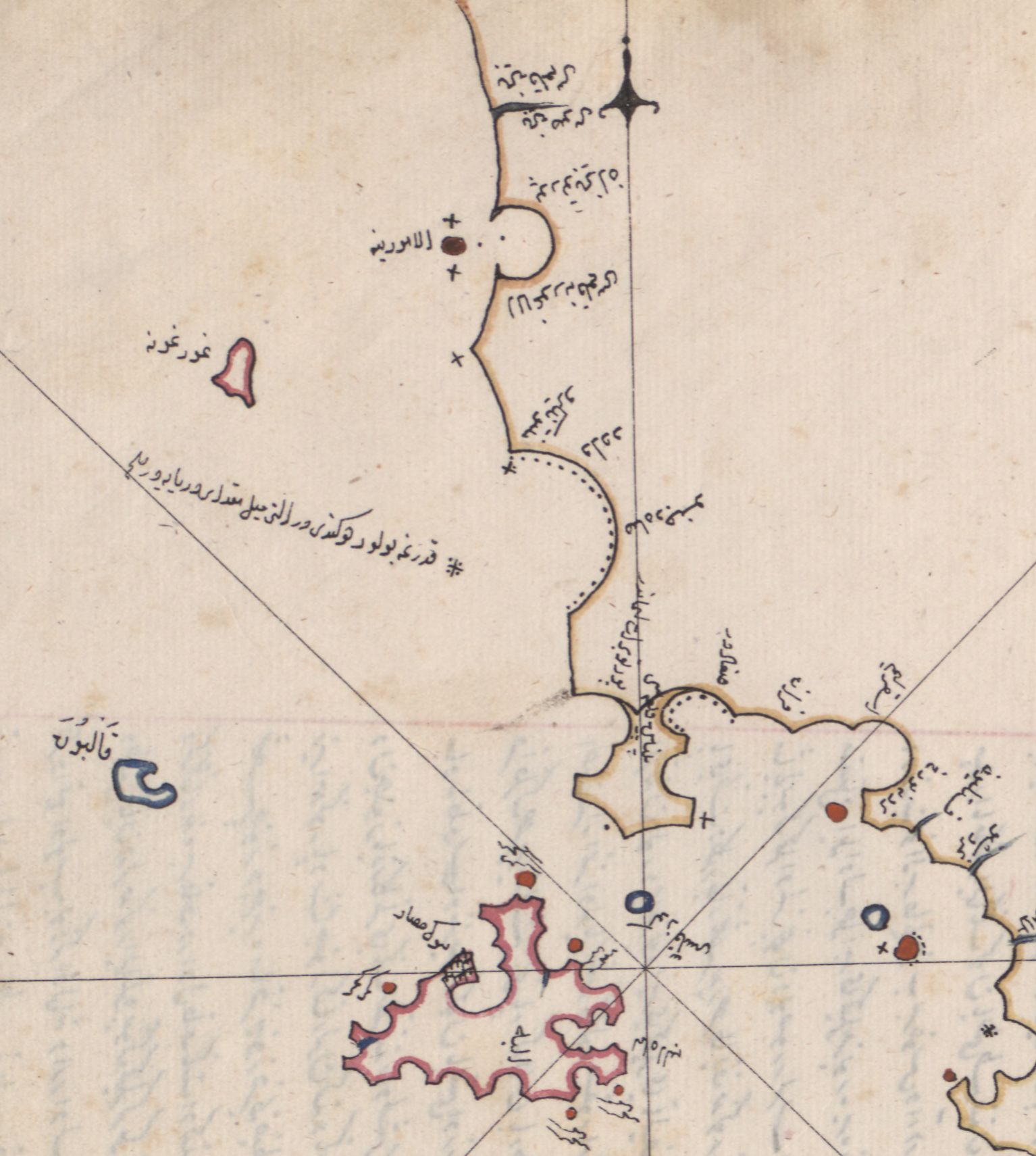 Piri Reis, Kitab-ï Bahriyye, 1523. (Bibliothèque Nationale de France).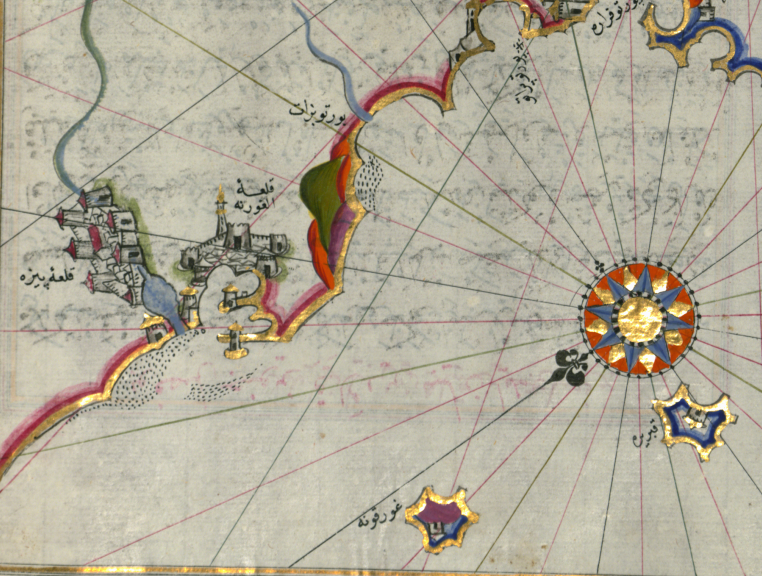 Piri Reis, Kitab-ï Bahriyye, 17th Century. (The Walter Art Museum, Baltimore).
This was the time when the whole world began to stop in the port of the Grand Duke of Tuscany on the Tyrrhenian Sea, or as the Ottomans call it, «Doucha Denghizi», the sea of the Duke. After the charts by Volzio and Piri Reis, the Description de la mer Méditerranée by the Dutchman, Guillaume Bernard, appeared in print in Amsterdam. In the instructions to the reader, Bernard explains that such a theoretical-practical treatise, accompanied by charts and drawings, had been sorely lacking. «Sailing on the Mediterranean Sea – wrote Bernard – has become habitual for some years now, and we Dutch people sail it more every day, to the great advantage of all merchants», but since no one had made a guide for the sailor, «several of my best friends» asked me – says Bernard – to share my experience with them. The Description is a magnificent volume in folio, which reviews every corner of the Mediterranean, including Livorno, where the great Dutch grain ships were now a constant feature. There had been an intrusion into the Mare Nostrum. The famous «Nordic invasion», as Braudel called it, was a major event in the history of the Mediterranean and which would lead to a closer integration of the economies of Northern and Southern Europe. The leaders were the men of the Atlantic, sailors like Bernard, who, having paved the way, now explained to newcomers what they should do.
The natural environment: the Meloria, the roadstead, the Libeccio
When you want to go to Livorno, says Bernard, you need to locate the Gorgona, which is a round island a few miles from the port. From there you put the tiller to the East-North-East, but… beware of Meloria! You must go south of its shallows. If the sounder marks 12 fathoms, then it means that we are quite far from danger. Having avoided Meloria, you can head straight to the entrance to the port; and when you near the city, when the sounder is at 5-6 fathoms, turn a little to the north, and you can drop anchor near the «four ancient towers», the so-called Torracce, «all surrounded by the sea». That is the great roadstead Leghorn Roads, as the English call it; and it is a buon tenidor e buon sorgidor, that is to say that the bottom is all solid sand and rocks, therefore the anchors grab it easily, but then they unleash without too much effort. As can be seen from Bernard's map, the roadstead is bound to the north and west by the large sandy shallows that extends from Bocca d'Arno to the oblong reef of Meloria, so as to offer shelter on all sides, except from the «winds from the South and South West, which are the most dangerous». The strong side wind is at Scirocco and Libeccio, but the risk is all in all limited, because, in the unfortunate event that the anchors do not hold, or the hawsers break, we are at most pushed towards the Marzocco, where the ship gets bogged down on a shallow bottom completely covered by algae (image below).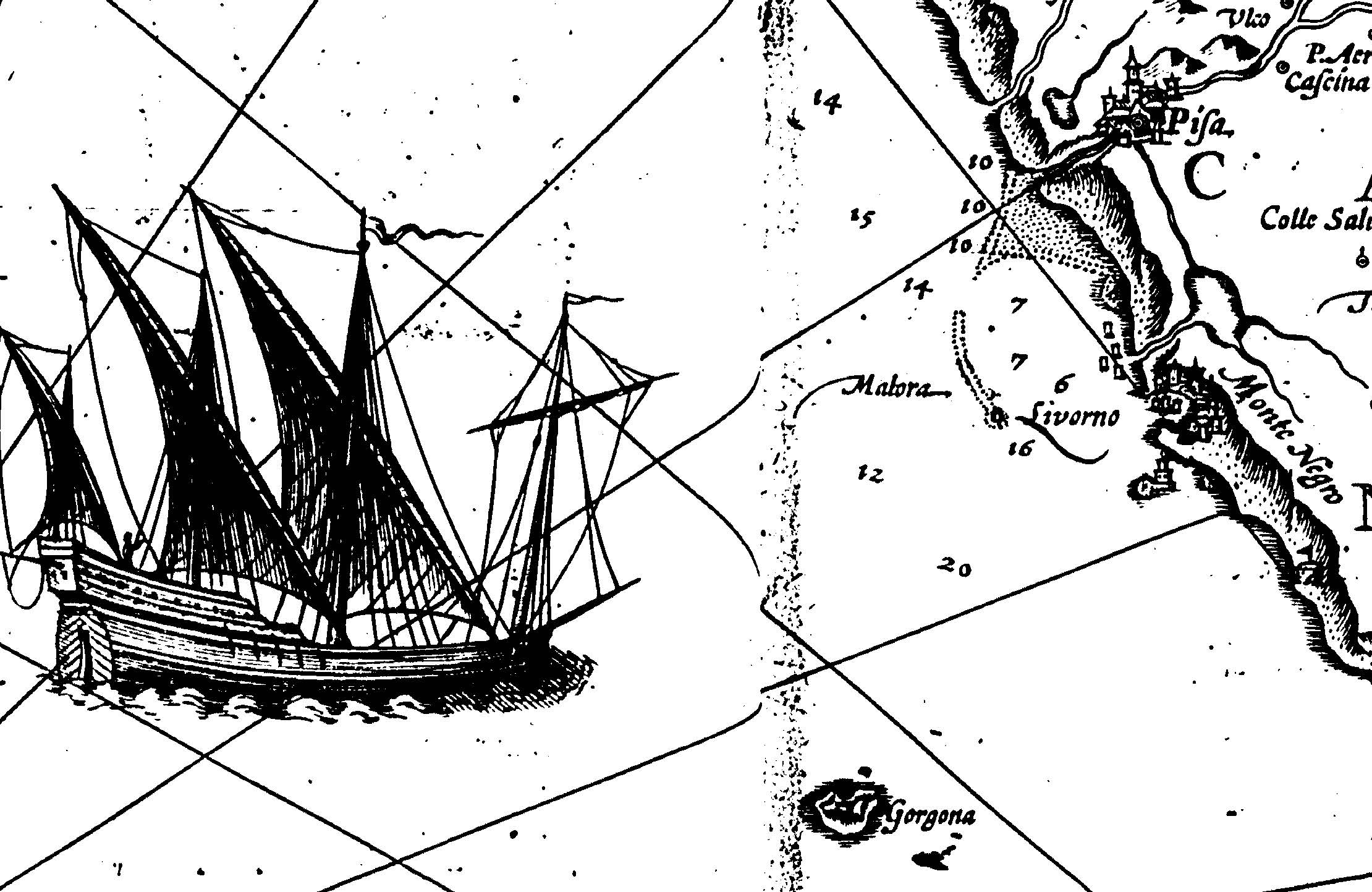 Guillaume Bernard, Description de la mer Méditerranée, Amsterdam, Nicolas, 1607.
The entire coast is particularly exposed to the Libeccio wind, just look at the trees and you'll see what I mean: «By the sea – wrote Büsching, a German geographer – they are all without leaves, while the branches are curved and folded towards the ground». Sometimes the Libeccio is truly terrifying. The great naturalist Buffon was able to experience this when, in December 1731, he went onto the ramparts of the city. Such a storm arose that a number vessels riding at anchor lost anchorage, and to get out of trouble, were forced to cut down the mainmast. The waves rose above the fortifications and Buffon, who had gone there to witness from close up the unleashing of the forces of nature, went home drenched from head to toe. The rise in sea level caused by the Libeccio is called Empifondo, as distinct from the normal flow of the tides, which is called Empifondo della Luna. The Libeccio is troublesome to sailors, even when it does not blow strongly. With the Libeccio, a humid haze of minute particles of water is formed, called the Spolverino, which reduces visibility to the point that many times, coming from the sea, it is not possible to distinguish Montenero, or the Fanale, «at that point – advises Targioni Tozzetti – it is better to stay in Corsica, and leaving the next day at dawn, you are sure to enter Livorno at around noon».
To take the right direction, you must be able to recognise the coastline. «Coming from the Gorgona – says Bernard – you will see a mountain, just to the east; it is long and earthy, but the Southern part is a little higher than the Northern. Livorno is located at the northern part of this mountain, called Monte Negro». The territory to the north of the city, on the other hand, is so low that it is hard to see from afar, while even further north, the taller mountains looming over «Spetia & Via Regio» stand out. At one time the Dutch sailors making the trip to Livorno and not knowing how to recognise the coast, would get lost: they would look for the port south of Montenero. This was all the fault of Lucas Jansz Waghenaer, another Dutch cartographer, who had issued incorrect maps (image below).

Guillaume Bernard, Description de la mer Méditerranée, Amsterdam, Nicolas, 1607.
Sailing with Commander Michelot
In the meantime, the errors were corrected and the descriptions made more precise. So, without fear of taking the wrong course, let's embark for Livorno with Henry Michelot, deep-sea pilot of His Majesty the King of France's galleys, and the author in the early 1700s of a successful portolan that was continually reprinted until the advent of steam navigation. Let's imagine, for a moment, setting sail from Porto Venere. After a few miles we will find ourselves skirting a low, sandy coast. After passing Viareggio, the port of the Republic of Lucca, the sounding points out numerous shallows, the largest of which begins south of the mouth of the Arno, right in front of the church of San Piero, and goes into the sea for «about 9 or 10 miles»: «There are only 5 or 6 fathoms of water – writes Michelot -, and at its end there is another sand bank with just 2 fathoms below». To avoid it, you have to go «neither too close nor too far out … but steer aiming at the point of the quay». There are 6 miles to the port when we meet the shallows of Meloria, fatal to Pisa; after having bypassed them we are already in the great roadstead of Livorno.
Coming from the South-West, on the other hand, we come across, as we know, the Gorgona, «a large, very high island, which seems almost round». Livorno is 30 miles away and still not visible, «it is so low»; one sees «only the mountain of Montenero, which is two leagues away». We begin to glimpse the port from 12-15 miles away. The ships, that are bound for there, «pass the Meloria to the south … and then run through a half league to the West, North-West of the quay, in the great roadstead. The depth is 7, 8, up to 10 fathoms, there is only shelter from offshore winds, but since this roadstead is almost entirely surrounded by sand banks, from South-West, West to North-East, and since the rocks of Meloria cover it, all this together prevents the sea from giving too much nuisance and makes the roadstead good» (image below).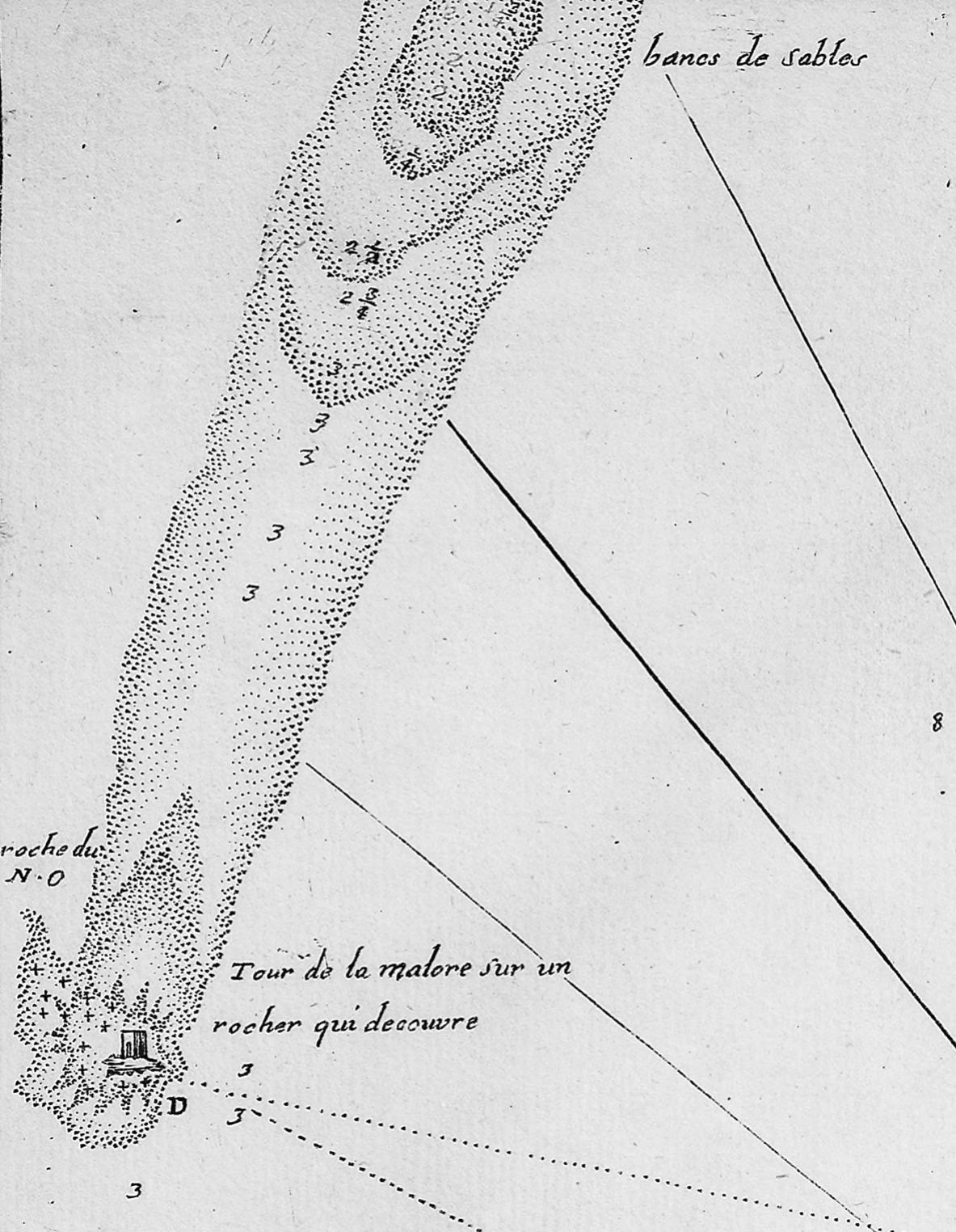 Jacques Ayrouard, Plan du port et rade de Livourne, circa 1700 (detail). (Bibliothèque Nationale de France).
Livorno – says Michelot – «belongs to the Grand Duke of Tuscany, is located on the edge of the sea on a plain. It is fortified very well, surrounded by moats and lined with ramparts. There are several fortifications in the vicinity and there is a great deal of trade from all sorts of foreign nations». Entering the roadstead you can see two towers surrounded by the sea, «the highest is white and is called the Marzocco; you have to keep away from them, because all around there are reefs close to the surface of the water» The other tower is towards the south, at «4 or 5 toises». It is the lighthouse. On the top there is «a lantern that lights up in the evening as a signal». Even in its surroundings you have to be cautious and go offshore to avoid the emerging rocks. Between the Marzocco and the Lighthouse there is finally the entrance to the quay, extending towards the north. On the point «there are two cannon batteries one on top of the other, quite considerable». You need to turn as hard as possible to starboard, if you do not want to end up on a rocky shoal in the middle of the entrance. To be safe, it is good to pass on the «prow of the vessels moored at the point … then go ahead with the anchor to the left, and turn the stern to the quay keeping the city ahead. You need to moor four at the stern and the bow, there are from 12 to 15 feet of bottom, and the closer you are to the quay the better, because there's more bottom» (image below).
Beyond the roadstead and the large outer quay, Livorno has «two internal docks» (in reality it is a single dock divided by a walkway), where the galleys and vessels are moored, but to reach them it is good to hire «a local pilot», who knows how to avoid the shallows, and the emerging rocks, on one of which a «sentry box» has been built. A narrow channel between the fortifications, and closed with a chain, divides the waters of the quay from the docks. This is where the "Ufficio della Bocca" (harbour office) is located.
Let's get our paperwork sorted out
The "Capitano della Bocca" is the officer responsible for good sanitary, customs and political order in port waters: it is up to him to prevent any violation of the neutrality of the port, and he therefore oversees the entire defensive system, consisting of six different artillery positions arranged so as to cover the widest stretch of sea. The southern entrance to the port is guarded by a pair of cannons, located at the Lighthouse and at the base of the quay, near the Lazzaretto di San Rocco, they follow the battery on the point of the quay – the outermost position, which has the task of co-ordinating firing – then the artillery of the Fortezza Vecchia – twelve large bronze cannons, cast by Ferdinando I, called «i dodici apostoli» (the twelve apostles) -, and finally further north there are the positions of the Forte San Pietro and the Marzocco (image below).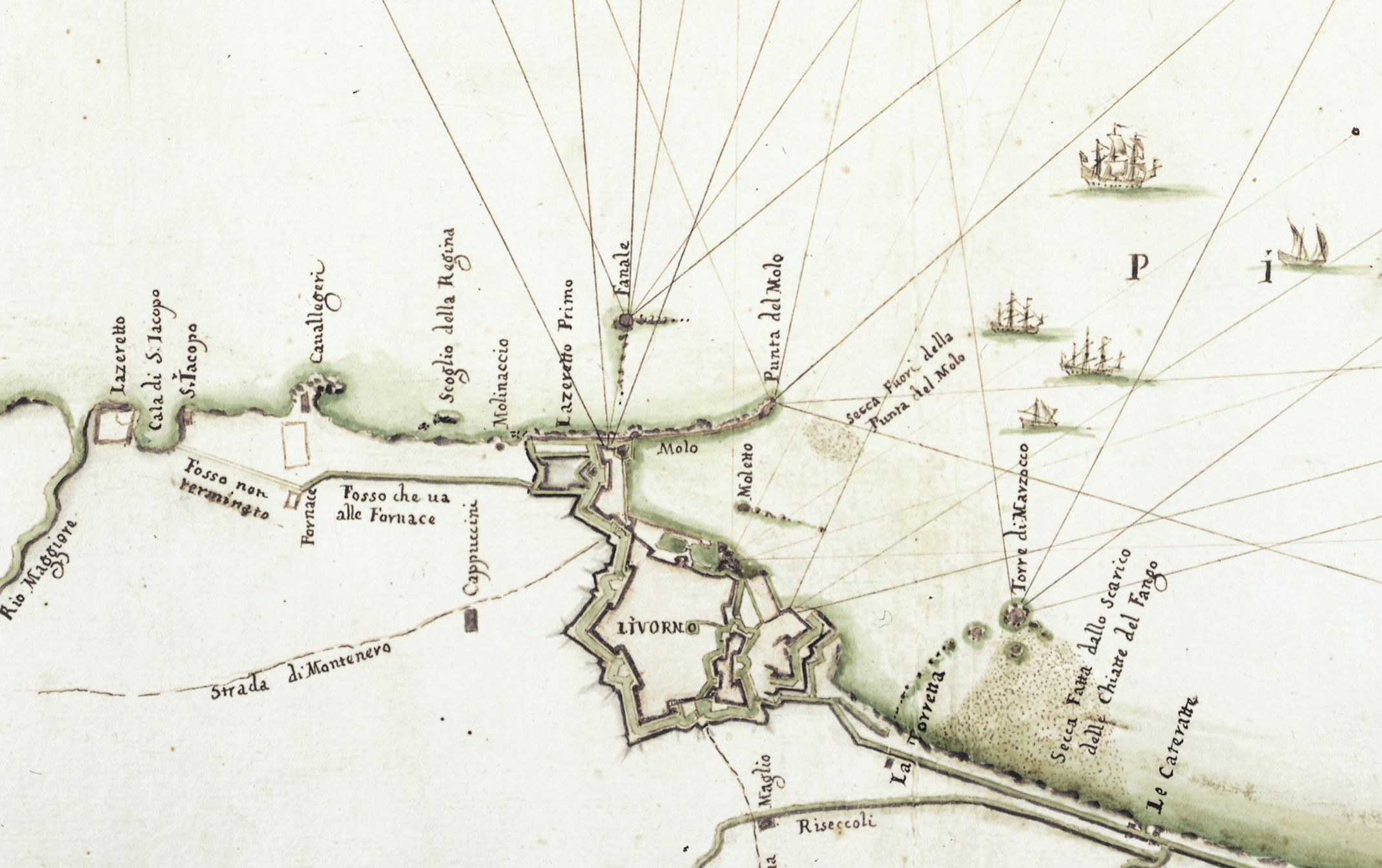 Map of the coast of the City of Livorno, circa 1710. (Bibliothèque Nationale de France).
On arrival, commanders of merchant ships and military ships must lower the launch and reach the Ufficio della Bocca to deal with health and customs procedures. The Ufficio comprises two pavilions closed by railings, located on either side of the canal leading to the dock. From behind the railings the workers communicate with the newcomers, keeping at a safe distance for fear of contagion. They take the ship's log with a long cane; and if the ship arrives from suspect destinations, they disinfect it with candle smoke. Then all the information used to establish any quarantine period is recorded, to be served at anchor, or with more comfort, at the Lazzaretto. The plague, in fact, is endemic throughout North Africa and in the Levant, but Livorno is well equipped for quarantines, with two Lazzarettos: the old Lazzaretto di San Rocco, built behind the Fanale in 1590 by Ferdinando I (following image) and the new Lazzaretto di San Jacopo, built far from the city in 1643, after the Great Plague.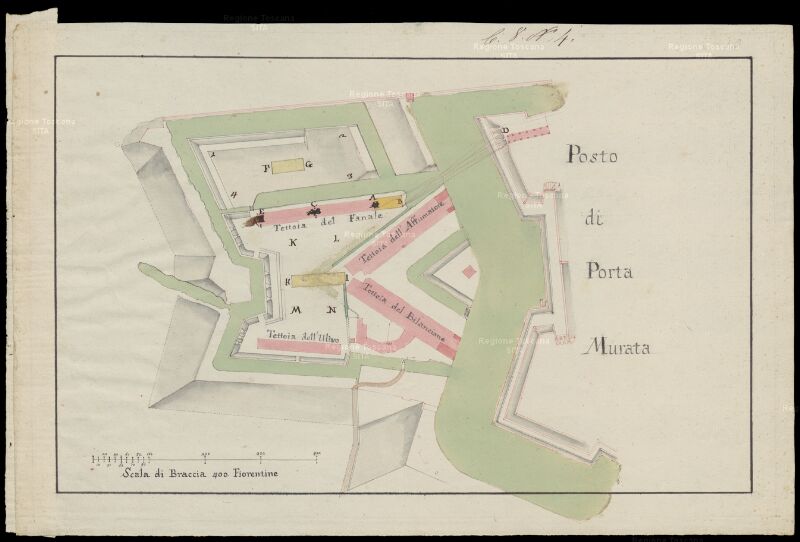 Lazzaretto di San Rocco (1731), Official Map of the Fortresses and Factories, 283. (Archivio di Stato di Firenze).
The plague at the gates
The threat of contagion was always looming, but this couldn't stop the frenzy of trade. Abbot Coyer, the famous author of the Noblesse commerçante, was able to note the singular circumstances of a city that «continually has the plague on its doorstep. But men, [who in Coyer's opinion are] not very content with the essential, defy every danger in order to grow rich». The truth is that health checks were very strict, unlike customs inspections, which, in order to avoid breaking commitments with foreign merchants, were rather superficial, almost non-existent. The merchants and sailors, who praised the Medici for their wisdom in establishing the «porto franco», did not tolerate their obsession with public health and above all the confinement measures that were put in place to ensure it. The most impatient were the English, for whom the principle of precaution was just one of the many papist superstitions, or perhaps Machiavellian foul play to hinder their trade.
Certainly, no one liked being banished to the Lazzaretto. What most struck von Archenholz, a Prussian soldier who found himself passing through Livorno in the mid-1700s, was that the rigour of the health service was egalitarian and made no exception: «Nobody can hope to be exempt from it. There is no consideration for rank nor speech nor for signs of being perfectly healthy. Quarantine takes place in certain specially built establishments not far from the port. The duration can vary a lot, it is usually fixed on the basis of the land of origin, and on health certificates» (image below). It's understandable that after a long voyage, sailors will itch to disembark, sink into a tavern to drink, or dive into the arms of a prostitute; they will be spoilt for choice in Livorno. And it is only natural, therefore, that they'll do anything to avoid quarantine. «The crew of a ship from the Levant – says von Archenholz – is on alert as soon as they sight Livorno. Everyone has to clean up and make sure they look good; strong liqueurs are distributed to give an air of gaiety and vivacity; the sick are forced to get out of bed and hide their ailments; and sometimes, if their illness cannot be disguised, they are put ashore before the ship enters port». Those responsible for such a manoeuvre, if discovered, risked their lives: «On this point the laws of the country are inflexible; so too the clutches of the police that are most felt in Italy».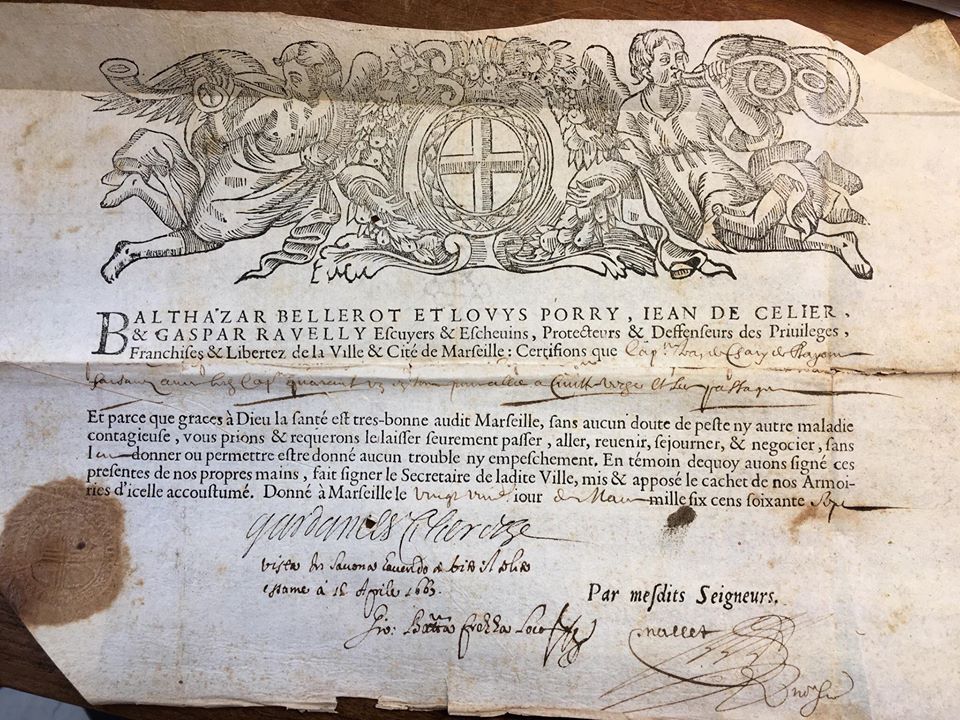 Marseille Bill of Health (1667), Secret Archive, 1670. (Archivio di Stato di Genova).
Entering the city at last
After our quarantine, we can finally leave the Lazzaretto and head to the gates of the city, where, awaiting us, is the Customs guard tasked with preventing the smuggling of tobacco, brandy and other goods subject to monopoly. After the last check, we are finally in Livorno, a «petite ville toute neuve, jolie à mettre dans la tabatière», as Charles de Brosses, the President of the Dijon Parliament, described it in his journal. The first observation of all travellers is that this little town is extraordinarily clean by the standards of the time, the streets are all well paved, so you don't get muddy and there isn't too much rubbish lying around. The reason is that the urban transport system is made up of waterways, so-called "fossi", that surround and cross the city. Behind the Fortezza Vecchia, built by Alessandro, the first Duke of Florence, the inner dock is connected to a canal network which penetrates the merchant district of Venezia Nuova and the other imposing military garrison, the Fortezza Nuova, completed in 1609, and all around the walls back to the sea behind the Lazzaretto di San Rocco (image below). There is much toing and froing of small boats carrying goods into the warehouses made from the foundations of the buildings overlooking the canals. That's why the city is clean. It is true that many warehouses are in the southern part of the city, not served by the navicello boats; however, in Livorno there is no need to use carts and pack animals. There are few horses, donkeys or other animals to litter the city with their excrement, as there is an abundance of slaves to take care of all the hard work!
Jacques-Nicolas Bellin, Plan de la ville de Livourne, circa 1740. (Bibliothèque Nationale de France).
You understand this as soon as you reach the esplanade of the dock. There, a short distance from the prison for the galley slaves, Bagno degli Schiavi, there is the monument to the founder, Ferdinando I, who for the occasion is wearing the armour of Grand Master of the Military Order of St. Stephen and, in true triumphal style of the ancient Roman Emperors, four beautifully made Moorish slaves in bronze, the work of Pietro Tacca, are chained at his feet.
What strange people! Or maybe not?
After having fully understood the affinity of power upon which the "jewel" arose, and who the real builder of the city was, the traveller can begin his walk along the main street, which needless to say, is called via Ferdinanda. And here he is totally disorientated «It is not easy to say by which nation the city is inhabited – De Brosses is speaking again –; it would be simpler to say that it is inhabited by all the many nations of Europe and Asia, so much so that the streets seem to be a veritable fair for costumes, and the language that of the Tower of Babel».
In the early period of its history, the City of Livorno saw a rapid expansion in its population, in contrast with the rest of Tuscany. From 3,000 in 1601, the population had grown to 12,000 by the middle of the 17th century and reached 50,000 at the end of the 18th century. Although Curzio Malaparte loved to praise the out-of-the-ordinary fertility of the Livorno women (the beautiful Livorno women have a child every three months), it is clear that such an explosive growth was mainly due to immigration, which the Medici encouraged in every possible way, granting favours, immunities and privileges to anyone who decided to settle in the city; and without worrying about challenging the fanaticism of the time, because the invitation was open to anyone who could start a family, whatever their origin, background or religion and even to those from persecuted minorities. Indeed, especially to persecuted minorities like the Sephardi Jews expelled from Spain, who, under the protection of the Medici, were able to rebuild their lives and a community that was second only to that of Amsterdam in size. The earliest population announcements were at the behest of Cosimo I, but it was his son Ferdinando who, with his famous leggi livornine laws of 1591-93, triggered the process that enabled the city to grow and prosper over such a short period of time.
Consequently, the population overall was multicultural. Livorno is the so-called City of Nations because the immigrants who landed there immediately gathered together according to their origin in organisations of a corporate nature. So we have the Jewish nation, Naçao, the largest and best organised, the English nation, formed mostly by the merchants of the British Factory, the Dutch-Alemannic nation, the French, the united Greeks and the Schismatics, the Armenians, the Syrian Maronites and, of course, many Italians from every corner of the Italy. This is why Charles De Brosse felt so disorientated. But how was that medley of peoples possible, when hatred fuelled religious war elsewhere? According to Jerome de La Lande, another traveller and who was perhaps a little over optimistic, Livorno people enjoyed «perfect freedom of conscience», and the city could rightfully claim to be the «Homeland of the Universe». Yes, because Livorno immediately becomes home to all those who arrive there. The disorientation caused by the «fair for costumes» is immediately balanced by the sense of familiarity and of being at home found in the network of nations. There is no doubt: Livorno gave a second chance to every immigrant. For the Jews of the Diaspora, it was a «little Jerusalem», for the British, a «little epitome of England» and even De Brosses, after his confusion among the costumes, felt much less so when he realised that in Livorno «French is the vernacular, or at least it is so widely spoken that it can pass for such».
It doesn't matter where you come from; we're all in the same boat. Let's take another traveller, Hanna Dyâb, a young Syrian Maronite from Aleppo who arrived in Livorno in 1709 with his master Paul Lucas after a long journey through the countries of the Levant. We are all indebted to Hanna for many of the most beautiful tales of the Thousand and One Nights, starting with Aladdin's Lamp; for it was he who would introduce them to the orientalist, Antoine Galland … Hanna, I was saying, just like De Brosses, was disorientated the first time he walked around the city. «It was the first city I visited in a Christian country», and I was «amazed – he says – by what I had never seen before». «I saw women in the shops, selling and buying as if they were men. They would walk down the street with their faces uncovered, without a veil! I thought I must be dreaming».
But his initial astonishment turned familiarity, just as it had for De Brosses. «At some time – the story continues – while I was walking down a street, I heard someone call to me in Arabic. I turned and saw a man on the threshold of a Coffee Shop. I went closer…
– Welcome to the son of my country – the man exclaimed – Come on, come in! I'll let you
breathe in the scent of my country!
– And who are you, brother? What country are you from?
– Well, I'm from Aleppo, in the nation of the Maronites».
This is why Livorno was extraordinary. The oldest free port in the Mediterranean, the great emporium where goods arrived from every corner of the earth, but most important of all, beyond the port, leaving the hospital behind, there was the «Patria dell'Universo». A city that amazed travellers and exiles alike, later curing them of home-sickness, making them forget that they were far from home, because, contained within a disorienting kaleidoscope of different senses of belonging, were so many homelands and no one struggled to find his own.
References
Archenholz, Joahnn Wilhelm, von, Tableau de l'Italie, Bruxelles, Le Francq, 1788.
Belly, Mémoires sur l'Etat du Commerce et des Manufactures en Italie, in Nouvelles Éphémérides Économiques, Paris, Lacombe, tom. VII, 1775.
Bernard Guillaume, Description de la mer Méditerranée, Amsterdam, Nicolas, 1607.
Buffon, George Louis Leclerc, Histoire Naturelle, Amsterdam, Schneider, tom. I, 1766.
Büsching, Anton Friedrich, Géographie Universelle, Strasbourg, Bauer & Treuttel, tom. II, 1778
Coyer, Gabriel François, Voyages d'Italie et d'Hollande, Paris, Duchesne, tom. I, 1775.
De Brosses, Charles, Lettres familières écrites d'Italie en 1739 et 1740, Paris, Didier, tom. I, 1858.
Dyâb, Hanna, D'Alep à Paris. Les pérégrinations d'un Jeune syrien au temps de Louis XIV, a cura di P. Fahmé-Thiéry, B. Heyberger e J. Lentin, Sindbad, Actes Sud, 2015
Labat, Jean-Baptiste, Voyages du P. Labat en Espagne et Italie, Paris, Delespine, tom. II, 1730.
La Lande, Jerome, de, Voyage en Italie, Paris, Desaint, 1786
Michelot, Henri, Le Portulan de partie de la Mer Méditerranée, ou le vray Guide des Pilotes Costiers, Marseille, Mesnier, 1703.
Targioni Tozzetti, Giovanni, Relazioni d'alcuni viaggi fatti in diverse parti della Toscana, Firenze, Cambiagi, tom. II, 1768.
---
Head image: Giuseppe Bardi, View of the city and port of Livorno (1790-1800). (The British Library).
---
Giungere per mare alla "patria dell'Universo". Il porto di Livorno sulle carte nautiche, i portolani e i diari di viaggio
Cominciamo con qualche paragone plausibile, ma in fin dei conti non troppo calzante considerata la singolarità del soggetto. Sulle Éphémérides Économiques del 1775 si legge ad esempio che Livorno «rappresenta per l'Italia ciò che Cadice è per la Spagna; è il magazzino, l'entrepôt delle nazioni, con la differenza, che Cadice non ha rivali, mentre Livorno ne ha di potenti: Napoli, Civitavecchia e Ancona». Per von Archenholz, un viaggiatore prussiano, è «l'esempio vivente delle meraviglie che può operare una politica saggia in brevissimo tempo… la sola città d'Italia il cui splendore si accresce giorno dopo giorno». A suo giudizio, l'unico paragone possibile è con Amsterdam, erede della grandezza commerciale di Anversa. Un giudizio un po' esagerato, forse. Quel che è certo è che il rapido sviluppo del porto franco aveva del miracoloso agli occhi dei contemporanei. Al padre Labat, che vi giunse nel 1709, Livorno apparve nel fulgore della giovinezza: «è una città tutta nuova, talmente nuova che la vecchiaia non ha ancora impresso la minima ruga sulle facciate dei suoi edifici». All'epoca il porto franco, quanto a volume di traffico, si era già lasciata alle spalle Venezia, la gloriosa repubblica di S. Marco. E pensare che era trascorso poco più di un secolo da quando, nel 1577, il granduca Francesco aveva posto la prima pietra. A quel tempo Livorno «era ben poca cosa – dice Labat –; diciamo meglio, non era niente, tutt'al più un cattivo villaggio nel bel mezzo di una palude infetta e maleodorante, che senza il soccorso dei medici e dei loro rimedi avrebbe ucciso tutta la gente abbastanza folle da accettare di dimorarvi».
Il borgo malsano
In quel luogo malsano la repubblica di Pisa nel XII secolo aveva costruito un piccolo castello a guardia dell'estrema propaggine meridionale del suo sistema portuale, un esteso complesso di approdi che si sviluppava tra l'imboccatura del fiume Arno e la bassa insenatura del Portus Pisanus. Sulle Secche della Meloria, dove nel 1284 avvenne la famosa battaglia navale che decretò il tramonto della grandezza pisana, già nel 1156 era stata eretta una torre per avvisare i naviganti del pericolo, e di lì a poco altre tre torri difensive in prossimità del castello. Ma per chi arrivava dal mare tutte quelle costruzioni non avevano un'identità distinta, erano solo il segnale che si stava per entrare nel porto di Pisa. Nessuno dei portolani più antichi assegna un toponimo a quell'insediamento sullo sperone roccioso, circondato dalla palude. La famosa «Carta Pisana», databile agli inizi del XIV secolo, non ne fa il minimo cenno; segnala l'esistenza di soli tre approdi lungo la costa meridionale tra Pisa e Piombino: naturalmente il «Porto Pisano», l'ampia baia di «Vada» e per ultimo il «porto baratulu» (Baratti), usato già dagli Etruschi per importare materiale ferroso dell'Isola d'Elba (immagine seguente). Livorno semplicemente non esiste, non è niente. Le carte più dettagliate indicano semmai il rilievo di «Monte Negro», punto di riferimento importante per tutti i naviganti che attraversavano il Tirreno, e sulla cui sommità nel XV secolo sorgerà un santuario dedicato alla Madonna, perché stenda la sua protezione su tutti coloro che si trovano a frequentare quello specchio di mare.
Carta Pisana, 1300 circa. (Bibliothèque Nationale de France).
A quanto pare, il primo cartografo che designò il borgo malsano fu l'anconitano Grazioso Benincasa. Nel suo Atlante completato a Venezia nel 1466 appare per la prima volta, tra «porto pisae» e «monte nigro» l'approdo di «Ligorna», appartenente a Firenze da più d'un quarantennio (immagine seguente). Il castello, caduto nelle mani dei genovesi, era stato acquistato, infatti, nel 1421 per 100.000 fiorini, e fatto oggetto subito di un piano di rilancio perché diventasse il caposaldo dell'espansione marittima della repubblica di Firenze. L'insediamento, devastato a più riprese da eventi bellici, fu ricostruito e dotato di nuove infrastrutture, tra cui l'imponente «Torre nuova», in seguito detta del Marzocco. La bianca mole della torre, disegnata da Leon Battista Alberti con la sua caratteristica sezione ottagonale, si staglia ancora oggi sul profilo della costa, e sin dalla sua prima apparizione rese evidente a tutti che il cuore della vita marittima si stava spostando dall'antico porto pisano, divenuto in gran parte impraticabile a causa dei depositi fluviali. Con la sua torre, Livorno si conquistò un'identità propria, ma trascorrerà ancora del tempo, e ci vorrà tutta la volontà progettuale e tutte le grandi risorse di casa Medici perché attorno a quell'approdo potesse sorgere una vera città portuale.
Grazioso Benincasa, Atlante Nautico, Venezia 1466. (Bibliothèque Nationale de France).
Il porto del Duca
Sulle carte nautiche cinquecentesche «Ligorna» o «Liorna» è ormai un riferimento stabile, tracciato con inchiostro rosso a rimarcarne l'importanza. Cosimo, Francesco, e soprattutto Ferdinando de' Medici si sono prodigati per ampliare il porto, dotarlo delle infrastrutture necessarie, difensive e commerciali, e per incentivarne il popolamento. Truppe di forzati, di schiavi turchi e di lavoratori salariati sono stati messi all'opera per gettare le fondamenta dei moli e degli edifici. Il commercio non tarda ad animarsi, specialmente dopo il completamento nel 1573 del Canale dei Navicelli, una via d'acqua che mette in comunicazione diretta il porto di Livorno con la città di Pisa. Ma è sulla fine del decennio seguente che i lavori prendono maggior lena. La costruzione dei moli prosegue, si avviano i cantieri del Lazzaretto di S. Rocco, ultimato nel 1598. E nel 1591, impiegando giorno e notte 5.000 operai, è scavata in tempi da record la darsena interna (immagine seguente), presso la quale sorgeranno l'Arsenale delle galere dell'Ordine di S. Stefano, e il Bagno degli schiavi per ricoverare le ciurme dei vogatori. Nel 1594 iniziano i lavori della cattedrale, e poi del Palazzo del governatore, dell'acquedotto, delle case e dei magazzini. Il traffico portuale, in lenta ma costante crescita, finalmente registra un deciso balzo in avanti negli anni novanta. Una carestia più grave del solito, che afflisse tutta l'area mediterranea, rese necessarie massicce importazioni di grano dall'area baltica. Fu così che si venne a stabilire un rapporto collaborazione, destinato a durare nel tempo, tra il porto toscano e le marinerie nordiche: l'olandese, l'amburghese, l'inglese.
Jacques Callot. Ferdinando I fortifica il porto di Livorno (1616-1620).
La connessione al Mondo
Tra le molte carte nautiche che segnalano la presenza dello scalo e il suo inserimento nella rete del traffico globale, almeno un paio vale la pena di ricordarle. La prima è la carta che Vinzio di Demetrio Volzio, un pilota raguseo, «fecit in Terra Li Burni Mensis Februari 1598». Negli anni del decollo del porto franco il contributo degli uomini di mare ragusei e greci fu fondamentale; ed è proprio uno di questi marinai che disegna il primo portolano "livornese". Nonostante la forma latinizzante esibita nel colophon, il toponimo sulla carta è finalmente l'attuale: Livorno. Orientata sull'asse Est-Ovest, in riconoscimento della centralità del Santo Sepolcro di Gerusalemme, la carta di Volzio è sormontata da un Cristo Pantocratore, per riprova del retaggio greco-bizantino (immagine seguente).
Vinzio di Demetrio Volzio, Carta nautica, Livorno 1598. (Bibliothèque Nationale de France).
L'altra carta, invece, è il Kitab-ï Bahriyye, un magnifico portolano disegnato da Piri Reis, ammiraglio della flotta ottomana, e offerto in dono nel 1523 al Gran Signore Solimano il Magnifico (immagine seguente). In una versione più aggiornata di fine '600, conservata a Baltimora, il porto e la città di Livorno sono persino sinteticamente raffigurate. Si vedono le fortificazioni, da cui spunta una specie di minareto, tutto di fantasia, mentre sul fronte del porto distinguiamo la darsena, il molo Ferdinando (ultimato da Cosimo II nel 1621), il Marzocco e il Fanale. Piri segnala le secche della Meloria, i bassifondi a S. Piero, e indica persino il canale che permette alle barche di minor pescaggio di passare lungo costa senza allargare oltre la Meloria (immagine successiva).
Piri Reis, Kitab-ï Bahriyye, 1523. (Bibliothèque Nationale de France).
Piri Reis, Kitab-ï Bahriyye, XVII sec. (The Walter Art Museum, Baltimore).
Sono gli anni nei quali un po' tutto il mondo comincia a fare scalo nel porto del granduca di Toscana, sul mar Tirreno, o come lo chiamano gli ottomani, sul «Doucha Denghizi», il mare del Duca. Dopo le carte di Volzio, e di Piri Reis, appare a stampa ad Amsterdam la Description de la mer Méditerranée del pilota olandese Guillaume Bernard. Nelle avvertenze al lettore Bernard spiega che un simile trattato teorico-pratico, corredato da carte e disegni, era uno strumento di cui si sentiva il bisogno da tempo. «La navigazione del mar Mediterraneo – scrive Bernard – è diventata abituale da qualche anno a questa parte, e noialtri olandesi la pratichiamo ogni giorno di più, con gran vantaggio di tutti mercanti», ma siccome nessuno sino ad allora aveva reso disponibile una guida al navigante, «diversi dei miei migliori amici» mi chiesero – dice Bernard – di renderli partecipi delle mie esperienze. La Description è un magnifico volume in folio, che passa in rassegna ogni angolo del Mediterraneo, compreso Livorno, dove la grandi navi granarie degli olandesi sono ormai una presenza costante. C'è stata un'intrusione nel Mare Nostrum. È la famosa «invasione dei nordici», come la definì Braudel, un avvenimento di grande portata nella storia del Mediterraneo, che avrebbe condotto a una più stretta integrazione delle economie del Nord e del Sud Europa. Ad esserne protagonisti furono gli uomini dell'Atlantico, marinai come Bernard, che avendo aperto la strada, adesso spiegano a tutti gli altri che verranno quel che devono fare.
L'ambiente naturale: la Meloria, la rada, il Libeccio
Quando si vuole andare a Livorno, dice Bernard, bisogna intanto individuare la Gorgona, che è un'Isola tonda a poche miglia dal porto. Da lì si mette la barra a Est-Nord-Est, ma… attenzione alla Meloria! Bisogna passare a Sud delle sue secche. Se lo scandaglio segna 12 braccia, allora vuol dire che siamo abbastanza lontani dal pericolo. Evitata la Meloria, si può tirare dritti fino all'imboccatura del porto; e giunti in prossimità della città, quando lo scandaglio pesca 5-6 braccia, si piega un po' verso Nord, e si può gettare l'ancora vicino alle «quattro torri antiche», le cosiddette Torracce, «tutte circondate dal mare». Quella è la grande rada, la Leghorn Road, come la chiamano gli inglesi; ed è buon tenidor e buon sorgidor, vale a dire che il fondo è tutta rena soda e scogli, perciò le ancore vi fanno presa con facilità, ma poi si sferrano senza troppa fatica. Come si vede dalla carta di Bernard, la rada è delimitata a Nord e ad Ovest dalla grande secca sabbiosa che si estende da Bocca d'Arno fino alla scogliera oblunga della Meloria, così da offrire un riparo da ogni lato, fatta eccezione per i «venti di Sud e di Sud Ovest, che sono i più pericolosi». La traversia è a Scirocco e Libeccio, ma il rischio è tutto sommato limitato, perché nel malaugurato caso che le ancore non dovessero tenere, o si spezzassero le gomene, si è tutt'al più spinti verso il Marzocco, dove la nave s'impantana su un basso fondo tutto coperto dalle alghe (immagine seguente).
Guillaume Bernard, Description de la mer Méditerranée, Amsterdam, Nicolas, 1607.
L'intera costa è particolarmente esposta al vento di Libeccio, basta osservare gli alberi per rendersene conto: «dalla parte del mare – scriverà Büsching, un geografo tedesco – sono tutti senza foglie, mentre i rami sono curvati e ripiegati verso terra». Qualche volta il Libeccio fa davvero paura. Poté farne esperienza il grande naturalista Buffon, che nel dicembre 1731 si recò sugli spalti della città. Si levò una tale tempesta di vento che alcuni vascelli alla fonda persero l'ancoraggio, e per trarsi d'impiccio furono costretti ad abbattere l'albero di maestra. Le onde si alzavano al di sopra delle fortificazioni, e Buffon che vi era andato per assistere da vicino allo scatenamento delle forze della natura, se ne tornò a casa tutto infradiciato dalla testa ai piedi. L'innalzamento del livello del mare dovuto al Libeccio è detto Empifondo, e si distingue dal normale flusso delle maree, che si dice invece Empifondo della Luna. Il Libeccio è fastidioso ai naviganti, anche quando non spira con forza. Col Libeccio, infatti, si forma una foschia umida, di minute particelle d'acqua, detta lo Spolverino, che riduce la visibilità al punto che molte volte, venendo dal mare, non è possibile distinguere Montenero, o il Fanale, «allora – consiglia Targioni Tozzetti – conviene trattenersi alla Corsica, e partendo il giorno dopo all'alba, si è sicuri d'entrare a vele gonfie in Livorno circ'al mezzogiorno».
Per prendere la giusta direzione bisogna saper riconoscere il profilo della costa. «Venendo dalla Gorgona – dice Bernard – vedrete una montagna, giusto ad Est; è lunghetta e terrosa, ma la parte Meridionale è un poco più alta della Settentrionale. Livorno si trova in corrispondenza della parte Nord di questa montagna, il cui nome è Monte Negro». Il territorio a settentrione della città invece è così basso che da lontano non si riesce neppure a scorgere, mentre ancora più a Nord si stagliano delle montagne più alte che incombono su «Spetia & Via Regio». Un tempo i piloti olandesi che facevano il viaggio di Livorno, non sapendo riconoscere la costa, si smarrivano: andavano a cercare il porto a Sud di Montenero. Tutta colpa di Lucas Jansz Waghenaer, un altro cartografo olandese, che aveva messo in giro delle mappe sbagliate (immagine seguente).
Guillaume Bernard, Description de la mer Méditerranée, Amsterdam, Nicolas, 1607.
In crociera col comandante Michelot
Col tempo gli errori furono corretti, e le descrizioni si fecero più precise. Allora, senza paura di sbagliare strada, imbarchiamoci per Livorno con Henry Michelot, pilota d'altura delle galere di Sua Maestà il Re di Francia, autore ai primi del '700 di un fortunato portolano continuamente ristampato fino all'avvento della navigazione a vapore. Immaginiamo per un attimo di salpare da Porto Venere. Dopo poche miglia ci troveremo a costeggiare un litorale basso e sabbioso. Superato Viareggio, scalo della repubblica di Lucca, lo scandaglio segnala numerosi bassifondi, il più esteso dei quali inizia a Sud della foce dell'Arno, proprio davanti alla chiesa di S. Piero, e si spinge in mare per «circa 9 o 10 miglia»: «non ci sono che 5 o 6 braccia d'acqua – scrive Michelot –, e alla sua estremità c'è un altro banco di sabbia con appena 2 braccia di fondo». Per evitarlo bisogna passarvi «né troppo vicino, né troppo al largo… ma governare puntando sulla punta del molo». Mancano 6 miglia al porto quando incontriamo le secche della Meloria, fatali a Pisa; dopo averle aggirate siamo già nella grande rada di Livorno.
Arrivando invece da Sud-ovest ci imbattiamo, come si sa, nella Gorgona, «una grossa isola molto alta, che pare quasi tonda». Livorno dista 30 miglia e ancora non si scorge, «tanto è bassa»; si vede «solamente la montagna di Montenero, che è due leghe discosta». Iniziamo ad intravvedere il porto a 12-15 miglia. Le navi che vi sono dirette «passano a Sud la Meloria… e vanno a dare fondo ad una mezza lega ad Ovest, Nord-Ovest del molo, nella grande rada. Ci sono 7, 8, fino a 10 braccia di fondo, non c'è ridosso che dai venti di terra, ma siccome questa rada è quasi tutta circondata da banchi di sabbia, da Sud-Ovest, Ovest fino al Nord-Est, e siccome gli scogli della Meloria la coprono, tutto questo insieme impedisce al mare di dare troppo incomodo, e rende buona la rada» (immagine seguente).
Jacques Ayrouard, Plan du port et rade de Livourne, 1700 circa (dettaglio). (Bibliothèque Nationale de France).
Livorno – dice Michelot – «appartiene al Granduca di Toscana, è posta sul bordo del mare su una piana. È molto ben munita, circondata da fossi e rivestita da bastioni. Ci sono diverse fortificazioni nei dintorni, e vi si fa un gran commercio da ogni sorta di nazioni straniere». Entrando in rada si vedono due torri circondate dal mare, «la più alta è bianca e si chiama il Marzocco; bisogna tenersene lontani, perché tutt'attorno ci sono scogli a pelo dell'acqua». L'altra torre è verso Sud, a «4 o 5 tese». È il Fanale. Sulla cima c'è «una lanterna che si accende la sera per segnale». Anche nei suoi paraggi bisogna essere prudenti, e passare a largo per evitare le rocce affioranti. Tra il Marzocco e il Fanale c'è finalmente l'entrata del molo, proteso verso Nord. Sulla punta «ci sono due batterie di cannone l'una sull'altra, piuttosto notevoli». Occorre accostare di molto, stringendo il più possibile a dritta, se non si vuol finire su una secca rocciosa nel bel mezzo dell'imboccatura. Per stare sicuri è bene passare sulla «prua dei vascelli ormeggiati alla punta… poi si da fondo con l'ancora a sinistra, e si gira la poppa al molo tenendo la città a prua. Bisogna ormeggiare a quattro di poppa e di prua, ci sono da 12 a 15 piedi di fondo, e tanto più si è vicini al molo meglio è, perché c'è più fondo» (immagine seguente).
Jacques Ayrouard, Plan du port et rade de Livourne, 1700 circa (dettaglio). (Bibliothèque Nationale de France).
Oltre la rada e il grande molo esterno, Livorno dispone di «due darsene interne» (in realtà è un'unica darsena divisa da un passaggio pedonale), dove sono ormeggiate le galere e i vascelli, ma per raggiungerle è bene ingaggiare «un pilota del posto», che sappia evitare i bassifondi, e gli scogli affioranti, su uno dei quali è stato costruito un «casotto di guardia». Un canale stretto tra le fortificazioni, e chiuso con una catena, divide le acque del molo dalle darsene. È qui che si trova l'ufficio della Bocca.
Mettiamoci in regola
Il Capitano della Bocca è l'ufficiale responsabile del buon ordine nelle acque portuali sotto il profilo sanitario, doganale e politico: spetta a lui impedire qualsiasi violazione della neutralità del porto, e perciò sovrintende l'intero sistema difensivo, formato da sei diverse postazioni d'artiglieria disposte in modo da tenere sotto tiro il più ampio specchio di mare. L'entrata meridionale del porto è sorvegliata da un paio di cannoni, situati al Fanale e alla base del molo, vicino al lazzaretto di S. Rocco, seguono la batteria della punta del molo – la postazione più esterna, che ha il compito di coordinare le operazioni di tiro – poi le artiglierie della Fortezza Vecchia – dodici grandi cannoni di bronzo, fatti fondere da Ferdinando I, chiamati «i dodici apostoli» –, e infine più a Nord ci sono le postazioni del Forte S. Pietro e del Marzocco (immagine seguente).
Pianta della costa del mare della citta di Livorno, 1710 circa. (Bibliothèque Nationale de France).
Non appena dato fondo, i comandanti dei mercantili e delle navi militari devono calare la lancia e raggiungere l'ufficio della Bocca per sbrigare le pratiche sanitarie e doganali. L'ufficio è formato da due padiglioni chiusi da inferriate, posti ai due lati del canale che conduce alla darsena. Da dietro le inferriate gli impiegati comunicano con i nuovi venuti tenendosi a debita distanza, per paura del contagio. Prelevano i documenti di bordo con una lunga canna; e nel caso la nave giunga da destinazioni sospette, li disinfettano al fumo della candela. Quindi si registrano tutte le informazioni che serviranno a stabilire l'eventuale periodo di quarantena, da scontarsi in rada sul ferro, o con più comodo, al lazzaretto. La peste, infatti, è endemica in tutto il Nord Africa e nel Levante, ma Livorno è attrezzatissima per le quarantene, dispone di due lazzaretti: il vecchio lazzaretto di S. Rocco, fatto costruire da Ferdinando I dietro il Fanale nel 1590 (immagine seguente), e il nuovo lazzaretto di S. Jacopo, sorto discosto dalla città nel 1643, dopo la grande peste di manzoniana memoria.
Lazzaretto di S. Rocco (1731), Piante dello Scrittoio delle Fortezze e Fabbriche, 283. (Archivio di Stato di Firenze).
La peste alle porte
La minaccia del contagio è sempre incombente, ma non arresta la frenesia dei commerci. L'abate Coyer, il celebre autore della Noblesse commerçante, ebbe modo di constatare la singolare circostanza di una città «che ha continuamente la peste alle porte. Ma l'uomo, [che a giudizio di Coyer è] poco contento del necessario, sfida ogni pericolo pur di arricchirsi». La verità è che i controlli sanitari erano rigorosissimi, a differenza delle ispezioni doganali, che per non venir meno agli impegni con i mercanti stranieri, erano invece molto superficiali, quasi inesistenti. I mercanti e i marinai, che elogiavano i Medici per aver avuto la saggezza di stabilire il «porto franco», non tolleravano invece la loro ossessione per la salute pubblica e soprattutto le misure di confinamento che erano messe in opera per assicurarla. I più insofferenti erano gli inglesi, per i quali il principio di precauzione era solo una delle tante superstizioni papiste, o forse una sleale machiavelleria per ostacolare i loro commerci.
Di certo, a nessuno faceva piacere di essere relegato al lazzaretto. Quel che più colpì von Archenholz, un militare prussiano che a metà '700 si trovò a passare da Livorno, era che il rigore della Sanità livornese fosse egualitario, e non guardasse in faccia a nessuno: «Nessuno può sperare d'esserne esente. Non si ha riguardi né al rango, né alla parola, e neanche ai segni della più perfetta salute. La quarantena si fa in certi stabilimenti costruiti appositamente non lontani dal porto. La durata può variare di molto, si fissa di solito in ragione delle contrade di provenienza, e dei certificati di sanità» (immagine seguente). Si capisce che dopo una lunga navigazione i marinai andassero in smanie per sbarcare, intanarsi in una bettola a bere, o tuffarsi tra le braccia di una prostituta; a Livorno c'era solo l'imbarazzo della scelta. E perciò è naturale che facessero di tutto per evitare la quarantena. «L'equipaggio di una nave proveniente dal Levante – dice von Archenholz – è in allarme non appena avvista Livorno. Ognuno deve ripulirsi e fare in modo d'avere un bell'aspetto; si distribuiscono i liquori forti per dare un'aria di gaiezza e vivacità; si forzano i malati ad uscire dal letto e a nascondere i loro malanni; e qualche volta, se la loro malattia non può essere dissimulata, sono messi a terra prima che la nave entri in porto». I responsabili di una simile manovra, se scoperti, rischiavano la vita: «su questo punto le leggi del paese sono inflessibili; è anche la branca della polizia che in Italia è maggiormente sentita».
Patente di Sanità marsigliese (1667), Archivio Segreto, 1670. (Archivio di Stato di Genova).
Finalmente andiamo in città
Scontata la nostra quarantena, possiamo finalmente lasciare il lazzaretto e dirigerci alle porte della città, dove ci attende la guardia della Dogana che ha l'incombenza di impedire i contrabbandi di tabacco, acquavite e altri generi soggetti al monopolio. Superato l'ultimo controllo, siamo finalmente a Livorno, una «petite ville toute neuve, jolie à mettre dans la tabatière», come la definì nel suo diario di viaggio Charles de Brosses, il presidente del Parlamento di Digione. La prima constatazione di tutti i viaggiatori è che questo gioiellino di città è straordinariamente pulito rispetto agli standard del tempo, le strade sono tutte ben lastricate, perciò non ci si inzacchera nel fango e non ci sono troppe immondizie in giro. La ragione è che il sistema dei trasporti urbani è costituito da vie d'acqua, i cosiddetti fossi che circondano e attraversano la città. Dietro la Fortezza Vecchia, fatta costruire da Alessandro, il primo Duca di Firenze, la darsena interna è collegata ad una rete di canali che s'inoltrano nel quartiere mercantile della Venezia Nuova, raggiungono l'altro imponente presidio militare, la Fortezza Nuova ultimata nel 1609, e poi girano tutt'attorno costeggiando le mura fino a ricongiungersi al mare sul retro del lazzaretto di S. Rocco (immagine seguente). È tutto un andirivieni di navicelli che conducono le merci nei magazzini ricavati dalle fondamenta degli edifici affacciati sui fossi. Ecco perché la città è pulita. È vero che tanti magazzini sono nella parte meridionale della città, dove non arriva il navicello, ma a Livorno non c'è bisogno di usare carretti e animali da soma. Per la città non girano molti cavalli, asini e altri animali che disseminano le loro sporcizie. Per i lavori di fatica c'è una tale abbondanza di schiavi!
Jacques-Nicolas Bellin, Plan de la ville de Livourne, 1740 circa. (Bibliothèque Nationale de France).
Lo si capisce non appena si giunge sulla spianata della darsena. Lì, a poca distanza dal grande Bagno degli Schiavi, il reclusorio delle ciurme, c'è il monumento al fondatore, Ferdinando I, che per l'occasione veste la corazza di Gran Maestro dell'Ordine militare di S. Stefano, mentre ai suoi piedi, come nei più classici trionfi degli antichi Imperatori romani, sono aggiogati quattro schiavi mori in bronzo, di bella fattura, opera del maestro Pietro Tacca.
Che strana gente! O forse no?
Dopo aver ben compreso su quali rapporti di potere sia sorto il "gioiellino", e chi sia stato il vero costruttore della città, il viaggiatore può iniziare la sua passeggiata per la via principale, che manco a dirlo, si chiama via Ferdinanda. E qui è colto da spaesamento. «Dire da quale nazione la città sia abitata non è semplice – è ancora De Brosses a parlare –; si fa prima a dire che è abitata da tutte le più diverse nazioni d'Europa e d'Asia, tanto che le strade sembrano una vera fiera di maschere, e la lingua quella della torre di Babele».
Nei primi secoli della sua storia la città di Livorno registrò uno sviluppo demografico impetuoso, in controtendenza col resto della Toscana. Dalle 3.000 anime del 1601 si passò alle 12.000 di metà del secolo, per giungere a 50.000 sul finire del '700. Sebbene Curzio Malaparte amasse decantare la fecondità fuori dal comune delle livornesi (le belle livornesi, fanno un figlio ogni tre mesi), è chiaro che una crescita così esplosiva fu dovuta principalmente all'immigrazione, che i Medici incentivarono in tutti i modi, accordando favori, immunità e privilegi a chiunque decidesse di stabilirsi in città; e senza preoccuparsi di sfidare i fanatismi del tempo, perché l'invito fu rivolto a tutti coloro che avessero modo di mettere su famiglia, qualunque fosse la loro origine, cultura e religione, anche alle minoranze perseguitate. Anzi, soprattutto alle minoranze perseguitate, come gli ebrei sefarditi cacciati dalle corone Iberiche, che sotto la protezione medicea poterono rifarsi una vita e formarono una comunità che fu seconda per importanza solo a quella di Amsterdam. I primi bandi popolazionisti furono una felice intuizione di Cosimo I, ma fu il figlio Ferdinando che con le sue celebri leggi livornine del 1591-93 riuscì a innescare il circolo virtuoso che in breve tempo avrebbe permesso alla città di crescere e prosperare.
Di conseguenza la popolazione ha nel complesso un carattere multiculturale. Livorno è la cosiddetta città delle Nazioni perché gli immigrati approdati in città si riuniscono subito a seconda della loro provenienza in organizzazioni di carattere corporativo, e così abbiamo la nazione ebrea, la Naçao, la più numerosa e meglio organizzata, la nazione inglese, formata per lo più dai mercanti della British Factory, la nazione olandese-alemanna, la francese, i greci uniti e gli scismatici, gli armeni, i siriano maroniti e poi naturalmente tanti italiani da ogni angolo dello Stivale. Ecco il perché dello spaesamento di Charles De Brosses. Ma com'era possibile quel miscuglio di popoli tanto diversi, mentre tutt'attorno fiammeggiavano gli odi delle guerre di religione? Secondo Jerome de La Lande, un altro viaggiatore, forse un po' troppo ottimista, i livornesi godevano «d'una perfetta libertà di coscienza», e la città poteva rivendicare a buon diritto di essere «la patria dell'Universo». Sì, perché Livorno diventa subito patria di tutti coloro che ci arrivano. Lo spaesamento per la «fiera di maschere», grazie al sistema delle nazioni, è subito riequilibrato da un senso di familiarità e di casa. Non c'è dubbio: Livorno diede una seconda possibilità a tutti gli immigrati. Per gli ebrei della diaspora fu una «piccola Gerusalemme», per gli inglesi «una piccola epitome d'Inghilterra», e anche De Brosses, dopo essersi confuso tra le maschere, si sentì molto meno spaesato quando si rese conto che a Livorno «la lingua francese è la volgare, o almeno è così comune che può passar per tale».
Non ha importanza da dove si arrivi, è così un po' per tutti. Prendiamo un altro viaggiatore, Hanna Dyâb, un giovane siriano maronita di Aleppo che giunse a Livorno nel 1709 al seguito del suo padrone Paul Lucas dopo un lungo viaggio nei paesi del Levante. Ad Hanna siamo tutti debitori di molti dei più bei racconti delle Mille e una notte, a cominciare dalla Lampada di Aladino; fu lui che li avrebbe fatti conoscere all'orientalista Antoine Galland… Hanna, dicevo, proprio come De Brosses, alla prima passeggiata rimase sconcertato. «Era la prima città che visitavo in un paese cristiano», e fui «stupefatto – dice – da ciò che non avevo mai visto in precedenza». «Vidi delle donne nelle botteghe, che vendevano e acquistavano come se fossero uomini. Se ne andavano a spasso per la via a viso scoperto, senza velo! Ebbi l'impressione di sognare».
Ma esattamente come per De Brosses, dopo lo stupore c'è la consolazione della familiarità. «A un certo punto – continua il racconto – mentre passavo per una via sentii chiamarmi in lingua araba. Mi voltai e vidi un uomo sulla soglia di un Caffè. Mi avvicinai…
– Benvenuto al figlio del mio paese – esclama l'uomo – Entra, dai! Che ti faccio respirare
l'odore del mio paese!
– E chi sei tu fratello? Da quale paese vieni?
– Eh, io sono aleppino, della nazione dei maroniti».
Ecco perché Livorno era straordinario. Il più antico porto franco del Mediterraneo, il grande emporio dove affluivano le merci da ogni angolo della terra, ma soprattutto, al di là del porto, lasciato alle spalle il lazzaretto, c'era la «patria dell'Universo». Una città che stupiva il viaggiatore e l'esule, ma poi lo guariva dalla nostalgia, gli faceva dimenticare di essere lontano da casa, perché al suo interno racchiudeva tantissime patrie, ed era come un disorientante caleidoscopio di appartenenze diverse, dove ciascuno non stentava a ritrovare la propria.
Riferimenti
Archenholz, Joahnn Wilhelm, von, Tableau de l'Italie, Bruxelles, Le Francq, 1788.
Belly, Mémoires sur l'Etat du Commerce et des Manufactures en Italie, in Nouvelles Éphémérides Économiques, Paris, Lacombe, tom. VII, 1775.
Bernard Guillaume, Description de la mer Méditerranée, Amsterdam, Nicolas, 1607.
Buffon, George Louis Leclerc, Histoire Naturelle, Amsterdam, Schneider, tom. I, 1766.
Büsching, Anton Friedrich, Géographie Universelle, Strasbourg, Bauer & Treuttel, tom. II, 1778
Coyer, Gabriel François, Voyages d'Italie et d'Hollande, Paris, Duchesne, tom. I, 1775.
De Brosses, Charles, Lettres familières écrites d'Italie en 1739 et 1740, Paris, Didier, tom. I, 1858.
Dyâb, Hanna, D'Alep à Paris. Les pérégrinations d'un Jeune syrien au temps de Louis XIV, a cura di P. Fahmé-Thiéry, B. Heyberger e J. Lentin, Sindbad, Actes Sud, 2015
Labat, Jean-Baptiste, Voyages du P. Labat en Espagne et Italie, Paris, Delespine, tom. II, 1730.
La Lande, Jerome, de, Voyage en Italie, Paris, Desaint, 1786
Michelot, Henri, Le Portulan de partie de la Mer Méditerranée, ou le vray Guide des Pilotes Costiers, Marseille, Mesnier, 1703.
Targioni Tozzetti, Giovanni, Relazioni d'alcuni viaggi fatti in diverse parti della Toscana, Firenze, Cambiagi, tom. II, 1768.
---
Head image: Giuseppe Bardi, Veduta della città e porto di Livorno (1790-1800). (The British Library).
Article reference for citation:
EN ADDOBBATI Andrea,
Journeys by sea to the "Homeland of the Universe". The Port of Livorno on nautical charts, in portolans and in travel journals
PORTUS: the online magazine of RETE, n.40, October 2020, Year XX, Venice, RETE Publisher, ISSN 2282-5789, URL:
http://portusonline.org/en/journeys-by-sea-to-the-homeland-of-the-universe-the-port-of-livorno-on-nautical-charts-in-portolans-and-in-travel-journals/
IT ADDOBBATI Andrea,
Giungere per mare alla "patria dell'Universo". Il porto di Livorno sulle carte nautiche, i portolani e i diari di viaggio
PORTUS: the online magazine of RETE, n.40, October 2020, Year XX, Venice, RETE Publisher, ISSN 2282-5789, URL:
http://portusonline.org/it/journeys-by-sea-to-the-homeland-of-the-universe-the-port-of-livorno-on-nautical-charts-in-portolans-and-in-travel-journals/
---