13 Ottobre, 2020
Interview with Giuseppe Tarzia, Admiral Harbour Master of Coast Guard of Livorno
Dania Cordaz – Admiral Tarzia, for a Port City like Livorno, in your opinion, how important is it to strengthen the relationship between the city and the port (administration and port institutions and maritime clusters)?
Giuseppe Tarzia – It's essential. Starting from the very concept of maritime economy, which can only be understood in a global and globalised way, even at the local level, the phenomenon of shipping cannot remain localised, confined to the restricted physical and economic spaces of the port area, but must necessarily go further. And this is achieved, first of all, by implementing a mechanism based on a "circular relationship" of three key elements: the ship, obviously the commercial vector and the first link in the development chain; the port, meaning the set of administrative, technical, commercial and logistical operations deriving from and strictly connected to the ship vector and which make up the "maritime cluster", flanked by the bodies vested with governance and port surveillance powers, and lastly, the third element, the city, defined as that physical, anthropic and administrative space which – as in the case of Livorno – has developed around the port and has always been intimately connected with it.
Three key elements, Ship-Port-City, which must move in harmony with each other, each fully compatible, integrable and interoperable with the others, in either direction. A unique system, therefore, that must develop by means of the triangulation of these three elements.
Dania Cordaz – To what extent is an improvement in this relationship able to affect the future development of the city-port system and its vision, and why?
Giuseppe Tarzia – As I said, it is a triangulation mechanism, which must move in a synchronous and punctual way, and in which everyone must exercise their skills and deploy their resources within an overall strategic vision, oriented towards the economic growth and development of the whole system. The economy produced and induced by maritime transport has been growing steadily for decades. In a globalised and interconnected world from an economic and trading point of view, where 90% of global goods and about 80% of the value of the goods traded worldwide travel by sea, you must be attractive and avoid being cut off from the main maritime routes. Narrowing the field a little, the numbers I was quoting now, which transform into plausible economies, have led to fierce competition between the ports of the Mediterranean to corner profitable shares of the market.
Livorno, a seaside resort and a port city by way of its history, traditions and culture, cannot let slip the opportunity to continue to be a major port of call, with all the benefits that this brings.
In the pursuit of this, everyone is called to do their part, each at their own level. From the strategic level, which begins in the planning phase by means of general, port and urban planning instruments, to the implementation of adequate and modern infrastructures, the creation of intermodal connection corridors, the supply of secure, efficient and tariff-competitive marine and quayside technical services and an equally efficient and integrated system of port and port-related logistics. These and many other detailed aspects (I am thinking, for example, of the digitisation of the entire ship-port supply chain) are what make a port attractive and make it a driving force for development and employment and economic growth, which release direct and beneficial effects into the port area and immediately thereafter to the city beyond and, in an increasingly indirect form, to the entire hinterland that revolves around every major port of call.

The Harbourmaster – Maritime Directorate of Livorno, Coast Guard. (© Guardia Costiera, Direzione Marittima Livorno).
Dania Cordaz – The Port Authority entered into the January 2020, Livorno Blue Agreement with the Municipality of Livorno and number of shipping groups. The purpose of this voluntary agreement is to alleviate levels of pollution from shipping in the city. What, if any, are the original elements and features of this initiative in which the key players are the Ro/Ro shipping companies (CIN, Forship, Grimaldi, Moby and Toremar), the Municipal Administration and the Port Authority?
Giuseppe Tarzia – Going back to the ship-port-city circular relationship I was highlighting before, this mutual connection must primarily emphasise "environmental compatibility", in which shipping is viewed as an essential link in the chain, creating the logistic development I mentioned earlier and facilitating sustainable growth in the surrounding area, and not as a harmful influence. The "Livorno Blue Agreement", signed on 20 December last year, fits into this context. Starting from the assumptions I've just mentioned, this agreement aims to consolidate that link between ship, port and city and formalise the commitment by the shipping companies to implement a series of "best practices", such as those aimed at tackling pollution, the immediate result of which is a reduction in smoke emissions from ships when they're in port. In a previous assignment I was involved in an agreement of this type and the format has already been tested in other ports. The results of those experiments have been very encouraging and lead to the proposal for a similar agreement for the port of Livorno. I must say that we found great alliance not only at an institutional level but also from the shipping companies, each of which has demonstrated great awareness of the issues facing us.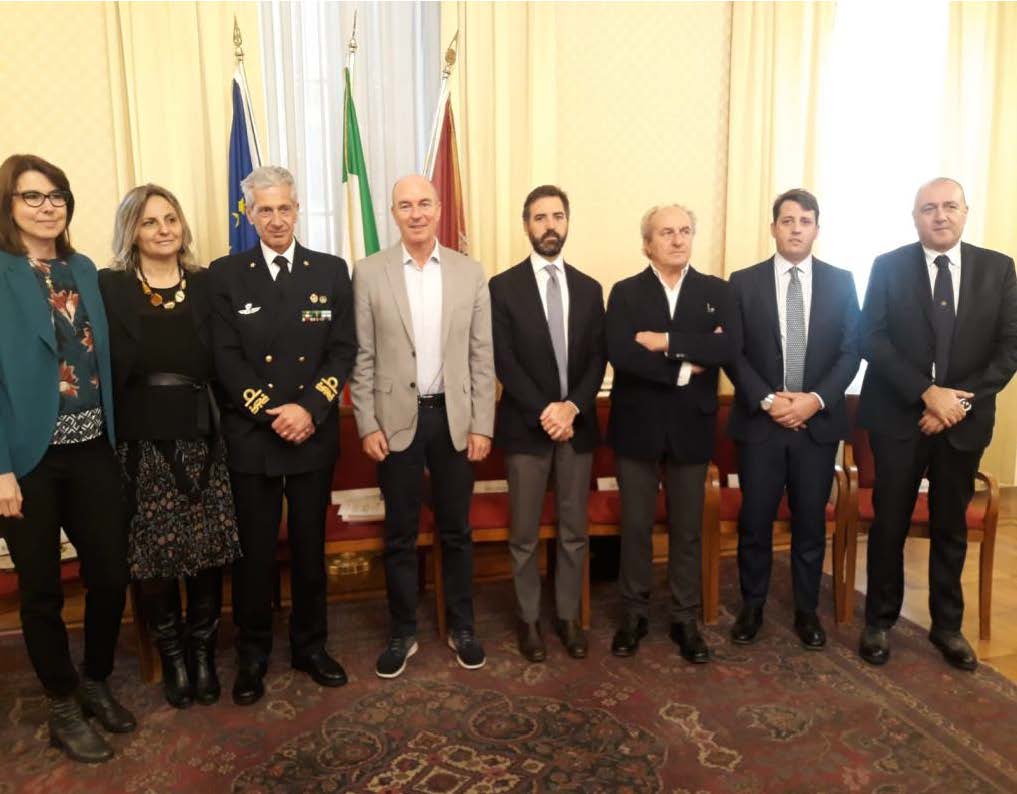 Livorno Blue Agreement. The Municipality of Livorno together with the Port Captaincy and the main ro/ro and passenger Shipping Companies in the Port of Livorno.
Dania Cordaz – What is the importance of this voluntary agreement and what actions, in your opinion, can be undertaken in the future in the port to improve environmental sustainability and to mitigate the impact that shipping has on the city in terms of environmental pollution?
Giuseppe Tarzia – The "Livorno Blue Agreement" is an important feature of the path towards environmental sustainability that is as participatory and shared as possible and involves all stakeholders. Every legal entity, public and/or private body, as well as every single individual, is therefore called to work for this goal, beginning with those on the ground, ships and shipping companies, which, as I said, have shown a high degree of sensitivity to environmental issues. Similarly, those who are responsible for managing the port context and the urban context behind should all work to make sure that the city-port-ship system moves towards ever greater forms of integration. In this sense, port and urban planning should involve constant dialogue and connection so that solutions with the least environmental impact and inconvenience for citizens, and which promote integrated logistics, can be sought; mitigation measures, such as urban green spaces, that absorb the effects, however impacting, of the port area are also an important part of planning.
These are general considerations whereas, giving a more specific answer your question, it's clear that, for the port of Livorno, the implementation of measures, such as the installation of shoreside electrical power supply to ships at berth (so-called cold ironing) or creating capacity for berthing and refuelling LNG-powered ships – to name but two – are aspects that can no longer be delayed and not only from an environmental point of view. These facilities are already available in many foreign ports, making them increasingly attractive, to the detriment of Italian ports, including Livorno.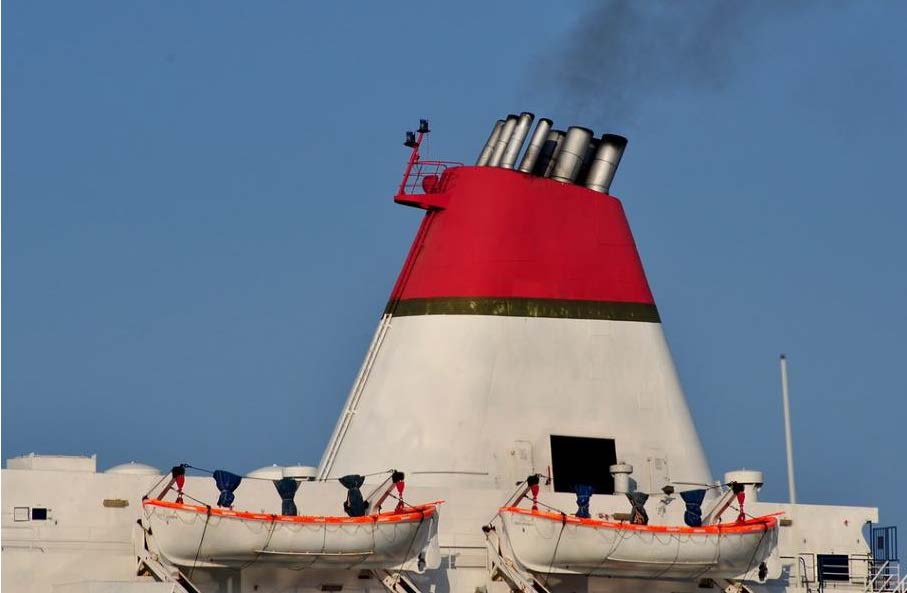 Ferry arriving in the port of Livorno.
Dania Cordaz – What are the greatest obstacles to sustainable development facing Livorno as a port?
Giuseppe Tarzia – The port of Livorno is part of the urban setting, a typical example of a city-port. This obviously poses a fundamental problem, namely the difficulty in finding locations out of the urban area so that the impact from shipping is reduced. The only way of making more space for the port of Livorno is towards the sea. This means that new infrastructure will be necessary to distance, but not disconnect, the port area from the city. At the same time, the innovations I mentioned before, and which are already concrete realities in ports such as those in northern Europe, should be implemented post-haste: cold ironing, which enables ships at berth to switch off engines that would otherwise produce polluting emissions, and capacity for using and refuelling LNG in the port area, so that ships powered by LNG, emissions from which being much less harmful than those produced by traditional fuels, can be accommodated.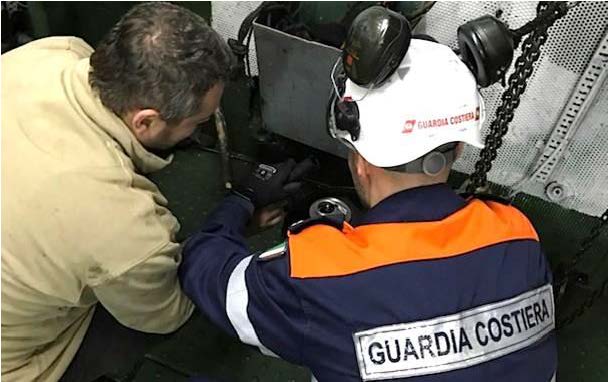 Coast Guard personnel engaged in on board checks. (© Guardia Costiera, Direzione Marittima Livorno).
Dania Cordaz – Are there any initiatives that the Port Authority is carrying out to promote the sustainable development of the Port of Livorno? If so, what are they? Could you describe the major initiatives?
Giuseppe Tarzia – The "Livorno Blue Agreement" I mentioned before is only the latest in a series of commitments we've undertaken for the sustainable development of the Port and the City of Livorno. Regarding those commitments, I want you to be one of the first to hear the about the latest. As you know, the Maritime Authority has the task of protecting and supervising aspects regarding the safety of shipping and manoeuvring and mooring inside the port. Just a few days ago, we concluded simulator testing for the trial berthing in the port of Livorno of a "green" ship belonging to one of our oldest established shipping companies. These ships are equipped with a number of devices to reduce the impact normally associated with traditional vessels and are also fitted with huge, on-board, lithium batteries, which mean that while they are at berth, fuel is not consumed and emissions are not produced.
Once we've overcome the aspects regarding safety, we're confident that we'll be ready to accommodate these green ships in port in a very short space of time.
---
Head image: Aerial view of the Port of Livorno.
---
L'integrazione nave-porto-città e la sostenibilità ambientale
Intervista con Giuseppe Tarzia, Ammiraglio della Capitaneria di Porto di Livorno
Dania Cordaz –Ammiraglio Tarzia, per una città di porto come Livorno, a suo avviso, quanto è importante rafforzare la relazione tra la città e il porto (amministrazione e istituzioni portuali e cluster marittimi)?
Giuseppe Tarzia – È fondamentale. Partendo dal concetto stesso di economia marittima, che non può che intendersi in maniera globale e globalizzata, così anche a livello locale il fenomeno dello shipping non può rimanere localizzato, confinato nei ristretti spazi, fisici ed economici, dell'ambito portuale, ma deve necessariamente andare oltre. E ciò si realizza, anzitutto, mettendo in opera un meccanismo fondato su un "nesso circolare" di tre elementi cardine: la nave, intesa ovviamente come vettore commerciale e primo anello della catena di sviluppo; il porto inteso come l'insieme delle operazioni amministrative, tecniche, commerciali e logistiche derivanti e strettamente connesse al vettore nave, andando a comporre il "cluster marittimo" a cui si affiancano gli Enti investiti di poteri di governance e vigilanza portuale ed infine il terzo elemento; la città, da intendersi come quello spazio fisico, antropico ed amministrativo che – come nel caso di Livorno – si è sviluppato intorno al porto e con esso è sempre stato intimamente connesso.
Tre elementi cardine, nave-porto-città, che devono muoversi in sintonia tra loro, ognuno deve essere pienamente compatibile, integrabile, interoperabile con gli altri, in entrambe le direzioni. Un sistema unico dunque che deve svilupparsi attraverso la triangolazione di questi tre elementi.
Dania Cordaz – Quanto il miglioramento di questa relazione è in grado di incidere sul futuro sviluppo del sistema città-porto e della sua visione, e perché?
Giuseppe Tarzia – Si tratta come dicevo di un meccanismo di triangolazione, che deve muoversi in maniera sincrona e puntuale, ed in cui ognuno deve esercitare le proprie competenze e mettere in campo le proprie risorse nell'ambito di una visione strategica complessiva, orientata alla crescita economica e allo sviluppo dell'intero sistema. L'economia prodotta ed indotta dal trasporto marittimo è in costante crescita da decenni. In un mondo globalizzato ed interconnesso dal punto di vista economico e degli scambi commerciali, in cui il 90 % delle merci mondiali e circa l'80% del valore delle merci scambiate a livello mondiale viaggia per mare, è necessario essere attrattivi e non rischiare di essere esclusi dalle principali direttrici marittime. Stringendo un poco il campo, proprio i numeri che citavo adesso, che si tramutano in immaginabili economie, hanno condotto ad una competizione serrata tra i porti del Mediterraneo per conquistare redditizie fette di mercato.
Livorno, città di mare e di porto per storia, tradizione e cultura, non può lasciarsi sfuggire l'opportunità di continuare ad essere uno scalo marittimo importante, con tutti i benefici che ciò significa.
In questo percorso ognuno è chiamato a fare la propria parte, ognuno al proprio livello. Da quello strategico che passa dalla fase di pianificazione, attraverso gli strumenti di programmazione generale, portuale ed urbanistico, all'attuazione e messa in opera di infrastrutture adeguate e moderne, alla realizzazione di corridoi di connessione intermodali, all'offerta di servizi tecnico nautici e di banchina sicuri, efficienti e competitivi anche negli aspetti tariffari, un sistema di logistica, portuale e retroportuale altrettanto efficiente ed integrato. Questi e molti altri aspetti di dettaglio (penso ad esempio alla digitalizzazione della intera filiera nave-porto) sono ciò che rendono il porto attrattivo, facendone un volano di sviluppo e di crescita occupazionale ed economica che riversa i suoi effetti benefici ed immediati nell'area portuale, per estendersi subito dopo nella retrostante area cittadina ed in forma via via più mediata all'intero hinterland che ruota intorno ad ogni scalo marittimo importante.
Direzione Marittima di Livorno, Guardia Costiera. (© Guardia Costiera, Direzione Marittima Livorno).
Dania Cordaz – La Capitaneria di Porto ha firmato con il Comune di Livorno e alcuni gruppi armatoriali il Livorno Blue Agreement (gennaio 2020) ovvero un accordo volontario volto a mitigare l'inquinamento urbano derivante dal traffico navale sulla città. Quali sono, se ci sono, gli elementi di originalità e le peculiarità di questa iniziativa che vede protagonisti le compagnie di navigazione traffici ro/ro (CIN, Forship, Grimaldi, Moby e Toremar), l'Amministrazione Comunale e la Capitaneria di Porto?
Giuseppe Tarzia – Mi riallaccio a quanto appena detto per evidenziare che quella interconnessione tra i tre elementi del triangolo – nave, porto, città – deve tradursi in primis in una "compatibilità ambientale", in cui la nave non sia identificato come soggetto di disturbo, ma inquadrata come prima, fondamentale maglia che si lega agli altri due soggetti creando quella catena logistica di sviluppo cui prima facevo cenno, capace di favorire la crescita sostenibile del territorio di riferimento. In quest'ottica si inquadra il "Livorno Blue Agreement" siglato il 20 dicembre dello scorso anno. Un accordo che, partendo dai presupposti che ho appena citato, vuole consolidare appunto quel legame tra nave, porto e città, formalizzando l'impegno da parte delle compagnie di navigazione a mettere in atto una serie di "buone pratiche", che nel caso specifico tendono al risultato immediato di una riduzione della fumosità delle navi quando si trovano negli spazi portuali. Si tratta di un modello di accordo già sperimentato in altri porti e di cui mi ero già occupato in un precedente incarico. I buoni risultati ottenuti da quelle sperimentazioni hanno suggerito di mutuare tale intesa anche per il porto di Livorno, e dobbiamo dire che abbiamo riscontrato subito una grossa collaborazione – ovviamente tra istituzioni – anche da parte delle compagnie di navigazione, ognuna delle quali ha fattivamente dimostrato grande sensibilità ed attenzione ai temi proposti.
Livorno Blue Agreement. Comune di Livorno insieme alla Capitaneria di Porto e alle principali compagnie di navigazione interessate da traffici ro/ro e passeggeri nel porto di Livorno.
Dania Cordaz – Qual'è l'importanza di questo strumento volontario e quali azioni, a suo avviso, si possono sviluppare in futuro in porto per migliorare la sostenibilità ambientale e per mitigare l'impatto che il traffico navale ha sulla città in termini di inquinamento ambientale?
Giuseppe Tarzia – Il "Livorno Blue Agreement" è un aspetto importante del percorso verso una sostenibilità ambientale che sia il più possibile partecipata e condivisa, coinvolgendo tutti gli attori che sono a ciò interessati. Ogni soggetto giuridico, ente pubblico e/o privato, nonché ogni singolo individuo è dunque chiamato ad operare per tale finalità: in primis coloro che operano sul campo, le navi, le compagnie di navigazione, che come dicevo hanno dimostrato un'elevata sensibilità ai temi dell'ambiente. Analogamente anche chi ha responsabilità di gestione del contesto portuale e del contesto urbano retrostante deve agire per la sua parte, affinché il sistema città-porto-nave vada verso sempre maggiori forme di integrazione. In questo senso mi viene in mente l'opportunità di prevedere strumenti di pianificazione portuale ed urbana che si traducano in un dialogo e raccordo costante, al fine di ricercare soluzioni di minore impatto ambientale e di disagio per i cittadini, e favoriscano la logistica integrata; o ancora la pianificazione di misure di mitigazione (con la creazione ad esempio di spazi verdi cittadini) che possano fungere da ammortizzatore degli effetti, comunque impattanti, che l'area portuale induce.
Questo in senso generale; volendo invece scendere nel particolare per rispondere alla sua domanda, è chiaro che per il porto di Livorno l'implementazione di misure come l'elettrificazione delle banchine (cd. cold ironing) o la possibilità di ospitare e rifornire navi alimentate a GNL – solo per fare due esempi – sono aspetti non più ulteriormente rimandabili, anche perché in molti porti esteri ciò è già realtà, rendendoli, anche per tali motivi, sempre più attrattivi, a discapito dei porti del nostro Paese, tra cui Livorno.
Ingresso traghetti nel porto di Livorno.
Dania Cordaz – Quali sono le maggiori criticità che Livorno come porto sperimenta per la promozione di uno sviluppo sostenibile?
Giuseppe Tarzia – Il porto di Livorno, per le sue caratteristiche, è un esempio emblematico di città-porto, ricompreso ed inglobato nel contesto urbano. Questo ovviamente pone un primo limite importante, la difficoltà cioè di reperire altri spazi, lontani dal contesto cittadino, così da ridurre gli effetti dell'impatto dello shipping. L'unica possibilità di conquista di spazi per il porto di Livorno è verso il mare. Occorrono dunque innanzitutto delle moderne opere di infrastrutturazione che, anche per quanto qui stiamo discutendo, possano allontanare (non disconnettere) l'ambito portuale dal contesto cittadino. Al tempo stesso occorrerebbe realizzare in tempi altrettanto rapidi quelle innovazioni cui ho fatto poco fa riferimento e che sono già concrete realtà, ad esempio nei porti del nord Europa: l'elettrificazione delle banchine, che consentirebbe alle navi in sosta di non utilizzare i generatori che producono emissioni inquinanti, la possibilità di utilizzo e rifornimento del GNL in ambito portuale, in modo da favorire lo scalo di navi alimentate con quel combustibile che, come noto, ha emissioni altamente meno nocive rispetto ai carburanti tradizionali.
Personale della Guardia Costiera impegnato in attività di controllo a bordo nave. (© Guardia Costiera, Direzione Marittima Livorno).
Dania Cordaz – Ci sono iniziative che la Capitaneria di Porto sta realizzando per favorire uno sviluppo sostenibile del porto di Livorno? Se si quali ? Mi può illustrare le più significative.
Giuseppe Tarzia – Il "Livorno Blue Agreement" prima citato è solo l'ultimo di una serie di atti che abbiamo portato avanti convintamente, per uno sviluppo sostenibile del porto e della città di Livorno. E in questo senso voglio darle una notizia pressoché in anteprima: come sa all'Autorità marittima è demandato, in primis, il compito di tutelare e vigilare sugli aspetti connessi alla sicurezza della navigazione, anche ovviamente legati alla possibilità di manovra e ormeggio all'interno del porto. Ebbene in questo senso proprio pochi giorni fa si sono concluse, in senso largamente positivo, le prove al simulatore di bordo atte ad ipotizzare lo scalo nel porto di Livorno di navi "green", di una delle compagnie storicamente presenti. Nello specifico queste navi sono dotate di vari apparati che le rendono meno impattanti delle unità tradizionali e in particolare hanno a bordo delle enormi batterie al litio, che gli consentono di non utilizzare combustibili e quindi non produrre emissioni mentre sono ormeggiate.
Superati positivamente gli aspetti di sicurezza siamo confidenti che lo scalo di queste navi possa realizzarsi in tempi davvero brevi.
---
Head image: Veduta aerea del porto di Livorno.
Article reference for citation:
EN TARZIA Giuseppe, CORDAZ Dania,
Ship-port-city integration and environmental sustainability
PORTUS: the online magazine of RETE, n.40, October 2020, Year XX, Venice, RETE Publisher, ISSN 2282-5789, URL:
http://portusonline.biz/en/ship-port-city-integration-and-environmental-sustainability/
IT TARZIA Giuseppe, CORDAZ Dania,
L'integrazione nave-porto-città e la sostenibilità ambientale
PORTUS: the online magazine of RETE, n.40, October 2020, Year XX, Venice, RETE Publisher, ISSN 2282-5789, URL:
http://portusonline.biz/it/ship-port-city-integration-and-environmental-sustainability/
---