21 Giugno, 2016
INTERNATIONAL CONGRESS ON TRANSPORT INFRASTRUCTURE AND SYSTEMS
Emerging technologies to enable the smarter, greener and more efficient movement
of people and goods around the world
Rome, 10th-12th of April 2017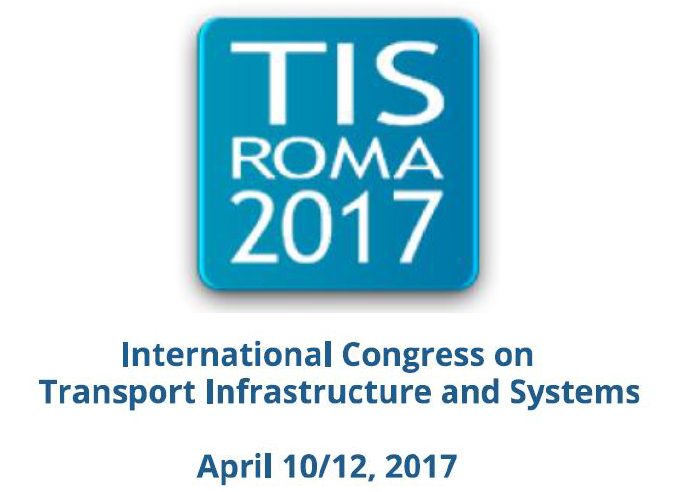 The Italian Association for Traffic and Transport Engineering (AIIT) organizing the "International Congress on Transport Infrastructure and Systems", to be held in Rome on 10-12 April 2017.
The objective of the AIIT International Congress TIS Rome 2017 is to promote transport as a growing industry, and its current significance. The Congress provides a forum for discussion, interactions and exchange among researchers, scientists and engineers whose fields of interest are transport and infrastructure engineering. The congress is organized by the Italian Association for Traffic and Transport Engineering AIIT founded in 1957. The meeting program will cover all transportation modes, with more than 100 presentations in sessions and workshops, addressing topics of interest to policy makers, administrators, practitioners, researchers, and representatives of government, industry, and academic institutions.
The congress program will cover topics and contemporary researches about different transportation modes, including air, road, railway, logistics, maritime and inland waterways.
The complete TIS international Congress program will be posted to the Congress website – www.aiit.it – in February 2017. The congress will host participants from more than 50 countries worldwide, with more than 100 scientific papers. TIS Rome 2017 proceedings will be published by CRC Press/Balkema Taylor & Francis Group. The Publishers will send the Proceedings to Thomson Reuters (Web of Science) and Elsevier (Engineering Village, Scopus) for indexing purposes.
Promoted by:
AIIT, the Italian Association for Traffic and Transport Engineering, was established in Padua in 1957. It is a point of reference and meeting for experts and all people interested in mobility techniques, for both passengers and goods, by all modes: road, rail, air and sea. The main aim is to contribute to the improvement of traffic and transport in terms of safety, fluidity and comfort, having high consideration for environmental values. The seat is in Rome since 1990, but the Association operates through 12 Regional Sections – that organize lectures, conferences, training and refresher courses – and a Study and Research Branch.
---
More information: