24 Novembre, 2019
Todo esto, gracias a la bonanza económica derivada del café y la construcción del majestuoso Muelle de Puerto Colombia, la más importante obra de ingeniería del país, que en su época de esplendor llegó a ser uno de los de mayor longitud en el mundo.
En algunas publicaciones norteamericanas, como la firmada por la prestigiosa periodista kathleen Remoli, podríamos resumir su protagonismo en estos términos:
"If you were to drop a plummet line 2000 miles due south from the Statue of the Liberty, it would strike Barranquilla, gleaming busy sprawling in hot sunlight just east of Panama, where the Río Magdalena empties in to the sea. Barranquilla is the FRONT DOOR TO COLOMBIA, an behind in lie the steaming jungles an snow – topped mountains, the cities and plantations and endless empty llanos, the coffee and oil and gold of a country, more than twice the size of France".
(Si usted dejara caer una plomada en línea recta hacia el sur, de 2000 millas de largo, desde la estatua de la libertad, caería sobre Barranquilla, una ciudad floreciente, activa, caldeado por el sol, precisamente al este de panamá, donde el río magdalena derrama sobre el mar. Barranquilla es la puerta de entrada da Colombia y detrás de ella encuentra usted las selvas y las montañas cubiertas de nieve perpetua, lo mismo que las otras ciudades y plantíos con sus innumerables llanos ricos en café, oro y petróleo; un país con un área que es dos veces el tamaño de Francia) [1].
En todo caso, lo fundamental es reconocer que después de la etapa colonial (donde Cartagena y Santa Marta fueron protagonistas) Barranquilla es la ciudad que asume el liderazgo en el país fundamentando una estructura adecuada para la actividad portuaria.
Para tal fin, fue inaugurado el 1° de junio de 1873 el ferrocarril de Bolívar que unía la ciudad con la Bahía de Sabanilla. Posteriormente el 15 de junio de 1893, con la notable participación del ingeniero cubano Francisco Javier Cisneros, se inaugura el más extenso muelle de América con 4000 pies, solo superado en el mundo por el South End (6650 pies) y el Southport (4405 pies), ambos en Inglaterra.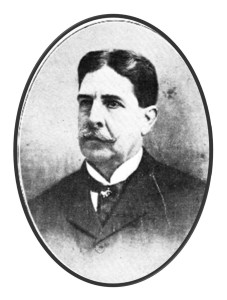 Retrato de Francisco Javier Cisneros (1890).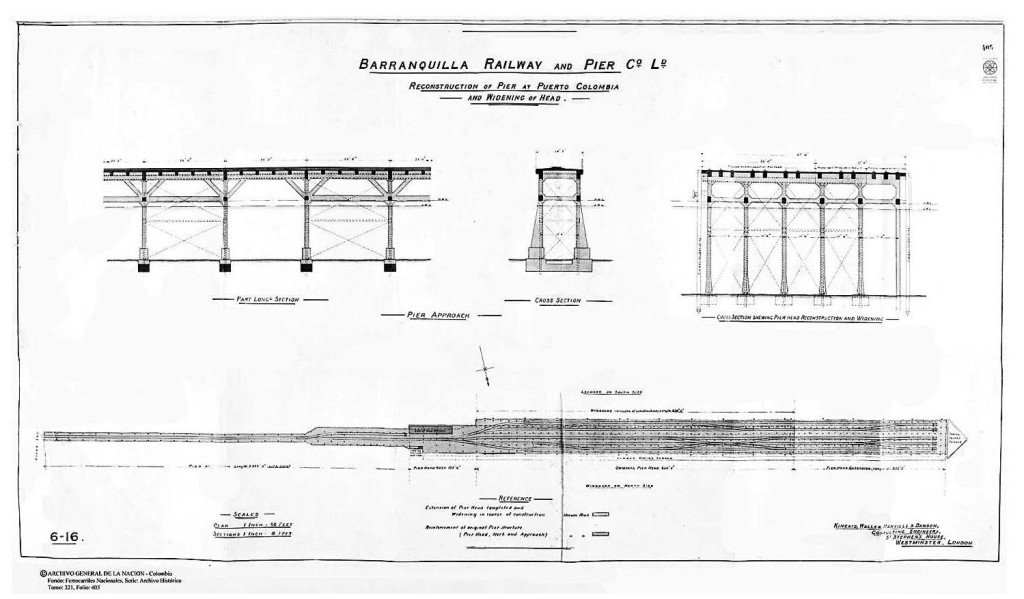 Esquema oficial del Muelle de Puerto Colombia (1888).
Cabe anotar que esta importante obra, que alcanzó su momento de esplendor en los albores del siglo XX, inicialmente fue construido en madera, posteriormente en acero y finalmente revestido en concreto Portland.
Gracias a la dinámica de las exportaciones, y a la eficiente producción de la zona andina del país, el café colombiano llegó a ser considerado uno de los más exquisitos y apetecidos en los mercados europeos. Tanto así, que en los cafés de las grandes capitales como Paris, Londres o Nueva York se leía en sus fachadas: "Coffee Colombian" o "Aquí se vende Café Colombiano".
Posteriormente, el advenimiento subrepticio de la segunda guerra mundial y la apertura del Canal de Panamá, ocasionaron en el país una recesión económica como muchas otras actividades se vio reflejada en su actividad exportadora. Y para infortunio el Muelle de Puerto Colombia merma su protagonismo y entra en un paulatino abandono que se agudiza con la decisión de darle apertura al Puerto de Buenaventura sobre el Océano Pacifico.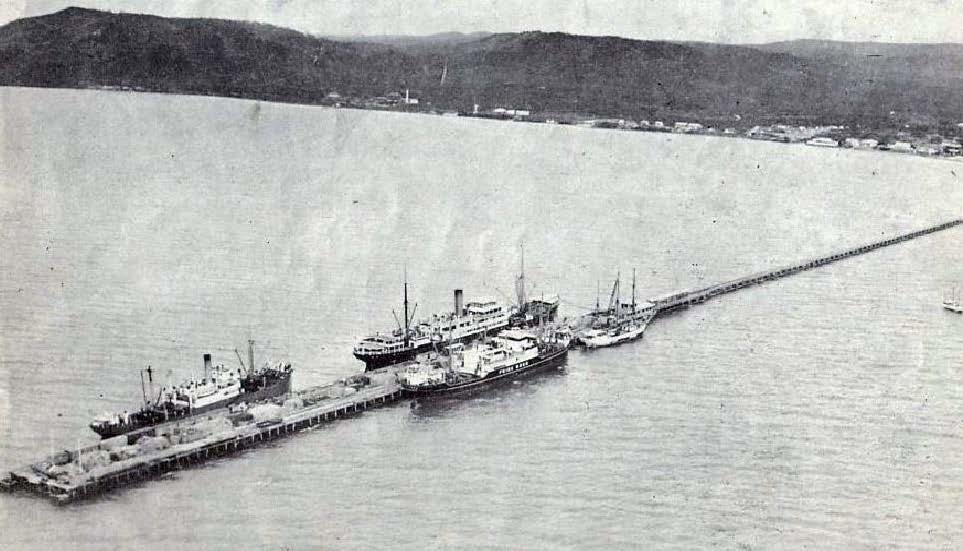 Panorámica Muelle de Puerto Colombia (1920).
Muelle de Puerto Colombia en actividad (1920).
En los finales de la década del 30, la dirigencia de Barranquilla traslada en una controvertida decisión su puerto marítimo a la ribera del Rio Magdalena (en las cercanías del centro de la ciudad). Para tales efectos, se necesitó de una costosa inversión que con los denominados "tajamares de Bocas De Ceniza" se haría posible el ingreso de embarcaciones de gran calado al nuevo puerto de Barranquilla.
La decisión llenó de regocijo a la clase empresarial que veía la oportunidad de desarrollar la actividad industrial en la margen del rio, e indignó a la clase trabajadora que intuía que la paulatina desaparición de aquel emblemático muelle por donde entró la modernidad al país, sería inminente.
Largas décadas de incertidumbre han sido la constante del puerto fluvial de la ciudad, ocasionadas por el comportamiento impredecible del rio y las miles de toneladas de sedimento que demandan un trabajo de dragado costoso y constante.
Lo paradójico es que en la actualidad, ya casi en el umbral de la segunda década del siglo XXI, Barranquilla carece de una infraestructura portuaria eficiente para el tamaño y las expectativas de crecimiento de la ciudad. Y el país, debate con escaza probidad, el dilema de haber convertido su más importante arteria fluvial en una alcantarilla a cielo abierto donde gran parte de la población vierte sus desechos orgánicos.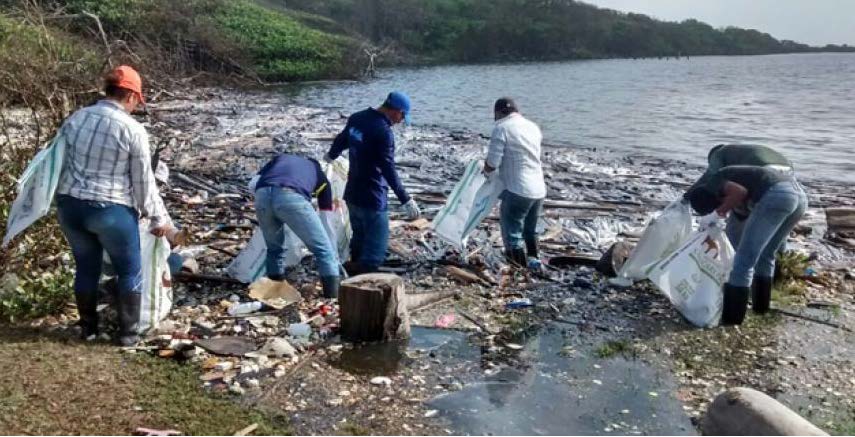 Personas recogiendo desechos a un costado del Rio Magdalena (2019).
Por fortuna, algunos estudios académicos, al margen de intereses de carácter especulativo, coinciden hoy en relocalizar un súper puerto marítimo en el costado izquierdo del tajamar occidental en la desembocadura del Rio Magdalena. Todo esto en aguas profundas sobre el mar caribe, para evitar la accidentada navegabilidad.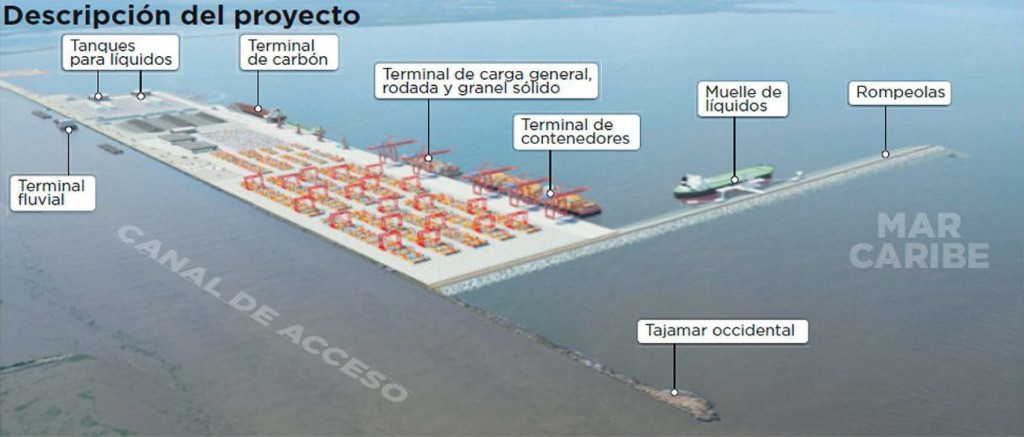 Propuesta de puerto de aguas profundas de Barranquilla (2017). Fuente: Sociedad Portuaria Bocas de Ceniza.
En este caso, el aporte y compromiso de la comunidad universitaria no solo es fundamental, sino que se ajusta al pensamiento filosófico del académico holandés Edsger Wibe "No es tarea de la universidad hacer lo que la sociedad pide, sino lo que la sociedad necesita".
Notas
[1] Colombia, the Gateway of South America. Kathleen Remoli.
Referencias
Consuegra Bolívar, Ignacio (2001). Barranquilla Umbral de la Arquitectura en Colombia. Bogotá: Grijalbo.
Consuegra Bolívar, Ignacio (2017). La recuperación del Patrimonio Arquitectónico Urbano del Barrio El Prado de la ciudad de Barranquilla. Barranquilla: Universidad de Granada, España.
Consuegra Bolívar, Ignacio (2010). La arquitectura en Barranquilla. Barranquilla: Editorial Mejoras.
Consuegra Bolívar, Ignacio. Estación Montoya (el edificio de las nostalgias).
Mejoras Ltda. Rodríguez González, Rigoberto. Puerto Colombia un Patrimonio Histórico Cultural.
---
Head Image: Panorámica del Muelle de Puerto Colombia (1900). Fuente: Fototeca histórica de Barranquilla.
---