19 Giugno, 2023
╔
Un crucerista en los puertos españoles: la experiencia comienza aquí
La perspectiva tradicional que los puertos tienen sobre el trafico de cruceros pasa por las terminales, más o menos dedicadas, las estadísticas sobre numero de escalas, capacidad y ocupación de los buques, y sobre numero de pasajeros como puerto base o en tránsito. Los puertos se ven, también, como un destino por lo que destacan el atractivo de la ciudad y de su entorno para organizar excursiones o visitas, ya sea por las propias navieras, por operadores locales o de forma particular por los pasajeros.
Pero los puertos son más que números de buques o de pasajeros. En los puertos se llevan a cabo muchas actividades previas al viaje, previas a que los puertos puedan ser un origen, un destino o un camino.
The traditional perspective of cruise ships for ports consists in dedicated passenger terminals, statistics on the number of shipcalls, capacity and occupancy of ships. Or the number of base and transit passengers. Ports are also seen as a destination, so they highlight the attractiveness of the city and the nearby environment for the organization of excursions and visits, whether organized by the shipping company itself, with local operators, or in a particular way.
However, ports are something more for cruise ships and cruise passengers. In ports there are many tasks prior to travel, before ports can be an origin, a destination, or a path.
Infraestructuras e instalaciones
Infrastructures and Facilities
España es uno de los principales destinos de cruceros de Europa y en el sistema portuario formado por los puertos de interés general estamos orgullosos de contribuir a la recuperación plena del sector.
La inversión pública en instalaciones y equipamiento para terminales de pasajeros prevista para el periodo 2023 a 2026 asciende a 176 millones de euros. Además de terminales dedicadas hay puertos con instalaciones móviles en muelles públicos para pasajeros y tripulantes. Pero el viaje empieza antes.
Sea como sea, en el exterior de la zona para pasajeros y tripulantes, hay que organizar los flujos de personas, autobuses, taxis, transfers, separando la zona peatonal, o disponer de oficinas de información turística y otras facilidades.
La asignación de los espacios debe tener en cuenta dichas necesidades así como otras vinculadas con la protección de tal forma que las operaciones de cruceros se concentran en muelles que dispongan de cierres perimetrales, y zonas de cruceros con puntos de acceso único si es posible, así como una relativa cercanía a la ciudad.
Spain is one of the main cruise destinations in Europe and we are proud, in Puertos del Estado and Port Authorities, to contribute to the full recovery of the sector.
Public investment in facilities and equipment for passenger terminals planned for the period 2023 to 2026 amounts to 176 million euros. In addition to dedicated terminals there are ports with mobile facilities in public docks for passengers and crews. But the journey starts earlier.
In any case, outside the area for passengers and crews, it is necessary to organize the flows of people, buses, taxis, transfers, separating the pedestrian zone, or have tourist information offices and other facilities.
The allocation of spaces should take into account these needs as well as others related to protection in such a way that cruise operations are concentrated in docks that have perimeter closures, and cruise areas with single access points if possible, as well as a relative proximity to the city.
Calidad de servicio certificada en clave de comunidad portuaria
Quality of Service Certified in the Key of the Port Community
Con el fin de promover la excelencia en las operaciones, y en la gestión y mantenimiento las infraestructuras e instalaciones, Puertos del Estado ha elaborado un Referencial de Calidad de Servicio para el tráfico de cruceros que las Autoridades Portuarias pueden adaptar a sus puertos en un Referencial Especifico de Calidad de Servicio.
La contribución de los puertos al tráfico de cruceros mediante la prestación de servicios eficientes, que respondan a las necesidades del navieras, pasajeros y tripulantes, debe entenderse como una estructura de procesos y en clave de comunidad portuaria.
Los diferentes integrantes de la comunidad portuaria deben trabajar, conjuntamente con otros protagonistas de la actividad portuaria, para mejorar los procesos y conseguir una oferta integrada eficiente en términos del conjunto de los servicios realizados.
Por eso la cooperación es un instrumento fundamental. Esta cooperación no puede conseguirse sin voluntariedad por lo que los esquemas de reconocimiento juegan un importante papel de motivación a la participación en la mejora conjunta.
Se trata de tener instrumentos que permitan distinguir a las organizaciones que participan en la mejora de los servicios y, a la vez, transmitir a los clientes el esfuerzo de mejora que se realiza.
Un Esquema de Certificación de calidad de servicio permite atender estas necesidades al establecer, con la participación de todas las partes interesadas, unas características de calidad de servicio, que se recogen en un documento denominado Referencial de Calidad de Servicio, que se pone a disposición de las organizaciones de la comunidad portuaria para que puedan demostrar, a través de una comprobación (evaluación de conformidad), que sus servicios cumplen esas características de calidad, y disfrutar de una marca distintiva (marca de conformidad) de evidente efecto comercial.
In order to promote excellence in operations, and in the management and maintenance of infrastructures and facilities, Puertos del Estado has developed a Service Quality Reference for cruise traffic, that Port Authorities can adapt to their ports in a Specific Quality of Service Reference.
The contribution of ports to cruise traffic through the provision of efficient services, which respond to the needs f shipping companies, passengers and crew, should be understood as a structure of processes and with then perspective of all the port community. Not only Port Authorities.
The different operators of the port community must work, together with other agents of the port activity, to improve processes and achieve an efficient integrated offer in terms of all the services provided.
That is why cooperation is a fundamental instrument. This cooperation cannot be achieved without voluntariness, so recognition schemes play an important role in motivating participation in joint improvement.
It is about having instruments that allow distinguishing the organizations that participate in the improvement of quality of services and, at the same time, transmitting to customers the improvement effort that is made.
A Service Quality Certification Scheme allows these needs to be met by establishing, with the participation of all stakeholders, service quality characteristics, which are included in a document called Service Quality Reference, which is made available to the organizations of the port community, so that they can demonstrate, through a conformity assessment, that their services meet these quality characteristics, and enjoy a conformity mark of obvious commercial effect.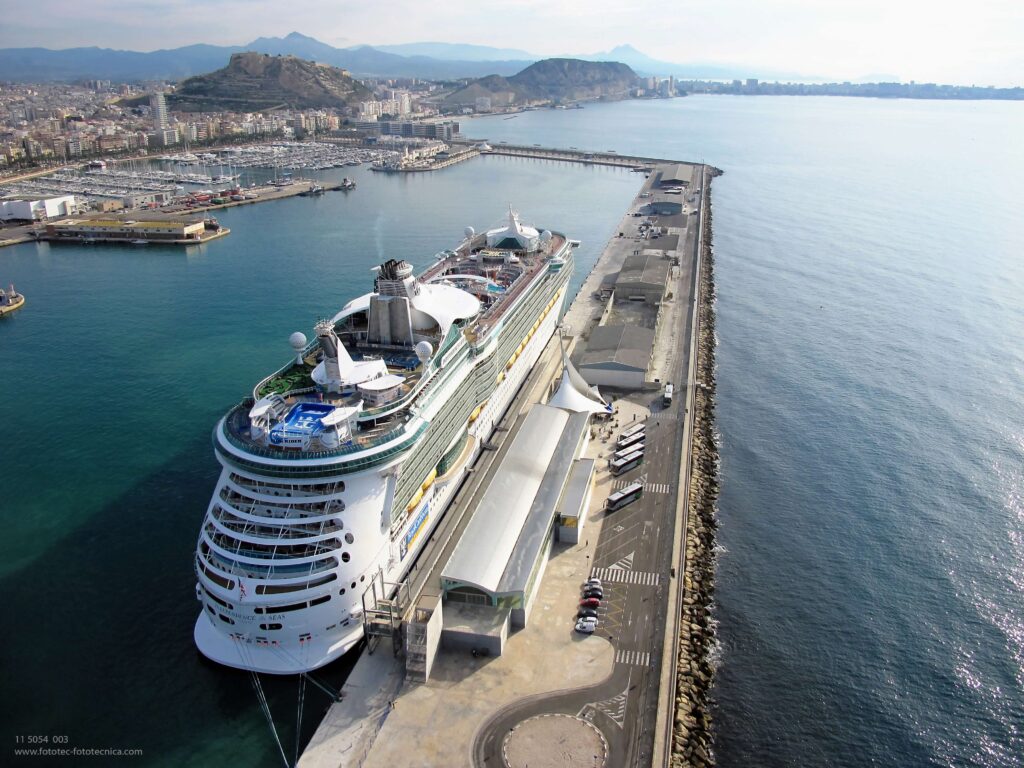 Terminal de cruceros. (Fuente: Puertos del Estado, 2022).
Cruise terminal. (Source: Puertos del Estado, 2022).
La utilización de marcas de calidad en productos y servicios (marcas de conformidad) es una herramienta muy utilizada para promover la mejora de la calidad de los servicios.
Las marcas facilitan la elección entre proveedores, diferencian unos servicios de otros, contribuyen a la mejora de los servicios, y provocan una presión competitiva entre las empresas para tratar de imitar a las mejores.
La marca, o certificación de calidad de servicio, se concede tras un proceso de evaluación transparente, basado en la intervención de evaluadores independientes y con la adecuada competencia técnica pues son entidades de certificación acreditadas.
El Referencial de Servicio establece el nivel de servicio que puede esperar el cliente (características de calidad de servicio) y los aspectos que deben comprobarse a efectos de poder asegurar el cumplimiento de las características (evaluación).
La certificación tiene por objeto la calidad del servicio prestado, basada en las características de servicio establecidas con lo que la entidad de certificación, para conceder la certificación, o la marca correspondiente, comprobará que los servicios son conformes a las características establecidas en el Referencial.
Las características de servicio reflejan los requisitos de todas las partes interesadas, en tanto que clientes finales de la comunidad portuaria, y se establecen de forma consensuada entre todos los operadores de la comunidad portuaria, buscando equilibrio entre las necesidades expresadas por los clientes y lo que el conjunto de la comunidad portuaria es capaz de ofrecer.
El Referencial, para medir la calidad de los servicios prestados, detalla diversos parámetros que se desglosan, a su vez, en una serie de características de calidad de servicio o aplicables a los prestadores del servicio portuario de atención al pasaje, y a los titulares de concesiones o autorizaciones de estaciones marítimas para pasajeros de cruceros que voluntariamente deseen someterse a la certificación por tercera parte. También establece los métodos, registros o indicadores a utilizar para comprobar el cumplimiento de las características de calidad, el sistema de evaluaciones de conformidad y emisión de certificados, y un sistema de revisión y mejora continua de las condiciones de calidad.
Las características se establecen con el criterio general de que sean objetivas, medibles y registrables, que el resultado de su aplicación aporte valor añadido para el cliente final, y de forma que sean compatibles con los sistemas de gestión propios de cada organización, ya sea privada o pública, de la comunidad portuaria implicada en el trafico de cruceros.
The use of quality marks in products and services (conformity marks) is a widely used tool to promote the improvement of the quality of services.
Conformity marks facilitate choice between providers, differentiate services from services, contribute to the improvement of services, and create competitive pressure between companies to try to imitate the best.
The mark, or service quality certification, is granted after a transparent evaluation process, based on the intervention of independent auditors and with adequate technical competence as they are accredited certification bodies.
The Service Quality Reference establishes the level of service that the client can expect (quality of service characteristics) and the aspects that must be checked in order to ensure compliance with the characteristics (evaluation).
The purpose of the certification is the quality of the service provided, based on the service characteristics established, so the certification body, will verify that the services are in accordance with the characteristics established in the Reference and, only in that case, grants the certification mark.
The quality service characteristics reflect the requirements of all stakeholders, as final customers of the port community, and are established in a consensual manner among all operators in the port community, seeking a balance between the needs expressed by customers and what the port community, as a whole, is able to offer.
The Reference document details, to measure the quality of the services provided, various parameters that are broken down, in turn, into a series of characteristics of quality of service or applicable, among others, to passenger port service providers, and to operators of maritime stations for cruise passengers who voluntarily wish to undergo certification by a third party. It also establishes the methods, records and indicators to be used to verify compliance with quality characteristics, the system of conformity assessments and issuance of conformity marks, and a system of review and continuous improvement of the Reference document and quality characteristics.
The characteristics are established with the general criterion that they are objective, measurable and recordable, that the result of their application provides added value for the final customer, and so that they are compatible with the management systems of each organization, whether private or public, of the port community involved in cruise traffic.
Sostenibilidad
Sustainability
Empezar el viaje también incluye cuestiones relativas a la sostenibilidad. Una sostenibilidad energética, que busca emisiones cero, para la que hay un esfuerzo en materia de OPS y combustibles alternativos (GNL, EGCS, AWTS). Estamos acompasando nuestro esfuerzo con el de las navieras y desarrollando capacidad OPS en los puertos.
Una sostenibilidad social en la que es necesario destacar la contribución de Puertos del Estado elaborando, conjuntamente con las autoridades sanitarias españolas (Sanidad Exterior), un procedimiento para la donación por las navieras, a bancos de alimentos, de platos preparados y no consumidos a bordo. El procedimiento establece la documentación a aportar por las navieras sobre origen de los ingredientes utilizados y la frecuencia de los controles documentales que las autoridades de sanidad exterior llevan a cabo.
Una sostenibilidad económica trabajando, Puertos del Estado y las Autoridades Portuarias, conjuntamente con las autoridades de control de fronteras para agilizar los procedimientos de emisión de visados para tripulantes, procurando anticipar la carga de trabajo para que las autoridades puedan adecuar los recursos humanos o los horarios.
Además, las Autoridades Portuarias están en contacto con la comunidad de cruceros de su zona, ampliando la misma hasta zonas o pueblos cercanos, fomentando un turismo más vinculado con la naturaleza y con actividades menos masificadas, en definitiva un turismo mas sostenible.
Starting the journey also includes sustainability issues. An energy sustainability, which seeks zero emissions, for which there is an effort in terms of OPS and alternative fuels (LNG, EGCS, AWTS); so Port Authorities are matching efforts with that of shipping companies and developing OPS capacity in ports.
A social sustainability in which it is necessary to highlight the contribution of Puertos del Estado developing, together with the Spanish health authorities a procedure for the donation by shipping companies, to food banks, of dishes prepared and not consumed on board. The procedure establishes the documentation to be provided by the shipping companies on the origin of the ingredients used and the frequency of the documentary controls that the external health authorities carry out.
An economic sustainability now focused in streamlining the procedures for issuing visas for crew members, with a joint task between Puertos del Estado and Port Authorities with Spanish border control authority, trying to anticipate the number of visas to be issued so that the authorities can planed better human resources or attention schedules.
In addition, the Port Authorities are in contact with the cruise community in their area, extending those contacts to nearby cities or towns, promoting tourism more linked to nature and less crowded activities, ultimately a more sustainable tourism.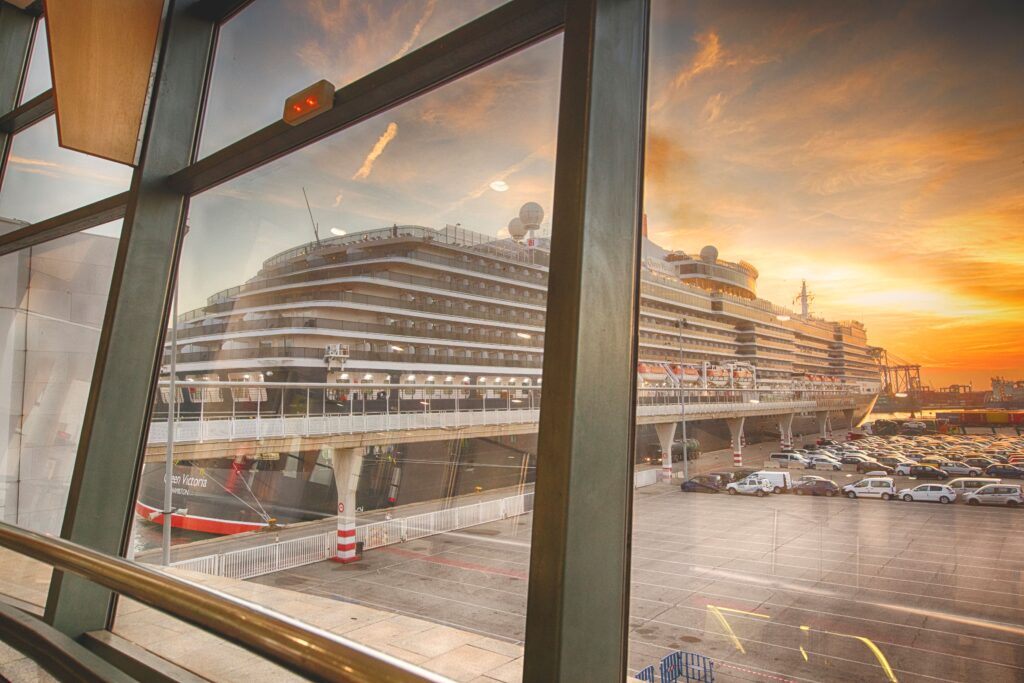 Terminal de cruceros. (Fuente: Puertos del Estado, 2022).
Cruise terminal. (Source: Puertos del Estado, 2022).
Digitalización
Digitalization
La digitalización y la innovacion no son ajenas al sector de cruceros. Las Autoridades Portuarias y Puertos del Estado promueven el emprendimiento a través de Fondo Port 4.0, modelo de innovación abierta para atraer, apoyar y facilitar la aplicación del talento y emprendimiento. El objetivo principal del Fondo es promover e incorporar activamente la innovación disruptiva o incremental como elemento de competitividad, de eficiencia, sostenibilidad, seguridad y protección.
El fondo incentiva la creación o consolidación de un tejido de empresas emergentes (Startups), spin-off o nuevas líneas de negocio en el ámbito tecnológico para servicios o procesos innovadores.
Tenemos diversos proyectos, desde la mejora de las estadísticas en colaboración con los organismos de turismo nacionales, de forma que aportamos listas de pasajeros y tripulantes clasificadas por nacionalidades, edades, mercados de origen, duración del crucero, o fechas y horas de llegada y salida, a proyectos para analizar el comportamiento de los pasajeros.
Puede usarse inteligencia artificial para obtener conclusiones sobre elección de actividades por los pasajeros a partir de la nacionalidad y su moneda, de las fechas y horas de llegada y salida de buque, incluso de la meteorología reinante durante la escala.
Por otra parte buscamos estandarizar la forma de cálculo de las emisiones de los buques de crucero tratando de que los datos puedan compararse para que sean verdaderamente útiles.
También son de interés proyectos para favorecer una gestión turística sostenible y responsable con el patrimonio histórico y cultural en las ciudades y poder gestionar el impacto de los flujos turísticos, en lugares de patrimonio cultural o natural, mediante aplicación de tecnologías de recopilación de datos (sensores, cámaras entre otras), y de explotacion de dichos datos. Se trata de utilizar herramientas para recopilar, integrar y analizar datos para poder contribuir a la toma de decisiones de órganos de gestión del turismo o del patrimonio, guiando también cambios de comportamiento.
Digitalization and innovation are no strangers to the cruise industry. Puertos del Estado and Port Authorities promote entrepreneurship through Port 4.0 Program, an open innovation model, based on a financial fund, to attract, support and facilitate the application of talent and entrepreneurship. The main objective of the fund is to actively promote and incorporate disruptive or incremental innovation as an element of competitiveness, efficiency, sustainability, safety and security.
The fund encourages the creation or consolidation of a network of start-ups, spin-offs, or new lines of business in the technological field, for innovative services or processes.
We have several projects, from the improvement of statistics in collaboration with national tourism agencies, so that we provide lists of passengers and crew classified by nationality, age, markets of origin, duration of the cruise, or dates and times of arrival and departure, to projects to analyze the behavior of passengers.
Artificial intelligence can be used to draw conclusions on passengers' choice of activities based on nationality and currency, dates and times of arrival and departure of ships, including the prevailing weather during the stopover.
On the other hand, we seek to standardize the way of calculating the emissions of cruise ships, trying to make the data comparable so that they are truly useful.
Also of interest are projects to promote sustainable and responsible tourism management with historical and cultural heritage in cities, and to manage the impact of tourist flows, in places of cultural or natural heritage, through the application of data collection technologies (sensors, cameras among others), and exploitation of such data. It is about using tools to collect, integrate and analyze data in order to contribute to the decision-making of tourism or heritage management bodies, also guiding behavioral changes.
Conclusiones
Conclusions
Instalaciones modernas, excelencia en las operaciones, sostenibilidad energética, económica y social, y digitalización permiten otra perspectiva del trafico de cruceros en los puertos. Estamos, por tanto, activos para atender las necesidades de navieras, buques, pasajeros, tripulantes, de forma que los puertos puedan ser el principio y el final de muchos viajes.
Modern facilities, excellence in operations, energy, economic and social sustainability, and digitalization allow another perspective of cruise traffic in ports. We are, therefore, active in strengthening the cruise industry by meeting the needs of shipping companies, ships, passengers and crews, so that the ports can be a beginning and an end of many cruises.
---
IMAGEN INICIAL | Terminal de cruceros. (Fuente: Puertos del Estado, 2022).
HEAD IMAGE | Cruise terminal. (Source: Puertos del Estado, 2022).
╝
---
Puertos del Estado (2012). Referencial Generico de Calidad de Servicio para el Tráfico de Cruceros. Ed 1.
Puertos del Estado (2023). Un crucerista en los puertos españoles: La experiencia comienza aquí. Fitur Cruises. Madrid.
---
---