29 Novembre, 2021
Containerised port traffic is the most widely used system in international freight transport. Ships and marine terminals have evolved to ensure the daily movement of millions of containers. Beyond technological and infrastructural improvements, sustainability has emerged as one of the main current challenges to be tackled. In the case of terminals, container automation allows for reduced emissions and more sustainable and efficient management.
In today's world, everything is interconnected. Goods produced in different parts of the world travel relentlessly thousands of kilometres to reach their destination in search of new markets. In this context of globalisation, the container, a player at times unknown to the public it serves, is shaping the destiny of international trade.
Container shipping is the most common form of freight transport. According to the United Nations Conference on Trade and Transport (UNCTAD), more than 90% of world trade is transported by sea. Of the more than 11 billion tonnes that move across our seas each year, a very high percentage is transported by container.
And this percentage has been growing steadily. Since Malcolm McLean, a North Carolina truck driver, developed the multimodal shipping container in the early 1950s to facilitate the loading and unloading of ships, its growth has increased exponentially. Today, there are over 800 million TEU (20-foot equivalent containers) moves recorded in ports around the world, for 160 million TEUs of international trade.
International containerised freight traffic is the undisputed leader in the exchange of consumer goods. Most ports in the world take daily delivery of containers from the 20 million carried by the over 5,000 ships sailing the seas.
The spectacular increase in the volume of container traffic has evolved in parallel with the development of the port logistics industry. Similarly, ships and container terminals have evolved to meet the growing demands of the industry.
Ships have grown from vessels with a maximum capacity of 1,530 TEU and some tens of metres in length during the late 1960s, to vessels with a capacity of more than 23,000 TEU and over 400 metres in length – a 15-fold increase in just 60 years, a figure that shows the order of magnitude that container traffic has reached throughout its brief history.
Container maritime terminals have also been forced to evolve rapidly to meet the needs of stringent demands and requirements of international regulations. Thus, container terminals have become a key element of maritime traffic.
Key points in the logistics chain
At a very simplified level, container terminals could be defined as intermodal platforms where the exchange of different means of transport, within the logistics chain, takes place.
The arrival at ports of large volumes of containers must be balanced with the arrival and departure by land, be it truck or rail, as well as by small vessels delivering these containers by sea.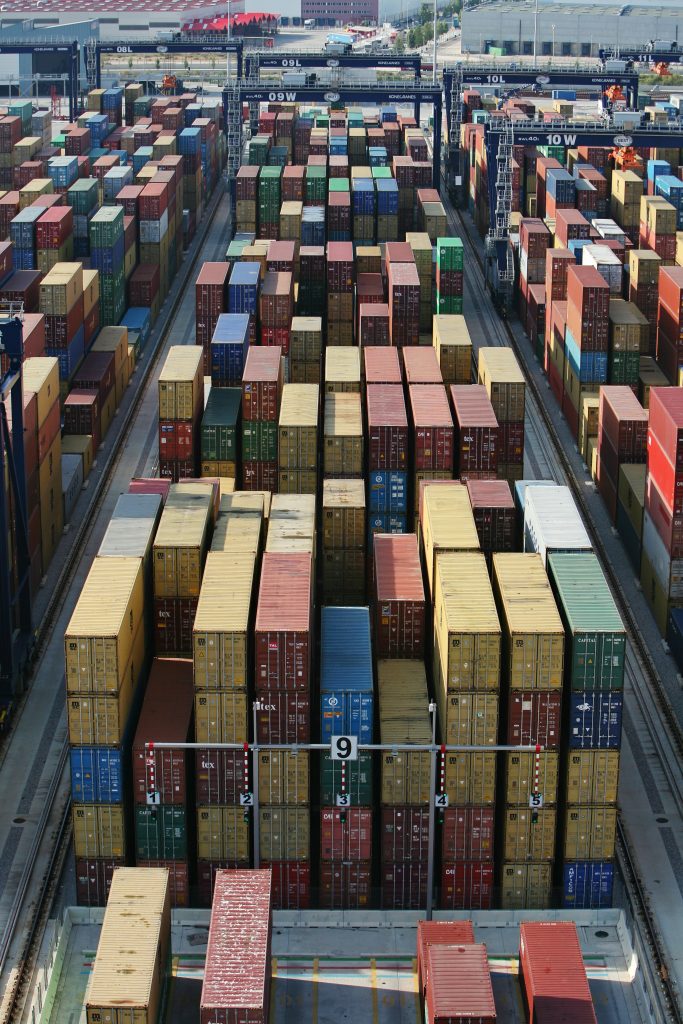 Volumes moved in ports of call can reach tens of thousands of containers. As an example, Barcelona's Hutchison Ports/BEST has exceeded 11,000 container moves in a single call. These volumes must arrive and/or leave the terminal in small daily quantities, both on feeder vessels connecting with other ports, and on trucks and trains that regularly feed the arrival and departure of containers.
Maritime terminals specialised in containers have arisen enabling the loading and unloading of all container transport means and the catering to their different rhythms and needs.
Modern and efficient facilities
Terminals are characterised by their quays and equipment for berthing and handling of ships, their yard for storing and servicing containers arriving from different points, their equipment to handle containers, and their infrastructure and means for the entry/exit of containers both by train and by truck.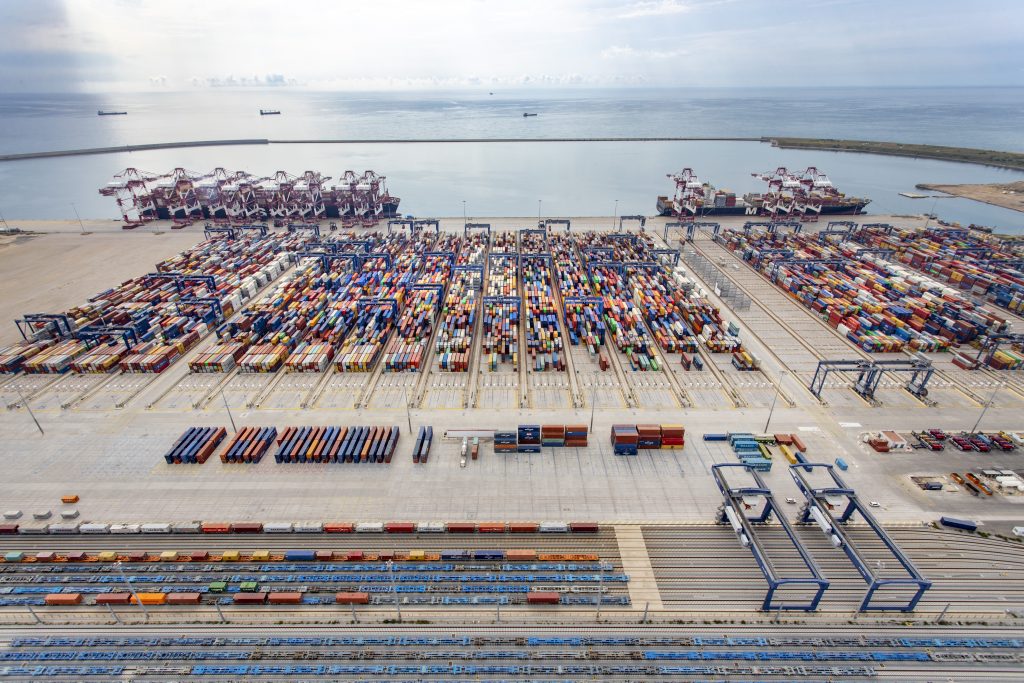 Over the past decades, terminals have evolved in parallel with the demands of the market they service. From a physical point of view, port berths have had to expand both in length and in depth. Operating equipment has grown in height and reach to cover the full extent of the vessels it handles. Similarly, yards have increased their surface area 15-fold accommodating tens of thousands of containers from the ever-increasing imbalances between modes of transport. Railway platforms have been multiplied to accommodate more and longer trains.
However, changes have not only been in terms of equipment and infrastructure, but also in ways of working. Operations are becoming increasingly complex and operators' demands are in line with an ever more demanding logistics chain, in terms of port efficiency and productivity, real-time information, integration of IT systems, security and control of facilities, container added-value complementary services or highly sophisticated rail operations.
The challenge of sustainability
However, neither the gigantic infrastructures and equipment required, nor the operational demands have brought about a revolution which can compare to the current sustainability challenge of these intermodal platforms, which are sensitive to the environmental integration of all their activities.
Much has been written – and is still being written – about sustainability, a concept essential to industrial development. Sustainability is defined as an activity which, over time, can satisfy present needs without compromising those of future generations. Sustainability ensures a balance between economic growth, environmental care, and social welfare.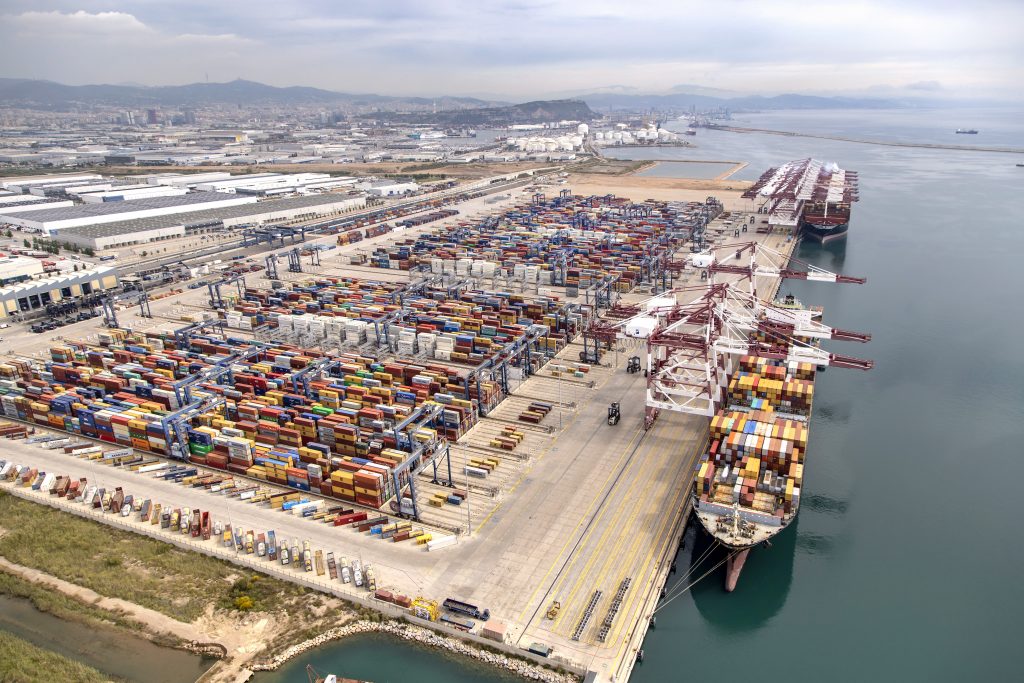 In the late 1960s, the creation of the Club of Rome gave rise to the concern for productive yet sustainable growth, although sustainability, as we know it today, can be associated with the Brundtland report (Our Common Future) of 1987, which highlighted the incompatibility between sustainable development models and the means of production and consumption in force at the time. The concept of "sustainable development" that we use today arose from this text.
As a more recent milestone, in September 2015 the United Nations General Assembly adopted the 2030 Agenda for Sustainable Development, an action plan to achieve a sustainable future through 17 Sustainable Development Goals (SDGs) with 169 targets in the economic, social and environmental fields.
Terminals have not been oblivious to this reality. A few years ago, BEST terminal drew up a sustainability action plan, within the frame of Hutchison Ports' own strategy, with the aim of contributing to the generation of sustainable supply chains, collaborating with all actors involved in making the world a better place.
Automation, a differentiating factor
BEST is the group's first semi-automated terminal [1]. It was conceived, designed, and built from its beginning entirely by the group and has become one of the most modern terminals in Europe, being a benchmark for productivity in the sector.
The design of BEST terminal began in 2006 and concluded with its inauguration in 2012. At that time, only 33 terminals in the world had any degree of automation, representing less than 3% of the total.
Since the first terminal in the world, Europe Container Terminal ECT also of Hutchison Ports Group, was automated in 1984 and up to the present day, the world of automation has undergone significant advances in line with developments in the world of robotisation, digitalisation and connectivity.
The etymology of the word automate has Greek roots and originally means, to work by itself.
Since the end of the last century, container terminals have introduced more automation components in search of greater reliability and consistency in operations, improved energy efficiency, reduced maintenance costs, both preventive and reactive, control of operating costs, increased storage yard capacity and increased safety, among other factors.
Since the introduction of the first advanced Terminal Operating Systems (TOS), one can consider that processes in operational decision making, in all its different fields, terminal planning, movement preparation and dispatching of operational orders, are starting to be automated.
The automation of operations took a major quantitative leap forward since the mid-1980s, when handling equipment that can autonomously carry out planned tasks, sequenced and ordered by the TOS, was introduced.

In the case of BEST, terminal automation is based on the design of a state-of-the-art TOS that allows for a highly efficient decision-making process, with real-time terminal optimisation algorithms, together with the yard or storage area "cobotisation".
We have taken the license to use the term "cobot" to describe robotic machines that operate in collaboration and interaction with people performing certain manual operations in areas where robots and people coexist.
The handling equipment used for BEST is called ASC (Automated Stacking Cranes). The ASCs are vertical stacking rail-mounted gantry cranes.
The conceptual design of the yard is characterised by the arrangement of container storage blocks operated by a pair of ASCs which serve to handle containers within the blocks and pick up/deposit containers in first position, where they interact with handlers operating container transport equipment.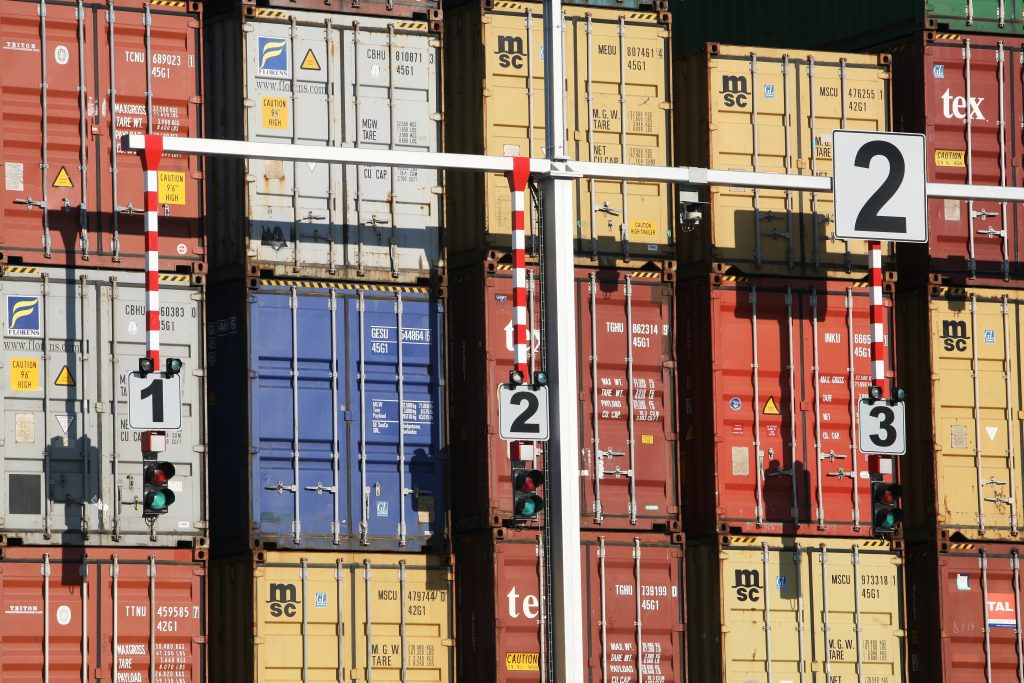 All automated area machines are equipped with numerous and precise laser sensors that are able to capture the reality of the environment where the operation is taking place and can evaluate and decide all necessary movements to be executed by the different engines in all three dimensional axes (longitudinal and horizontal movements and elevation) for the correct operational completion instruction received by the operating system.
Automation at BEST terminal extends beyond the yard and in fact encompasses all the different subsystems that make up the terminal. The port community's computer system in Barcelona (PORTIC) provides all the necessary information to the terminal for its correct planning. At the level of the entry and exit of land containers, both by lorry and by train, detection and optical character recognition (OCR) systems are used to identify different characteristics of the containers and the vehicles transporting them, introducing the necessary data for their management with absolute reliability into the operating system.
The process of delivery and reception of containers is supported by remote control systems, presence detectors, laser control systems and recognition cameras, which provide total traceability and security of these operations. The quay handling equipment for loading and unloading ship containers is equipped with automated safety and handling aids. The container transport system, from the manoeuvring area under the quay cranes to the ASC blocks, based on the use of Straddle Carriers, includes interaction and communication systems between both handler and TOS, geo-referenced positioning, and presence detection to ensure safe operations, especially sensitive in its interaction with the automated blocks.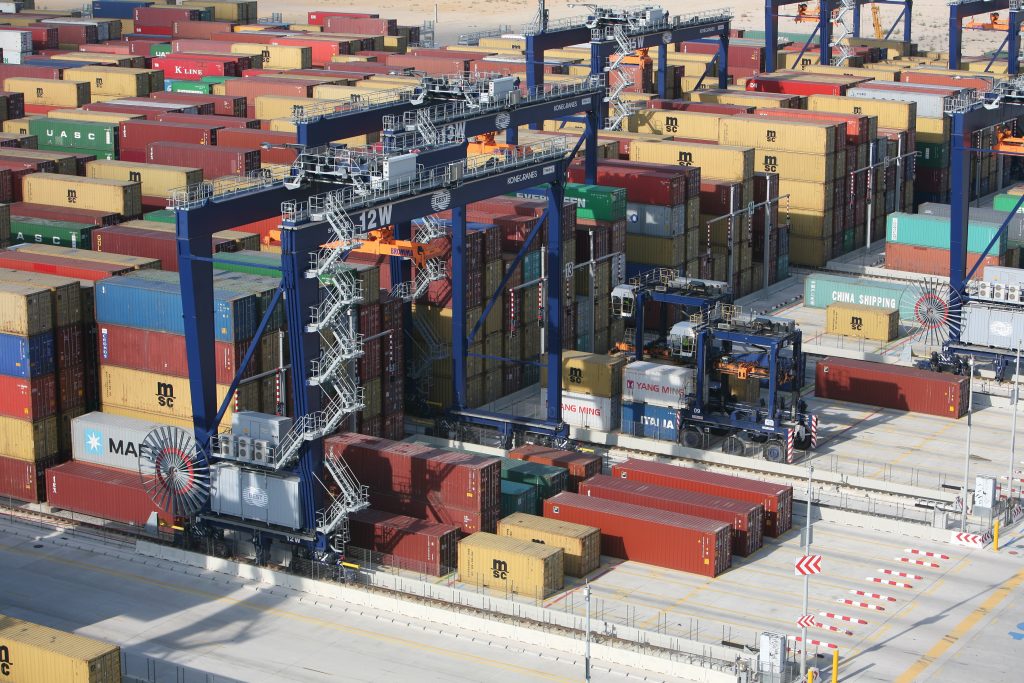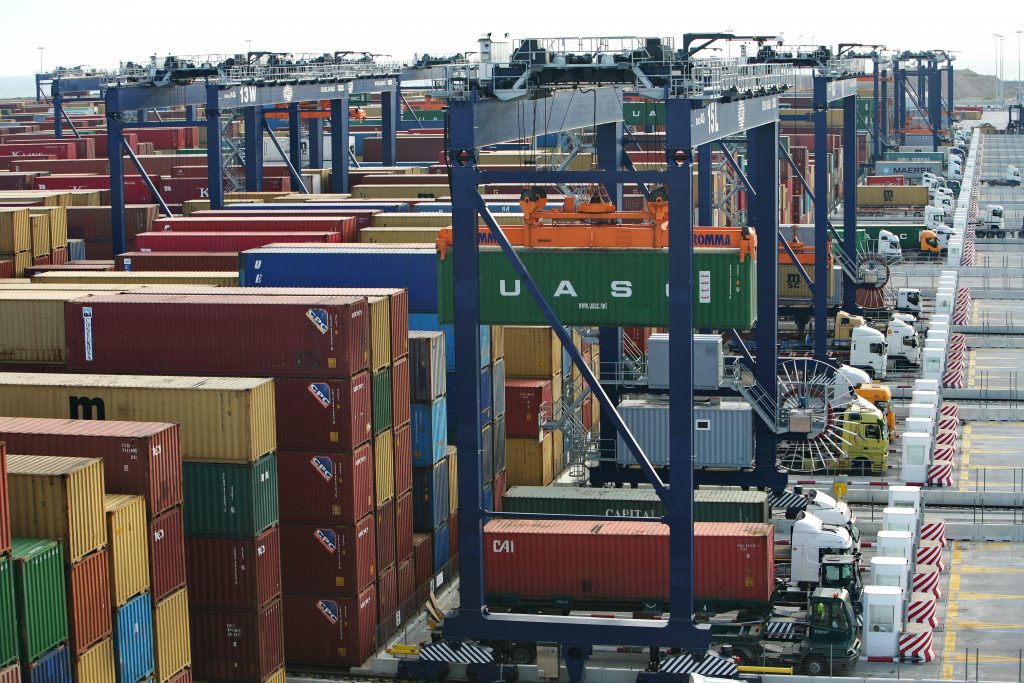 There are many other automation contributions in different work areas. The overall concept is part of a process of continuous improvement in which BEST terminal has implemented, over the last 10 years, numerous automated system functionalities and upgrades; it must be said however, that this process is not finished and that the evolution of communication networks, both fibre-based and 5G, geolocation and optical recognition technology, data analytics, artificial intelligence and computing power will shape the future of this evolution.
The sustainability plan of the BEST terminal and the role of automation
BEST's Sustainability Plan encompasses different actions in the environmental, social and economic governance areas, all of which fall within the scope of the United Nations SDGs. As a differentiating factor, the automation of the terminal has been a key element in its Sustainability Plan.
At corporate governance level, the group's policies, based on ethical and sustainable business practices with employees, suppliers, and customers are mandatory; they aim to generate decent and qualified jobs and promote economic growth. The introduction of automation in the design of the terminal, together with continuous innovation, have represented a step forward in this area. Likewise, the incorporation of technology has become a key element for the creation of highly qualified jobs and for the achievement of high efficiency and a differential, attractive and recognised business proposal.
In terms of social integration, above and beyond all applicable regulations, recruitment plans based on gender equality, inclusive practices and respect for diversity have been put in place from the outset. A special effort has been made to raise awareness of the terminal on a social level, with participation in local projects, and in training centres in the immediate vicinity, in order to encourage the recruitment and ongoing training of people from the immediate area. One of the pillars of the terminal's design and management since its inception has been the safety and health of all people, especially its employees. This is where automation once again plays an important role, creating a safe and secure environment.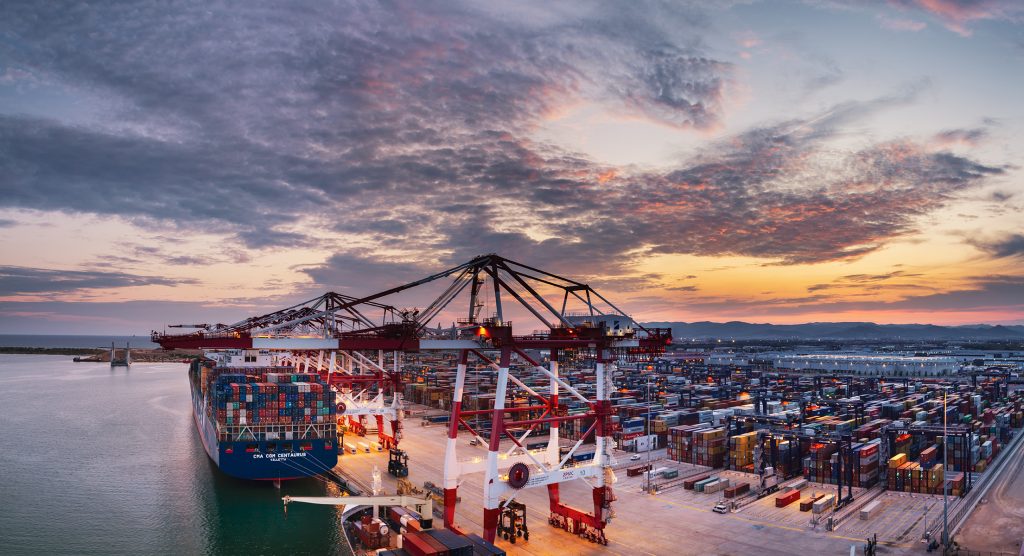 Last, but not least, environmental management. BEST is one of the terminals with the lowest CO2 emissions per container moved, a 50% reduction compared to a conventional terminal. The energy efficiency of automated electrical equipment, the high production capacity of a highly efficient and fast automatic system, together with the precision and reduction of unnecessary movements due to automation, make these figures possible. In addition, the terminal promotes all kinds of sustainable technological innovation projects such as the electrification of the docks for the supply of energy to ships or the promotion of renewable energies. BEST is also firmly committed to rail as a sustainable and preferable means of transport. Thanks to this commitment, it has managed to save the equivalent of more than 20,000 tonnes of emissions into the atmosphere in one year.
Because of the relevance of the container sector, and more specifically container terminals, to the logistics industry and to society, sustainability must be a key element in the day-to-day management and future planning of terminals. The aim is to ensure sustainability over time while securing the future for generations to come.
Our future depends on the decisions we make today, especially when it comes to transport logistics in a completely globalised world. Sustainability must be at the heart of our decision-making. We cannot look the other way. We cannot ignore our responsibility as a society.
---
Head Image | Panoramic view of the BEST terminal in the port of Barcelona. (© Barcelona Europe South Terminal – BEST, 2019).
---
Note
[1] Automation of the storage function on the esplanade.
---
Una apuesta por la sostenibilidad a través de la automatización. La terminal de contenedores Hutchison Ports/BEST en el Puerto de Barcelona
El tráfico portuario de contenedores es el sistema más utilizado en el transporte internacional de mercancías. Los buques y las terminales marítimas han evolucionado para garantizar el movimiento diario de millones de contenedores. Más allá de las mejoras tecnológicas y de infraestructuras, la sostenibilidad se ha erigido como uno de los principales retos actuales que acometer. En el caso de las terminales, la automatización de los contenedores permite reducir las emisiones y obtener una gestión más sostenible y eficiente.
En el mundo actual, todo está interconectado. Mercancías producidas en diferentes partes del mundo viajan sin descanso miles de quilómetros para llegar a su destino final en busca de nuevos mercados. En este marco de la globalización, un actor, en ocasiones desconocido para el público en general al que sirve, marca el destino del comercio internacional: el contenedor.
El tráfico marítimo de contenedores es la forma más habitual de transporte de mercancías. Según datos de la Conferencia de las Naciones Unidas sobre Comercio y Transporte (UNCTAD), más del 90% del comercial mundial se transporta por mar. De los más de 11.000 millones de toneladas que cada año se mueven por nuestros mares, un porcentaje muy elevado se transporta por contenedor.
Y este porcentaje no ha parado de crecer. Desde que a principios de la década de los 50, Malcom McLean, un camionero de Carolina del Norte, desarrollara el contenedor de transporte multimodal con el objetivo de facilitar la carga y la descarga de los buques, su crecimiento ha aumentado de forma exponencial. Hoy en día se registran más de 800 millones de movimientos de TEU (contenedor equivalente a 20 pies) en puertos del todo el mundo, para el tráfico de 160 millones de TEU de comercio internacional.
Así pues, el tráfico internacional de mercancías en contenedor es el líder indiscutible en el intercambio de bienes de consumo. La gran mayoría de países del mundo reciben a diario en sus puertos contenedores de los 20 millones que circulan en los más de 5.000 buques que navegan por todos los mares.
El espectacular incremento del volumen del tráfico en contenedor ha evolucionado en paralelo al desarrollo de la industria logística portuaria. Del mismo modo los buques y las terminales de contenedores se han transformado para dar respuesta a las crecientes exigencias del sector.
En el caso de buques, se ha pasado de barcos con capacidad máxima de 1.530 TEU y de pocas decenas de metros de longitud de finales de los años 60 a naves de más de 23.000 TEU de capacidad y más de cuatrocientos metros de eslora. Es decir, 15 veces más en apenas 60 años, cifra que evidencia el orden de magnitud que ha alcanzado el tráfico de contenedores a lo largo de su breve historia.
Por su parte, las terminales marítimas de contenedores también se han visto obligadas a evolucionar rápidamente para adaptarse a las necesidades derivadas de la exigente demanda y a los requerimientos de las normativas internacionales. En consecuencia, las terminales de contenedores se han convertido en un elemento clave del tráfico marítimo.
Puntos clave de la cadena logística
A nivel muy simplificado, las terminales de contenedores se podrían definir como plataformas intermodales en las que se lleva a cabo el intercambio de modos de transporte dentro de la cadena logística.
La llegada de grandes volúmenes de contenedores en los puertos a través de los buques que escalan en ellos, debe balancearse con las llegadas y las salidas por tierra, tanto en camión como en ferrocarril, así como por pequeños buques que los reparten por vías marítimas.
Bloque de almacenamiento en la terminal BEST operado por 2 ASC. Zona de transferencia marítima. (© Barcelona Europe South Terminal – BEST).
Los volúmenes que llegan a moverse en escalas oceánicas pueden alcanzar las decenas de miles de contenedores. A modo de ejemplo, la terminal Hutchison Ports/BEST del Puerto de Barcelona ha llegado a superar los 11.000 movimientos de contenedores de un buque en una sola escala. Estos volúmenes de cargas y descargas de contenedores deben llegar y/o abandonar la terminal en pequeñas cantidades diarias, tanto en buques feeder que conecten otros puertos, como en camiones y trenes que, de forma regular, alimenten la llegada y la salida de contenedores.
Con el fin de hacer posible las cargas y las descargas de todos los medios de transporte presentes en el sector del contenedor y compatibilizar los diferentes ritmos y necesidades de cada uno de ellos surgen las terminales marítimas especializadas en contenedores.
Instalaciones modernas y eficaces
Las terminales se caracterizan por disponer de los muelles y los equipos para el atraque y la manipulación de buques, la explanada para almacenar y dar servicio a los contenedores derivados de los diferentes flujos de llegada, con los equipos de patio para poder manipular los contenedores, las infraestructuras y los medios para la entrada/salida de contenedores tanto por tren como por camión.
Grúas y contenedores en una vista general de la terminal BEST. (© Barcelona Europe South Terminal – BEST, 2020).
Durante las últimas décadas, las terminales han evolucionado de forma paralela a las exigencias del mercado al que ofrecen sus servicios. Desde el punto de vista físico, los muelles portuarios se han tenido que hacer mucho más largos y profundos. Los equipos de manipulación han crecido en altura y en alcance para cubrir toda la extensión de buques a los que atienden. Del mismo modo, las explanadas han aumentado 15 veces su superficie para acoger en sus patios las decenas de miles de contenedores procedentes de los desequilibrios cada vez más notables entre los modos de transporte. Y las plataformas ferroviarias se han multiplicado para acoger más trenes y de mayor longitud.
Sin embargo, los cambios no han sido únicamente a nivel de equipos y de infraestructura, sino también de formas de trabajar. Las operaciones resultan cada vez más complejas y las demandas de los operadores están en línea con una cadena logística cada vez más exigente en términos de eficiencia y productividad portuaria, de información a tiempo real, de integración de sistemas informáticos, de seguridad y control de las instalaciones, de servicios complementarios de valor añadido al contenedor o de operaciones ferroviarias de una elevadísima sofisticación.
El reto de la sostenibilidad
Pero ni el gigantismo de las infraestructuras y los equipos necesarios, ni la exigencia operativa han supuesto una revolución comparable al reto actual de la sostenibilidad de estas plataformas intermodales, fruto de una gran sensibilidad por la integración de cualquier actividad con su entorno.
Mucho se ha escrito ―y se sigue escribiendo― sobre la sostenibilidad. Este concepto se ha convertido en esencial en el desarrollo industrial. En la base de su significado podríamos decir que se refiere a la perdurabilidad en el tiempo de una actividad satisfaciendo las necesidades presentes sin comprometer la de las generaciones futuras. La sostenibilidad garantiza un equilibrio entre el crecimiento económico, el cuidado del medio ambiente y el bienestar social.
Vista aérea de la terminal BEST. Al fondo el puerto y la ciudad de Barcelona. (© Barcelona Europe South Terminal – BEST, 2020).
A finales de los años 60, con la creación de Club de Roma, se despertó la inquietud por el crecimiento productivo, pero a la vez sustentable, aunque la sostenibilidad, como actualmente la conocemos, puede asociarse al informe Brundtland (Our Common Future) de 1987, que ponía de manifiesto la incompatibilidad entre los modelos de desarrollo sustentable y los medios de producción y consumos vigentes en aquella época. De ese texto nació el concepto de "desarrollo sostenible" que manejamos en la actualidad.
Cómo hito reciente cabe destacar que en septiembre de 2015 la Asamblea General de las Naciones Unidas adoptó la Agenda 2030 para el Desarrollo Sostenible, que se puede considerar un plan de acción para lograr un futuro sostenible a través de 17 Objetivos de Desarrollo Sostenible (ODS) con 169 metas en los ámbitos económico, social y ambiental.
Las terminales no han vivido ajenas a toda esta realidad. La terminal BEST elaboró hace algunos años un plan de acción de sostenibilidad enmarcado en la estrategia del grupo al que pertenece, Hutchison Ports, con el objetivo de contribuir a la generación de cadenas de suministro sostenible, colaborando con todos los actores implicados en hacer un mundo mejor.
La automatización, factor diferencial
Hutchison Ports/BEST es la primera terminal semiautomatizada [1] del grupo Hutchison Ports. Fue concebida, diseñada y construida desde su origen por el propio Operador Global de Terminales y se ha convertido en una de las terminales más modernas de Europa, siendo un referente de productividad en el sector.
El diseño de la terminal BEST se inicia en el año 2006, y concluye con su inauguración en el año 2012. Por aquel entonces, tan solo 33 terminales en el mundo contaban con algún grado de automatización, representando menos del 3% del total.
Desde que se automatizó la primera terminal en el mundo, Europe Container Terminal ECT, en el año 1984, perteneciente también al grupo Hutchison Ports, hasta la actualidad, el mundo de la automatización ha sufrido importantes avances en línea con los avances en el mundo de la robotización, la digitalización y la conectividad.
La etimología palabra automatizar tiene raíces griegas y significa en su origen, hacer que funcione por si mismo.
Desde finales del siglo pasado, las terminales de contenedores han ido introduciendo mayores componentes de automatización en busca de una mayor fiabilidad y consistencia en las operaciones, la mejora de la eficiencia energética, la reducción de los costes de mantenimiento, tanto preventivo como reactivo, el control de costes operativos, el aumento de la capacidad de los patios de almacenamiento y el incremento de la seguridad, entre otros factores.
Desde la introducción de los primeros sistemas operativos avanzados TOS (Terminal Operating System) se puede ya considerar que se empiezan a automatizar procesos en la toma de decisiones operativa, en cualquiera de sus diferentes ámbitos, la planificación de la terminal, la preparación de movimientos y el envío de las órdenes operativas.
Cuando, además, desde mediados de los años 80 se introducen equipos de manipulación que pueden ejecutar de forma autónoma las tareas que ha planificado, secuenciado y ordenado el TOS, la automatización de las operaciones da un salto cuantitativo importante.
Operativa marítima en la terminal BEST. (© Barcelona Europe South Terminal – BEST, 2019).
En el caso de la terminal BEST, la automatización de la terminal se basa en el diseño de un TOS de última generación que permitiera un proceso de toma de decisiones altamente eficiente, con algoritmos de optimización de la terminal a tiempo real, junto con la cobotización de la explanada o zona de almacenamiento. Nos hemos permitido la licencia de utilizar el término cobot para describir maquinas robotizadas que operan en colaboración e interacción con personas que realizan ciertas operaciones manuales en zonas donde conviven robots y personas.
Los equipos de manipulación que se emplearon en el caso de BEST se denominan ASC (Automated Stacking Cranes). Los ASC son grúas pórtico sobre raíles de apilado vertical. El diseño conceptual de la explanada se caracteriza por la disposición de bloques de almacenamiento de contenedores operados por un par de equipos ASC y que sirven para manejar los contendores dentro de los bloques y recoger/depositar los contenedores en las cabeceras, donde interactúan con manipulantes que manejan equipos para el transporte de contenedores.
Dispositivos de detección de presencia y regulación de tráfico en la zona de transferencia marítima de los bloques ASC. (© Barcelona Europe South Terminal – BEST).
OCR de entrada en la puerta de acceso terrestre a BEST. (© Barcelona Europe South Terminal – BEST).
Todas las máquinas de la zona automatizada están equipadas con numerosos y precisos sensores laser que son capaces de captar la realidad del entorno donde se desarrolla la operación, y que pueden evaluar y decidir los movimientos necesarios a ejecutar de los diferentes motores en los tres ejes dimensionales (traslación longitudinal, traslación horizontal y elevación) para la correcta finalización operativa recibida por el sistema operativo.
La automatización en la terminal BEST se extiende más allá del ámbito de la explanada y acaba abarcando todos los diferentes subsistemas que configuran la terminal. El sistema informático de la comunidad portuaria en Barcelona (PORTIC) proporciona toda la información necesaria a la terminal para su correcta planificación. A nivel de la entrada y salida de contenedores terrestres, tanto por camión como por tren, se dispone de sistemas de detección y de reconocimiento óptico de caracteres (OCR) donde se identifican diferentes características de los contenedores y los vehículos que los transportan, introduciendo con absoluta fiabilidad en el sistema operativo los datos necesarios para su gestión.
El proceso de entrega y recepción de los contenedores se apoya en sistemas de control remoto, en detectores de presencia, en sistemas laser de control y en cámaras de reconocimiento, que proporcionan una total trazabilidad y seguridad de dichas operaciones. Los equipos de manipulación de muelle para la carga y descarga de contenedores de buque, cuentan con sistemas automatizados de seguridad y de ayuda a la manipulación. El sistema de transporte de contenedores desde la zona de maniobra, bajo las grúas de muelle, hasta los bloques de ASC, basado en el uso de Straddle Carriers, dispone de sistemas de interacción y comunicación entre el manipulante y el TOS, de posicionamiento georreferenciado, y de detección de presencia para asegurar la seguridad de las operaciones, especialmente sensible en su interacción con los bloques automatizados.
Zona de transferencia terrestre. Operativa de entrega y recepción. (© Barcelona Europe South Terminal – BEST).
Zona de transferencia marítima. Operativa de carga y descarga. (© Barcelona Europe South Terminal – BEST).
Existen numerosas aportaciones más de la automatización en diferentes áreas de trabajo, y el concepto en general se enmarca dentro de un proceso de mejora continua desde hace más de 10 años en los que en la terminal BEST se han ido aplicando numerosas nuevas funcionalidades y actualizaciones de los sistemas automatizados, pero es cierto que este proceso no ha concluido y que la evolución de las redes de comunicación, tanto basadas en fibra como en tecnología 5G, la tecnología de geolocalización y de reconocimiento óptico, el análisis de datos, la inteligencia artificial y la capacidad de computación, marcarán el futuro de esta evolución.
El Plan de sostenibilidad de la terminal BEST y el papel de la automatización
El Plan de sostenibilidad de BEST abarca diferentes acciones dentro de las áreas medioambiental, social y de gobernanza económica, todas ellas contempladas dentro los ámbitos de los ODS de Naciones Unidas. Como hecho diferencial, la automatización de la terminal ha representado un elemento clave de su Plan de Sostenibilidad.
A nivel de gobierno corporativo, son de obligado cumplimiento las políticas del grupo, basadas en prácticas de negocio éticas y sostenibles con empleados, proveedores y clientes, cuyo fin último es la generación de puestos de trabajo dignos y cualificados y el fomento del crecimiento económico. La introducción de la automatización en el diseño de la terminal, junto con la innovación continuada, han supuesto un paso adelante en este ámbito. Asimismo, la incorporación de la tecnología se ha convertido en un elemento clave para la creación de puestos de trabajo altamente cualificados y para la consecución de una elevada eficiencia y una propuesta de negocio diferencial, atractiva y reconocida.
Por lo que respecta a la integración social, más allá de todas las normativas aplicables, se han puesto en práctica desde un inicio planes de contratación basados en la igualdad de género, las prácticas de inclusión y el respeto por la diversidad. Se ha realizado un especial esfuerzo por dar a conocer la propia terminal tanto a nivel social, con la participación en proyectos locales; como en los centros de formación del entorno más inmediato, para fomentar así la contratación y la formación continuada de personas del ámbito más cercano. Pero uno de los pilares del diseño y la gestión de la terminal desde su inicio ha sido la seguridad y la salud de todas las personas, especialmente sus empleados. En este ámbito es dónde la automatización ha jugado un papel relevante una vez más, creando un entorno protegido y seguro.
Operativa marítima en la terminal BEST, donde automatización y eficiencia energética juegan un papel importante en términos de sostenibilidad. (© Barcelona Europe South Terminal – BEST, 2019).
Por último, aunque no por ello menos importante, tenemos la gestión medioambiental. BEST es una de las terminales con menores índices de emisiones de CO2 por contenedor movido, reduciendo en un 50% los valores respecto a una terminal convencional. La eficiencia energética de los medios automatizados eléctricos, la elevada capacidad productiva de un sistema automático muy eficiente y rápido, junto con la precisión y la reducción de movimientos innecesarios por la automatización, hacen posible estas cifras. Además, la terminal participa y promueve todo tipo de proyectos de innovación tecnológica sostenible como, por ejemplo, la electrificación de los muelles para el suministro de energía a los buques o el fomento de energías renovables. BEST también apuesta decididamente por el ferrocarril como medio de transporte sostenible y preferente. Gracias a esta apuesta ha conseguido ahorrar en un año el equivalente a más de 20.000 toneladas de emisiones a la atmósfera.
Por la relevancia que el sector del contenedor tiene en general, y las terminales de contenedores en particular sobre la industria logística y sobre la sociedad, la sostenibilidad debe ser un elemento clave en la gestión ordinaria y en la planificación futura de las terminales. El objetivo es que se garantice su perduración en el tiempo asegurando al mismo tiempo el futuro de las generaciones venideras.
Nuestro futuro depende de las decisiones que tomemos ahora, especialmente cuando nos referimos a la logística del transporte en un mundo completamente globalizado. La sostenibilidad ha de ser clave a la hora de tomar decisiones. No podemos mirar hacia otro lado. No podemos esquivar nuestra responsabilidad como sociedad.
---
Head Image | Vista panorámica de la terminal BEST en el puerto de Barcelona. (© Barcelona Europe South Terminal – BEST, 2019).
---
Nota
[1] Automatización de la función de almacenamiento en la explanada.
---
---