22 Ottobre, 2015
The port and industrial areas surrounding have constituted, for centuries, a penetrable environment, physically contiguous, separate but complementary to the urban fabric, of the same functionally interdependent; an interface zone between land and water that has established different forms of relationship with the city, often determining the expansion and wealth accumulation.
The port over the centuries: relationships with the city
For their central role and the presence of commercial activities, the port areas in the past have not only exercised an important role for the social identity as work environment and place of business, but also have strongly influenced the urban morphology and landscape between land and water.
Over time the ports have lost their urban character, becoming progressively sector infrastructure, highly specialized, often separated from the city and independent from a functional perspective.
Starting the 60s, the transition from the phase of great development produced by industrialization to the post-industrial phase has determined important transformation processes, that have interested initially the main ports of North America, and subsequently Europe, with consequent effects on urban fabric and economic base of the port cities.
Containerization and naval gigantism, new cargo handling technologies, advanced logistics systems, activities with a high level of innovation, have generated in many cases the research of new expansion areas unconditional by the urban occupation, in order to ensure a greater port competitiveness, better accessibility maritime and coordination between different transport systems. Surprising effects have been registered in particular in the large port cities with high density, such as those of Asia, where the phase of greater port expansion has led to the large number development of port and industrial platforms built on the water (Kobe, Osaka, Incheon, Fukuyama, Shanghai, etc.).
Several factors over time have called into question the identity of the port and industrial areas as a commercial and productive spaces, operating over the time at different scales and in a great variety of conditions, until to make this areas of generic suburbs and abandoned places in proximity of urban centers and waterfronts, also triggering a progressive separation between the port and city.
The progressive abandonment of harbors for bays more or less close, coastal levees and artificial islands that can ensure greater port capacity has made available the origin sites located next to major urban centers for new uses. The delocalization of the industrial and port functions has implemented the dismantling of numerous infrastructure following the activities transfer, that has determined, in turn, in the transition from a strictly port policy to an urban approach, not only the separation from the city but also a change of the port scale.
Scale changes and development opportunities in the transition from a port policy to an urban approach
Meeting place of the industrial culture and maritime identity, strategic area into the urban fabric, the port has acquired a multiscale dimension that, integrating historical testimonies, environmental sustainability and technological innovations, both from a perceptual point of view that functional, allows to solve issues and regional problems, identifying at the same time new forms of relationship. The port functions at the metropolitan scale are indeed rethought according to a regional system that necessarily has to refer to infrastructure links, traffics and flows, while at local level the relationship between port and city interacts on various aspects, tangible and intangible, through the transformation of a specific and unique landscape, often highly attractive in terms of resources and potentialities.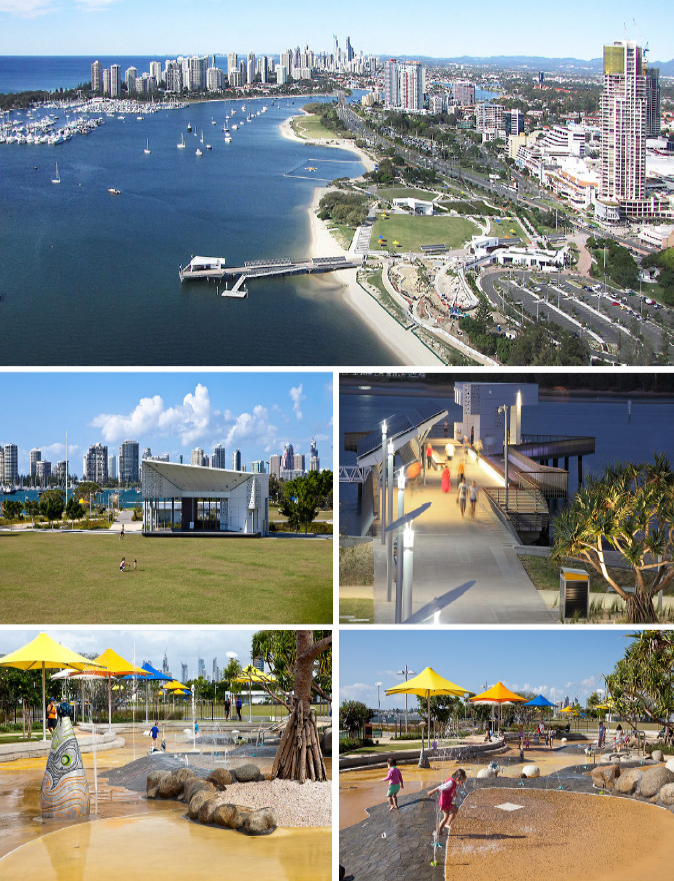 Southport Broadwater Parklands, Gold Coast, Queensland, 2010 (AECOM Design and Planning).
Place of great traffic and trade, the port is now an area of the new development, where on the one hand has grown over time the attention for historical and cultural identity, natural environment and landscape, on the other the ability to "exploit" opportunities and resources to generate new economies and territorial dynamics.
The proximity to the old town, presence of water, facilities and services availability, accessibility to the area, attributes a strategic role to the port context that, as a scenic place of great visibility, exerts a particular attraction not only in terms of real estate value, but also from the social-cultural perspective and landscape.
Innovative ways of spatial articulation, coexistence of different use destinations, integration of potentially compatible activities, interdisciplinary design approaches allow rethinking the port not only in a multiscalar size but also as multifunctional system.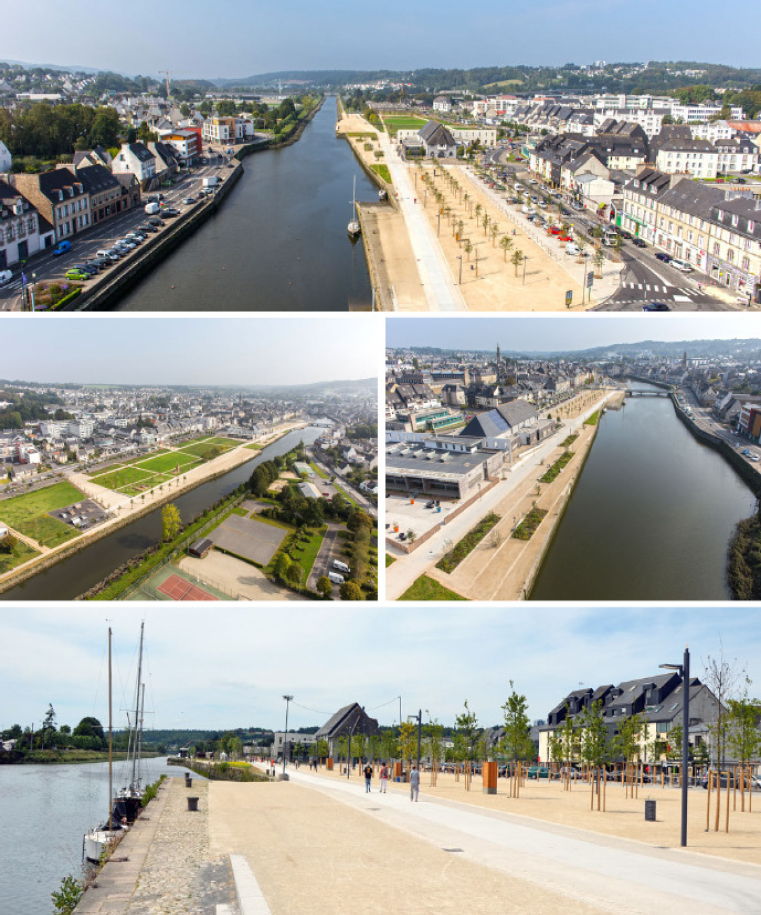 Jardins de la Palud, Urban Park Along the Elorn Quays, Landerneau, France, 2014 (URBICUS – agence de projets d'urbanisme, de paysage et d'architecture).
The transformations experienced by industrial and port cities from the second half of the 20th century, seen in relation to the extraordinary dynamics of spatial redevelopment and functional conversion that have affected unused and obsolete areas – in particular those located in the heart of historic cities, or anyway included within a densely urbanized area on the water – undoubtedly represent one of major opportunities for the urban development in the contemporary era.
Overall, the functional recovery and urban enhancement actions constitute a real opportunity to rethink the territorial organization and relationship systems, creating areas of great interest be able to generate new flows, and therefore economic development and socio-cultural revitalization on the port-city interface. A reconfiguration of the urban-port areas that must ensure the sustainability of a project approach in which the choices that aim at quality and uniqueness, integrate the heritage and local identity protection with the economic growth and the socio-cultural balance.
In order to promote and implement the urban-port system be able to not compromise the possibility, also for future generations to continue in development – preserving the quantity and quality of the heritage and natural or not resources, with the aim of ensuring social equity and ecosystems balance – is a fundamental factor recreate in these areas the relationship between spaces, uses and visions, between urban image and economic growth, through multidisciplinary approaches, specific tools and appropriate financing strategies.
The port-city interface, an area of new project interest in contemporary landscape
Restore the physical and functional relationship between the port and the city, making accessible and livable the waterfronts – through a progressive occupation model and a multi-functional fruition, in which the diversification of uses, activities with high added value, advanced technologies and a reduced impact to the environment take a key role – allow in many cases to create new urban centers, characterized by persistent consolidated situations and balances to be redefined.
From the intrinsic characteristics, heritage and peculiarities of the port and industrial abandoned areas, the redevelopment and renovation processes permit to mend fences the relationship between port and city, by improving the quality and increasing the mode of space usage on the one hand, and preserving the historical and architectural memory and environmental resources on the other.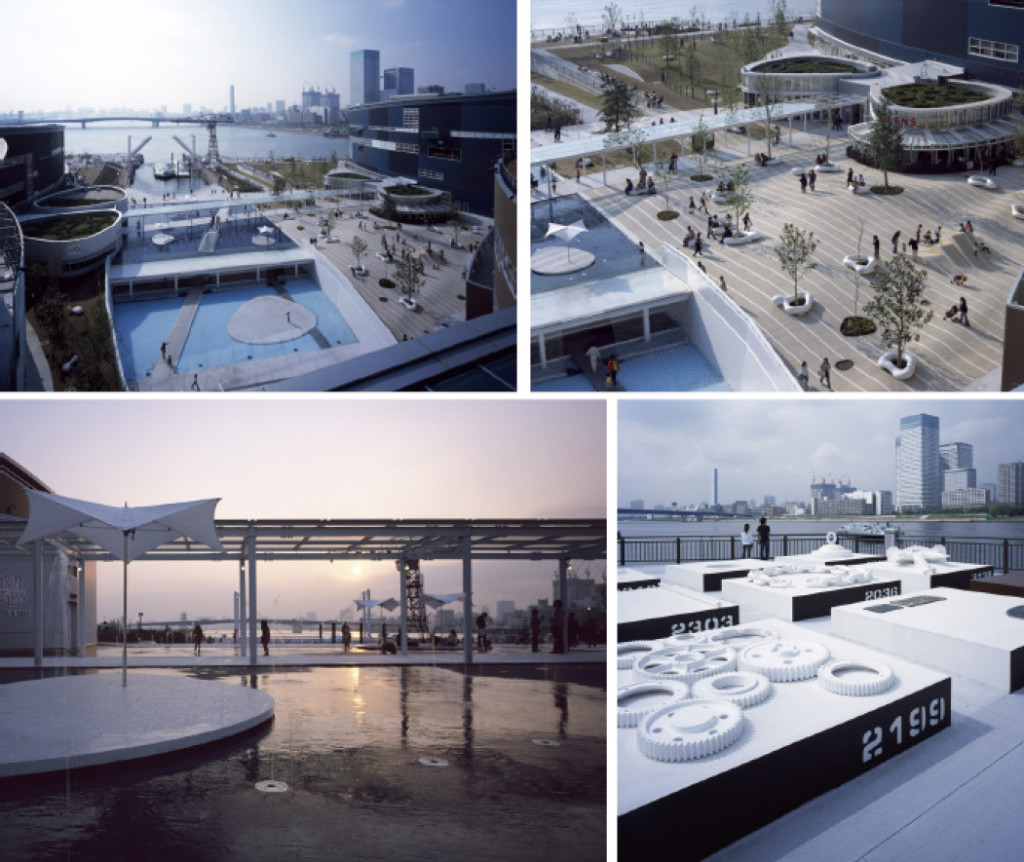 LaLaport Toyosu, Toyosu Koto-ku Tokyo, Japan, 2006 (EARTHSCAPE).
The several experiences of "successful" have evidenced as the port area opening and public use can become an opportunity not only for returning a fascinating place at residents and visitors, but also to solve major issues related for example at urban mobility systems, low availability of facilities and services to public interest, lack of open spaces and green areas, with the aim to redefine the territorial logic and outline the future scenarios more sustainable, that do not involve for example an additional soil consumption but the recovery and enhancement of structures and existing resources.
The integration between port and urban dimension is linked not only to a different concept of space and use, but also to the rethinking of the waterfront as a infrastructure integrated in the landscape, as a "system" of places and uses structured around the relationship networks and public areas, in an urban transformation project that takes its shape from the regeneration and renovation process of abandoned areas.
On the port-city interface, the planning action is finalized generally to enhance, restore or create a new landscape, in a context became a territory to interpret, protect, recover and manage starting from the interaction between tangible and intangible elements, and systems constantly evolving.
As places of great project interest, the contemporary ports interact with the landscape in a innovative way, experimenting, with the planning and architectural design, new forms of urban image interpretation, through measures that in addition to the structural and functional recovery assume the resources and historical-cultural heritage protection, while ensuring new fruition systems and social-economic development.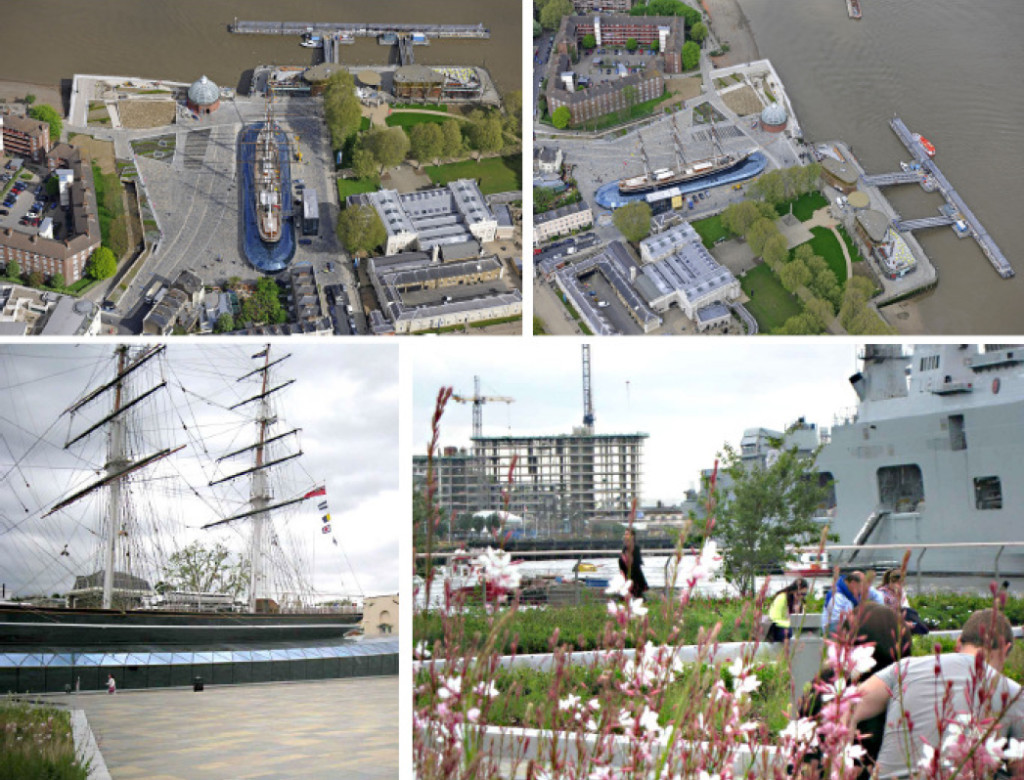 Cutty Sark Gardens, Greenwich, London, UK, 2009 (OKRA).
In the same European Landscape Convention are put into question the disciplinary delimitations of "landscape", in the moment in which is assigned to it a broad meaning compared to the traditional, in a plural and open drawing that shifts the landscape value not only on individual areas of exceptional interest, but on the entire territory.
The landscape theme is reproposed in a transversal manner, putting beside the interest reserved to the landscapes of "excellence" to the one for territory as a whole and for "ordinary" landscapes, giving priority in particular to interventions of different nature needed in situations of degradation, de-semantisation and/or abandonment. A "contemporary landscape" that, beyond the theories and techniques designed to analyze and interpret the processes of transformation where are expressed some values recognizable and communicable, refers to both the object and its representation, territorial characters (morphological, environmental, socio-economic, cultural, etc.) and manner in which the same are returned and perceived by the community.
The landscape project on the water: continuity, specific context and future visions
The project proposals on the urban and port waterfront are basically oriented to overcoming the dichotomy between objectives aimed on the conservation and development, as well as a landscape contemporary vision in which innovative forms of strategic management – that refer to the landscape as a territory, as a space subject to change processes and then to multiple projects – interact with forms of passive protection – taking landscape as identity value, or as the heritage of aesthetic, historical, cultural and environmental value, to be protected through constraints rather stringent.
The aim is to define an urban project can interpret the transformation process of the port area through future visions, new signs and symbols, innovative fruition forms, representing on the one hand the needs and collective imagination, but protecting the other the relationship with preexistences and past culture, and/or recovering the traditions and local identity in order to return a situation of continuity.
To combine the protection and enhancement of land resources with the quality of urban development on the waterfront is necessary an approach of interaction between culture and design, history and future, that recognizes in the port landscape, next to the historical and aesthetic components, also cultural and social aspects, and place identity.
As recommended by the European Convention, "the landscape must be legally recognized as an essential component of the context of people life, expression of the diversity of their cultural and natural heritage shared, and foundation of their identity".
Tel Aviv Port Public Space Regeneration, Tel Aviv, Israel, 2008 (Mayslits Kassif Architects).
The landscape therefore converses with the territory, while maintaining a specific cultural and project connotation in which utility, knowledge and beauty interacting; is the complete expression of a long interaction between natural factors and human intervention, the product of an evolutionary process and overlap between permanence and change.
The urban-port landscapes are always landscapes in evolution, spaces toward which the city seeks to extend its boundaries, places that reaffirm the need of renewal, while protecting the historical and cultural dimension.
The transformation policies that affect these areas tend mainly to the reconstruction or "restitching" of the relationship between city and port, urban and maritime activities, built landscape and natural environment, with the purpose of giving continuity to the territory, while enhancing peculiarities and specificities, creating interaction of piers and docks with paths and public spaces, and reducing residual interstices.
In this system, subject to rapid value and relationship changes, the project proposals often assume a process characterization, in an evolutionary and dynamic long-term perspective; a continuous becoming, which provides next to processes of structural and functional recovery even the temporary use of the areas.
Fragments of landscape between port and city
The construction of new territorial relationships, rather than the defined configurations, enables to enhance the landscape role as element of physical, spatial and identity connection, through flexible strategies and a progressive occupation process. Subsequent insertions in the context, punctual works of limited size, strategies and actions that accompany the changes rather than a big project, in many cases contribute to the regeneration of port-city interface also in terms of economics and finance.
The opportunity to initiate "virtuous circles" often revolves around the proposal of a sustainable interventions program at different levels (formal, cultural, environmental, etc.), allowing to imagine a landscape project in stages, without necessarily refer to a unique and defined image, but researching an overall vision through the synthesis of old and new logics, which is nothing that the product of a new representation of the port landscape, and a collective perception of the place identity and its multiple spatial and functional vocations.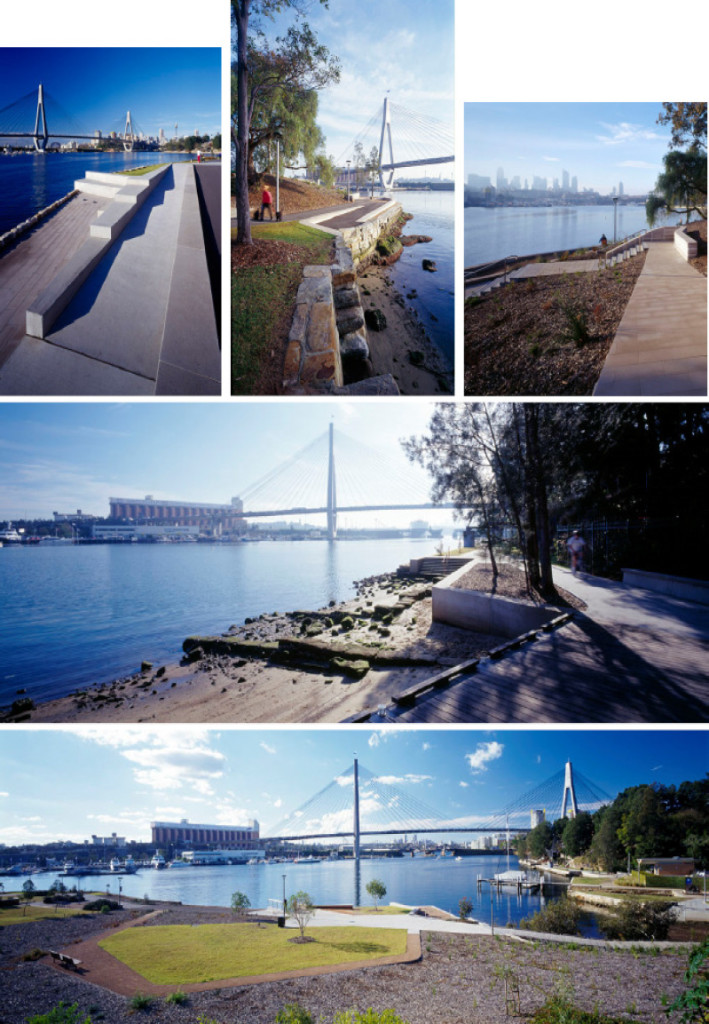 Glebe Foreshore Walk, Sydney, Australia, 2006 (JMD Design).
Specific characters, elements of continuity and contemporary images can return in the project a rich declination of "fragments of landscape" on the port-city interface.
The landscapes of defence
The relationship with the water for many port cities is an important resource, but at the same time one of the most critical element, able to compromise the equilibrium state.
Alongside the great potentials, another aspect, the vulnerability of areas situated between land and water, characterizes the urban-port waterfronts, sensitive contexts subject to frequent risks – and to more rare scenarios of disaster in specific situations – produced by nature (in particular due to climate change) and/or man-made, with strong repercussions at spatial, structural, functional, economic and social level.
Rethinking, on port-city interface, physical and relational systems able to react and adapt to the impacts produced by unexpected or long-term events, natural or man-made disasters – including through possible measures for reducing vulnerability and predicting risk – allows to ensure besides to a continuous and diverse fruition also a certain resiliency level and a minimum threshold of function in case of extreme conditions and emergency situations.
The construction of defense landscapes is geared to protect the cities overlooking on the water along with their rich architectural and environment heritage. In this sense, the most interesting results were recorded when the project allows to combine the need for coastal defense and ecosystems protection with the urban space redevelopment, respecting the architectural and landscape values of the areas.
The recovery of industrial and productive archeology
The value of the constant port-cities evolution is to be sought in the possible interactions between past features and new urban forms, between conservation and enhancement needs of historic heritage and recent changes in the landscape. The production places on the waterfronts are always a interweaving of old techniques and new knowledge.
To the promotion of a "project culture" – that involves environment, culture and local traditions, as well as social dynamics – the new works on preexistences are finalized to ensure the conservation of archaeological heritage and memory place, permitting the fruition by the community. The protection of historical and architectural artifacts indeed passes not only through the structural and functional recovery, but to ensure the transmission of signs, meanings and identity to the future generations is also important the re-appropriation of places by the local communities.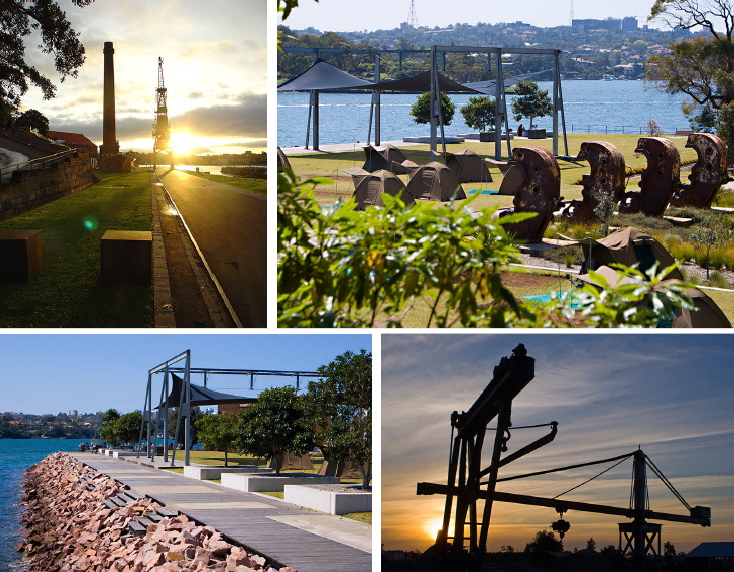 Cockatoo Island, Sydney Harbour, Sydney, Australia, 2007 (Taylor Brammer Landscape Architects).
Public spaces and squares on the water
The project on the urban-port waterfront is an opportunity to reinterpret the relationship between port and city and restore continuity in these two elements, redrawing lines and visions to fruition that are develop from the city center towards the water front. One of the nodes on which is articulated the recovery or re-interpretation of this relationship is the creation of parks and squares on the water, that become an opportunity to reconnect dialectically man-made systems and environmental values, artificial installations and natural elements.
Some projects allow to return the usability of waterfronts – symbolic places for their intrinsic beauty, spatial and scenic characteristics, often for the size and landscape values that characterize them – with the inclusion of a public nature services, as well as commercial, productive, cultural and recreational activities.
Many interventions, through a careful use of materials and colors, allow to get quality spaces on the water, accessible even at night thanks to lighting systems.
Experimenting new possible uses and creating unusual urban settings, has resulted the realization also provisionally of some structures, which appreciated by the general public of users have become new urban permanence and landscape part, enabling to the city to recover the relationship that in the past bound her to its port.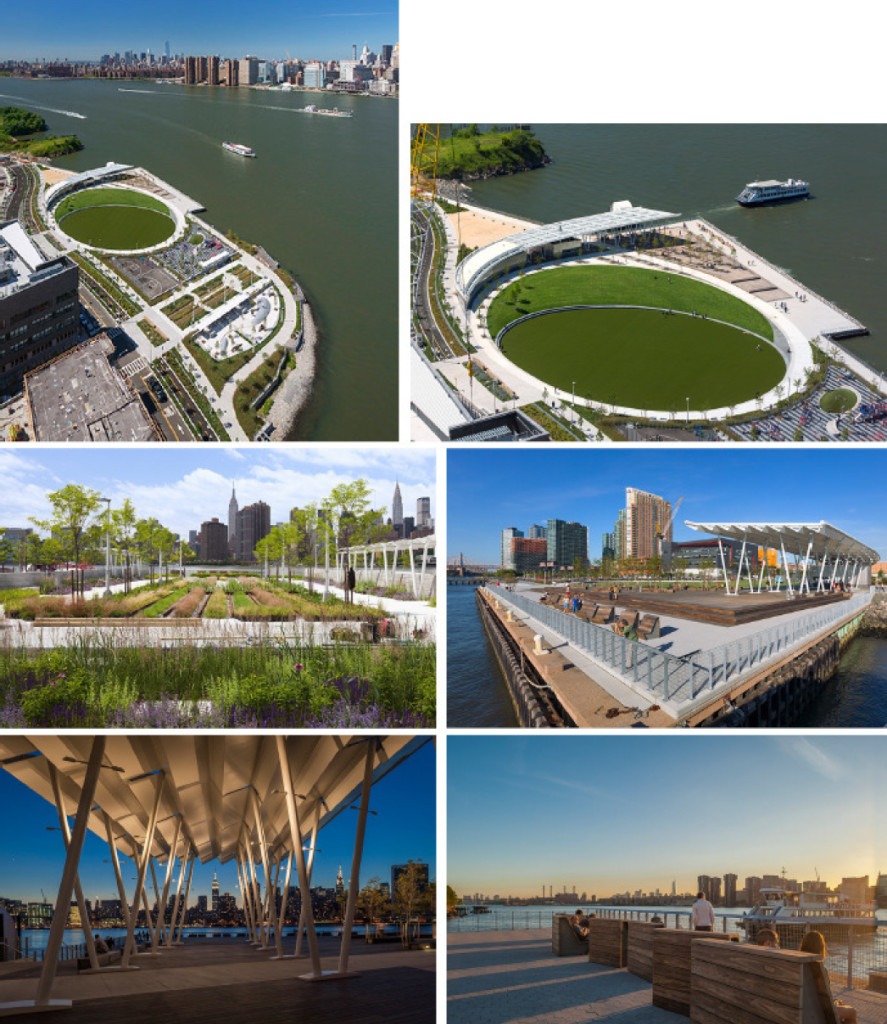 Hunter's Point South Waterfront Park, Long Island City, New York, USA, 2013 (Thomas Balsley Associates/WEISS/MANFREDI).
Relationship systems and infrastructure in port areas
Once defined the conditions for the port areas integration in settlement processes that involve the territory, is important the relationship with the neighboring environment and possible synergies with local production systems.
The port infrastructure – generally situated in places rather articulated and composites, where large ships and historic buildings, activities and degradation can coexist – have become the object of structural and functional recovery projects can enhance the unique characteristics of these fields in constant evolution, taking some references by this naval equipments, marine platforms, control towers and container deposits to create new port landscapes on old piers.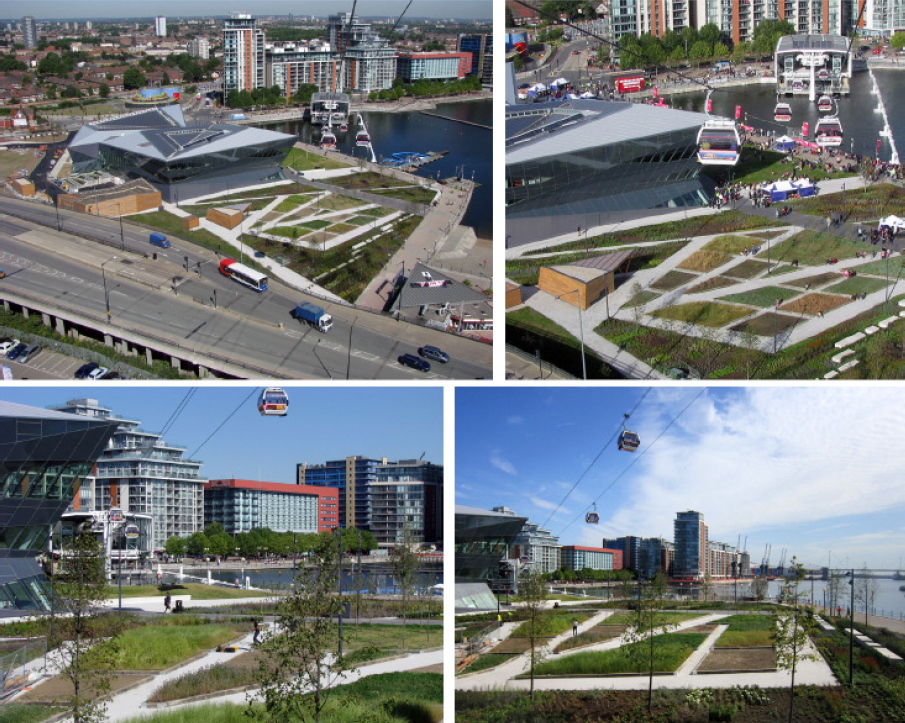 Crystal, Royal Victoria Dock, London Borough of Newham, 2012 (Townshend Landscape Architects).
The rationalization and specialization of routes and access can help reduce the marginality and degradation of these areas; the review of port and urban mobility plans can also create new connections for the exclusive use of public transport, or pedestrians and cyclists; the identification of new axes and development nodes can produce a flows reorganization on the territory and redraw new relationships between port and city.
Facilities for recreational boating and water sports
Increasingly widespread, the facilities dedicated to boating and water activities (sports, fishing, recreation, etc.) are located generally in close proximity of urban areas and realized according to the natural features and/or anthropogenic phenomena previous, or selecting new locations in relation to the interests of different kind and sometimes with negative effects from the hydraulic and landscape point of view.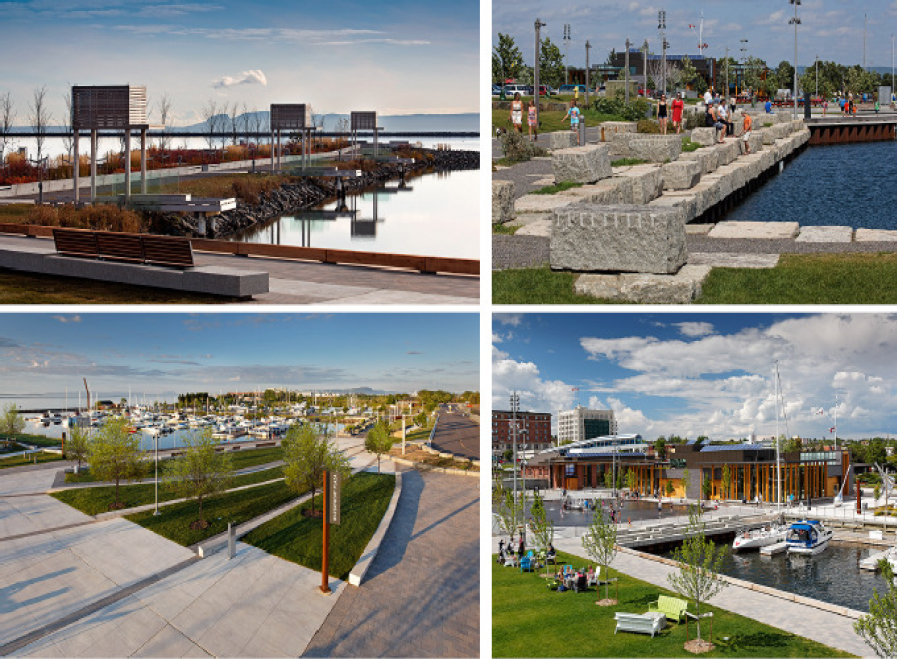 Prince Arthurs Landing, Thunder Bay Waterfront, Ontario, Canada, 2011 (Brook McIlroy).
Are complexes realized with works on land and sea, integrating facilities for yachting with complementary works, residential and commercial buildings, sometimes with services and functions not strictly related to the boating and other water activities.
These interventions, in accordance with their design complexity, can become an opportunity to redefine or enhance certain port areas at more closely with the city.
The proximity to the historic fabric, inclusion in the urban landscape, public accessibility, specific functional performances, and relationships with possible real estate transactions appear to be decisive for the success of the interventions that, if on the one hand are aimed at optimizing, from the economic point of view, the use of nautical structures and ensure the efficiency of services connected, on the other must protect and enhance the landscape resources.
Temporary landscapes and major events
Many port cities are protagonists of major international events, and have been able to use their urban waterfront as a big stage for a limited time and reprogram in the long term the functional reuse of areas and facilities.
Return a new image of the port-city interface through temporary events is a widespread policy and now consolidated by experiences of "success", which allows to project the areas between land and water at international level, transforming them into an urban structuring element and creating new relationship forms on the territory.
A major event, which focuses on water resource and territorial marketing, which combines tourism and culture, has become in many cases the opportunity to start a process of urban, social and cultural transformation, to recover degraded neighborhoods and reclaim brownfields, to redevelop urban fabrics overlooking the water, to create interest points and attraction areas.
Urban landmark and new landscapes on the water
Regenerative elements of great visibility, from the point of view perceptual and conceptual, the new landmarks on the urban-port waterfronts reinterpret tangible and intangible resources by exploiting the economic dimension of the rich landscape.
The new architectural realizations – often entrusted to the signature of internationally renowned professionals – and new settlements on the water involves a constant reflection on the uniqueness represented by each project, that once realized is destined to become "protagonist" of the space, but at the same time to relate themselves with the urban areas and limits represented by the water, respecting the identity of places and existing structures.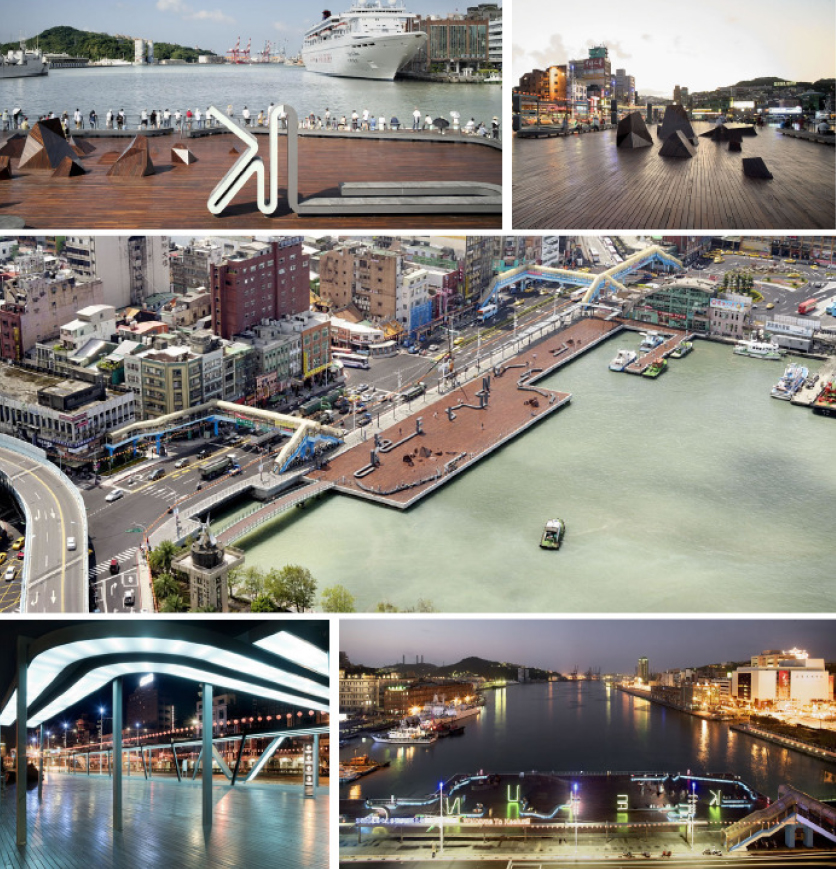 Keelung Port, Taipei, Taiwan, 2003 (Guallart Architects).
In order to guarantee a overall sustainability, the integration between built and natural landscape, the relationships construction between urban systems, economic processes and social needs, it is appropriate that the project elements that acquire the role of "great attractors" are related to the cultural, social and economic reality of territory.
The port as a landscape. An approach to the project complexity
From a concept of port landscape, where acquires greater value a multi scale dimension, multifunctional approach and creation of new relationship systems, is possible to identify morphological, historical and physical characteristics that, in a situation such as that of port and urban waterfronts – that has been losing its "conventional" identity – can interact between them to generate a complex and layered area, reinvent a continuity and redefine a new territorial image.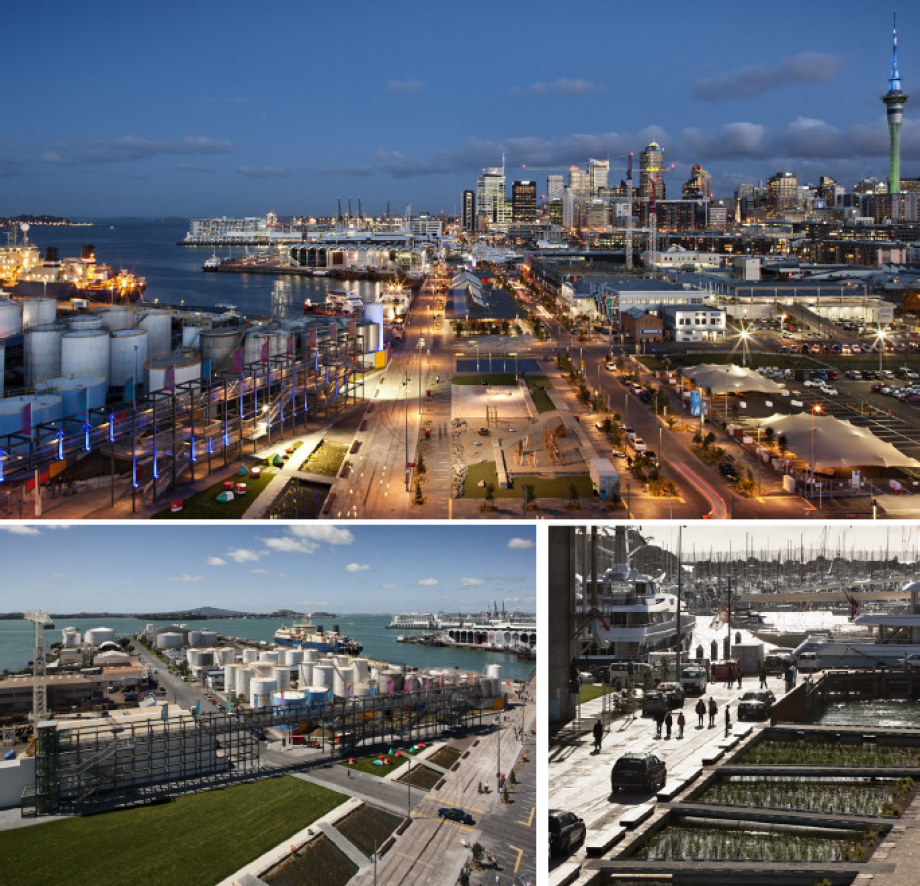 North Wharf Promenade, Waterfront Auckland, New Zealand, 2011 (Taylor Cullity Lethlean and Wraight + Associates).
The landscape project can then become an opportunity to understand the stratification of port-city interface, relate the different elements, make interact different logics, in synthesis to approach the complexity and accompany the evolution of different transformation processes on the territory.
In this regard, the project on the waterfront is called to read the territory and its transformations, from built to natural elements, from history testimonies to cultural heritage, with a particular interest in all that can be regenerated, redesigned, recreated, in a context that often needs to be rebuilt, where it is difficult reprogram a new economic base and answer to renewed market dynamics, as well as new urban and social needs; a project that if one side is guided by some conceptual and interpretation freedom, on the other side must ensure a certain degree of sensitivity and concreteness.
The extensive dimension, degradation and contamination situation, in which are industrial and port areas abandoned, make necessary processes rather complex, that involve the definition of long-term strategies primarily aimed at solving issues related to land reclamation, and that only following can continue with the rethinking of economic and productive base, strengthening their centrality, and enhancing water landscapes often unique.
In the complicated management of the landscape transformations and its various elements is evident as the combination of different disciplinary approaches, integration ability and knowledge exchange, confrontation and collaboration between specialists can produce synergies and create new ways of operating.
Processes and tools, that can activate integrated, interdisciplinary and multi-sector projects, are crucial to overcome the sectoral approach and establish interactions between different specialist skills, without renouncing to the territorial specificities.
---
Head Image:
North Wharf Promenade, Auckland Waterfront, New Zealand (Taylor Cullity Lethlean and Wraight Associates).
---
Ripensare il paesaggio portuale. Interpretazioni e visioni contemporanee
Il porto e le aree industriali ad esso annesse hanno costituito per secoli un ambito penetrabile, fisicamente contiguo, separato ma complementare al tessuto urbano, da esso funzionalmente interdipendente; una zona di interfaccia tra terra e acqua che ha instaurato forme differenti di relazione con la città, determinandone spesso l'espansione e l'accumulo di ricchezza.
Il porto nei secoli: relazioni con la città
Per la loro centralità e per la presenza delle attività commerciali, gli ambiti portuali in passato hanno non solo esercitato un ruolo importante per l'identità sociale in quanto ambiente di lavoro e luogo di commercio, ma hanno anche fortemente caratterizzato la morfologia urbana e il paesaggio tra terra e acqua.
Nel corso del tempo i porti hanno perso il loro carattere urbano, trasformandosi progressivamente in infrastrutture di settore, altamente specializzate, spesso separate dalla città e indipendenti dal punto di vista funzionale.
A partire degli anni '60, la transizione dalla fase di grande sviluppo prodotta dall'industrializzazione alla fase post-industriale ha determinato importanti processi di trasformazione che hanno interessato inizialmente i principali porti del Nord America, e successivamente dell'Europa, con conseguenti effetti sul tessuto urbano e sulla base economica delle città portuali.
La containerizzazione e il gigantismo navale, le nuove tecnologie di movimentazione delle merci, i sistemi logistici avanzati, le attività ad alto contenuto di innovazione hanno generato in molti casi la ricerca di nuove aree di espansione non condizionate dall'occupazione urbana, per poter garantire una maggiore competitività portuale, una migliore accessibilità marittima e il coordinamento tra i diversi sistemi di trasporto. Effetti sorprendenti sono stati registrati in particolare nelle grandi città portuali ad alta densità, ad esempio quelle asiatiche, dove la fase di maggiore espansione portuale ha portato allo sviluppo di un gran numero di piattaforme portuali e industriali realizzate sull'acqua (Kobe, Osaka, Incheon, Fukuyama, Shanghai, etc.).
Diversi fattori nel corso del tempo hanno messo in discussione l'identità degli ambiti portuali e industriali in quanto spazi commerciali e produttivi, operando nel tempo a differenti scale e in una grande varietà di condizioni, fino a rendere tali aree generiche periferie e spazi dismessi in prossimità dei centri urbani e del waterfront, innescando inoltre una progressiva separazione tra porto e città.
Il progressivo abbandono degli scali per baie più o meno vicine, argini costieri e isole artificiali in grado di garantire una maggiore capacità portuale ha reso disponibili a nuove destinazioni d'uso i siti di origine prossimi ai grandi centri urbani. La delocalizzazione delle funzioni industriali e portuali ha implementato la dismissione di numerose infrastrutture a seguito del trasferimento delle attività, producendo di conseguenza, nel passaggio da una logica strettamente portuale ad un approccio di tipo urbano, non solo l'allontanamento dalla città ma anche un cambiamento di scala del porto.
Cambiamenti di scala e opportunità di sviluppo nel passaggio da una logica portuale ad un approccio urbano
Luogo di incontro della cultura industriale e dell'identità marittima, ambito strategico nel tessuto urbano, il porto ha acquisito una dimensione multiscalare che, integrando testimonianze storiche, sostenibilità ambientale e innovazioni tecnologiche, dal punto di vista sia percettivo che funzionale, consente di risolvere problematiche e criticità territoriali, identificando allo stesso tempo nuove forme di relazione.
Le funzioni portuali alla scala metropolitana vengono infatti ripensate secondo un sistema regionale che necessariamente deve far riferimento a connessioni infrastrutturali, traffici e flussi, mentre a livello locale le relazioni tra porto e città interagiscono su diversi aspetti, materiali e immateriali, attraverso la trasformazione di un paesaggio specifico e unico, spesso altamente attrattivo in termini di risorse e potenzialità.
Southport Broadwater Parklands, Gold Coast, Queensland, 2010 (AECOM Design and Planning).
Luogo di grandi traffici e del commercio, il porto è oggi un'area di nuova urbanizzazione, in cui da un lato è cresciuta nel tempo l'attenzione all'identità storica e culturale, all'ambiente naturale e al paesaggio, dall'altra la capacità di "sfruttare" opportunità e risorse per generare nuove economie e dinamiche territoriali.
La prossimità al centro storico, la presenza dell'elemento acqua, la disponibilità di strutture e servizi, l'accessibilità al territorio attribuiscono un ruolo strategico all'ambito portuale che, in quanto luogo scenografico di grande visibilità, esercita un'attrazione particolare non solo in termini di valore immobiliare, ma anche dal punto di vista socio-culturale e paesaggistico.
Forme innovative di articolazione dello spazio, coesistenza di diverse destinazioni d'uso, integrazione tra attività potenzialmente compatibili, approcci progettuali di carattere interdisciplinare consentono di ripensare il porto non solo in una dimensione multiscalare ma anche in quanto sistema multifunzionale.
Jardins de la Palud, Urban Park Along the Elorn Quays, Landerneau, France, 2014 (URBICUS – agence de projets d'urbanisme, de paysage et d'architecture).
Le trasformazioni sperimentate dalle città portuali e industriali a partire dalla seconda metà del XX secolo, viste alla luce delle straordinarie dinamiche di riqualificazione spaziale e di riconversione funzionale che hanno interessato aree inutilizzate ed obsolete – in particolare quelle localizzate nel cuore delle città storiche, o comunque comprese all'interno di un territorio densamente urbanizzato affacciato sull'acqua – rappresentano senza dubbio una delle maggiori opportunità di sviluppo urbano in epoca contemporanea.
Nel complesso le operazioni di recupero funzionale e valorizzazione urbana costituiscono una reale occasione per ripensare l'organizzazione del territorio e dei sistemi di relazione, creando ambiti di grande interesse in grado di generare nuovi flussi e di conseguenza lo sviluppo economico e la rivitalizzazione socio-culturale sull'interfaccia porto-città. Una riconfigurazione degli ambiti urbano-portuali che deve garantire la sostenibilità di un approccio progettuale in cui le scelte che premiano la qualità e l'unicità, integrano la tutela del patrimonio e dell'identità territoriale con la crescita economica e l'equilibrio socio-culturale.
Al fine di promuovere e di implementare sistemi urbano-portuali capaci di non compromettere la possibilità, anche per le generazioni future, di perdurare nello sviluppo – preservando la quantità e la qualità del patrimonio e delle risorse naturali e non, con l'obiettivo di garantire l'equità sociale e l'equilibrio tra gli ecosistemi – è fondamentale ricreare su tali ambiti il rapporto tra spazi, usi e visioni, tra immagine urbana e crescita economica, mediante approcci multidisciplinari, specifici strumenti e opportune strategie di finanziamento.
L'interfaccia porto-città, ambito di nuovo interesse progettuale nel paesaggio contemporaneo
Ripristinare la relazione fisica e funzionale tra porto e città, rendendo i fronti d'acqua accessibili e vivibili – attraverso un modello di occupazione progressiva e di fruizione di tipo multifunzionale, in cui la diversificazione degli usi, le attività ad alto valore aggiunto, l'utilizzo di tecnologie avanzate e il ridotto impatto per l'ambiente acquistano un ruolo fondamentale – consente in molti casi di creare nuove centralità urbane, caratterizzate dal persistere di situazioni consolidate e da equilibri da ridefinire.
A partire dalle caratteristiche intrinseche, dal patrimonio e dalle peculiarità delle aree portuali e industriali dismesse, i processi di riqualificazione e rifunzionalizzazione consentono di ricucire la relazione tra porto e città, attraverso il miglioramento della qualità e l'incremento delle tipologie di fruizione dello spazio da un lato, e la tutela della memoria storico-architettonica e delle risorse ambientali dall'altro.
LaLaport Toyosu, Toyosu Koto-ku Tokyo, Japan, 2006 (EARTHSCAPE).
Le numerose esperienze di "successo" testimoniano come l'apertura e la fruizione pubblica del porto possa diventare un'occasione non solo per restituire un luogo affascinante a residenti e turisti, ma anche per risolvere importanti criticità legate ad esempio al sistema della mobilità urbana, alla disoccupazione, alla scarsa disponibilità di strutture e servizi di interesse comune, alla carenza di spazi aperti e di aree verdi, con la finalità di ridefinire le logiche territoriali e di delineare scenari futuri più sostenibili, che non prevedano ad esempio un ulteriore consumo di suolo ma il recupero e la valorizzazione delle strutture e delle risorse esistenti.
L'integrazione tra la dimensione portuale e urbana è legata non solo ad un diverso concetto di spazio e fruizione, ma anche al ripensamento del waterfront in quanto infrastruttura inserita nel paesaggio, come "sistema" di luoghi e usi articolati attorno alle reti di relazione e alle aree ad uso pubblico, in un progetto di trasformazione urbana che prende forma proprio a partire dal processo di rigenerazione e rifunzionalizzazione delle aree dismesse.
Sull'interfaccia porto-città l'azione progettuale è volta tendenzialmente alla valorizzazione, al ripristino o alla creazione di un nuovo paesaggio, di un contesto divenuto un ambito territoriale da interpretare, tutelare, recuperare e gestire a partire dall'interazione tra elementi, materiali e immateriali, e sistemi in continua evoluzione.
In quanto luoghi di grande interesse progettuale, i porti contemporanei interagiscono con il paesaggio in modo innovativo, sperimentando attraverso il progetto e il disegno architettonico nuove modalità di interpretazione dello spazio e dell'immagine urbana, con interventi che accanto al recupero strutturale e funzionale prevedono la tutela delle risorse e del patrimonio storico-culturale, garantendo allo stesso tempo nuove forme di fruizione e lo sviluppo economico-sociale.
Cutty Sark Gardens, Greenwich, London, UK, 2009 (OKRA).
Nella stessa Convenzione Europea del Paesaggio vengono messe in discussione le delimitazioni disciplinari del "paesaggio", nel momento in cui gli si attribuisce un significato ampio rispetto a quello tradizionale, secondo una concezione plurale e aperta che fa ricadere la valenza paesistica non solo su singoli ambiti di eccezionale interesse, ma sull'intero territorio.
Il tema del paesaggio viene riproposto in modo trasversale, affiancando all'attenzione riservata ai paesaggi di "eccellenza" quella per il territorio nel suo complesso e per i paesaggi "ordinari", dando priorità in particolare ad interventi di diversa natura necessari in situazioni di degrado, di de-semantizzazione e/o di dismissione. Un "paesaggio contemporaneo" che, al di là delle teorie e delle tecniche finalizzate ad analizzare ed interpretare i processi di trasformazione in cui si esprimono valori riconoscibili e comunicabili, fa riferimento sia all'oggetto che alla sua rappresentazione, ai caratteri territoriali (morfologici, ambientali, socio-economici, culturali, etc.) e alle modalità secondo le quali gli stessi vengono restituiti e percepiti dalla collettività.
Il progetto di paesaggio sull'acqua: continuità, specificità di contesto e visioni future
Le proposte progettuali sul waterfront urbano-portuale sono tendenzialmente orientate al superamento della dicotomica tra obiettivi finalizzati alla conservazione e allo sviluppo, nonché ad una visione contemporanea di paesaggio in cui le forme innovative della gestione strategica – che fanno riferimento al paesaggio come territorio, come spazio soggetto a processi di mutamento e quindi a molteplici progettualità – interagiscono con forme di tutela passiva – che assumono il paesaggio come valore identitario, ovvero come patrimonio di riconosciuto valore estetico, storico-culturale ed ambientale, da tutelare anche attraverso vincoli piuttosto rigorosi.
La finalità è quella di definire un progetto urbano in grado di interpretare i processi trasformazione dell'ambito portuale mediante visioni future, nuovi segni e simboli, forme innovative di fruizione, rappresentando da un lato le esigenze e gli immaginari collettivi, ma tutelando dall'altro il rapporto con le preesistenze e con la cultura del passato, e/o recuperando le tradizioni e l'identità locale in modo da restituire una situazione di continuità.
Per coniugare tutela e valorizzazione delle risorse territoriali con la qualità dello sviluppo urbano sul waterfront è necessario un approccio di interazione tra cultura e progetto, tra storia e futuro, che riconosca nel paesaggio portuale, accanto alle componenti estetiche e storiche, anche aspetti culturali e sociali, e l'identità del luogo.
Secondo le indicazione fornite dalla Convenzione Europea "il paesaggio deve essere giuridicamente riconosciuto quale componente essenziale del contesto di vita delle popolazioni, espressione della diversità del loro comune patrimonio culturale e naturale e fondamento della loro identità".
Tel Aviv Port Public Space Regeneration, Tel Aviv, Israel, 2008 (Mayslits Kassif Architects).
Il paesaggio dialoga quindi con il territorio, pur mantenendo una specifica connotazione culturale e progettuale in cui utilità, conoscenza e bellezza interagiscono; è l'espressione compiuta di una lunga interazione tra fattori naturali e interventi umani, il prodotto di un processo evolutivo e della sovrapposizione tra permanenze e trasformazioni.
I paesaggi urbano-portuali sono da sempre paesaggi in continua evoluzione, spazi verso cui la città cerca di estendere i propri confini, luoghi che riaffermano l'esigenza di rinnovamento pur nella tutela della dimensione storico-culturale. Le politiche di trasformazione che interessano questi ambiti tendono prevalentemente alla ricostruzione o alla "ricucitura" dei rapporti tra città e porto, tra ambiti urbani e attività marittime, tra paesaggio costruito e ambiente naturale, con la finalità di dare continuità al territorio, valorizzandone le emergenze e le specificità, facendo interagire moli e banchine con percorsi e spazi pubblici, e riducendo gli interstizi residuali.
In questo sistema, soggetto a rapidi mutamenti di valore e di relazione, le proposte progettuali assumono spesso una caratterizzazione processuale, in una prospettiva evolutiva e dinamica di lungo periodo; un continuo divenire che prevede accanto a processi di recupero strutturale e funzionale anche l'utilizzazione temporanea delle aree.
Glebe Foreshore Walk, Sydney, Australia, 2006 (JMD Design).
Frammenti di paesaggio tra porto e città
La creazione di nuove relazioni sul territorio, piuttosto che di forme definite, consente di valorizzare il ruolo del paesaggio in quanto elemento di connessione fisica, spaziale e identitaria attraverso strategie flessibili e un processo di occupazione evolutiva. Inserimenti successivi nel contesto, azioni puntuali di dimensione limitata, la proposta di strategie ed azioni che accompagnino le trasformazioni piuttosto che un grande progetto, facilita in molti casi la rigenerazione dell'interfaccia porto-città anche dal punto di vista economico-finanziario. L'opportunità di innescare "circoli virtuosi" ruota spesso attorno alla proposta di un programma di interventi sostenibili a diversi livelli (formale, culturale, ambientale, etc.), che consente di ipotizzare un progetto di paesaggio per fasi successive, senza necessariamente far riferimento ad un'immagine unica e definita, ma ricercando attraverso la sintesi di antiche e nuove logiche una visione complessiva, che non è altro che il prodotto di una nuova rappresentazione del paesaggio portuale e di una percezione collettiva dell'identità del luogo e delle sue molteplici vocazioni spaziali e funzionali.
Caratteri specifici, elementi di continuità e immagini contemporanee possono restituire nel progetto una ricca declinazione di "frammenti di paesaggio" sull'interfaccia porto-città.
I paesaggi della difesa
Il rapporto con l'acqua per molte città portuali rappresenta un'importante risorsa, ma allo stesso tempo uno degli elementi di maggiore criticità, capace di comprometterne lo stato di equilibrio.
Accanto alle grandi potenzialità offerte, un altro aspetto, la vulnerabilità dei territori situati tra terra e acqua, caratterizza i waterfront urbano-portuali, contesti sensibili soggetti a rischi frequenti – e a più rari scenari di disastro in specifiche situazioni – prodotti dalla natura (in particolare da attribuire al cambiamento climatico) e/o dall'uomo, con forti ripercussioni a livello spazio-strutturale, funzionale, economico e sociale.
Ripensare sull'interfaccia porto-città sistemi fisici e relazionali in grado di reagire e di adattarsi agli impatti prodotti da eventi inattesi o di lungo periodo, da disastri naturali o antropici – anche attraverso eventuali misure di riduzione della vulnerabilità e di previsione del rischio – consente di garantire accanto ad una fruizione continua e diversificata anche un certo livello di resilienza e una soglia minima di funzionamento in caso di condizioni estreme e di situazioni di emergenza.
La costruzione di paesaggi della difesa è orientata a proteggere le città affacciate sull'acqua insieme al loro ricco patrimonio storico-architettonico e ambientale. I risultati più interessati in questo senso si registrano nel momento in cui la progettazione permette di coniugare la necessità di difesa dei litorali e la tutela degli ecosistemi con la riqualificazione dello spazio urbano, rispettando i valori architettonici e paesaggistici del territorio.
Il recupero dell'archeologia industriale e produttiva
Il valore del continuo divenire delle città portuali è da ricercare nelle possibili interazioni tra funzioni del passato e nuove forme urbane, tra esigenze di conservazione e valorizzazione del patrimonio storico e recenti trasformazioni del paesaggio. I luoghi della produzione sui fronti d'acqua costituiscono da sempre un intreccio tra antiche tecniche e nuovi saperi.
Nell'ottica della promozione di una "cultura del progetto" – che investe l'ambiente, la cultura e le tradizioni locali, nonché le dinamiche sociali – i nuovi interventi sulle preesistenze sono finalizzati a garantire la conservazione del patrimonio archeologico e dei luoghi della memoria, aprendoli alla fruizione da parte della collettività. La tutela dei manufatti storico-architettonici passa infatti non solo attraverso il recupero strutturale e funzionale, ma a garantire la trasmissione di segni, significati e identità alle generazioni future è anche la ri-appropriazione dei luoghi da parte delle comunità locali.
Cockatoo Island, Sydney Harbour, Sydney, Australia, 2007 (Taylor Brammer Landscape Architects).
Gli spazi pubblici e le piazze sull'acqua
Il progetto sul waterfront urbano-portuale è un'opportunità per reinterpretare la relazione tra porto e città e per restituire continuità a questi due elementi, ridisegnando visuali e linee di fruizione che si sviluppano dal centro urbano verso il fronte d'acqua. Uno dei nodi su cui si innesta il recupero o la reinterpretazione di tale relazione è la realizzazione di parchi e piazze sull'acqua, che diventano l'occasione per ricongiungere dialetticamente sistema antropizzato e valenze ambientali, installazioni artificiali ed elementi naturali. Alcuni progetti consentono di restituire la fruibilità ai fronti d'acqua – luoghi emblematici per la loro intrinseca bellezza, per le caratteristiche spaziali e sceniche, spesso per le dimensioni e per i valori paesaggistici che li caratterizzano – con l'inserimento di servizi di carattere pubblico, nonché di attività commerciali e produttive, culturali e ricreative. Sono numerosi gli interventi che attraverso un uso attento di materiali e colori permettono di ottenere spazi di qualità sull'acqua, fruibili anche nelle ore notturne grazie a sistemi di illuminazione.
La sperimentazione di nuovi possibili usi e la creazione di insolite scenografie urbane, ha portato a realizzate anche in modo provvisorio alcune strutture, che apprezzate dal grande pubblico di fruitori sono divenute nuove permanenze urbane e parte integrante del paesaggio, consentendo alla città di recuperare il rapporto che in passato la legava al suo porto.
Hunter's Point South Waterfront Park, Long Island City, New York, USA, 2013 (Thomas Balsley Associates/WEISS/MANFREDI).
I sistemi di relazione e le infrastrutture in ambito portuale
Nel momento in cui si costruiscono i presupposti per l'integrazione degli ambiti portuali nei processi insediativi in atto sul territorio risulta fondamentale la relazione con il contesto limitrofo e l'eventuale sinergia con i sistemi produttivi locali.
Le infrastrutture portuali – generalmente localizzate in luoghi piuttosto articolati e compositi in cui grandi navi ed edifici storici, attività e degrado possono convivere – sono divenute oggetto di progetti di recupero strutturale e funzionale in grado di valorizzare la straordinaria peculiarità di questi spazi in continuo mutamento, assumendo alcuni riferimenti proprio dagli apparati navali, dalle piattaforme marine, dalle torri di controllo e dai depositi di container per costruire su vecchi moli nuovi paesaggi portuali.
Crystal, Royal Victoria Dock, London Borough of Newham, 2012 (Townshend Landscape Architects).
La razionalizzazione e specializzazione di percorsi e di accessi può contribuire a ridurre la marginalità e il degrado di tali aree; la revisione dei piani della mobilità portuale e urbana può creare nuove connessioni anche ad uso esclusivo del trasporto pubblico, o di pedoni e ciclisti; l'individuazione di nuovi assi e nodi di sviluppo può produrre una riorganizzazione dei flussi sul territorio e ridisegnare nuove relazioni tra porto e città.
Le strutture dedicate alla nautica da diporto e agli sport acquatici
Sempre più diffuse, le strutture dedicate alla nautica e alle attività legate all'acqua (sport, pesca, tempo libero, etc.) sorgono generalmente in prossimità dei contesti urbani e vengono realizzate seguendo le caratteristiche naturali e/o le antropizzazioni precedenti, o scegliendo nuove localizzazioni in funzione di interessi di diverso genere e con effetti a volte negativi dal punto di vista idraulico e paesaggistico.Prince Arthurs Landing, Thunder Bay Waterfront, Ontario, Canada, 2011 (Brook McIlroy).
Si tratta di complessi realizzati con opere a terra e a mare, integrando le strutture per il diporto con opere complementari, edifici residenziali e commerciali, a volte dotate di servizi e di attività non strettamente connessi con la nautica e con le altre attività d'acqua. Tali interventi, proprio in funzione della loro complessità progettuale, possono diventare un'occasione per ridefinire o valorizzare alcuni ambiti portuali a più stretto contatto con la città. La prossimità al tessuto storico, l'inserimento nel paesaggio urbano, l'apertura al pubblico, le specifiche prestazioni funzionali e il rapporto con eventuali operazioni immobiliari appaiono determinanti per il successo di interventi che, se da un lato sono finalizzati all'ottimizzazione economica dell'uso delle strutture nautiche e a garantire l'efficienza dei servizi ad essa connessi, dall'altro devono tutelare e valorizzare le risorse paesaggistiche.
I paesaggi temporanei e i grandi eventi
Sono numerose le città portuali protagoniste di grandi eventi a carattere internazionale, che sono state capaci di utilizzare il proprio waterfront urbano come grande palcoscenico per un periodo di tempo limitato e di riprogrammare il riutilizzo funzionale di aree e strutture nel lungo periodo.
Restituire una nuova immagine dell'interfaccia porto-città attraverso eventi temporanei, è una politica diffusa e ormai consolidata da esperienze di "successo", che consente di proiettare a livello internazionale gli ambiti tra terra e acqua, trasformandoli in un elemento urbano strutturante e creando nuove forme di relazione sul territorio. Un grande evento, che punta sulla risorsa acqua e sul marketing territoriale, che coniuga turismo e cultura, è diventato in molti casi l'occasione per avviare un processo di trasformazione urbana, sociale e culturale, per recuperare quartieri degradati e bonificare aree industriali dismesse, per riqualificare tessuti urbani affacciati sull'acqua, per creare punti di interesse e spazi di attrazione.
I landmark urbani e i nuovi paesaggi sull'acqua
Elementi rigenerativi di grande visibilità, da un punto di vista sia percettivo che concettuale, i nuovi landmark sui waterfront urbano-portuali reinterpretano risorse materiali e immateriali sfruttando anche la dimensione economica della ricchezza paesaggistica.
La realizzazione di nuove architetture – spesso affidata alla firma di professionisti di fama internazionale – e di nuovi complessi insediativi implica una costante riflessione sull'unicità rappresentata da ogni progetto, che una volta realizzato è destinato a diventare "protagonista" dello spazio, ma allo stesso tempo a confrontarsi con il territorio urbano e con il limite costituito dall'acqua, interpretando in modo rispettoso l'identità dei luoghi e le preesistenze.
Keelung Port, Taipei, Taiwan, 2003 (Guallart Architects).
Al fine di garantire una sostanziale sostenibilità, l'integrazione tra paesaggio costruito e paesaggio naturale, la costruzione di relazioni tra sistemi urbani, processi economici e domanda sociale, è opportuno che il progetto degli elementi che acquistano il ruolo di "grandi attrattori" faccia riferimento alla realtà culturale, sociale ed economica del territorio.
Il porto come paesaggio. Un approccio alla complessità del progetto
A partire da un concetto di paesaggio portuale, in cui acquistano valore la dimensione multiscare, un approccio di tipo multifunzionale e la creazione di nuovi sistemi di relazione, è possibile identificare caratteristiche morfologiche, storiche e fisiche che, in una realtà come quella del waterfront urbano-portuale – che ha perso progressivamente la sua identità "convenzionale" – possono interagire tra loro fino a generare un ambito complesso e stratificato, a reinventare una continuità e a ridefinire una nuova immagine territoriale.
North Wharf Promenade, Waterfront Auckland, New Zealand, 2011 (Taylor Cullity Lethlean and Wraight + Associates).
Il progetto di paesaggio può diventare quindi un'occasione per comprendere la stratificazione sull'interfaccia porto-città, mettere in relazione i diversi elementi, far interagire differenti logiche, in sintesi approcciare la complessità e accompagnare l'evoluzione dei diversi processi di trasformazione sul territorio.
In questo senso il progetto sul waterfront è chiamato a leggere il territorio e le sue trasformazioni, dal costruito agli elementi naturali, dalle testimonianze della storia al patrimonio culturale, con un particolare interesse verso tutto quello che può essere rigenerato, ripensato, ricreato, in un contesto che spesso deve essere ricostruito, in cui è difficile riprogrammare una nuova base economica, dove occorre rispondere a rinnovate dinamiche di mercato, nonché a nuove esigenze urbane e sociali; un progetto che se da un lato è guidato da certa libertà concettuale e di interpretazione, dall'altro deve garantire una certa sensibilità e concretezza.
La dimensione estesa e lo stato di degrado e di contaminazione, in cui versano alcune aree portuali e industriali dismesse, rendono necessari infatti processi piuttosto complessi, che implicano la definizione di strategie a lungo termine principalmente finalizzate a risolvere le problematiche connesse alla bonifica dei siti, e che solo successivamente proseguono con il ripensamento della base economico-produttiva, il rafforzamento della loro centralità, la valorizzazione di paesaggi d'acqua spesso unici.
Nella complessa gestione delle trasformazioni del paesaggio e dei suoi diversi elementi appare evidente come il concorso di differenti approcci disciplinari, la capacità di integrazione e di scambio tra saperi, il confronto e la collaborazione tra specialisti produca sinergie e generi nuovi modi di operare. Processi e strumenti capaci di attivare progetti integrati, interdisciplinari e multisettoriali sono determinanti per superare l'approccio settoriale e stabilire profonde interazioni tra competenze specialistiche diverse, senza tuttavia che si perdano le specificità individuali.
---
Head Image: North Wharf Promenade, Auckland Waterfront, New Zealand (Taylor Cullity Lethlean and Wraight Associates).
---