30 Aprile, 2014
AIVP was founded in 1988. During the three decades of its existence, AIVP has been a privileged witness of spectacular changes in port cities as they face the increasing globalisation of trade and the economy, for example the relocation of port functions and the general move to container transport, the redevelopment of port-city interfaces and waterfronts, renewed dialogue with the city's inhabitants, etc.
Projects for transforming port-city interfaces and reappropriating port sites abandoned by cities have multiplied all over the world. There are few port cities today which have not thought – often ambitiously – about their waterfronts. These many urban-port projects have fed the international exchanges fostered by AIVP. Far from limiting themselves merely to their technical missions, port authorities have grasped the importance for their future and their competitiveness of taking this opportunity to form new partnerships with their cities and the people who live there.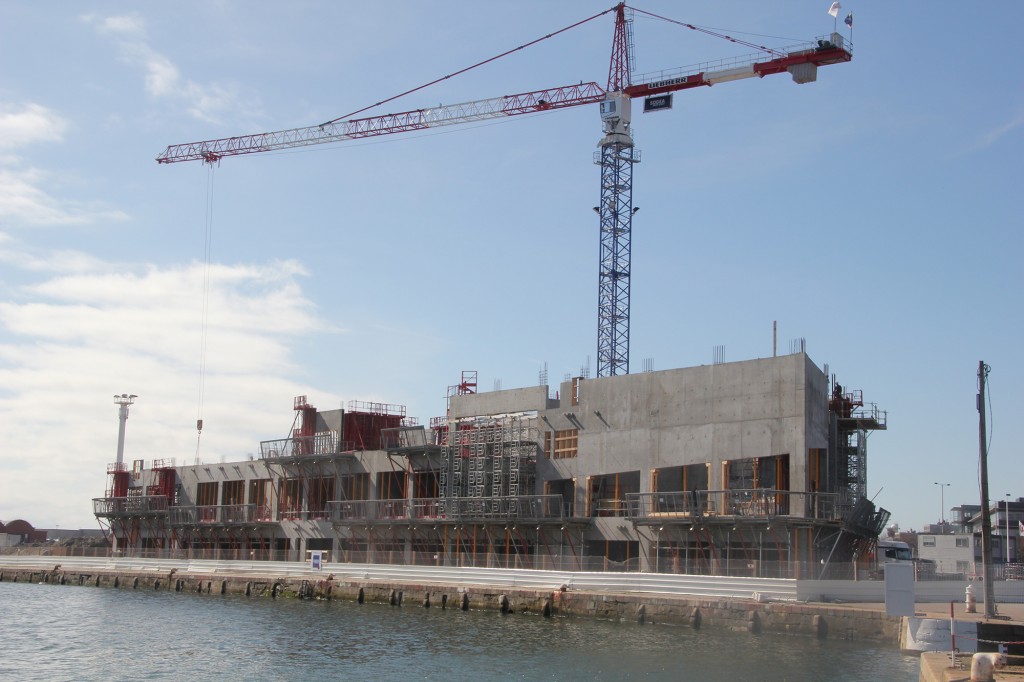 Construction of Ecole Nationale Supérieure Maritime (ENSM), Le Havre. (© AIVP)
For nearly a decade, under the combined effects of economic, ecological and resource crises, port-cities have developed innovative new strategies. They have sought to ensure their own economic competitiveness in order to respond to the diverse demands formulated by local – and also national and global – political and economic players. Thus port city territories have received increasing levels of investment by new economic players in the areas of renewable energy production, tourism, environmental management, etc. This wide variety of issues has structured the current diversity of the experiences organised by AIVP.
As the economic crisis drags on in many developed countries, port-cities and world trade players are wondering about the strategic directions adopted in recent years. In today's situation, would it be best to validate them completely, reorient them or even abandon them? In a changing world, where the pace is set by technological revolutions, easy access to data and the vital need to optimise resources, can port-cities assume their natural role as players in the global economy while at the same time pursuing constant improvement in the quality of life of their inhabitants? How can they anticipate the new challenges of a world with a population of eleven billion people at the turn of the century, introducing mechanisms today to ensure a future for everyone in every port-city? How can cooperation and collaboration be improved between supportive port-cities to meet the demands of sustainable world development?
An image of the city of Stockholm on the water.(©AIVP)
As we see daily at AIVP, port city territories have therefore rapidly become highly complex spaces, where conflicts of use between city and port, tourism and industry, natural and built-up areas need to be settled. Today, the world ecological and climatic context brings yet another dimension to this structural and functional complexity already facing port-cities. It burdens them with new concerns. The strategies drawn up within the fragile port-city "ecosystem" must be ever more demanding in terms of sustainable development. The efforts of the interested parties – private and public players and the city's inhabitants – must be conducted in harmony in the collective interest of all. The spectacular development of new information and communication technologies marks a new stage in the construction of port cities. Through their search for greater organisational efficiency and by sharing the flows of value, energy, data and people, the port and the regional authorities can find new lines of action to achieve better management performance in their territories and their projects. The ambitions of a "Smart Port" thus fall into line with those of a "Smart City", giving birth to the "Smart Port City"!
This is the theme chosen by AIVP for its upcoming world conference in Durban, South Africa. The aim of this 14th World Conference Cities and Ports is to help the players in each city and each port to question the present in order to construct a better future, to build tomorrow's Smart Port City together!
---
Des waterfronts à la Smart Port City avec l'AIVP
L'AIVP a été fondée en 1988. Au cours de ces presque 3 décennies d'existence, l'AIVP a été le témoin privilégié des changements spectaculaires qui s'opéraient dans les villes portuaires confrontées à la globalisation croissante de l'économie et des échanges : délocalisation des fonctions portuaires et généralisation de la conteneurisation, réaménagement des interfaces Ville-Port et des waterfronts, renouveau du dialogue citoyen.
Les projets de transformations des interfaces ville-port et de réappropriation des sites portuaires délaissés par la ville se sont multipliés dans le monde entier. Aujourd'hui rares sont les villes portuaires à ne pas avoir engagé une réflexion, souvent ambitieuse en matière de waterfront. Ces multiples projets urbano-portuaires ont nourri les échanges internationaux de l'AIVP. Loin de se replier sur leurs simples missions techniques, les autorités portuaires ont compris l'importance pour leur avenir et leur compétitivité de nouer, à cette occasion, de nouveaux partenariats avec les villes et les citoyens.
Construction de l'Ecole Nationale Supérieure Maritime (ENSM) du Havre. (© AIVP)
Depuis près d'une décennie, sous l'effet conjugué des crises économiques, écologiques et de celles des ressources, les villes portuaires ont développé de nouvelles stratégies innovantes. Elles ont cherché à répondre aux diverses demandes formulées par les acteurs politiques et économiques locaux, mais aussi nationaux ou globaux. Les territoires de la ville portuaire ont ainsi été progressivement investis par de nouveaux acteurs économiques dans les domaines de la production énergétique renouvelable, des activités touristiques, de la gestion environnementale, etc. L'ensemble de ces thématiques structure aujourd'hui la diversité des échanges d'expériences organisés au sein de l'AIVP.
Alors que la crise économique perdure dans de nombreux pays développés, les villes portuaires et les acteurs du commerce mondial s'interrogent sur les orientations stratégiques prises ces dernières années. Convient-il aujourd'hui de les valider totalement, de les réorienter, voire de les abandonner? Comment, dans un monde en mouvement rythmé par les révolutions technologiques, la libéralisation des données et un besoin vital d'optimisation des ressources, les villes portuaires peuvent-elles assumer leur vocation d'acteur économique global tout en cherchant constamment à améliorer la qualité de vie de leur population ? Comment anticiper les nouveaux défis d'un monde peuplé à la fin du siècle de onze milliards d'habitants en mettant en place dès aujourd'hui les mécanismes assurant à chacun son avenir dans chaque ville portuaire ? Comment mieux coopérer et collaborer entre des villes portuaires solidaires pour répondre aux exigences d'un développement durable global ?
Une image de la ville de Stockholm sur l'eau.(©AIVP)
Nous le constatons quotidiennement à l'AIVP, les territoires urbano-portuaires sont devenus des espaces d'une très grande complexité où les conflits d'usage ville/port, tourisme/industrie, espaces naturels/espaces construits doivent être maîtrisés. Le contexte global écologique et climatique apporte aujourd'hui une dimension supplémentaire à cette complexité structurelle et fonctionnelle déjà propre aux villes portuaires. Il fait peser sur ces dernières des nouvelles inquiétudes. Les stratégies élaborées au sein du fragile "écosystème" Ville-Port seront donc toujours plus exigeantes en termes de développement durable. Les efforts de chacun seront conduits de concert, dans l'intérêt collectif des parties prenantes : acteurs publics, acteurs privés et citoyens. Le développement spectaculaire des nouvelles technologies de communication et d'information marque à cet égard une nouvelle étape dans la construction de la ville portuaire. En recherchant une efficacité accrue dans l'organisation et le partage des flux de valeurs, d'énergies, de données et de personnes, le port et les collectivités territoriales peuvent trouver de nouveaux moyens d'actions à mettre en œuvre pour une gestion plus performante de leurs territoires et de leurs projets. Ainsi, l'ambition d'un "Smart Port" rejoindra celle de la "Smart City" pour donner naissance à la "Smart Port City" !
C'est précisément le thème que l'AIVP à choisi de traiter lors de sa prochaine conférence mondiale à Durban, en Afrique du Sud. Avec cette 14e Conférence Mondiale Villes et Ports nous poursuivons notre ambition d'aider les acteurs de chaque ville et de chaque port à interroger le présent pour mieux construire l'avenir et à construire ensemble la Smart Port City de demain !
---