13 Aprile, 2014
The importance of maritime and river matters to Porto is a predestination brought on by the whims of geography. The city was built overlooking a mighty river, whilst to the West it spreads out before a sea connecting distant continents. From the second half of the 18th century, mostly, Porto has been rife with commercial activity, brought to the local population by the Douro River and the Atlantic Ocean. The city then became a major trading centre, serving as a hub between the North and the rest of Europe, Africa and Brasil.
King José I founded the Nautical Class against this historical backdrop, in 1762, following the petition of 35 of the most important tradesmen Portuguese to the Crown to build two frigates for the purpose of escorting the merchant ships out of the river bar [1]. The opening of this Nautical Class paved the way for public education in Porto, offering practical training to naval officers and others interested in learning the art of sailing.
The creation of this Nautical Class reflects the importance of the maritime and inland waterway activity in the city at the time. Moreover, its successor classes and schools – the Sketching and Drawing Class (1779), the Royal Academy of Maritime and Trade Affairs (1803) and the Polytechnic Academy (1837) – also aimed to meet the needs of qualified staff in trade, industry, the arts and navigation [2]. This group of schools was the genesis for the U.Porto, which, however, was only founded in 1911.
The purpose of this introduction is to stress the idea that the sea has always been present in all early matters related to our University. It is no coincidence that Science and Engineering were among our first faculties. So, from the very start, the U.Porto has always been a driver of socio-economic development of the city and its hinterland, and has remained so until today, meaning that it has had to preserve the historical relationship with the sea not only as a factor of regional identity but also as a strategic cluster of local economy.
Today, the U.Porto has a wealth of critical mass in the areas of biology and marine ecology, ecotoxicology, parasitology, physiology, nutrition and farming of aquatic species, aquatic chemistry, underwater robotic systems, remote detection, erosion and planning in coastal regions, among others. The application of research in these areas are many, since the production of knowledge is geared to the advanced support provided to companies in the fishing sector (including aquaculture), to the collaboration with decision-makers in the management of ocean and coastal areas, to the preservation of marine resources and to monitoring the quality of water for consumption.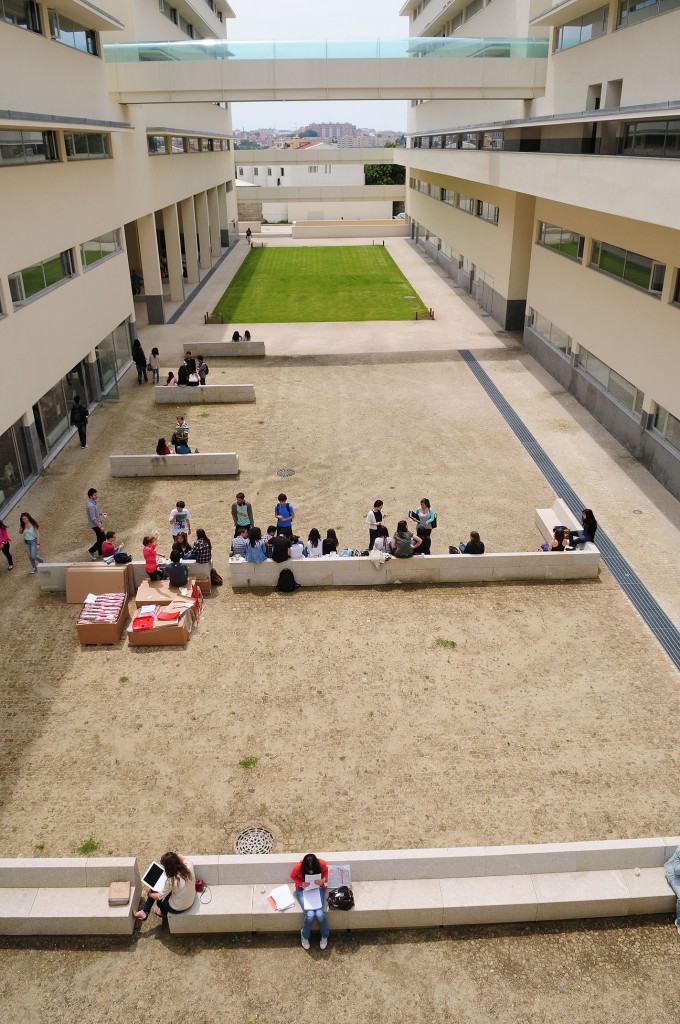 Detail of Faculty of Pharmacy/Institute of Biomedical Sciences Abel Salazar complex.
Detail of Faculty of Engineering.
As regards the value of knowledge, the U.Porto established a centre dedicated to the sea in its Science and Technology Park (UPTEC). Dubbed Polo do Mar, this centre relies on the strategic support of APDL and covers many activities: basic and applied scientific research, start-up incubator of marine economics companies, providing advanced support services to companies in the marine cluster, attracting R&D+i corporate centres, promoting the mobility of teachers, researchers and students, and also disseminating science and technology to the community.
Part of scientific research at the University of Porto is dedicated to the sea. Here, a group of researchers working on the development of submarines for see exploration.
Project works are ongoing to convert the former Edifício da Sanidade do Porto de Leixões into an incubator for technology-based marine economics companies, and to set up the Centre for Marine and Environmental Research of UPTEC in the future Cruise Terminal of this port facility. We hope to create 75 start-ups with a period of 12 years, meaning almost 2,000 direct and mostly skilled jobs.
As you will see, the most recent episode in the relationship between the U.Porto and the sea is very encouraging, because of all it means to marine research, and to the economic value of the outcomes of the research thereof. This means a significant contribution to the socio-economic development of the city and region, grounded on critical factors of competitiveness of knowledge economy: innovation, technology and human capital.
Notes
[1]

Santos, Cândido dos – Universidade do Porto: Raízes e Memórias da Instituição. Porto: Editora da Universidade do Porto, 1996.
[2]

Universidade Do Porto – 2º Centenário da Academia Real da Marinha e do Comércio da Cidade do Porto 1803-1837. Porto: Editora da Universidade do Porto, 2003.
---
Head image: Night view of the facade of the historic building of the University of Porto, former Royal Marine Academy and Commerce.
---
Uma universidade com vocação marítima
A vocação marítima e fluvial do Porto é uma predestinação imposta pelos caprichos da geografia. A cidade nasceu debruçada a sul sobre um rio caudaloso, enquanto a ocidente se espraia perante um mar que liga continentes distantes. A partir da segunda metade do século XVIII, sobretudo, o Porto fervilha ao ritmo da atividade mercantil que o rio Douro e o mar Atlântico proporcionam à população local. A cidade torna-se então um grande entreposto comercial, servindo de placa giratória entre a região Norte e o resto da Europa, África e Brasil.
É neste contexto histórico que, em 1762, D. José I decreta a criação da Aula de Náutica, na sequência do pedido dirigido à Coroa por 35 dos principais comerciantes portuenses para construção de duas fragatas de guerra destinadas a escoltarem os navios mercantes que saíam pela barra da cidade [1]. Com a abertura da Aula de Náutica, tinha início o ensino público no Porto e justamente com uma instrução prática dirigida aos oficiais da marinha e demais pessoas interessadas em aprender a arte de navegar.
A criação da Aula de Nática espelha bem a importância que a atividade marítima e fluvial tinha na cidade, à época. De resto, as sucessoras da Aula de Náutica – a Aula de Debuxo e Desenho (1779), a Academia Real da Marinha e Comércio (1803) e a Academia Politécnica (1837) – visaram, igualmente, dar resposta às necessidades de pessoal qualificado no comércio, na indústria, nas artes e na navegação [2]. Este conjunto de escolas está na génese da U.Porto, que, no entanto, só seria fundada em 1911.
Serve este introito para sublinhar que o mar esteve inequivocamente presente no nascimento da nossa Universidade, instituição que, não por acaso, teve a Ciência e a Engenharia entre as suas primeiras faculdades. Neste sentido, a U.Porto foi, desde os seus alvores, um motor de desenvolvimento socioeconómico da cidade e do seu hinterland. Condição que se manteve até à atualidade e que implica a preservação da relação histórica com o mar, não só enquanto fator de identidade da região mas também como cluster estratégico da economia local.
Hoje, a U.Porto dispõe de massa crítica nas áreas da biologia e ecologia marinhas, da ecotoxicologia, da parasitologia, da fisiologia, nutrição e cultivo de espécies aquáticas, da química aquática, da robótica submarina, da deteção remota, da erosão e do ordenamento das regiões costeiras, entre outras. A investigação nestes domínios tem uma forte aplicabilidade, porquanto a produção de conhecimento é orientada para o apoio avançado a empresas do setor pesqueiro (incluindo de aquacultura) e para a colaboração com decisores públicos na gestão do oceano e das zonas costeiras, na preservação dos recursos marinhos e no controlo da qualidade da água para consumo humano.
Pormenor do complexo da Faculdade de Farmácia, Instituto de Ciências Biomédicas Abel Salazar.
Pormenor do complexo da Faculdade de Engenharia.
No que respeita à valorização do conhecimento, a U.Porto avançou para a criação, no seu Parque de Ciência e Tecnologia (UPTEC), de um polo dedicado à fileira do mar. Tendo como parceiro estratégico a APDL, o Polo do Mar da UPTEC contempla múltiplas funções potenciais, a saber: investigação científica básica e aplicada, incubação de startups da economia do mar, oferta de serviços avançados de apoio a empresas do cluster marítimo, atração de centros de I&D+i empresariais, promoção da mobilidade de docentes, investigadores e estudantes e, ainda, divulgação científica e tecnológica junto da comunidade.
Parte da investigação científica da Universidade do Porto é dedica às questões do mar. Aqui, um grupo de investigadores trabalha no desenvolvimento de submarinos autónomos para exploração marítima.
Com as obras ainda a decorrer, o projeto prevê uma incubadora para empresas de base tecnológica da economia do mar, a partir da reconversão do antigo Edifício da Sanidade do Porto de Leixões, bem como a instalação do Centro de Investigação Marinha e Ambiental do UPTEC no futuro Terminal de Cruzeiros da mesma infraestrutura portuária. Há a expectativa de criação de 75 startups num prazo de 12 anos, o que corresponde a quase 2.000 empregos diretos e maioritariamente qualificados.
Como se vê, o mais recente episódio da relação da U.Porto com o mar é muito auspicioso, pelo que representa quer para o avanço da investigação marinha, quer para a valorização económica dos resultados dessa mesma investigação. Ora tudo isto significa um contributo substantivo para o desenvolvimento socioeconómico da cidade e da região, a partir dos fatores críticos de competitividade da economia do conhecimento: inovação, tecnologia e capital humano.
Notes
[1] Santos, Cândido dos – Universidade do Porto: Raízes e Memórias da Instituição. Porto: Editora da Universidade do Porto, 1996.
[2] Universidade Do Porto – 2º Centenário da Academia Real da Marinha e do Comércio da Cidade do Porto 1803-1837. Porto: Editora da Universidade do Porto, 2003.
---
Head image: Vista noturna da fachada do edifício histórico da Universidade do Porto, antiga Academia Real da Marinha e Comércio.
---