27 Giugno, 2020
The city of Valdivia is located at parallel 39º 48' 51'' S on the east bank of the river with the same name. It rises as a Spanish garrison by mid XVI century. A few kilometers away from the river mouth in the Pacific Ocean, the small town is defended by a great number or heavily armed fortifications. It was an important inland and protected port for the navigation routes that crossed the Magellan Strait. The natural water courses coming from the Andes to the ocean, are preferably used as the secure way of travelling through the hostile territory. During the recent hundred years the city is expanded creating also a number of small satellite towns placed along the numerous rivers and the new inland routes. In 2007, Valdivia becomes the capital of the newly established region named Región de los Ríos (The River Region). A few decades ago the 1960 earthquake and tsunami, the biggest in intensity ever recorded on the planet, changes dramatically the natural landscape and deeply modifies the relation between the waterfront and the city and inhabitants. The historic center of Valdivia is badly affected and rapidly starts its degradation. The city adapts to new means of communication, mainly to land routes through the central highway that communicates the whole country leaving the waterfront as a backyard and residuary space (next image).

(from left to right) Valdivia Docks 1907 – circa, Boats and Canoeing 1912 – circa (R. Knittel) and the riverfront extension after 1960 earthquake (Anonymous).
Is in this scenery, the most central area of the river used only by a few small touristic vessels after the earthquake, is favored when the Center for Scientific Studies (Centro de Estudios Científicos – CECs) decided to leave its original headquarters in Santiago and move to this area of Valdivia. Moving away from the largest capital city being one of the most prestigious research center with high international recognition becomes an enormous challenge. It is not the aim of this article to analyze the significance of this task, but rather to describe another unpublished fact of a relation with the built surrounding, with nature, with history and heritage of unique features in Chile.
Along with the specific area of research of the Centre for Scientific Studies it is unavoidable to point out that the practice of Architecture and urban design has strongly marked the character of this institution. The recovery of historic buildings and the design of new ones are oriented to have the necessary spaces for the different laboratories. In the next image it can be seen the intervention in the immediate surrounding: the Science Block with the Libertad Pedestrian Street and the riverside Science Walkway beyond the limits of private property integrating a public space.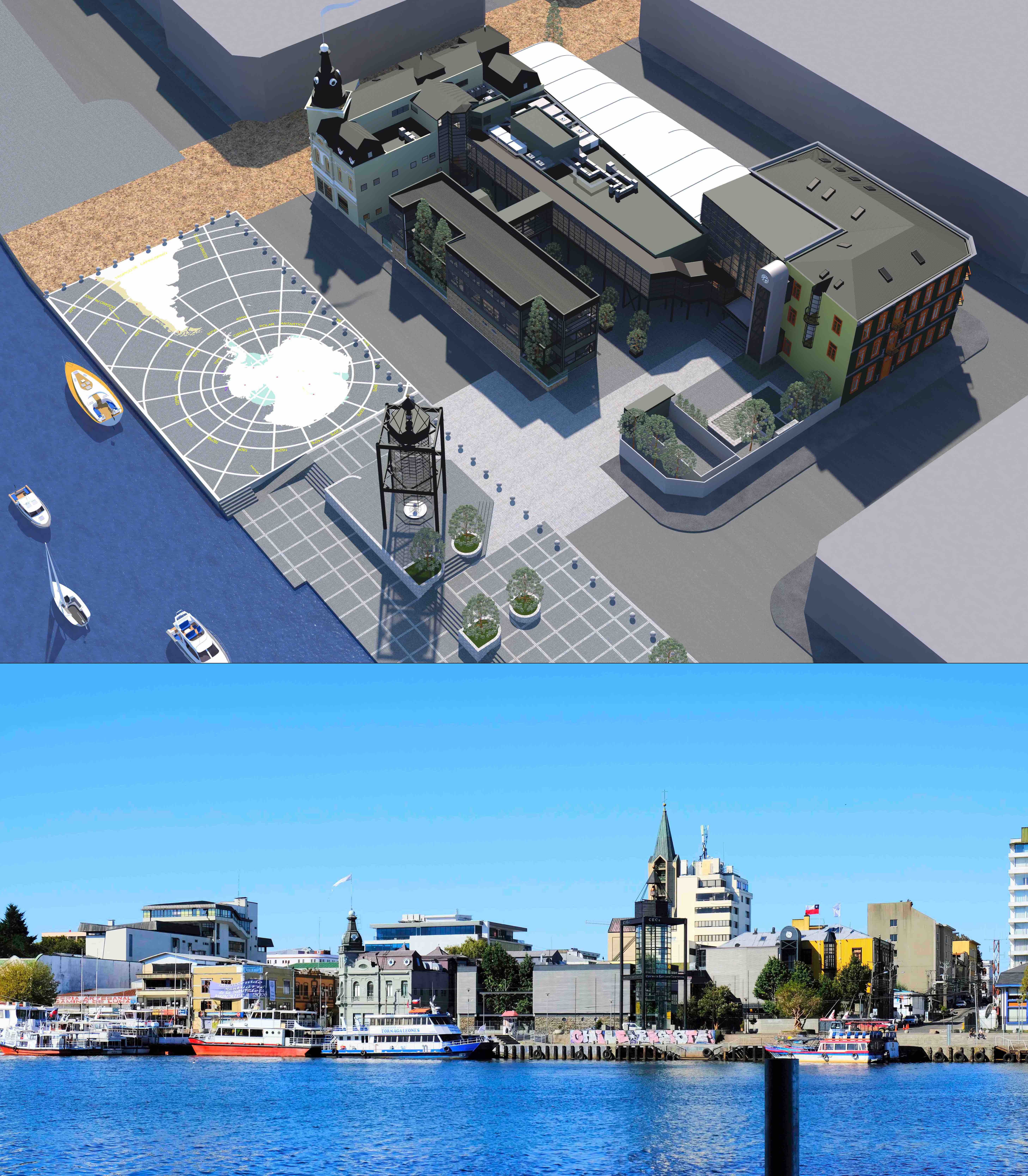 (top) The Science Block 3D, in light brown the Paseo Libertad pedestrian street and next to the river the Tower of the Foucault Pendulum-Lantern and the Glacier Plaza (© F. & P. Basilio 2016); (bottom) Riverside walkway and CECs (© E. Villagra, 2020).
The new location and facilities are placed in an emblematic block of Valdivia next to de riverside with two buildings built in 1912 with high historic value, but in very bad conditions of use and maintenance (next image). The rest of the buildings that completed the block were in bad shape serving only for transitory use.
The first challenge was to design the necessary spaces for the research teams. The first building to be restored and refurbished was the Grand Schuster Hotel, entirely made of wood with an exterior coating of steel stamped tiles. The fragile condition of frames and beams needed the ability of carpenters and craftsmen of the Los Ríos region. At the same time other two buildings are transitory used to complete the program and demolished in a short time. Actually this is the main building known as Martha Muse Building.

(from left to right) Schuster Hotel 1999 and after restoration 2002 (today Physics labs, meeting rooms and administration area) (© F. Basilio, 2011).
The Casa Schuler is the second building of interest on the block built after the Great Fire of 1909, use nowadays, by the biology laboratories. It is placed in the intersection of the riverside street Costanera Arturo Prat and Libertad street. At the same time a project is developed to design the Libertad pedestrian street as another contribution to all the community of Valdivia. This historic axis links de principal and main square, the foundation spot, with the Valdivia River. A few years later it was designed and built the Science Tent inspired in the fragile structures used in the research campaigns in Southern Ice Fields and Antarctica. The program consists of an auditorium and a free plan multi-use area next to the pedestrian street linking a the public space with a protected interior one (next image).

(left) Paseo Libertad pedestrian street, the Schuler House (biology labs), on the background the cathedral and the main central square Plaza de la República (© F. Basilio, 2010); (right) the Science Tent and the Schuler House, view towards the river (© F. Basilio, 2018).
The Muelle Schuster building (Glaciology labs) completes the block facing the riverside walk way and the river. A stone masonry was incorporated in the design of the ground floor simulating the original retaining walls of the river banks, and at the same time the existing trees were incorporated in the west façade (next image).
The earthquake on February 27th 2010 strongly affected the extension of the esplanade built after the 1960 earthquake. CECs starts immediately working in a strategy of use and activities delivering a Master Plan in 30 days to the local and regional authorities in order to restore this public space. The funding from the central government allowed the new compacted earth fillings and pavements.
The whole area in front of the Science Block was entirely built with CECs' own budget. The Foucault Pendulum that was inside Martha Muse main hall is incorporated to this new walkway now inside a steel and glass tower adding a lantern as a lighthouse. Towards the north it is built a large esplanade tracing on the pavement the part of South America and Antarctica indicating the main glaciers and Antarctic research bases.
This new urban space is called the Science Riverside Walkway linking with the interior of the block by means of a formal language continuity and the pavements crossing the street (next image).
The site of the Pendulum Tower and the lantern on top, the form and destiny became an outstanding element of the urban landscape inspiring all sort of fantasies and unthinkable events since its construction.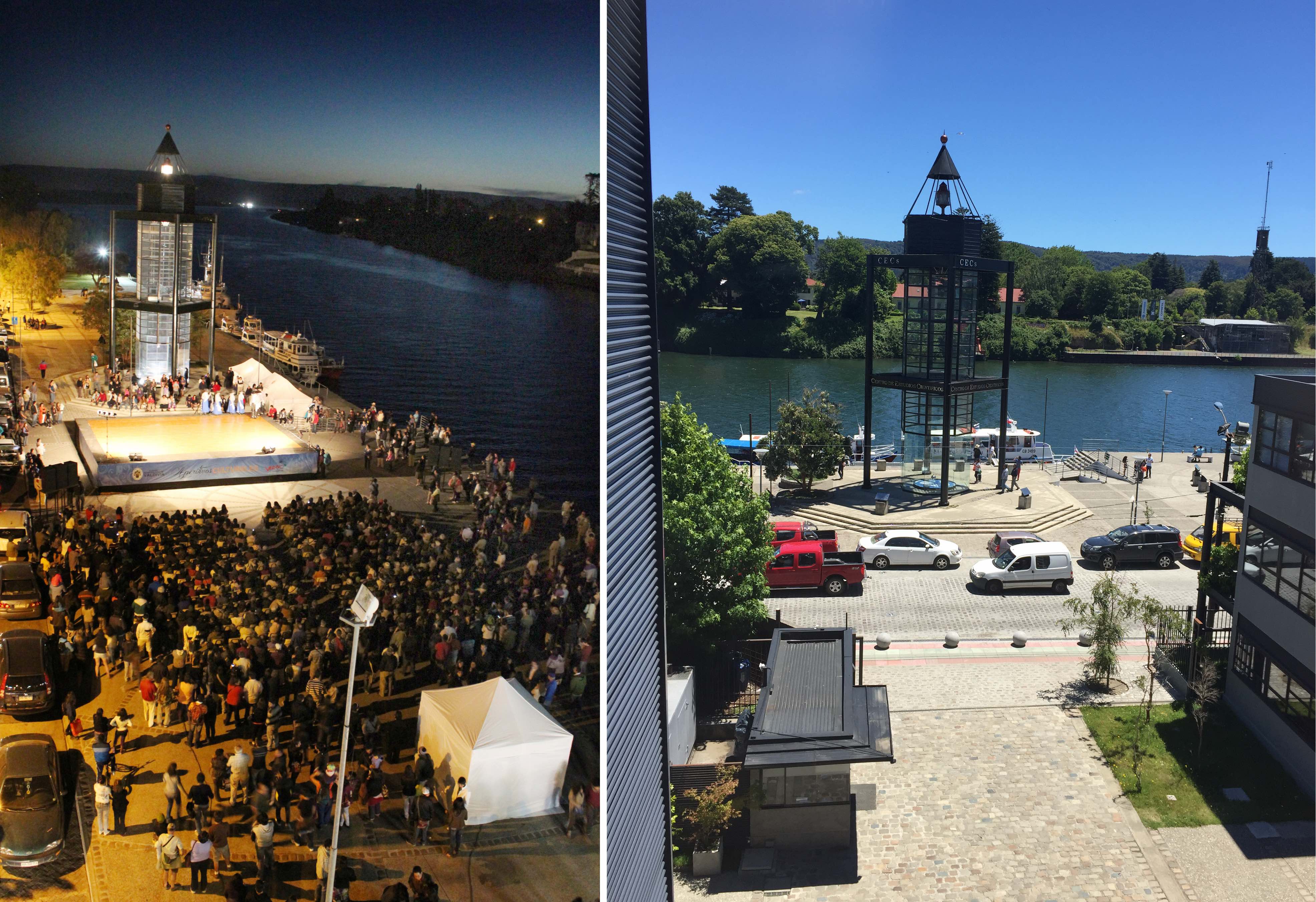 (left) The Pendulum Tower and the Glacier Plaza used for an evening open space play and other massive events (© F. Basilio 2015); (right) view from the CECs central hall towards the river. The Science Block is unified with the public space by means of continuous pavements (© F. Basilio 2016).
Another input for the city developed by the Center for Scientific Studies was the design to build the Pier Los Castaños on the same spot where was the original one destroyed about 50 years ago. So, this riverside space highly degraded on the west bank of Valdivia river is gained. This is the only public pier on this side urban area of the city (next image). A private initiative related with this pier for the connection of both banks was the development of water taxis, small boats with electric engines reloaded by solar energy. Unfortunately, this interesting initiative did not work as expected due to a poor administration in spite the use of innovative technologies.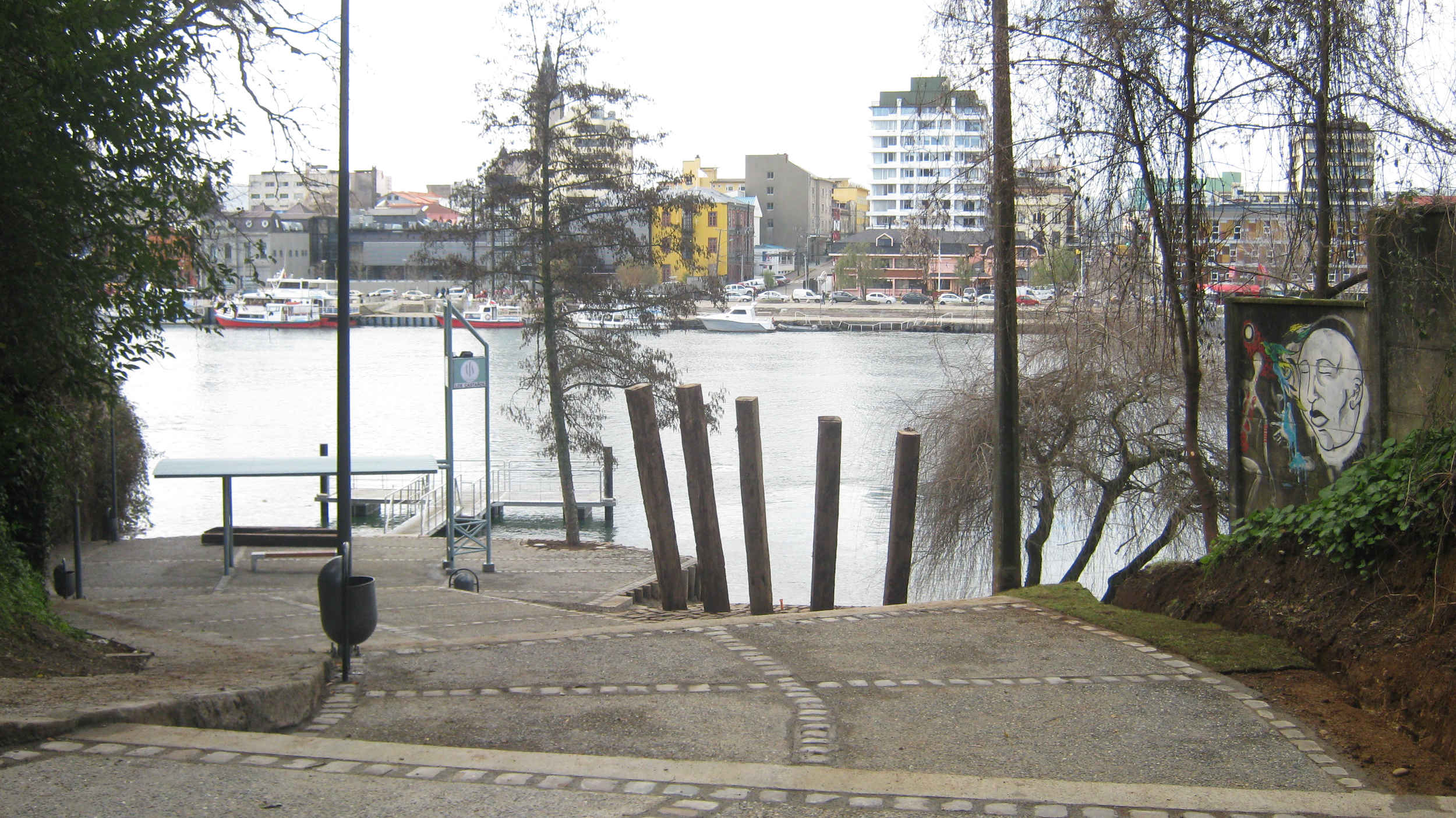 The unique public pier on the west bank of Rio Valdivia. On the opposite bank, the Science Block with the main building in a distinctive yellow coating. (© F. Basilio, 2011).
On the east bank, in a large extension towards north of the Center for Scientific Master Plan, there is a second stage under construction for "new riverside walkway", project developed by the Ministry of Public Works. This was designed with limited presence of the Municipality, territorial organism in charge without doubt to resolve in such an important intervention on the riverside. The supposedly success could have been guaranteed if the connectivity of the people of Valdivia with the riverside was the main goal. The border has been designed as a facility for medium size vessels excluding small boats and kayaks.
The unusual case of CECs to afford a specific architectural design, an urban recovery or a restoration project allows to categorically state that a specific task cannot be without regard to the social and material impact caused. The management of cities based only on an individual construction of a building is a result of a neoliberal and egocentric model at the edge of failure but leaving a deep print in the constructed landscape.
On the mean while this article is being written, the planet is facing a pandemic never experienced before in modern times, with a final not yet to be seen, that would inevitably lead to a new way of relation with our natural and built surroundings. The limits of private and state actions are blurring importantly. The crossed collaborations have no turn back.
To the initial title of this article a question can be stated: Why renew?. There can be many answers. The CECs case described is one of them.
---
Head Image: The Science Block on the east bank. (© E. Villagra, 2020).
---
Recuperación urbana en un frente de agua
La ciudad de Valdivia está situada en el paralelo 39º 48' 51'' S, en la ribera oriental del río del mismo nombre. Nace a mediados del S XVI como un bastión español. A pocos kilómetros de la desembocadura en el Océano Pacífico, la ciudadela se defiende con un conjunto de fortificaciones fuertemente armadas. Puerto clave en las rutas de navegación que cruzaban el Estrecho de Magallanes, el medio de transporte preferente se hace por los numerosos cursos de agua naturales desplegados desde la cordillera de Los Andes hacia el mar. Durante los últimos cien años, la ciudad se extiende generando varias localidades de menor tamaño a lo largo de los ríos y de nuevas rutas terrestres.
El año 2007, Valdivia se convierte en la capital de la nueva Región de Los Ríos. Pocas décadas atrás, el terremoto y tsunami de 1960, el de mayor intensidad registrado en el planeta, cambia el paisaje natural y modifica en forma importante la relación de la ciudad y sus habitantes con el frente de agua. El centro histórico de Valdivia es el más afectado y junto con eso, su paulatina degradación. La ciudad se adapta a las nuevas comunicaciones a través de la carretera que une todo Chile, trasformando así al frente de agua, en una trasera urbana y espacio residual (siguiente imagen).
(de izquierda a derecha) Muelles de Valdivia 1907 – circa, Barcos y Canotaje 1912 – circa (R. Knittel) y la extensión de la ribera del río después del terremoto de 1960 (Anónimo).
Es este escenario donde, el borde de río en el tramo más central que solo sirve para el embarque de algunas naves de uso turístico después del terremoto, se favorece por el Centro de Estudios Científicos (CECs), que decide dejar la ciudad de Santiago para instalarse en esta zona de Valdivia. Alejarse de la ciudad capital más grande de un país altamente centralizado, siendo unos de los mas prestigiosos centros de investigación de reconocimiento internacional, se convierte en un desafío de gran envergadura. No es el objeto de este artículo ahondar en el significado de este inédito hecho, si no más bien abordaremos otro aspecto, también inédito al modo de relacionarse con el entorno construído, con la naturaleza circundante, con la historia y patrimonio de una ciudad de características únicas en Chile.
Junto con el trabajo específico de las tres áreas de investigación de este Centro de Estudios Científicos, es necesario destacar que la Arquitectura y el diseño urbano cómo práctica, han marcado fuertemente el carácter de esta institución. La recuperación de edificios históricos y el diseño de otros nuevos deben orientarse hacia tener los recintos necesarios para los diferentes tipos de laboratorios. La siguiente imagen da cuenta de la situación actual con la intervención en el entorno inmediato: la Manzana de la Ciencia con el Paseo Peatonal Libertad y Costanera de la Ciencia, traspasando los límites de la propiedad privada en una relación de integración con el espacio público.
(arriba) 3D de la Manzana de la Ciencia: en color marrón claro, la calle peatonal Paseo Libertad y junto del río la Torre del Péndulo de Foucault – Faro y Plaza de los Glaciares (© F. y P. Basilio, 2016); (abajo) Costanera y Manzana de la Ciencia (© E. Villagra, 2020).
Las nuevas dependencias se instalan en la costanera fluvial en una manzana emblemática para Valdivia, en dos edificios construidos en 1912 de alto valor patrimonial, pero en deplorables condiciones por mal uso y mantenimiento (siguiente imagen). El resto de las edificaciones que completaban la manzana, están también muy deteriorados y fueron de uso provisorio.
El primer desafío fue el de diseñar los espacios necesarios para el equipo de investigadores. Se inicia la recuperación y restauración del primer edificio que había sido construído para el Gran Hotel Schuster, íntegramente de madera con revestimientos de planchas de fierro estampadas. El mal estado de la estructura de vigas y pilares requirió de las habilidades de carpinteros y artesanos de la madera de la región de Los Ríos. En forma paralela se usan transitoriamente las otras dos estructuras existentes para completar el programa, las que son demolidas al poco tiempo. En la actualidad este es el edificio principal denominado Edificio Martha Muse.
(de izquierda a derecha) Hotel Schuster en 1999 y después de la restauración de 2011 (hoy laboratorios de física, salas de reuniones y área de administración). (© F. Basilio, 2011).
El segundo edificio de interés histórico existente en la manzana y construído inmediatamente después del Gran Incendio de 1909, es la Casa Schuler, destinada para los laboratorios de biología. Este edificio se emplaza en la intersección de la Costanera Arturo Prat y la calle Libertad, hoy paseo peatonal. Junto con la necesaria integración de los laboratorios con el edificio principal, se ejecuta el proyecto del paseo peatonal Libertad, como un aporte al Municipio para todos los habitantes de Valdivia. Este eje histórico une la plaza principal de la ciudad, lugar de su fundación con el río Valdivia. Pocos años después se diseña y construye la Carpa de la Ciencia, inspirado en las frágiles estructuras que se utilizan en las campañas de investigación en Campo de Hielo Sur y Antártica. El programa está conformado por un espacio de auditorio y otra área multiuso junto al paseo peatonal, uniendo el espacio público con un espacio interior protegido (siguiente imagen).
(izquierda) Paseo Libertad y Casa Schuler (laboratorios de biología), al fondo la catedral y Plaza de la República (© F. Basilio, 2010); (derecha) Carpa de la Ciencia y Casa Schuler desde peatonal el Paseo Peatonal Libertad (© F. Basilio, 2018).
El edificio Muelle Schuster (Glaciology labs) completa la manzana enfrentando la costanera y el río. En el diseño se incorpora para el primer nivel un revestimiento de piedra simulando los mamposterías de contención originales de las riberas del río, y a su vez se conservan los árboles existente integrándose a la fachada poniente del edificio (siguiente imagen).
Edificio de Glaciología frente al río junto a la Casa Schuler. (© F. Basilio, 2017).
El terremoto del 27 de febrero de 2010 afecta gravemente la extensión de la costanera que había sido construida después del terremoto de 1960. Inmediatamente el CECs trabaja en el desarrollo de una estrategia de usos, y entrega a las autoridades locales y regionales en 30 días un Master Plan para recuperar este espacio público. Los recursos del estado central permitieron la ejecución de las obras de nuevos rellenos y terminaciones. Todo el espacio correspondiente al frente de la Manzana de la Ciencia fue financiada por el CECs. El péndulo de Foucault que estaba instalado en el hall del Edificio Martha Muse, se incorpora a esta nueva costanera en una torre de acero y cristal agregando una linterna como faro. Hacia el norte se construye una explanada con un trazado en el pavimento del cono sur de América del Sur y Antártica que indica los principales glaciares y bases antárticas.
Este nuevo espacio urbano se conoce como la Costanera de la Ciencia y se integra al interior de la manzana mediante una continuidad de su lenguaje, a través del diseño de los pavimentos que cruzan la calle vehicular (siguiente imagen).
El emplazamiento de la Torre del Péndulo con el faro que lo corona, la imagen formal y su destino, lo han convertido en un elemento destacado del paisaje urbano generando fantasías y hechos impensados desde su construcción.
(izquierda) Costanera de la Ciencia, Torre del Péndulo de Foucault – Faro y Plaza del Glaciares usada para obra de teatro al aire libre y múltiples eventos masivos (© F. Basilio 2014); (derecha) vista desde el hall central del CECs hacia el río. La Manzana de la Ciencia está unificada con el espacio público mediante pavimentos continuos (© F. Basilio 2016).
Otro aporte del Centro de Estudios Científicos a la ciudad, es el diseño para la construcción del Muelle Los Castaños en el mismo lugar donde se ubicaba uno de madera destruído hace 50 años. Se recupera este espacio de borde altamente degradado en la ribera poniente del río Valdivia. Este es el único muelle de uso público en todo el tramo urbano de este lado de la ciudad (siguiente imagen). Una iniciativa privada relacionada con este punto para la conectividad de ambos bordes, fue el desarrollo inicial de taxis fluviales con embarcaciones impulsadas por motores eléctricos recargados con energía solar. Lamentablemente, esta interesante iniciativa no dio el resultado esperado por una mala administración a pesar del uso de tecnologías innovadoras.
Unico muelle público en la ribera oeste del río Valdivia. En la orilla opuesta, La Manzana de la Ciencia con el edificio principal con el distintivo revestimiento Amarillo. (© F. Basilio, 2011).
La ribera oriente, en un extenso sector hacia el norte del Master Plan realizado por el Centro de Estudios Científicos, se encuentra en su segunda etapa de construcción, un proyecto de "nueva costanera" desarrollado por el Ministerio de Obras Públicas. Este se ha diseñado con escasa presencia del Municipio, organismo territorial al que le corresponde, sin ninguna duda, pronunciarse sobre una intervención tan relevante en el borde del río. Las debilidades se manifiestan por ambos lados. El resultado supuestamente exitoso, podría haber sido garantizado si se considera que la costanera es de uso de los habitantes para fortalecer y privilegiar la conexión con el río. El tratamiento de borde es de un frente de atraque para embarcaciones medianas dejando excluidos a botes y kayaks.
La forma de enfrentar un hecho arquitectónico específico, una regeneración urbana o proyecto de restauración, en este caso tan inusual del CECs, permite afirmar categóricamente que un encargo específico no puede quedar ajeno al impacto social y material que provoca. La gestión de la construcción de ciudad basado en la solución individual de un edificio, es el resultado del modelo neoliberal y egocéntrico que se encuentra en el borde del fracaso, no sin antes dejar una huella profunda en el entorno edificado.
Mientras se escribe este artículo, el planeta se enfrenta a una pandemia sin precedentes en tiempos modernos, cuyo final incierto aun, va a derivar indiscutiblemente en una nueva forma de relación con el entorno natural y construído. El límite de la acción privada y la del estado se desdibuja en forma importante. La colaboración cruzada no tiene vuelta atrás.
Al título inicial de este artículo cabe la pregunta: ¿Por qué renovar? Las respuestas pueden ser variadas. El caso descrito del CECs en Valdivia es una de estas.
---
Head Image: Skyline de la ciudad de Valdivia en la ribera oriental. (© E. Villagra, 2020).
Article reference for citation:
ES BASILIO Fernando, VILLAGRA María Emilia,
Recuperación urbana en un frente de agua
PORTUS: the online magazine of RETE, n.39, May 2020, Year XX, Venice, RETE Publisher, ISSN 2282-5789, URL:
https://portusonline.org/es/urban-recovery-in-a-waterfront/
EN BASILIO Fernando, VILLAGRA María Emilia,
Urban recovery in a waterfront
PORTUS: the online magazine of RETE, n.39, May 2020, Year XX, Venice, RETE Publisher, ISSN 2282-5789, URL:
https://portusonline.org/en/urban-recovery-in-a-waterfront/
---