20 Ottobre, 2015
The city of Limon is subject to various interpretations: a natural paradise made up of green and blue landscapes; abundant wildlife; a leader of the Afro-Caribbean culture, with its lush food and music of calypso and reggae roots and; a symbol of coexistence and inter / multicultural. Also, since a less positive view, it is regarded as the place where dynamic networks linked to drug trafficking, which feed on the historical inefficiency of social programs of the welfare state. But as with anywhere in the world, Limon is the simultaneous coexistence of multiple realities; plot of countless individual stories, sub-group and stage of major national projects, often playing with the excitement and optimism of its people.
For the topic at hand, Limón and its port area (Limon-Moin) is one of the shipping centers with major container cargo of Latin America and the Caribbean, through which passes nearly 90% of exports and imports Costa Rica.
These ports are the most important element of a small complex of industries that articulate the local economy with the national and international levels.
In its periphery, is localized the Costa Rican Oil Refinery (RECOPE) and several cardboard paper mills, especially for the manufacture of packing boxes for export bananas. In addition, a significant amount of tax warehouses, transportation industry and related services that have shaped the urban morphology.
Limón ports are managed for over half a century by an autonomous institution called JAPDEVA, which is also responsible for the development of the Caribbean slope of Costa Rica.
For various reasons we will not discuss here, this institution has not inherited it some significant work to the city, and ports have infrastructure and equipment deficiencies that detract foreign trade competitiveness of Costa Rica.
These ports have fallen short to meet the demands of international maritime trade, and continue to operate with very basic facilities and low use of technology. This occurs as the country increasingly boosts their export and import activities through Free Trade Agreements with several countries: Chile (1999), Canada (2001), CARICOM and CAFTA-DR (2004), China and Singapore (2010), Peru and Mexico (2011) and the European Union (2012); among others. Many of these trade agreements have had the initiative of central government agencies such as the Ministries of Economy, Foreign Trade and other private entities (CINDE, chambers of exporters and importers), but none of them has done anything to improve conditions competitiveness of the ports.
In 2008, a study by the Dutch firm Royal Haskoning highlighted the need for significant contributions to the Caribbean port infrastructure improvements. The state considered that the best way to meet this demand was through the concession of public works, so that an international cartel was won in March 2011 by the Dutch company APM Terminals.
From the moment that the tender was awarded, until the time when the works started in February 2015, the city of Limon lived an intense social upheaval, shaken by the JAPDEVA Workers Union, which argued irregularities in the process concession, denouncing possible irreversible environmental impacts and announced the total collapse of the economy in the province.
Today, after six months of initiated the works of the Moin Container Terminal (TCM), the city of Limon breathes an air of optimism, there are new projections in local entrepreneurs, foreign investors appear, the housing market is activated, it is much talked about territorial planning and it has begun to draw an urban reconfiguration.
This infrastructure in one complete state will be an island of 80 hectares, with 1500 meters of quay, 5 berths, 2200 meters of breakwater, 18 meters access channel, 16 meters deep, equipped with 12 cranes Post-Panamax and connection for 6500 refrigerated containers.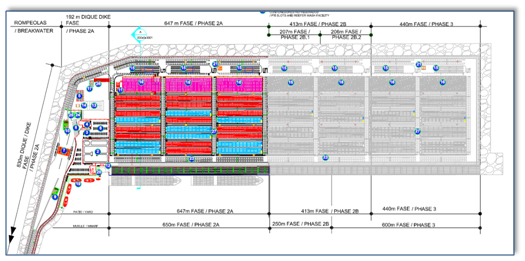 APM Terminals Project, Moín, Limón, Costa Rica.
"La Nación", national newspaper with huge circulation posted on past September 13th:
"Los hoteles, tajos, empresas de alquiler de maquinaria pesada, inmobiliarias, ferreterías y centros de eventos son algunos de los negocios que ya sienten los efectos de la construcción de la Terminal de Contenedores de Moín (TCM)…. La Cámara de Comercio, Industria y Turismo de Limón, que reúne a unas 140 compañías, reconoce que el proyecto tiene consecuencias positivas…. El 85% de los empleados son limonenses, según datos de la concesionaria".
The development of port infrastructure is a key factor in the competitiveness of Costa Rica, not only because it is necessary to address trade commitments of the country, but because it strengthens the maritime port sector, which is strategic for national development. The TCM, as has been conceptualized, means to Costa Rica a major port in the generation jump. However, for this port infrastructure and equipment have an impact on the country's competitiveness, it is necessary to strengthen the regulatory and institutional framework relating to maritime and port.
An important part of this legislation is issued by the International Maritime Organization (IMO) of the United Nations whom primarily seeks to promote cooperation between States and the shipping industry to improve maritime safety and prevent marine pollution.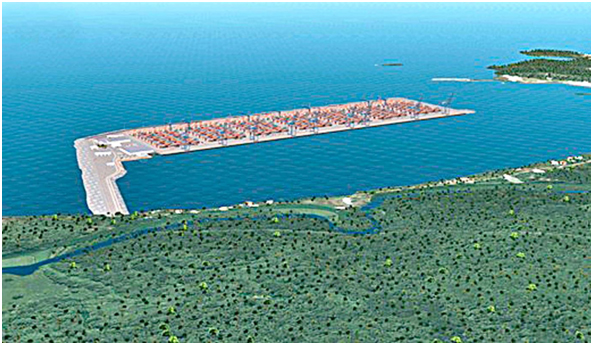 New project of Terminal de Contenedores en Moín.
The main IMO Conventions are: SOLAS, STCW, MARPOL and MLC. They have specific areas of application and its provisions are binding on Member States. We will discuss only the first two, because they are now the ones most likely to be applied in Costa Rica. The SOLAS or SOLAS Convention (Safety of Life At the Sea) is the most important of all international treaties concerning the safety of ships. Its main objective is to specify standards of construction, equipment and operation of ships to ensure safety in general and of the persons on board.
Flag States which have adopted the SOLAS are responsible for ensuring that ships flying their flag meet their requirements, through appropriate examinations and issuing the certificates laid down in the Convention as proof of compliance. The control provisions also allow Contracting Governments to inspect ships of other Contracting States as well as the checking for grounds that the ship and its equipment substantially comply with the requirements of the Convention. This procedure is known under the name "Port State".
Of the four agreements mentioned, this is the only that Costa Rica has ratified. It did so by Executive Mandate No. 36412 of January 28, 2011 published in the Official Gazette on March 9 of that year. However, until now there has not been regulated, and are only under the International Code for the Security of Ships and port infrastructure (ISPS) and the International Maritime Dangerous Goods Code (IMDG).
It is very likely that the administrations of ports, or the state itself, have not measured the consequences of an accident with the absence of SOLAS. There are real risks, such as liquefaction charges, which can attract huge economic costs to the cessation of operations.
The International Convention on Standards of Training, Certification and Watch-keeping for Seafarers (STCW) has an optimistic outlook in this year 2015. A few weeks ago entered into the legislative process, with the support of many MPs and everyone, especially those who work in universities, we expect ratification. This agreement aims to improve, strengthen and simplify the process of recognition of certificates issued by third countries. It also requires the issuance of Certificates for masters, officers or ratings to applicants who meet the necessary requirements for sea going service, age, medical fitness, training, qualification and examinations.
Even this agreement represents a prospect of reaching to solve some economic problems in port cities and coastal areas in general: unemployment, poverty and low human development index, because it would open technical and university courses which contribute to overcome these problems, more yet, to professionalize the maritime port sector, leading to a state of greater competitiveness.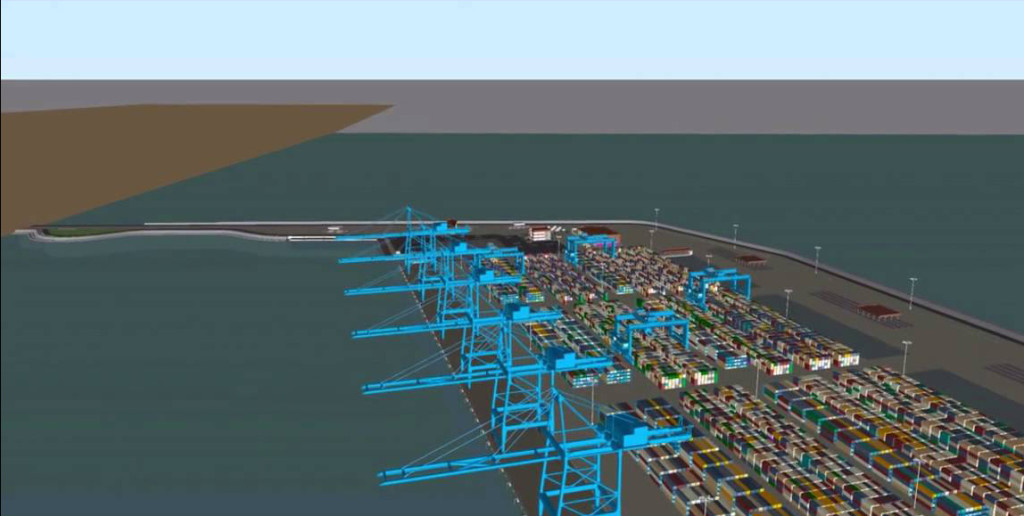 The future Terminal of Containers, Moín.
Talk a little about the rules governing the ports, from international conventions to national legislation and autonomous rules, only meets the objective noted that the port works require much more than concrete and machinery to function well. Linked institutions to the ports, directly or indirectly, are keepers for implementing such regulations. A fair and proper implementation will influence the success of the ports.
---
Head Image: Moín Port, Limón, Costa Rica.
---
Limón: la esperanza en sus puertos
La ciudad de Limón es objeto de diversas lecturas: para muchos es un paraíso natural, compuesto por paisajes verdes y azules, fauna abundante y un referente de la cultura afrocaribeña, con su exuberante gastronomía y música de calipso y reggae roots; además de un símbolo de la convivencia inter y multicultural. También, desde una vista menos positiva, se mira como el lugar donde se tejen redes y dinámicas vinculadas al narcotráfico, que se nutren de la ineficiencia histórica de los programas sociales del Estado de bienestar. Pero como ocurre con cualquier lugar del mundo, Limón es la coexistencia simultánea de múltiples realidades; trama de un sinnúmero de historias individuales, sub-grupales y, escenario de grandes proyectos nacionales, que juegan muchas veces con la emoción y el optimismo de sus habitantes.
Para el tema que nos ocupa, Limón por su zona portuaria (Limón-Moín), es uno de los centros navieros y de contenedores más importantes de América Latina y el Caribe, por el que transita casi el 90% de las exportaciones e importaciones de Costa Rica.
Estos puertos son el elemento más importante de un pequeño complejo de industrias que articulan la economía local con lo nacional e internacional.
En su periferia, se encuentra la Refinería Costarricense de Petróleo (RECOPE) y varias fábricas de papel de cartón, destinadas especialmente a la fabricación de cajas de empaque, para la exportación del banano; producto del que la provincia de Limón es el segundo exportador mundial. Además, una importante cantidad de almacenes fiscales, industria de transporte y servicios afines que han moldeado la morfología urbana.
Los puertos de Limón están administrados desde hace más de medio siglo por una institución autónoma llamada JAPDEVA, que también se encarga del desarrollo de la vertiente del Caribe de Costa Rica. Por diversas razones que no vamos a analizar aquí, esta institución no le ha heredado alguna obra significativa a la ciudad, y los puertos presentan insuficiencias de infraestructura y equipamiento que le restan competitividad al comercio exterior de Costa Rica.
Estos puertos se han quedado cortos para responder a las demandas del comercio marítimo internacional, y siguen funcionando con servicios muy básicos y con bajo uso de la tecnología. Esto ocurre mientras el país dinamiza cada vez más sus actividades de exportación e importación, a través de tratados de Libre Comercio con diversos países; Chile (1999), Canadá (2001), CARICOM y CAFTA-DR (2004), China y Singapur (2010), Perú y México (2011) y la Unión Europea (2012); entre otros.
Muchos de estos tratados comerciales han contado con la iniciativa de instancias del Gobierno Central, como son los Ministerios de Economía, Comercio Exterior y otras instancias privadas (CINDE, Cámaras de exportadores e importadores), pero ninguna de estas ha hecho algo para mejorar las condiciones de competitividad de los puertos.
En el año 2008, un estudio realizado por la firma holandesa Royal Haskoning puso en evidencia la necesidad de realizar mejoras significativas a la infraestructura portuaria del Caribe. El Estado consideró que la mejor forma de atender esta demanda era mediante la concesión de obra pública, por lo que se abrió un cartel internacional, que fue ganado en marzo del año 2011 por la empresa holandesa APM Terminals.
Desde el momento en que se concedió esa licitación, hasta el momento en que iniciaron las obras, en febrero del 2015, la ciudad de Limón vivió una intensa convulsión social, agitada por el Sindicato de trabajadores de JAPDEVA, que argumentaba irregularidades en el proceso de concesión, denunciaba posibles impactos ambientales irreversibles y anunciaba el colapso total de la economía en la provincia.
Hoy, después de seis meses de iniciadas las obras de la Terminal de Contenedores de Moín (TCM), la ciudad de Limón respira un aire de optimismo, surgen nuevas proyecciones en los empresarios locales, aparecen inversionistas extranjeros, se activa el mercado inmobiliario, se habla mucho de planificación territorial y, se empieza a dibujar una reconfiguración urbana.
Proyecto APM Terminals, Moín, Limón, Costa Rica. 
Esta obra de infraestructura, en su fase completa, será una isla de 80 hectáreas, con 1500 metros de muelle, 5 puestos de atraque, 2200 metros de rompeolas, 18 metros de canal de acceso, 16 metros de profundidad, equipada con 12 grúas Post-Panamax y conexión para 6500 contenedores refrigerados.
El periódico de mayor circulación nacional "La Nación" publicó el 13 de setiembre del presente año:
"Los hoteles, tajos, empresas de alquiler de maquinaria pesada, inmobiliarias, ferreterías y centros de eventos son algunos de los negocios que ya sienten los efectos de la construcción de la Terminal de Contenedores de Moín (TCM)…. La Cámara de Comercio, Industria y Turismo de Limón, que reúne a unas 140 compañías, reconoce que el proyecto tiene consecuencias positivas…. El 85% de los empleados son limonenses, según datos de la concesionaria". El desarrollo de la infraestructura portuaria es un factor clave en la competitividad de Costa Rica, no solo porque es necesaria para atender los compromisos comerciales que tiene el país, sino porque fortalece el sector marítimo portuario, que es estratégico para el desarrollo nacional. La TCM, tal y como ha sido conceptualizada, significa para Costa Rica un salto importante en la generación de puertos. No obstante, para que esta infraestructura portuaria y su equipamiento tengan impacto en la competitividad del país, es necesario fortalecer la normativa y la institucionalidad correspondientes a lo marítimo y lo portuario.
Una parte importante de esta normativa es emitida por la Organización Marítima Internacional (OMI) de las Naciones Unidas que, fundamentalmente, busca promover la cooperación entre los Estados y la industria de transporte, para mejorar la seguridad marítima y prevenir la contaminación marina.
El proyecto del nuevo Terminal de Contenedores en Moín. 
Los principales Convenios OMI son: SOLAS, STCW, MARPOL y MLC. Éstos tienen ámbitos de aplicación específicos y sus disposiciones son de cumplimiento obligatorio por parte de los Estados miembros. Aquí hablaremos solo de los dos primeros, porque actualmente son los que tienen mayores posibilidades de aplicación en Costa Rica.
El Convenios SOLAS o Convenio Internacional para la Seguridad de la Vida Humana en el Mar (Safety of Life At the Sea), es el más importante de todos los tratados internacionales sobre la seguridad de los buques. Su objetivo principal es especificar normas de construcción, equipamiento y explotación de buques para garantizar la seguridad y la de las personas embarcadas. Los Estados de Abanderamiento que han adoptado el SOLAS son responsables de garantizar que los buques bajo su pabellón cumplan con sus prescripciones, mediante los oportunos reconocimientos y emisión de los certificados establecidos en el Convenio, como prueba de dicho cumplimiento.
Las disposiciones de control también les permiten a los gobiernos contratantes inspeccionar los buques de otros Estados contratantes, como verificar si hay motivos fundados para creer que el buque y su equipo no cumplen sustancialmente con los requisitos de la Convención. Éste procedimiento se conoce con el nombre de "Estado Rector del Puerto".
De los cuatro convenios mencionados, éste es el único que Costa Rica ha ratificado. Lo hizo mediante Decreto Ejecutivo Nº 36412, del 28 de enero del año 2011, publicado en el diario Oficial La Gaceta el día 9 de marzo del mismo año. Sin embargo, hasta ahora no se ha reglamentado, y solo están en aplicación el Código Internacional para la Protección de los Buques y las Infraestructuras Portuarias (PBIP) y el Código Marítimo Internacional de Mercancías Peligrosas (IMDG).
Es muy probable que las administraciones de puertos, o el Estado mismo, no hayan medido las consecuencias que tendría un accidente con la ausencia del SOLAS. Existen riesgos reales, como la licuefacción de cargas, que pueden atraer enormes costos económicos y hasta la paralización de las operaciones.
El futuro Terminal de Contenedores de Moín.
El Convenio Internacional sobre Normas de Formación, Titulación y Guardia para Gente de Mar (STCW) tiene una perspectiva optimista en este año 2015. Hace unas pocas semanas ingresó a la corriente legislativa, con el apoyo de muchos diputados y todos, especialmente los que trabajamos en universidades, esperamos su ratificación. Este convenio busca mejorar, reforzar y simplificar el proceso de reconocimiento de títulos expedidos por terceros países. Además exige la expedición de títulos de capitán, oficial o marinero a los aspirantes que reúnan los requisitos necesarios en cuanto a periodos de embarco, edad, aptitud física, formación, competencia y exámenes.
Inclusive, este convenio tiene la perspectiva de llegar a resolver algunos problemas socioeconómicos que viven hoy las ciudades portuarias, y las zonas costeras en general: el desempleo, la pobreza y un bajo índice de desarrollo humano, porque permitiría abrir carreras técnicas y universitarias que contribuirían a superar dichos problemas, y a la vez, a profesionalizar el sector marítimo portuario, llevándolo a un estado de mayor competitividad.
Hablar un poco sobre la normativa que rige los puertos, desde los convenios internacionales hasta la legislación nacional y normas autónomas, solo cumple con el objetivo de señalar que las obras portuarias requieren de mucho más que el concreto y la maquinaria para funcionar bien.
Las instituciones vinculadas, directa o indirectamente, con los puertos son las depositarias y ejecutoras de tales normativas, y su justa y correcta aplicación influirá en el éxito de los puertos.
---
Head Image: El Puerto de Moín, Limón, Costa Rica.
---