19 Maggio, 2019
El pasado 15 de febrero RETE ha organizado, en colaboración con el Port Vell del Port de Barcelona, un seminario con el título 'Barcelona Dos', dedicado a reflexionar sobre sus iniciativas y orientar sus próximas actividades. La ciudad portuaria catalana ya había hospedado cinco años atrás otro encuentro similar de la asociación, que periódicamente necesita escuchar a sus socios y debatir con ellos las líneas estratégicas de su acción.
Durante el seminario se subrayaron las nuevas posibilidades que surgen del cambio de sensibilidad, en las distintas partes de mundo, por parte tanto de los puertos como de las ciudades, hacia los problemas de una más equilibrada relación Puerto-Ciudad, demostrando con ello que hoy ambos agentes son más activos en la búsqueda de soluciones innovadoras a antiguos problemas.
En este sentido se puso de manifiesto la importancia del papel desarrollado, a lo largo del tiempo, por las dos revistas de RETE, PORTUS y PORTUSplus, que confirman así la relevancia de su función en intentar lograr los objetivos esenciales de la asociación, casi 20 años después de su constitución.
Siempre en ocasión del seminario de Barcelona se ha firmado un MoU, Memorandum of Understanding, entre RETE y TU Delft, una de las más prestigiosas universidades a nivel mundial, con el objetivo de colaborar en el ámbito científico para lograr mejores resultados en la difícil convivencia entre puertos y ciudades. Dentro este convenio se ha nombrado como nueva directora de PORTUSplus a la profesora Carola Hein, de la mismo TU Delft.
En el presente número 37 de PORTUS se publica la primera parte de un extenso Report sobre la Preservación y reutilización del patrimonio portuario. La gran aceptación que ha tenido este tema entre los colaboradores habituales de la revista nos ha llevado a ordenar los artículos por países, con una Introducción del coordinador presentando la situación del país o área geográfica y los distintos autores y a organizar el conjunto de artículos en dos grupos: en el presente número se han editado las contribuciones dedicadas a Europa y en el siguiente (el número 38 de otoño de 2019) los artículos sobre la misma temática de experiencias de América. Para dar idea de la aceptación (y también del esfuerzo del equipo editorial) basta decir que el Report dedicado a Europa está formado por 34 artículos que aportan información general y sobre todo experiencias concretas de 16 países distintos y un área geográfica con análisis de cinco países más. No se ha querido abordar el tema solo desde el aspecto general de la preservación, sino que se han expuesto y analizado los casos prácticos que se han considerado más interesantes. Las experiencias reseñadas y analizadas abarcan un amplio espectro de casos y temáticas: desde toda el área de centenares de hectáreas de un puerto histórico del norte de Italia a una taberna portuaria de una ciudad alemana, pasando por decenas de edificios de características muy distintas. Con estas características del Report se pretende ofrecer un instrumento útil y concreto de información que sirva para inspirar proyectos y alternativas a todos los profesionales que deben tratar con elementos del patrimonio portuario. Así contribuiremos a proyectar al futuro el amplio e interesante patrimonio portuario que nos ha legado el pasado.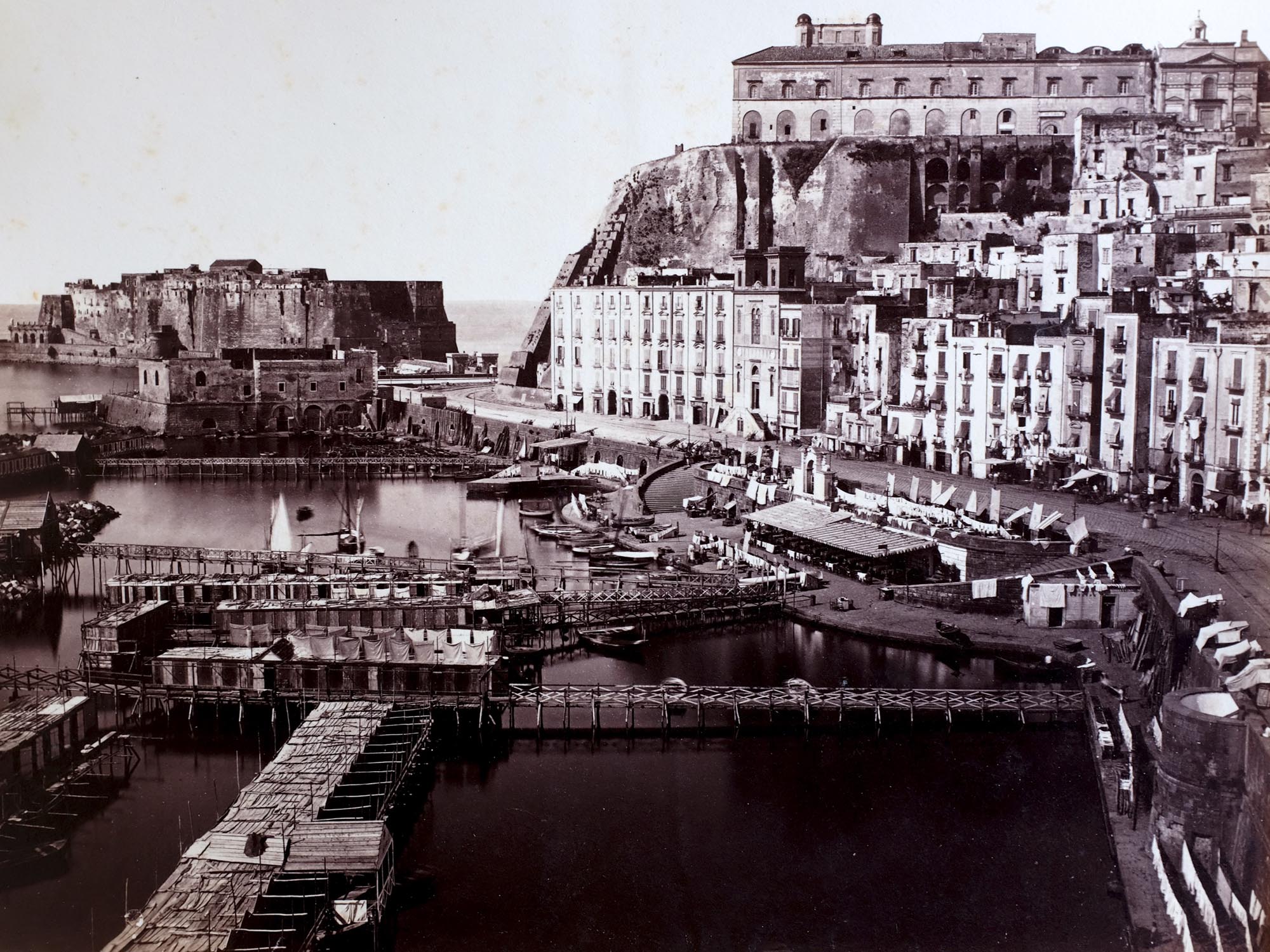 Imagen histórica del paseo marítimo de Nápoles en 1900.
El FOCUS de esta edición de PORTUS, coordinado por Massimo Clemente – Profesor de Planificación y Diseño Urbano y Director de Investigación de IRISS-CNR – presenta una serie de contribuciones que son el resultado de la conferencia internacional "The Future of Shipping Cities. Maritime Perspectives for Urban Challenges in Port Cities", celebrada el 26 de septiembre de 2018 en la tercera edición de la "Naples Shipping Week". La conferencia fue organizada por el "Istituto di Ricerca su Innovazione e Servizi per lo Sviluppo" del Consiglio Nazionale delle Ricerche (IRISS-CNR) y por RETE, con la colaboración de numerosos socios.
La iniciativa trató, de manera amplia y transversal, diversos temas interesados en la transformación de las regiones costeras y áreas portuarias. La conferencia contó con la presencia de académicos, profesionales, actores privados y representantes institucionales, quienes reflexionaron juntos sobre el papel potencial que las ciudades del shipping pueden desempeñar para la recuperación del país. Para ello es importante que las comunidades de las ciudades portuarias puedan seguir nuevos modelos de desarrollo sostenible basados en la integración mar-tierra y la identidad marítima.
La reunión de primavera de RETE de este año (30 mayo-1 junio) vuelve a Nápoles donde se celebrará el Seminario "Gobernanza colaborativa para la relación puerto-ciudad" en el que se presentarán ponencias de gran interés que esperamos se conviertan en nuevos artículos para nuestra revista.
Como siempre, y en este caso a pesar de la amplitud del Report de este número de PORTUS, se publican artículos en las principales secciones tradicionales de la revista. También en el próximo número esperamos disponer de un conjunto amplio de artículos sobre la preservación y reutilización del patrimonio portuario de América, pero mantenemos la convocatoria a todos nuestros colaboradores y autores interesados en escribir los artículos que publicaremos en las distintas secciones de PORTUS.
---
Head Image: Puerto ciudad de Barcelona en 1888. (Fotografia de Pau Audouard)
---