21 Novembre, 2013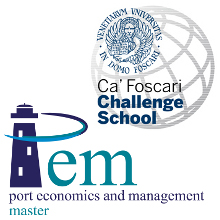 Master Internazionale Port Economics and Management (PEM)
Gennaio 2014 – Dicembre 2014
Università Ca' Foscari
Palazzo Moro, Cannaregio 2978, Venezia
---
Coordinatore del Master
Prof. Stefano Soriani
Sede del corso
Ca' Foscari Challenge School, Palazzo Moro, Cannaregio 2978, Venezia
Scadenza presentazione domande di ammissione
15 novembre 2013
Periodo di svolgimento
gennaio 2014 – dicembre 2014
Posti disponibili
30
Modalità didattica
frontale
Lingua del corso
inglese
Contributo d'iscrizione
€ 6.000
Agevolazioni/borse di studio
Il Master è "Homo Sapiens Sapiens – Master Executive, Certificato INPS Gestione Dipendenti Pubblici", pertanto vengono messe a disposizione n. 5 borse di studio a totale copertura delle tasse di iscrizione in favore dei dipendenti della Pubblica Amministrazione. Per coloro che vinceranno la borsa di studio, se inoccupati, sono previste obbligatoriamente almeno 480 ore di stage e la partecipazione a un modulo di orientamento di almeno 24 ore. Per maggiori informazioni consultare bando INPS.
Segreteria didattica e informazioni
Ca' Foscari Challenge School,
tel. 041 234 6853
fax 041 234 6801
e-mail: master.challengeschool@unive.it
Sito web
---
I porti sono organizzazioni economiche sempre più complesse, per effetto delle sollecitazioni che derivano dalla riorganizzazione delle filiere produttive a scala globale, dalle dinamiche tecnologiche, economiche-finanziarie e organizzative che ristrutturano i sistemi di trasporto, dalla loro progressiva integrazione logistica. Ne deriva un quadro, per la policy e il management portuale, estremamente articolato, nel quale obiettivi di efficienza economica e operativa devono necessariamente intrecciarsi a valutazioni di natura sociale, strategica (stante la crescente complessità e incertezza del contesto economico e finanziario di riferimento) e territoriale – ambientale.
In questa prospettiva e grazie anche alla collaborazione con APV (Autorità Portuale di Venezia), l'Università Ca' Foscari Venezia ha attivato per l'anno accademico 2013/2014, il Master universitario di II livello in Port Economics and Management (PEM), la cui organizzazione didattica è curata dal Dipartimento di Economia.
Il Master Internazionale PEM si propone di fornire:
una prospettiva multidisciplinare per comprendere le problematiche più rilevanti che caratterizzano oggi le attività portuali, dal punto di vista territoriale, economico e gestionale, anche alla luce delle complesse sollecitazioni che derivano dalle attività del trasporto marittimo, dallo sviluppo dei sistemi intermodali e dalla crescente importanza della logistica;
gli approcci e gli strumenti indispensabili per un'efficiente gestione dei porti (qui intesi sia come enti/organizzazioni di governo sia come imprese terminaliste e portuali in senso lato), nel quadro del sistema di norme e principi che ne regolano l'attività e delle principali tendenze che caratterizzano i sistemi di trasporto e logistici contemporanei;
gli approcci e gli strumenti indispensabili per integrare il tema del management portuale a quello della protezione dell'ambiente costiero, in un'ottica di sostenibilità economica e territoriale.
Benché il Master Internazionale Port Economics and Management (PEM) si proponga di formare professionisti nel campo dell'economia e della gestione dei porti, nei diversi settori e mercati e relativamente ai diversi quadri geografici, particolare attenzione è rivolta al Mediterraneo. Il Programma offre un'aggiornata analisi sia dei principali trend di cambiamento che investono i porti mediterranei (con particolare riguardo a quelli nord africani, nord adriatici, del Mediterraneo Orientale e del Mar Nero) sia delle possibili risposte in termini di politiche e iniziative di gestione, incluse le iniziative di cooperazione e di organizzazione di network cooperativi. In questa prospettiva, il PEM si propone come un programma accademico e di training di eccellenza a supporto delle strategie di sviluppo dei porti nord adriatici e delle iniziative di cooperazione oggi in atto, come la NAPA (North Adriatic Ports Association).
Profili professionali
Il corso si propone di formare figure professionali altamente specializzate, con le competenze manageriali necessarie alla pianificazione e gestione delle attività nel settore portuale. L'obiettivo è formare un professionista nella gestione dei porti (intesi come sistemi complessi di attori pubblici e privati, enti di governo e gestione e imprese terminaliste, altre imprese portuali), in grado di analizzare e tradurre in orientamenti di management le complesse sollecitazioni economiche, tecnologiche, finanziarie e organizzative derivanti dall'evoluzione dei trasporti marittimi, terrestri e fluviali, e dei sistemi che derivano dalla loro progressiva integrazione. Attenzione è prestata anche alla gestione dei terminal passeggeri, alla luce della crescente importanza del mercato crocieristico nell'organizzazione e funzionamento dei più importanti porti del Mediterraneo.